Take Five
By George Rose
November 10, 2009
BoxOfficeProphets.com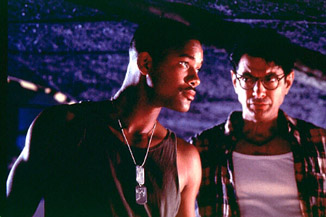 ---
Welcome to Take Five, your weekly list of five random movie recommendations. Most people don't have time to watch five movies in a week. Most people don't even have five minutes to take a break and relax. Take Five is here to quicken your search for reliable entertainment (or at least movies that I deem entertaining) so you can enjoy what little free time you have. And really, who reading this article doesn't want to spend their free time watching movies? It's not like you're on sports Web site.

Take Five took a break last week, as other work assignments and the epic MLB World Series consumed most of my time. It broke my heart to see the Yankees win but I guess it's pretty cool that it was their first year playing in their new stadium, and they won the series in a game AT that stadium. I don't know why I'm pretending to care so much, though, because that really is old news. So much has happened since game six of the series. Michael Jackson's This Is It came out and... few people saw it. What happened to news that it was breaking all sorts of pre-release online ticket sales? Such a record should inevitably lead to it breaking $25 million on opening weekend but I guess audiences were tired of all Jackson's post-death media coverage. I know I was. Well, that, and I'm trying to save money by not going to see every piece of crap that's released each weekend. It's been tough not going to the movies but, considering what I'm missing, it's been bearable.

I also missed this past weekend's A Christmas Carol. Again, so did everyone else. It barely cracked $30 million, which is a travesty considering the Disney and Carrey names attached. Remember when How the Grinch Stole Christmas opened to over $50 million? Well, A Christmas Carol shouldn't have had any problems taking on that number, since the Grinch came out almost ten years ago and wasn't released in 3D and/or IMAX. Like me, though, many people seem to be saving their money for the onslaught of true blockbusters coming out. This weekend brings 2012, the next Roland Emmerich "the world is going to end" epic. My guess is that it will be terrible, as far as plot is concerned anyway, but there hasn't been a movie as packed with special effects and action sequences in months. The main reason I'm seeing it is because my father offered to take me to the movies this Friday because I just had my wisdom teeth taken out. If it was up to me and money from my own pocket, there's only one movie I'm willing to spend my money on right now...

The Twilight Saga's New Moon. Man, oh man, am I watering at the mouth for this movie. Less than two weeks, everyone! The next addition to Twilight is almost here! I'm probably so excited because I haven't read the books, so there's very little room for me to be disappointed. All I need is vampires and Kristen Stewart, and I'm golden. Until Twilight 2, there are still plenty of cheap ways to watch movies: TV and Netflix. Struggling to find holdover material until 2012 or New Moon? Well, skip that Michael Jackson nonsense and head to Blockbuster, because here are a few movies that are definitely worth staying in to watch and saving a few bucks.

A League of Their Own (1992)

In honor of the recent World Series, I thought it would be a good idea to recommend a sports film. Typically I'm not a fan of these types of movies, but every now and then one comes along that focuses more on the characters than the sport itself, allowing the story and message of the movie to become a bit more universally appealing. And what better way to broaden the typically male audience of a sports film than by making the central team in question that of a women's sports league?

It also helps that A League of Their Own has an amazing, all-star cast. Tom Hanks, Geena Davis, Madonna, Jon Lovitz, Garry Marshall, Bill Pullman and Rosie O'Donnell, among others, headline this team of actors in a story about two baseball loving sisters who join the All American Pro Girls League, which was created after World War II sent most of the men that played the sport overseas. As the sport grows more popular, the two sisters grow further apart, eventually ending up as competitors. It may seem simple, but Hanks' alcoholic coach and Davis' always understanding demeanor knock this surprisingly funny film out of the park, helping it reach heights that so many in the genre fall short of. If nothing else, it's one of the few films that Madonna or Rosie have starred in that will remind you why they are paid actors to begin with. Any movie that can make me enjoy baseball and Madonna is worth an Academy Award, though A League of Their Own will have to settle for its two Golden Globe nominations it received instead.

Lemony Snicket's A Series of Unfortunate Events (2004)

Jim Carrey has been a big holiday release player in the last decade, with many of his movies crossing the $100 million threshold. The second weekend take of A Christmas Carol will determine whether or not it can reach those heights, since its $30 million opening weekend doesn't guarantee it at all. A few of his past holiday hits include How the Grinch Stole Christmas (as mentioned earlier) and Fun With Dick and Jane. My favorite, however, is one of his less successful endeavors, A Series of Unfortunate Events, based off the children's book series. Aside from being one of his more adventurous tales, it was a movie that an ex and I enjoyed thoroughly together. We'd watch it during many of our attempts to get back together, in hopes that a common connection to a movie was enough to sustain a fleeting love. In case you were wondering, it wasn't enough. But the movie remains a fun treat upon viewing and is a good reminder of the talent Carrey can bring to such an extreme character.

Also starring Jude Law and Meryl Streep, the story revolves around the three orphaned Baudelaire children, who are left in the care of their creepy uncle Count Olaf. As told through narration by the writer Lemony Snicket, the children find themselves on many misadventures that stem from unfortunate events, which are suspected to be caused by the Count in an attempt to acquire the substantial family fortune left behind. There are many books in the series, but the movie focuses only a few of the unfortunate events. The formula is obvious – the children find themselves in the hands of several new guardians, only to find Olaf behind every failed attempt at living in a new household – but is always funny and somehow original. The kids are clever and witty, creating new gadgets and schemes to save their own day, and Olaf, while haunting, is a refreshing new take on the comic villain. Considering I had never heard of the books prior to the film's release, the story packs enough action and interest at every turn that will have you begging for a sequel, or at least a trip to the local library. Unfortunately, one doesn't seem to be in the works so the only option is to read the rest of the series (Reading? What's that?), but if it's Carrey you want to see acting like a caricature fool, well, there's always A Christmas Carol.

Independence Day (1996)

For every great Roland Emmerich movie, there's an equally terrible one. He's directed such blockbuster action hits as Stargate, The Patriot and The Day After Tomorrow. He's also made blockbuster crap in the form of Godzilla and 10,000 B.C. What we can always rely on from Emmerich, though, is his ability to pack a movie full of special effects and destruction on a massive scale. This upcoming weekend he releases 2012, which hopes to capitalize on that fame. Part of me says it looks like the sequel to The Day After Tomorrow. Another part of me says it will be everything The Day After Tomorrow was supposed to be. In the end, it will probably make a ton of money because nothing decent has been released in theaters for several weeks. It can be said, though, without any hesitation that it will not come close to the critically or financial success of his biggest work, the legendary Independence Day.

Do I really need to tell you what this movie is about? If you're one of the five people in this world who hasn't seen it, you are in for a real treat. No, it's not about a Fourth of July barbeque gone wrong. It's about an alien invasion that only Will Smith, Jeff Goldblum, Bill Pullman, Randy Quaid, and Vivica A. Fox can stop. The scenes where the aliens destroy major cities, including Washington, DC, were worth the price of admission alone, but in rare Emmerich form the movie is also packed with surprisingly heartfelt performances and an immersive storyline. Maybe it's because he finally gave his actors characters with depth, but Independence Day is more than one of his typical apocalyptic tales. It solidified his position as the go-to director of destruction, helped make Will Smith the most recognizable face of the Summer movie season, and will forever remain among the End-Of-The-World classics which all future attempts will be compared to. The timing of 2012's release is impeccable; only because there hasn't been anything good in the last few weeks and because I miss the days of Summer action movies am I going to see it. Otherwise, I'd just stay in and rent Independence Day.

Failure to Launch (2006)

In one of my fits of rage in the last two weeks, which stemmed from my Yankees supporting friend getting rowdy and obnoxious during EVERY game of the World Series, I left the room where we were watching the game and decided to look for a more relaxing movie on TV. The only decent thing on was Failure to Launch. While it is arguably not one of the great romantic comedies in the last decade, it is still a good, informative movie on the culture of dating. It also stars Matthew McConaughey and Sarah Jessica Parker. More importantly, it stars some of my favorite lesser known actors in supporting roles: Zooey Deschanel, Justin Bartha and Bradley Cooper. Ok, so both Bartha and Cooper were in the recent smash hit The Hangover, but only since then have audiences jumped on the Cooper bandwagon and they still continue to ignore Bartha as a leading man. Regardless, the cast alone makes this movie worth watching, but luckily that's not all.

McConaughey stars as a man-child who, at the age of 35, has still not moved out of his parent's house. Because nobody wants a middle aged sexual deviant living in their house, his parents decide to hire Parker to convince him to move out. How does she do this? She pretends to date him, following a set of steps that's been proven to help men mature and become independent enough to feel ready for life on their own, or with a partner. Still, the mission is to get these men that have "failed to launch" out of the house. Naturally, Parker falls in love with McConaughey along the way, but the comic geniuses known as Deschanel and Bartha provide the laughs needed to sustain the adventure. What made me consider this movie extra special was how much my Yankee loving friend hated it; since he is one of those alpha men who thinks they are impervious to the ways of women, he was mortified to hear the reasoning behind Parker's plan to land the man. To him, men usually con women into affection, so I was all the more delighted when his jaw dropped upon hearing Parker say, "Today I let him help me through a crisis. That brought us much closer together. Things are going well, actually. Tomorrow I might let him teach me something." Sorry to say it to all my brothers out there, but guys aren't the only ones running good game. In the words of the New York loving Jay-Z, "Ladies is pimps, too, go and brush your shoulders off." The Yankees may have won the series, but they weren't the only winners in my book last week. That is, until New Moon comes out in less than two weeks and makes women look like helpless, overly-emo drama queens that can only be happy when in love with mythical creatures. Once that comes out, I'm sure my buddy will lose respect for women again. Let's just hope Parker's holiday release Did You Hear About the Morgans? brings back some of that girl power.

TV's South Park, season 13 (2009)

Those of you who have been following Take Five know that I occasionally recommend a season of television as a substitute to one movie. Usually this honor is reserved for only the most epic seasons of television. Since I just joined the Lost party a few months ago, I've been catching up on all the seasons I never saw and have been recommending them as I complete each one. The show is THAT good. Because the most recent episode of South Park has touched my heart in a very personal way, I decided to repay it and share my affection for the show with the world, in hopes that those of you who aren't watching it will start soon. Let's be honest, if you're watching Family Guy or American Dad, you really need to re-evaluate yourself. You simply can't beat the quality of a cartoon comedy when it comes to South Park (unless you're The Simpsons, but right now its South Park's shining moment).

The show follows no long-term plot line. In each episode, four elementary school students known as Kyle, Stan, Carman and Kenny get into some absurd adventure in their small Colorado town that teaches many deep lessons and provides many belly-aching laughs. This season alone kicked off with an episode called "Dead Celebrities," featuring the most famous one of all, Michael Jackson. Then South Park continued their hot streak with an episode featuring Butters, one of the many hilarious supporting characters, becoming a pimp within his school. Episodes three mocked "professional" wrestling (WWF vs. wrestling as an Olympic sport) and episode four poked fun at the Japanese fetish of killing dolphins and the American fetish of aquatic reality TV programming (apparently Japan holds a grudge against dolphins because they dropped the bomb on Hiroshima).

The latest episode, however, was probably the most ground breaking; never before have I heard the word "f*ggot" used so many times in one episode, only to have the meaning of the word changed in the dictionary. South Park has the ability to touch on subjects both deep and controversial, unlike its cartoon counterparts, yet always uses logic and laughs to make the subjects accessible and moving. By surrounding the topic in comedy, they are able to teach their audience that words like "f*ggot" are meant to show disdain towards a general group of people, and is not limited to or necessarily directed at homosexuals.

In the episode, the kids use the word directed at loud, noisy, obnoxious bikers. The kids are shocked when their school superiors accuse them of being homophobic, because to them they are making fun of bikers, not gays. As a gay man that has been caught saying things like "man, that's so gay," I am glad they had the courage to stand up and say "yo, not everything is a knock at gay people." It strains the relationship between me and my family when my parents yell at my siblings for saying, "that's so gay." Is it the best way for them to get their point across? No. Does it mean they are intolerant of homosexuals and me as a person? Not at all, and I understand the difference. South Park not only focuses on that thin line, but helps solidify the blur between what's modern slang and what's blatant prejudice. Like the kids say in the show, "Gay people can be f*ggots too, but not all f*ggots are gay." It's about the state of mind, not the lifestyle. By watching South Park tackle the issue, it becomes apparent the issue is already less of one than it was years ago. Sure, gays can't legally get married in every state, but at least we can watch TV knowing there are some show creators on our side, fighting the battle that has become so blurry with the language barriers of America's many different generations.

Be sure to catch the show Wednesday nights on Comedy Central. If you aren't around to watch it, there's always reruns throughout the week. And if controversial cartoon comedy isn't your thing, well, there's always four other movie recommendations this week to keep you occupied until 2012's release.