Movie Review: Michael Jackson's This Is It
By Matthew Huntley
November 9, 2009
BoxOfficeProphets.com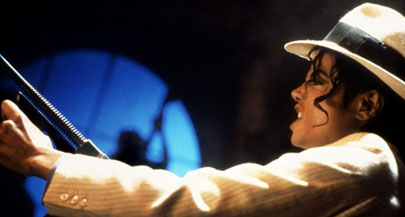 ---
Despite the circumstances of its release, This Is It makes for a good movie all its own. Right now, it's a product of its time, but the movie will live and breathe for years to come. Wherever Michael Jackson is right now, I think he's pleased to know the rehearsal footage of his latest tour — his first after a ten-year hiatus — is offering fans a glimpse into his professional world. Not that we haven't seen rehearsal footage before; but this is Michael Jackson, and that immediately makes it special.

The movie is not exceptionally introspective or riveting, but then again, it wasn't initially intended to be seen by anyone other than Mr. Jackson. Director Kenny Ortega was filming the concert rehearsals per Jackson's request (so he could watch them), so you have to cut the movie some slack if it lacks a certain structure.

What I liked about the movie was the way it further revealed Jackson as an uncommonly kind, gentle and polite man. Given his celebrity status and legal troubles, it's remarkable how calm he appears and how he continued to say things like, "I know you mean well" and "God bless you." I don't think he raised his voice once or condemned anyone working on this production. At the age of 50, he still looked and sounded like a kid and his behavior suggested he was unusually sheltered from and naïve about the world. It seems he died with a forever innocent perspective of the world.

As simple and idealistic as Jackson's viewpoint was, it was also sensible and inspiring. There's a point in the movie, for instance, when he talks about how pollution and global warming have upset him because he loves the planet so much. He sounds like a kid speaking his mind in grade school. And yet, he's so direct and clear that you can't help but listen and find him sweet.

I do wish the movie had a little more gusto. It would have benefited from more music, but it would be wrong to hold that against it if the footage simply doesn't exist. We do get to see how some of the songs would have turned out, including vivacious renditions of "Smooth Criminal," "The Way You Make Me Feel," "Black or White" and "Earth Song," which eventually brings down the house. And there are some heartfelt interviews with some of the dancers who still can't believe they're standing next to the King of Pop. It was good of the movie to be solely reliant on this event and time in Jackson's life — there's no footage of when Jackson died and limited archival clips.

Michael Jackson was about as one-of-a-kind as they come, and This Is It allows us to further appreciate his individuality. I don't think audiences will walk away feeling like they learned anything new about Jackson, but as a whole, it builds up to something touching and bittersweet. It does what I think it set out to do — allow fans to say thank you and good-bye to this amazing entertainer and allow Jackson's legacy to end, or continue, on a high note.