Weekend Wrap-Up
Christmas Comes Early for Disney Again
By John Hamann
November 8, 2009
BoxOfficeProphets.com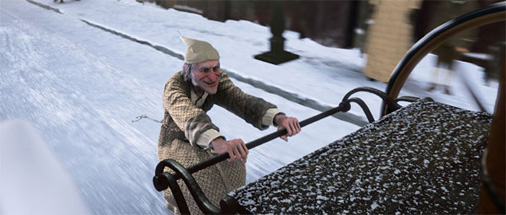 ---
It's the first weekend of November, so Disney must be pushing a Christmas movie or a blockbuster animated film. After a few years off since the last Santa Clause movie, Disney is back with A Christmas Carol, the new 3-D feature from director Robert Zemeckis and starring Jim Carrey. This one is a little different than a Santa Clause flick, or even Chicken Little or The Incredibles, as it carries a $200 million plus price tag. Other openers this weekend include Overture's $5 million George Clooney pickup, The Men Who Stare at Goats, The Box with Cameron Diaz, and The Fourth Kind with Resident Evil's Milla Jovovich. On top of that, we have the second weekend of the Michael Jackson flick, This Is It, so it should be an interesting weekend at the box office.

Our number one film is Disney's A Christmas Carol, as the Mouse House takes over 3-D cinemas until December when Jim Cameron's Avatar finally opens. The Jim Carrey holiday flick earned a softer than expected $31 million from 3,683 venues, of which more than half (2,035) are 3-D locations, as well as 181 IMAX screens. Carol had a venue average of $8,417. Considering that 55% of the locations are showing this one in 3-D, we can attribute approximately $5 million of the opening weekend gross to the 15% premium paid to get the glasses needed to watch the film.

Is Disney going to be happy with this opening? For the most part, yes, as legs are certainly the big factor here. Still, the holiday extravaganza opened lower than where tracking had it, between $40 and $45 million. The question is, why did it miss tracking by more than 10%? The marketing was fair – I thought the trailer I saw before Nightmare Before Christmas in 3-D was actually quite impressive – but I think film quality and scheduling may be more at fault. Critically, this was no homerun, as the 136 reviews counted at RottenTomatoes were pretty much split down the middle, with 75 positive and 61 negative, giving it a rotten rating of 55%. "Top Critics" at RT liked it even less, giving it a 43% rating, but on the other hand, reviews from the RottenTomatoes "Community" came in at a very fresh 83%. The community score is the best news for Disney, as it means the 3-D razzle-dazzle presented in this Christmas Carol is working for the opening weekend audiences, and should provide decent word-of-mouth, at least initially. Scheduling may be the bigger issue at work here. Halloween was just last weekend, and it fell on a Saturday, which would have made for a busy weekend for both kids and parents. Christmas is also still two months away, so I ask the question again, is it too early for this sort of thing?

Obviously, Disney has already asked itself the same question, and past performance proves that its none too early to be talking Christmas. In 2007, Fred Claus was the first out of the gate, debuting on November 7th. Fred earned a not-so-good $18.5 million over its opening weekend, but was able to turn that debut into a $72 million domestic finish, despite being an awful film. The opening-to-finish multiplier for Fred Claus was 3.9, a fair-at-best number for the month of November, and may have been a lot better if it had opened one weekend later against the soft starting Mr. Magorium's Magic Emporium (which is already in the $2.99 bin at Wal-Mart). The next example is The Santa Clause 2, the sequel to the film that started the "Christmas in November" phenomenon. The Santa Clause 2 opened to $29 million, and had a domestic finish of $139.2 million. That gives it an open-to-finish multiplier of 4.8, a fantastic figure considering that this was a sequel, and usually sequels flame out fast. Would things have been different if The Santa Clause 2 had opened after November 1, 2002? Yes. The total domestic box office would have been worse. Why? Because no one wants to see a Christmas movie in January. The Santa Clause 2 dipped over 60% in the two weekends following Christmas. These "Christmas in November" flicks have only a certain shelf life – November 1st until approximately December 28th, which gives studios eight weeks to get all the possible life out of their movie (Juno earned more than $1 million for 14 consecutive weekends). So as a business model, the 'Christmas in November' phenomenon is here to stay – the closer a studio can get to Halloween the better, but, the film had better have some legs.

For Jim Carrey, this is his eighth film to play out over the holiday season, and second after How The Grinch Stole Christmas to have the big holiday in the title. It's no wonder he came back to Christmas, as the Grinch remains his biggest film to date, taking in $260 million in domestic grosses and just short of $350 million worldwide. The Grinch had a $125 million budget, about $75 to $100 million LESS than A Christmas Carol, and the Grinch example shows how difficult it will be to make money off this project. The Grinch did open two weekends later than A Christmas Carol, and oh how the Grinch fell sharply after Christmas (50%, 66%, 71% drops). By opening A Christmas Carol two weekends earlier, Disney has a chance to see a bigger profit here than Universal did with their scheduling decision. The trick for A Christmas Carol is to make up that $75 to $100 million budget differential in the first two weekends, but now that we know this weekend's score, that's likely not to happen.

The other obvious comparison to Disney's A Christmas Carol is The Polar Express, Robert Zemeckis' last CG animated Christmas picture, and the film Disney is using as their financial guide. The Polar Express opened, dead eyes and all, on November 10, 2004 (there's that extra weekend again) to $23.3 million, against a budget of $165 million. There was a large ballyhoo that The Polar Express was going to be a disaster for Warner Bros. given the lower-than-expected opening versus that huge budget. Over its first run, though, The Polar Express ended up earning $163 million, or about seven times (!) that of its opening weekend. Since then, it's gone on to earn $305 million internationally, and continues to pop up with re-releases, 3-D showings, and likely has decent DVD sales every holiday season. I think there were some very scary moments for Warner Bros., but in the end, The Polar Express became a financially viable title for the studio. The same things will be expressed about A Christmas Carol. My suggestion is to wait to judge until at least after Thanksgiving.

The three films that finished from second to fourth were quite close, with last weekend's number one film, This Is It, finishing a surprise second. Some thought This Is It was going to be a one weekend wonder, but it actually did okay this weekend, earning $14 million and dipping only 40%. Any figure above a 50% drop was going to be excellent news for Sony, and would mean that This Is It will likely play more than its initially planned two-weekend run. Picked up by Sony for $60 million, I'm sure the studio thought it would play for two weekends, and be done, with the studio picking more than $200 million internationally for their efforts. Now it looks like This Is It, could possibly be an $80 million film on the domestic side, and if things play out the same way internationally, a $200 million film away from the US. All of a sudden, Sony could see a lot more cash out of this experiment than they initially expected. Give This Is It a running total of $57.9 million on the domestic side, and another $100 million on the international side, for now.

Finishing third is The Men Who Stare At Goats, which may be the oddest title for a film that opened with more than $10 million. Starring George Clooney, Goats earned a strong $13.3 million from 2,443 venues. I consider this a strong opening as Goats was not an easy movie to market, considering it's about a military unit that tries to kill goats with their minds (no, really). Reviews were only okay at best, with 77 positive reviews out of a possible 131, giving this one a 59% positive rating at RottenTomatoes. Goats is being distributed by Overture Films, and the upstart studio is going to have a decent sized hit on their hands, as they paid only $5 million for the rights to distribute and market, a number this one earned on opening day. This is a stronger opening than some of Clooney's other smaller films, like Syriana (top weekend, $11 million), Michael Clayton (top weekend, $10.4 million) and Intolerable Cruelty (top weekend, $12.5 million). For all involved, this is a great start for a movie with such an odd title.

Opening in fourth is The Fourth Kind, and it also gets off to a better than expected start. The Fourth Kind is a quasi horror/sci-fi pic starring Milla Jovovich, that few had on their radar for an opening around $15 million. It managed to finish second on Friday night, and had a weekend gross of $12.5 million from 2,529 venues. This is a decent opening for Jovovich, and while it doesn't approach the grosses she's seen with Resident Evil films, it does trounce everything else she's done. Universal, who is distributing for a fee on this one, marketed The Fourth Kind heavily during the baseball playoffs, and the campaign worked, at least for a weekend. The drop next weekend should be huge, as this one was only 15% fresh at RottenTomatoes.

Fifth spot goes to Paranormal Activity, everyone's favorite phenomenon. After seeing the first drop of its run last weekend (ironically over Halloween), Paranormal Activity gets beat up this weekend, as it deals with stronger competition in The Fourth Kind and The Box. Now in its seventh weekend, Paranormal Activity grossed $8.6 million, and dropped a surprisingly large 48%, despite adding another 100 venues. None of it matters, though, as the $11,000 production has now earned $97.4 million, and will cross the $100 million mark in just days.

The Box finishes sixth, but even its opening was better than expected. The Cameron Diaz flick earned $7.9 million ($5 million was expected) from 2,635 venues. This one needed better marketing and better reviews for an improved performance, and got neither. The Box finished at 46% fresh, and the marketing failed to generate much interest in the pre-release media, despite sounding like a good idea.

Seventh spot goes to Couples Retreat, the bad film that won't go away. Retreat earned another $6.4 million in its fifth weekend, basically the same amount it earned last weekend (it held up better than one might expect because of the rough Halloween decline). The $70 million film has now earned $95.8 million, as it works its way toward $100 million for Universal.

Overture Films' second film in the top ten is Law Abiding Citizen, which has obviously attracted a small following. Law Abiding Citizen earned another $6.2 million and dropped a very small 17%. After opening the $55 million film to over $20 million, the Jamie Foxx/Gerard Butler effort has seen drops of 40%, 41% and now xx% - all of which are better than what was expected. Give Citizen a running total of $60.9 million so far.

Ninth goes to Where The Wild Things Are, which is now considered a one-weekend-wonder. Wild Things earned $4.2 million in its fourth weekend, dropped 29%, and has a total so far of $69.3 million.

Astro Boy managed to hold onto the tenth spot this weekend. The movie about a boy with a rocket in his butt earned $2.6 million this weekend, dropping 25%. The Summit Entertainment release has now earned $15.1 million.

Finally this weekend, award-fave Precious opened strongly this weekend, despite being out to only 18 theatres. The Oprah Winfrey produced flick earned $1.8 million from those 18 screens, giving this one an out of this world venue average of $100,000.

Overall, the box office was off compared to last year, but not by much. The top 12 films last year were led by Madagascar 2: Escape 2 Africa, which opened to $63.1 million. The top 12 grossed a fantastic $127.7 million, setting the bar high for this year. With Disney's A Christmas Carol on top, the top 12 managed $110.6 million, giving this weekend in November the lowest top 12 total since Borat was on top in 2006. Next weekend things get blockbuster big at the box office, as Roland Emmerich's 2012 opens on more than 3,000 screens.