Weekend Wrap-Up
This IS It at the box office
By John Hamann
November 1, 2009
BoxOfficeProphets.com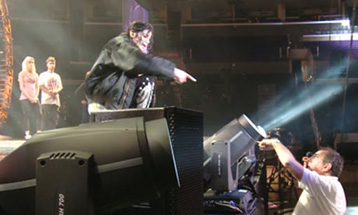 ---
Happy Halloween, everybody. The weekend of ghosts and ghouls is upon us, and because Halloween fell on a Saturday this year, it's almost a nothing weekend at the box office. It would have been purely a nothing weekend; however, 'It' showed up in the form of This Is It, the concert rehearsal movie with the now beloved Michael Jackson.

The last time Halloween showed up on a Saturday was in 1998. The top ten that year sported only one new release, the campy Vampires from horror-meister John Carpenter. That release, despite opening the day before Halloween, failed to crack $10 million, and had an opening frame of $9.1 million to take the number one spot. The top 12 films pulled in only $45.6 million, or less than half of what the following weekend's top 12 earned ($92.4 million, on the strength of Adam Sandler's Waterboy). Having Halloween on a Saturday is the death knell for movie box office, as there is just too much competition from other events over the spookiest weekend of the year. Last year, Halloween fell on a Friday, and pretty much destroyed High School Musical 3's chances of earning $100 million at the domestic box office. Halloween can be a killer, but this year, Sony was hoping it would be a Thriller, releasing Michael Jackson's This Is It over a competition-free weekend.

Michael Jackson's This Is It got off to an okay domestic start on Wednesday, October 28th, and looking at media coverage for the launch, you might think the opening was huge, when it wasn't really. Headlines roared that This Is It had earned over $20 million on opening day, however the body copy said that was an international opening, not a domestic one-day total. In reality, This Is It took in $7.4 million on opening day, and $2.2 million of that gross came from screenings held the night before. Therefore, the opening day gross was $5.2 million, with the Halloween weekend coming on fast. The Thursday gross came in at $3.8 million, off approximately 50% from the opening day total. However, as BOP's David Mumpower reported on Thursday, we need to compare the second day amount to the non-midnight showing opening day total of $5.2 million, which makes the drop more like 30%, which is much better news for the folks at Sony.

The Friday box office for This Is It came in at an excellent $7.9 million, moving beyond that midnight/opening day total. Had the Friday figure continued to sag, we would have known that This Is It was going to die on the vine and show no legs whatsoever. However, we got the opposite, which means This Is It is going to have some longer term playability. This Is It finished the weekend with a not bad weekend total of $21.3 million, albeit from 3,481 venues, or, 2,800 more screens than the Miley Cyrus/Hannah Montana concert movie that earned $31 million over its opening frame in February of 2008. This Is It has earned $32.5 million since opening on Wednesday, with an estimated $101 million worldwide (a number that includes that domestic total).

The record holder for opening weekend for a documentary is obviously Michael Moore and Fahrenheit 9/11. That film grossed $23.9 million over three-days in June of 2004, and while This Is It was not able to beat that total, the five-day total for the Jackson film did. The other film Jackson couldn't beat was Best of Both Worlds, as the frenetic fans of Hannah Montana are simply more voracious than King of Pop's aging fanbase. The good news was that This Is It trounced the Jonas Brothers, as the boy band movie flopped with an opening of $12.5 million in late February of this year. The difference between Fahrenheit 9/11 and the Miley Cyrus/Jonas Brothers concert movies is the cost to bring these shows to the movie screens. It's no secret that Sony gambled $60 million on This Is It, paying off AEG Live for worldwide distribution rights for the film. Sony has said that This Is it will play for only two weeks, but as we learned from the Toy Story 3-D double feature, movie studios often change their minds about such things when big money is involved. Even after prints and advertising are paid for, Sony is still going to do very well off the late Mr. Jackson. Sony is also releasing the album from the film, which is set to debut at number one next week with sales of around 300,000 units. Then there is the DVD, which will include hours of unseen footage from director Kenny Ortega. Between the film, the soundtrack, and the DVD, Sony should see huge profits.

Finishing second is Paranormal Activity, the surprise hit of the season. It's somewhat ironic that the cheap-to-make horror flick sees the first drop of its sensational six-week run over Halloween weekend, but with the big day falling on Saturday, every holdover is going to see an extraordinary drop this weekend. Now out to 2,402 venues (it's come a long way since midnight screenings in 12 locations), Paranormal Activity earned a still solid $16.5 million and drops 22% compared to last weekend. This means that Halloween didn't take much away from the phenomenon that is Paranormal Activity. Don't forget it was made for $11,000, with the rights picked up by Paramount for $350,000, and has a gross so far of $84.8 million. It makes the $60 million paid by Sony for This Is It seem ludicrous.

Third spot came down to whether folks were willing to see action or comedy on Halloween night. Law Abiding Citizen faced off against Couples Retreat on Saturday, after both films basically tied on Friday with grosses of $2.4 million. In the end, Law Abiding Citizen fared better, earning $7.3 million for the weekend (off 41%), decently ahead of Couples Retreat's take of $6.1 million (off 43%). The good news for both of these films is that they aren't going to be financial disasters despite questionable film quality. Law Abiding Citizen cost Overture Films $50 million to make, and it has now earned $51.4 million. Couples Retreat cost Universal $70 million to make, and now has a running total of $86.7 million.

Fifth spot goes to Saw VI, the sequel that didn't perform up to the usual Saw standards. After opening to only $14 million last weekend (less than half of the norm for the franchise), Saw VI gets kicked again by Halloween falling on Saturday, and the second weekend gross comes in at an ugly $5.6 million, a tough drop of 61%. Still, Lionsgate and the Saw producers have always known what they have, and spent accordingly. This entry into the franchise cost the producers only $11 million, so despite the low opening, it's still a profitable entry, and enough to keep the franchise going (although re-invention has to be coming). Give Saw VI $22.8 million so far.

Sixth place goes to Where the Wild Things Are, and oh, how the Wild Things have fallen. Since opening to $32.7 million three weekends ago, the Spike Jonze film has had a terrible time trying to hold onto its audience, after seeing a devastating 57% plunge last weekend with a gross of $14 million. That news gets much worse this weekend, as Wild Things earns only $5.1 million, and drops a terrifying 64%. All of sudden, a film that cost $100 million and opened to $32 million is going to be a small disaster for Warner Bros., which we thought had a hot property only a few weekends ago. The total now for Wild Things has reached $61.8 million, and finishing at $80 million is going to be a stretch.

The Stepfather from Sony/Screen Gems, who are usually quite reliable in the horror genre, finishes in seventh. After opening somewhat softly with $11.5 million, this remake fell the expected 46% against Saw VI and Paranormal Activity. This weekend, The Stepfather earns $3.4 million, and drops 45%. It has a total of $24.7 million, and despite lower scores than some of the other Screen Gems' product, this one still works, as the budget was low at only $20 million.

It's quite scary in the basement of the box office, as numbers are very low. Astro Boy takes eighth spot with $3 million. That's more bad news for a $65 million dollar production that opened to only $6 million last weekend, and now sees a drop of 55% in its second weekend. Summit Entertainment shows it's new to the movie distribution world with Astro Boy, as scheduling a film they knew had an audience the weekend before Halloween is never a good idea (see the second weekend of High School Musical 3). Astro Boy now has a running total of $10.9 million, against that very large budget.

Fox Searchlight's Amelia, the Hillary Swank starrer about aviator Amelia Earhart, finishes in ninth. Despite expanding to over 1,000 venues this weekend, the drama didn't expand on its gross, as it earned $3 million, giving it a drop of 23%. Oscar bound this is not, and has a total so far of $8.3 million.

Tenth goes to Cirque du Freak: The Vampire's Assistant, another big miss from the folks at Universal. After opening softly last weekend, The Vampire's Assistant can only conjure up an additional $2.8 million this weekend, and drops 55%. Universal paid $40 million for this one, and has a take so far of only $10.5 million.

Overall, box office was ahead of last year, which is fairly impressive given the lack of new product. Last year, with Halloween landing on a Friday, the second weekend of High School Musical 3 led the box office to a top 12 take of $74 million. This year, with This Is It providing prop, the box office earned $79.4 million from the top 12. Next weekend, things get back to normal with four big movies launching the November sweeps at the box office. Openers include Jim Carrey in an animated (3-D, naturally) A Christmas Carol, George Clooney in The Men Who Stare at Goats, The Box with Cameron Diaz, and Milla Jovovich in The Fourth Kind.