Weekend Forecast for October 30-November 1, 2009
By Reagen Sulewski
October 28, 2009
BoxOfficeProphets.com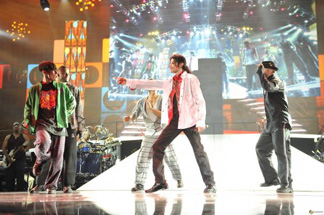 ---
One of the biggest wildcards since The Passion of the Christ is set to land on theaters this weekend, in what's an otherwise vacant Halloween period. Any number of records seem vulnerable to fall, but exactly which ones, and by how much are still up for debate.

Almost lost in the supreme weirdness surrounding the recent death of Michael Jackson was that he was in the works to begin a 50-date concert series in London, his first in years after going into semi-seclusion. Shortly afterwards, it was revealed that extensive rehearsal footage had been taken, and the producers of the series planned to edit that into a concert film, trying to milk that last drop out of Jackson's estate.

The film bears the same name as the concerts would have, This Is It, a title that's taken on a darkly ironic meaning since then. This truly is all the Michael Jackson we'll get from now on, whether you want it or not (but then – Tupac, John Lennon, Freddy Mercury and Elvis have all released new music since their death, so you never know). It's macabre, but there's no way this film happens if Jackson is still alive.

Judging just what the popularity of this will be is a tricky thing. Concert movies have never been among the higher grossing genres, with usually just special events and flashes in the pan (you heard me, Jonas Brothers! Oh, I'll take on anyone) finding their way into the top 10s, so there's little to compare this to. Jackson's music underwent a bit of a surge following his death and probably would have given him a number one record for at least a week if Billboard didn't have rules against old albums doing that. It's safe to say there's still some demand for this and enough people who aren't weirded out by Jackson himself (how?) to still be fans. Some screenings have sold out months in advance.

So, records. It's already set one for October with $2.2 million on Tuesday night, but the competition for that one is rather lacking. The biggest record for a concert film is the Hannah Montana Best of Both Worlds (I still can't believe that title got approved) movie, at $31 million (and $65 million total, to give you an idea on the shelf life of these films), which seems like our first significant record to fall. The opening weekend record for October is held by Scary Movie 3 at $48 million, which, if studio press releases can believed, would be a disaster if it wasn't broken by This Is It.

Then we move into the more rarefied air of all-time records like The Dark Knight, which, if we're to draw a creepy parallel, also got a boost at the box office from the death of its star. That opened to $158 million, and $203 million over five days, figures that studio spokesmen have started to openly talk about challenging. This is lunatic thinking, but extreme fandom can be an unpredictable thing. Opening on 3,400 screens, I'm actually looking for a Friday-to-Sunday figure of about $55 million, with another $20 million for the Wednesday-Thursday period, which should pretty much instantly make it instantly one of the highest grossing concert films in just one weekend.

The holdovers are dominated by scary films for both adults and youth alike, with Paranormal Activity, Saw VI and Where the Wild Things Are being the most significant returners. Paranormal continues its remarkable run and is likely to expand further after taking down the top spot at the box office and upsetting the Goliath of horror franchises, Saw. Halloween night is actually a terrible night for the movies, as most people are actually out partying rather than sitting in a theatre, so regardless of the expansion, this film has about reached its peak. Look for around $15 million here.

Saw VI could be in big trouble, by that standard, as it's never been the kind of film that has legs, and now it's been revealed as non-essential. I promise I'll stop dancing on the grave of this franchise soon, but for now, it's Sammy Davis Jr. time. Look for just $6 million this weekend.

Where the Wild Things Are had a pretty steep falloff from its first weekend, down to $14 million and sits around $55 million total right now. Normally we'd see some bounce back from that figure, but again, Halloween, which is a double whammy for this film because of the youth audience. Let's give it around $7 million to be charitable, for quality's sake.

Following that, we have a mix of fairly uninteresting films, in Law Abiding Citizen, Couples Retreat, Astroboy, The Vampire's Assistant and The Stepfather. If you can find something interesting in that mix of films to see, more power to you. These will range from $3 to 6 million on the weekend.