Box Office - Decade at a Glance: September - December 2005
By Michael Lynderey
October 28, 2009
BoxOfficeProphets.com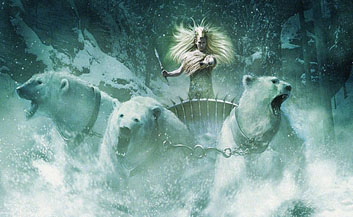 ---
September

Giving the lie to the image of early September as a cinematic dead zone, September 2005 broke out of the gate with some unexpected box office life. First, over the Labor Day weekend, Jason Statham's Transporter 2 opened with a surprisingly strong $16 million (finishing with $43 million); Statham had mostly been toiling away in supporting parts, but this sequel, topping the first film's $25 million total, launched him into a prolific career as B-movie action lead, reminiscent of the work of Chuck Norris and Charles Bronson in the '80s. The next weekend's opener was even bigger, and still stands as perhaps the epitome of the post-Ring/Grudge era of the PG-13 horror boom: The Exorcism of Emily Rose blasted out of the gate with the usual "based on a true story" marketing (a statement that, even if true, I've never particularly been compelled by), opening with a shocking - shocking! - $30 million and totaling a remarkable $75 million. The joke was that Emily Rose wasn't even much of an exploitation movie, though it was sure made out to look like one; rather, it was a somewhat effective courtroom drama with a lot of TV-movie elements and the very occasional scare, elevated in quality by the presence of so many good character actors (and Laura Linney in the lead). That a movie like that could climb such unbelievable heights is the testament to the very odd box office era we had now found ourselves in.

September 16th's designated heavy-hitter was a nice little Reese Witherspoon romantic comedy vehicle, Just Like Heaven, which pulled in $48 million - decent, if not quite on the level of some of her previous hits. Next, on the 23rd, Jodie Foster's effective thriller Flightplan rose on some great marketing and a classic locked room mystery to give September another breakout hit, opening with $24 million and finishing with a strong $89 million. The same weekend also had Tim Burton's Corpse Bride, an obvious thematic follow-up to his Nightmare Before Christmas (1993), open with $19 million and finish with a solid $53 million.

This is good, strong, box office, especially for September - and even if the month's other films didn't quite live up to the biggies, there were some quality titles. Those included Philip Seymour Hoffman in his Oscar-winning role in Capote ($28 million total), Nicolas Cage's interesting satire Lord of War ($24 million), David Cronenberg's awards-bait thriller A History of Violence ($31 million), and the surprisingly effective '70s flashback, Roll Bounce ($17 million). Roman Polanski followed-up his success with The Pianist (2002) with another version of Oliver Twist (2005), casting Ben Kingsley as Fagin, but it finished with a meek $2 million. Serenity, Joss Whedon's much-anticipated (by its fanbase) version of his TV show Firefly, ended up stuck at $25 million.

Elsewhere, Shia LaBeouf had one of his early leading roles with the golf epic The Greatest Game Ever Played, but the $15 million it mustered up was obviously left far behind in the dust by his series of post-2007 mega-hits. And finally, if you like single-digit grossers - and I do - September had a very respectable batch lined up: the $52 million-budgeted sci-fi opus A Sound of Thunder ($1 million total), the Nick Cannon vehicle Underclassman ($5 million), the very odd couple team-up of Eugene Levy and Samuel L. Jackson in The Man ($8 million), and the last Jennifer Lopez movie thus far to even have a semblance of a wide release, the awards-bait drama An Unfinished Life ($8 million). September '05 was an exceptionally busy time at the movies, littered as it was with film after film, and October would pretty much continue in the same untamed spirit.

October

October '05 saw no fewer than 18 films escape incarceration and go into wide release, but only three of them broke out of this cinematic monster mash and finished with more than $35 million. The month's first weekend spotlighted one of them, as British claymation epic Wallace & Gromit: the Curse of the Were-Rabbit opened with $16 million and totaled at $56 million. None of that weekend's other titles inspired particular interest - not the effective Cameron Diaz/Shirley MacLaine drama In Her Shoes ($32 million total), nor the surprisingly entertaining McConaughey-Pacino mash-up Two for the Money ($22 million), and especially not the Ryan Reynolds comedy Waiting ($16 million). Christian drama The Gospel did fairly well for a small release ($15 million), while George Clooney's black-and-white drama Good Night and Good Luck. took its excellent David Strathairn performance to an eventual total of $31 million, riding high on Oscar legs.

Week two of October recorded three losses out of three tries. First, Cameron Crowe's dramedy Elizabethtown finished with only $26 million, further negating Orlando Bloom's status as leading man. Meanwhile, his Pirates co-star, Keira Knightley, headlined the noisy Tony Scott action film Domino to the total of $10 million (and on a $50 million price tag, to boot). And finally, proving that not all PG-13 horror films are created equal, The Fog - a rehash of a far superior 1980 film - was the first post-Chainsaw horror remake to disappoint at the box office, opening with $11 million and finishing with $29 million (kind of leggy for a really bad horror film, there, actually). I'd like to say that this performance slammed the door shut on the painstakingly comprehensive process of remaking every notable '70s and '80s horror film - but it did not.

Week three threw even more movies out there into the world, to no discernible effect. You had wintery Oscar-bait (North Country, $18 million total), a Dakota Fanning horse epic (Dreamer, $32 million), an obscure if vaguely interesting teen movie (Kids in America, $1 million), a weird if occasionally effective Ryan Gosling thriller (Stay, $3 million), and finally, a $60 million-budget version of a once-popular video game (Doom, with its $15 million opening and thus amazingly frontloaded $28 million total). While Fanning was actually on kind of a roll here (what with Hide and Seek and War of the Worlds adorning her 2005 filmography), the exceedingly ordinary Doom proved to be the lowest grossing entry into The Rock's hit-and-miss career as leading man. That said, October ended with a bang. Brushing aside Uma Thurman's well-written dramedy Prime ($22 million total), yet another acerbically funny Nicolas Cage film (The Weather Man, $12 million), and even the almost certainly-unneeded sequel to Zorro (The Legend of Zorro, $46 million), audiences embraced the movie that came out of nowhere to become the month's biggest box office breadwinner:

Saw II was released on October 28th, shocking all by opening with $31 million and eventually totaling at $87 million, going way up from the first film's $55 million. It's the rare 2000s horror sequel to outgross its predecessor, but Saw II was a traditional horror follow-up in every sense of the term, taking the would-be claustrophobic and minimal setting of the first film and upping everything in typical sequel style - even more characters trapped in a maze of death, a bigger barrage of elaborate traps, and needless to say, gorier and more gruesome happenings. Somehow, Saw became the definitive horror series of the 2000s, and the first one to feature so many sequels since that 1980s trifecta of Friday the 13th, A Nightmare on Elm Street and Halloween. And what a contrast it was to the tame big-studio horror of the 1990s - the Saw films carried with them silly if occasionally clever plotting, almost-offensively outrageous on-screen cruelty and dismemberment, and an unapologetically obvious low-budget. Saw II also turned Tobin Bell, a bit player in the first film, into undisputedly the decade's most recognizable new horror villain - John Kramer / "Jigsaw", a particularly talky, faux-moralistic descendant of Freddy and Jason, whose nickname reflects what is easily the least interesting characteristic about him (I like to call him John Saw).

By Monday the 31st, Halloween night, box office analysts everywhere stared at the weekend chart in terror. From that point and until at least the end of the decade, every Halloween would bring with it yet another Saw movie. There was no escape.

November

With the early fall's endless onslaught of movies now behind us, November turned into a fairly ordinary blockbuster month. November 4th brought along Chicken Little, your standard CGI concoction. What's to say about it except that it opened with $40 million, finished with $135 million, and contained the usual collection of pop culture references, celebrity voices, and quirky talking animals? At this point, the CGI party platform laid out by Shrek back in 2001 was being followed to the letter, and box office-wise, it certainly kept paying off. The week's other movie was Sam Mendes' heavily-anticipated Jarhead, an adaptation of Anthony Swofford's Gulf War epic that teamed rising star Jake Gyllenhaal with 2004's Oscar darling, Jamie Foxx. This one certainly had a good trailer - with that Kanye West song, Jesus Walks - but the iffy reviews and lack of action are probably what dragged it down to a $27 million open, $62 million total.

November 11th took a break from blockbusters, with not one but two possible hits underperforming. Jon Favreau's follow-up to Elf, the entertainingly-jokey Zathura, finished with only $29 million, while Get Rich or Die Tryin', rapper 50 Cent's attempt to emulate Eminem's 8 Mile, totaled a mild $30 million. They didn't get any help from the week's other challengers, Clive Owen-Jennifer Aniston thriller Derailed ($36 million total) or Keira Knightley's big Oscar bid, Pride and Prejudice ($38 million). It was up to next week, the 18th, to bring the month back to life - and it did: the fourth Potter picture, Harry Potter and the Goblet of Fire, delivered the franchise's then-highest opening, starting at $102 million and finishing with $290 million. The third Potter film finished at a series low of $249 million in June of '04, but the fourth entry helped bring the series back into the upper realms of the $200 millions. The week's other title, Johnny Cash biography Walk the Line, opened at $22 million but took its gushy reviews and Oscar-season legs all the way up to $119 million. Its leads, Joaquin Phoenix and Reese Witherspoon, both received Oscar nominations, but only Witherspoon won hers, cementing her status as one of the decade's biggest female stars.

As usual, Thanksgiving weekend dished out a motley collection of films, hoping one or two would stick. Well, the Dennis Quaid-Rene Russo team-up Yours, Mine & Ours did pretty well, finishing with $53 million, and George Clooney's Syriana eventually also climbed up to a $50 million sum. Russo, a popular '90s star, hasn't appeared in a film since. As for Clooney: while he never really headlined very many $100 million movies outside of the Ocean's Eleven films - 2005 represented an epoch for him as both director and actor: he won the Oscar for his acting in Syriana and received another nomination for helming and writing Good Night and Good Luck.

The big disappointment of the weekend came with Rent, another in a series of stage musical adaptations greenlit after the success of Moulin Rouge! and Chicago. While the previous year's Phantom of the Opera faltered somewhat, Rent took failure a step further, finishing with only $29 million and further stunting the resurrection of the movie musical. The week's other releases included Just Friends, a particularly awful Ryan Reynolds-Anna Faris farce ($32 million total), Usher's first and thus far last leading role, In the Mix ($10 million), and finally, the neat little thriller The Ice Harvest, which wound up with $9 million for its troubles. And then, with nothing more to show for itself, November gave way to the blockbusters of December.

December

With another troubling torrent of titles tumbling towards the trembling masses, December had two clear uber-blockbusters leading the way. After Peter Jackson's Lord of the Rings trilogy ended in 2003, the following year's holiday season was bereft of a designated hitter, and so the world was forced to turn to the monstrous Meet the Fockers to make box office ends meet. However, seeing what his absence had wrought, Jackson was merciful enough to return to the month that he dominated in the early years of the decade, and unleash another blockbuster to keep the season in shape. And what better choice for such a film than a remake of King Kong, with its obvious potential for special effects grandiosity and high-tech action scenes? Jackson's version of Kong cost upwards of $200 million, and assembled for its jungle adventure not only starlet Naomi Watts, but also mischievous comic entity Jack Black and occasionally frail-looking Oscar-winner Adrien Brody. The release was scheduled for Wednesday, December 14th. This one was ready to be huge. Massive.

But it wasn't. Yes, King Kong opened with $50 million and eventually racked up $218 million, but there was a distinct air of disappointment on the part of those who follow box office. Another film had stolen Kong's thunder - after all, the Chronicles of Narnia: The Lion, the Witch and the Wardrobe opened with $65 million just the week before, and had holiday legs so good that it dropped over 50% the next weekend but still finished with an astonishing $291 million, thus becoming the fall season's highest grosser (and the second biggest film of the year, after Star Wars). Ironically, this large-scale adaptation of the popular novel had come to fruition only as a result of the success of Jackson's own fantasy films (as well as that of Harry Potter). Guided by Tilda Swinton's menacing work as the White Witch, some catchy special effects, an obvious appeal to children, and reviews that were positive if not uber-positive, Narnia had all the right elements put together to emerge as a natural successor to the founding fathers of the modern fantasy genre, the aforementioned Lord of the Rings and Potter films. Mr. Kong didn't stand a chance.

The only other three digit earner came with good old Jim Carrey, whose team-up with Tea Leoni in Fun with Dick and Jane was only intermittently amusing and thus received only intermittent box office - but it eventually did rack up $110 million, a classic example of holiday legs doing the job they're paid to do. Outside of that, December was about evenly divided between Oscar-bait and the more commercial fare trying to attract holiday-season audiences. The Oscar-bait was led by drama Brokeback Mountain, Ang Lee's adaptation of Annie Proulx's short story. This is the one that broke Heath Ledger back into critical acclaim, after a period (2002-2005) of floundering in inconsequential films. Brokeback also won Lee his Best Director Oscar and grossed $83 million, but was beaten out for Best Picture by May contender Crash (at a total of $54 million, Crash remains the lowest grossing Best Picture winner of the decade, and also seemed to signal the beginning of an era when Oscar nominations went predominantly to movies that did not perform particularly well at the box office). Other meaty chunks of Oscar bait included Munich ($47 million total), Steven Spielberg's Israeli-set thriller, The New World ($12 million), Terrence Malick's widely ignored epic about early America, Japanese-set Memoirs of a Geisha ($57 million), and finally, Broadway adaptation The Producers, which grossed $19 million and thus again helped to suppress the musical genre (although that genre's still kicking).

The month's lighter side included the Jennifer Aniston romantic comedy Rumor Has It..., which turned out OK at $43 million, Charlize Theron's silly sci-fi opus Aeon Flux ($25 million total), and The Family Stone, a nice little Christmas comedy with Sarah Jessica Parker and Diane Keaton that did pretty well for itself with $60 million (but it sure was no Something's Gotta Give). Elsewhere, Steve Martin's follow-up to his silly Cheaper by the Dozen (2003), the even sillier Cheaper by the Dozen 2, finished at a more realistic $82 million to the first one's unlikely-but-true $138 million. Meanwhile, an Australian take on the whole off-putting torture porn subgenre, Wolf Creek, opened on Christmas Day (when else, right?) and grossed $16 million.

And finally (whew), fairy tale parody Hoodwinked platformed in December but didn't expand wide until January, where it pulled off the standard gross for B-list CGI fare ($51 million). They're making a sequel to this one, for some reason, but I won't be at liberty to talk about it until we get to the much-anticipated "2010s in review" column. And that may be a while.