Box Office - Decade at a Glance: May - August 2005
By Michael Lynderey
October 27, 2009
BoxOfficeProphets.com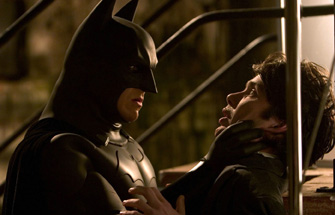 ---
May

Ever heard of a May where the first movie to gross $100 million wasn't released until more than halfway into the month? Sure, that was pretty commonplace up until 1998 or so, but whoever would imagine such a thing could happen again, in today's box office world? Alas, such an event is not just a bedtime story told to frighten film executives into submission. It actually happened in 2005, and if we don't watch out, it may happen again some day. When we least expect it.

May 2005 began with what ended up as the lowest-grossing first week of May title of the entire decade. I'm obviously talking about Crash, that little star-powered drama that could, the Best Picture Oscar winner that opened with $9 million and finished with $54 million after a lot of word-of-mouth legs and awards buzz. That $54 million easily ranks it below Van Helsing (2004)'s $120 million, thus earning the above-mentioned first-week-of-May record. But how did this accomplishment come to be? Who or what decided that Crash should be the big summer opener?

Kingdom of Heaven did, basically. That was the costly ($130 million or so) historical epic from Ridley Scott, who practically reinvigorated the genre when he delivered Gladiator to mega-success on the same weekend five years before. And so it was most appropriate that the man who swung open the door for those often very expensive films would also be the one who definitively shut it. 2004 was already adrift with epics that disappointed to varying degrees (Troy, King Arthur, and Alexander) and so the time and place was just right for Kingdom of Heaven to do what it did - open with $19 million and finish with $47 million, that is, thus ranking it below Crash's total. Set during the Crusades, Kingdom of Heaven's appeal rested solely on the shoulders of star Orlando Bloom; logically speaking, the casting made sense, considering that at this point Bloom had had starring roles in fantasy epics like Pirates of the Caribbean and the Lord of the Rings, as well as more relatively down to earth stuff like Troy. Bloom was the clear star here, and the movie's performance seemed to indicate that he was not as big a draw as previously assumed. The stereotypical two and a half hour running time didn't help, nor did the mixed reviews, nor the fact that, unlike five of the other ten 2000s May openers, this wasn't based on anything even vaguely connected to Marvel Comics. Kingdom's failure began talks of a box office slump, a subplot that was often not-so-vaguely bubbling around throughout the next year or so. But I think this particular movie frankly only had itself to blame.

Also on the May 6th weekend, the folks at Dark Castle Entertainment sent out their latest, a remake of 1953's House of Wax that replaced original star Vincent Price with Paris Hilton (though they weren't evidently playing the same character). As implied above, this one didn't do much business either, totaling at a mild-for-the-genre $32 million. Hard to say why it was that, among a sea of 2005 horror hits, it was this one that disappointed, but there it is. Week two of May followed with two modest performers - the Will Ferrell soccer comedy Kicking & Screaming, which totaled at a low-for-Ferrell $52 million (it was probably too much of a kids' movie for most people) and the Jane Fonda-Jennifer Lopez cagematch Monster-in-Law, which took in $82 million. Great title on that one, and the combination of Lopez in a romantic comedy role with Fonda, making her first screen appearance in 15 years, is what drove up the box office - counter programming without anything in particular to counter. How odd that Monster-in-Law was Lopez' last big starring role until at least 2010. Also around that weekend was the neat little Jet Li action movie Unleashed ($24 million total), but Li never really struck out as a big action star in the U.S., and this film was no exception.

May finished messin' around with us only on its third weekend, with the release of a film no slump could possibly hope to suppress, as George Lucas completed his prequel trilogy with Star Wars: Episode III - Revenge of the Sith. A marked improvement in quality over its two predecessors, this one bumped the box office back up, finishing with $380 million to Episode II's $310 million (although it couldn't match Episode I's $431 million). The opening weekend was something like $108 million, but if that doesn't break any big records, and it doesn't, does it really much matter?

May 27th - 29th continued dishing out hits, giving us not only Madagascar ($47 million opening, $193 million total) but The Longest Yard ($47 million opening, $158 million total). Madagascar was another CGI excursion modeled directly after Shrek, and performed as such. The Longest Yard, on the other hand, gave Adam Sandler another entry in his eight year-long $100 million chain, along with better reviews than he usually gets. Overall, it now seemed that after the horrors of the early days of summer, everything was back on track at the box office.

June

But not so. June 3rd was another scary weekend for box office analysts. Once again, a studio put its faith in a two and a half hour historical epic with a star who hadn't necessarily proven themselves as a draw on the summer landscape - and the results were predictable. Ron Howard's Cinderella Man - matching Russell Crowe with Renee Zellweger and tackling the story of a Depression-era boxer - cost just about $90 million to make, but opened with $18 million before totaling at $61 million. Talk about a movie that would have been better suited for the holiday season; such elongated dramatic shenanigans were obviously out of place smack dab in the middle of the summer heat. On the plus side, the movie did nab co-star Paul Giamatti the Oscar nomination that he'd been unfairly robbed of for the previous fall's Sideways.

Things were looking up the next weekend, as the Brad Pitt - Angelina Jolie team-up Mr. & Mrs. Smith took its mix of romantic comedy and action to a surprisingly strong $50 million opening and $186 million total. While I suppose this film is notorious for whatever off-screen reasons, I'd say the noticeable quotient of high-tech action scenes helped it immensely, especially considering the distinct lack of them at this point in the summer (Star Wars excepted). And as previously stated, Angelina Jolie movies always do great in June - you can trace that back all the way from Gone in 60 Seconds to Tomb Raider and onwards to Kung Fu Panda and Wanted. The box office didn't slow down in the next frame - Batman Begins opened on Wednesday the 15th, taking in $15 million on the first day, another $48 million on the weekend, and finally totaling at $205 million. While that made it the highest grossing Batman film since the first one, analysts were still generally disappointed, especially with that opening - but this movie's notability became apparent in the long run, not the short term. After all, the reputation of the Batman series was tarnished with Batman & Robin in 1997, and Batman Begins was seen an experimental reboot of the franchise - a new start that could cannily be taken as a prequel. With the heavy critical acclamation (better reviews than any previous Batman film), this one really hit it off with audiences, and set The Dark Knight up to be the biggest movie of the decade.

But it's not only for that reason that I'd peg the release of Batman Begins as the most notable cinematic event of 2005. The film did something other than bring back the Batman franchise. It introduced a new concept to Hollywood, one that was so breathtakingly simple that it's a wonder no one had come up with it before. It was called The Great Reboot. It went something like this: if we have a popular property on our hands that a lot of people like - let's say, Superman, or Freddy Krueger - there's no particular reason why we shouldn't be making a new film about them every few years, is there? Even if that last one didn't do very well at the box office, or tarnished the franchise in some seemingly unrecoverable way, or killed off an important character? This light bulb-worthy idea extended also to "old" movies like Footloose or the Karate Kid or Red Dawn - or most of the summer of 1984, for example - if people still like those movies so much, it just seems like kind of a waste to let them sit there on the shelf, doesn't it? Shouldn't they be out there in theaters, working for a living?

The answer was yes, and so the previous concept of remaking old black and white '40s movies was replaced with rebooting, or rather, Rebooting, movies and franchises from the '70s, '80s - sometimes even series that had entries released as recently as a few years ago - like Halloween and Friday the 13th. Of course, horror movies started the trend with Texas Chainsaw '03 and Dawn of the Dead '04, but the success of Batman revealed the simple fact that if you make a mistake - like a really bad franchise entry that flops at the box office - you can just press a button and start all over again from the beginning, all sins forgiven. The necessity of toiling away at coming up with some new and untested franchise had been removed. For some, this was a good thing - an alternative for people who didn't like Jim Carrey's mugging in Batman Forever, for example. I, on the other hand, see it as a real-life equivalent of the villain from another soon-to-be-Rebooted movie, The Neverending Story - a humongous invisible entity threatening to make quite a giant sucking sound as it swallows our very recent film history and regurgitates it as it wishes. The Great Reboot. What the eventual result of this could amount to is the freezing of popular cinematic culture into one time period - in this case, around the late '80s/early '90s - to be remade and rebooted and sequeled forever after.

That said, June '05 ended with an old-fashioned remake - star Tom Cruise and director Steven Spielberg teamed up to re-tackle 1953's War of the Worlds, and it wasn't much of a surprise that it took off with a boatload of money - $64 million opening, $234 million total. Some people carped on this one not making enough money - sure, it was no Star Wars III - but it was $100 million more than Minority Report, the last movie from this star/director team, so it was just fine by me. That's especially true considering the rest of the month, a collection of decidedly lower-scale films that felt a little out of place in the big-budget territory of summer: Will Ferrell and Nicole Kidman disappointed with the TV show remake Bewitched (finishing at $63 million); Lindsay Lohan had a minor success with Herbie: Fully Loaded ($66 million), a movie frankly below her paygrade; Hilary Duff, on the other hand, couldn't lift The Perfect Man above $16 million - her second flop in a row; The Sisterhood of the Traveling Pants did pretty well for what is was, with $39 million; another old TV adaptation, The Honeymooners, totally tanked at $12 million; Robert Rodriguez put out yet another kids movie, the amusingly-named Adventures of Sharkboy and Lavagirl 3D, which scored way under his Spy Kids series, with $39 million; and the renewed popularity of the zombie genre gave George A. Romero a chance to make another entry in his series - Land of the Dead, a decent film that grossed only $20 million. Romero was the man who began the modern incarnation of the zombie film in 1968, with Night of the Living Dead, but by 2005 his movies were being outgrossed by more modern zombie excursions, like Resident Evil or 28 Days Later.

The big surprise brewing under all this was March of the Penguins, a sweet little documentary that performed like one of those movies about a lot of cute furry animals (which it was). This one opened a year after Michael Moore's Fahrenheit 9/11 redefined what a documentary could play like at the box office; Penguins fulfilled that promise, delivering humongous per-screen averages in limited release before expanding wide and finishing with a remarkable $77 million. Nature docs occasionally did pretty well during that '70s documentary boom, but never like this film, which became the second highest grossing documentary of the 2000s.

July

With that hit-and-miss June now over, July 2005 - initially a suspicious month with no clear winner - came to be dominated by three summer blockbusters. The first, Fantastic Four, another much-anticipated fanboy project finally given cinematic life, opened on July 8th and rode on the popularity that comic book movies were by this point clearly enjoying. It opened with $56 million and finished at $154 million, giving star Jessica Alba her highest grossing film, and introducing Chris Evans (The Human Torch) as a potential leading man. Quality-wise, it was... well... I think I'll leave that one there.

July 15th is where all the real action was at, though. The initial winner was Charlie and the Chocolate Factory, Tim Burton's remake of the 1971 film; this one capitalized on Johnny Depp's popularity and the film's inherent kidappeal, opening with $56 million and eventually finishing at a strong $206 million (the original movie grossed... uh... $4 million). But it was the day's other release that eventually wound up on top - Wedding Crashers, a solidly R-rated raunchy comedy with Vince Vaughn and Owen Wilson, opened to a surprisingly strong $33 million, before shocking even more by having legs far superior to those of the Burton film - when all was said and done, Crashers took in a remarkable $209 million. Vaughn had already been ascending to comedic stardom with Old School (2003) and Dodgeball (2004), but this is the one that made him a solid mega-star. Wilson's filmography is a bit more choppy; outside of the subsequent Marley & Me, this is his only $100 million grosser as leading man. Wedding Crashers also gave a definitive boost to co-star Rachel McAdams, and she'd hold her own just a month later with Red Eye.

The rest of July divides neatly between failed would-be blockbusters and surprise hits. Let's start with the failures, because I guess they're more fun. The most notorious is probably Michael Bay's action epic The Island, a film that stands alone like a sore thumb among his resume of high-powered $100 million+, $200 million+, $300 million+, and, most recently, $400 million+ grossers. Teaming Scarlett Johansson with Ewan McGregor, this cloning-themed opus cost about $125 million but finished with a staggeringly inappropriate $35 million (why it failed: it clearly was short of the mark by at least three explosions). Johansson and McGregor would both subsequently be banished back to their natural habitat of well-reviewed Oscar-bait, while Bay would strike back with a vengeance, following The Island up with Transformers 1 + 2, the two biggest films of his career (it's the best kind of revenge). July's bigger failure, if not by much, came with Stealth, a $130 million-budget action thriller with Jamie Foxx and Jessica Biel that totaled at a paltry $32 million. But this one was and still remains so distinctly uninteresting that there's not much else to say about it - not even a good joke to make at its expense. A milder failure came with Dark Water, Jennifer Connelly's ghost-themed PG-13 remake of an Asian film (sound familiar?), which mustered up only $25 million. This one was actually pretty good, but I guess most PG-13 horror viewers were taking their well-earned summer vacation (don't worry, they'd be back, big-time, in the fall).

Like June, July was stuffed with a number of smaller films, some of which came through. There was Disney's Sky High, the high school-set superhero sort-of-parody that took in $63 million. Must Love Dogs, a Diane Lane-John Cusack collaboration that proved a decent enough comedy vehicle for both, finishing with $43 million. Terrence Howard, better known after Crash, delivered his Oscar-nominated role in Hustle & Flow ($22 million total), while Billy Bob Thornton played another amusing misanthrope in the Bad News Bears remake ($32 million), which doesn't quite rank up there with his more memorable films. And finally, Rob Zombie's The Devil's Rejects, a hard-R sequel to his House of 1000 Corpses (2003), took in only $17 million but was an entertaining retro-'70s pastiche nevertheless, with notedly ghoulish performances from long-time supporting actors Sid Haig and Bill Moseley (Sheri Moon Zombie was pretty good, too). In a genre that soon became marked by senseless and sadistic violence (some of it presided over by Zombie himself), Rejects was at least a film that had a bit of wit and character to it.

August

The Augusts of the 2000s had thus far been divided between typical blockbuster-saturated summer months (2001 through 2003) or moodier, quieter affairs (2004). 2005's edition of the month came off distinctly more like the latter, although the identity of the token $100 million movie ended up being a bit of a bait-and-switch.

August 5th saw the release of just one film, and this one was clearly the month's designated blockbuster: The Dukes of Hazzard, another one in the summer's seemingly endless series of TV show adaptations, paired Seann William Scott and Johnny Knoxville up with singer/television personality Jessica Simpson, added in some fun trailers and an infamous car-wash music video, and went full speed ahead into the promised $100 million land. But it was not to be - after some heavy critical drubbing, the opening weekend ended up at $30 million - not bad, but it didn't have enough momentum to get to three digits, and the Dukes finished with a sequel-less $80 million gross (straight-to-video sequels don't count).

So would that be the end of the month's $100 million dreams? Nope, because Judd Apatow's The 40 Year-Old Virgin opened on August 19th, coming out of nowhere to take $21 million on opening weekend and then finish all the way up at $109 million. On paper, this might just look like the summer's last hit. But in reality, it was a lot more. First, it turned Steve Carell, then best known cinematically for his supporting role in Anchorman (2004), into a bonafide leading man. Second, it redefined what a comedy could be - adding crass wit and (allegedly realistic) frank talk about sexuality into the roster of the mainstream comedic arena. And finally, it not only set up Apatow as a major director and producer, but formally introduced (or re-introduced) many of the actors who would go on to dominate American comedy in the second half of the decade - for better or worse - Seth Rogen, Paul Rudd, Jonah Hill, Leslie Mann, and Jane Lynch. Some of this wouldn't become evident until the summer of 2007, with the rise of Knocked Up and Superbad, two movies that were spawned directly from this one's success.

The rest of August doled out three modest hits - John Singleton's thriller Four Brothers gave Mark Wahlberg and Tyrese a decent vehicle ($74 million total), Red Eye broke out Rachel McAdams as a solo star ($57 million), and Kate Hudson's The Skeleton Key was another PG-13 horror thriller that did pretty well ($47 million) - and at least this time, the movie wasn't awful.

But awful is as awful does, and with that in mind, we get into the rest of August - movies like Rob Schneider's Deuce Bigalow: European Gigolo ($22 million total), underground monster-fest The Cave ($15 million), the perfectly self-describing Supercross: The Movie ($3 million), and an Ashlee Simpson vehicle (Undiscovered... $1 million). The month ended with The Brothers Grimm, Terry Gilliam's long-delayed, $80 million-budget fantasy with Heath Ledger and Matt Damon. Ledger would return to critical prominence in the fall, but it didn't quite happen with this movie, which was generally dismissed by critics as an oddity and saddled with a $37 million total. Once again, a Gilliam film had trouble connecting with audiences; it wasn't the first time, and it seems pretty likely that it won't be the last.