Box Office - Decade at a Glance: January - April 2005
By Michael Lynderey
October 26, 2009
BoxOfficeProphets.com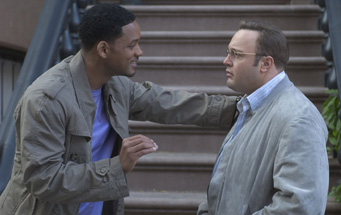 ---
With half the decade over, 2005 gave us some mid-term re-shuffling of the established roster: say hello to Tyler Perry, Judd Apatow, the horror boom, and the phenomenon known only as the Great Reboot.

January - February

With the heldover Fockers raining their unfunny wrath down on audiences, 2005 gave the second half of the decade a decidedly uneasy start. But box office-wise, January '05 was almost as strong as the now-legendary '09 version. First, colorless horror film White Noise gave the first weekend of the year the highest opening it has ever hosted, taking in $24 million before finishing with a remarkable $56 million. Weekend #2 was headlined by MTV's Coach Carter, a film that turned its stereotypically uplifting storyline and entertaining Samuel L. Jackson performance into a $24 million opening (that number again) and $67 million total. Strong early January performances were an MTV Films tradition began by Varsity Blues in 1999 and repeated again with Save the Last Dance in 2001 and Orange County in 2002; they're a demonstration of a principle that hasn't been tested out often enough: teen movies do really well in January. The same weekend didn't stop dishing out hits, as talking farm animal picture Racing Stripes opened with $13 million on its way to a shockingly strong $49 million. That result betrays another January tradition: the month has a habit of taking random children's movies and turning them into shocking mega-hits. We saw that with Paul Blart this year, and I'd point to January '05's Are We There Yet? as a direct ancestor: here was a completely non-descript, critically-bashed and -trashed, ridiculous-looking comedy that starred Ice Cube (not the most kid-friendly of actors), yet it opened with $18 million (already a little too much) and finished with $82 million. How? Why? Honestly, and just as with Blart, I have to admit complete befuddlement, and surrender in the face of inexplicability. I just don't know. Maybe nobody does. Box office analysts could make some good points about why that film would do somewhat well, but to me, nothing they say explains a total gross that is just so ridiculously massive.

February sent out another big hit, as Will Smith had his third $100 million+ movie in the timepsan of a single year. His romantic comedy Hitch teamed him with Eva Mendes and Kevin James, and opened to a massive $43 million over the pre-Valentine's Day weekend - before spending the next two months working its way up to $179 million, Smith's best total since Men in Black II. This one I don't have to be baffled about: people just love Will Smith, and Hitch was obviously a perfect vehicle at just the right time of year. A more modest success came in the form of Constantine, a supernaturally-tinged comic book adaptation with Keanu Reeves and Rachel Weisz. The budget was $100 million, so I suppose the $33 million opening and $75 million total may seem underwhelming. But if you keep the price tag right out of your mind, that result's not half bad. Anyway, the months' also-rans included a lame Tommy Lee Jones comedy (Man of the House, totaling at $19 million), a decidedly needless sequel (Son of the Mask, $17 million), an okay little dog movie (Because of Winn-Dixie, $32 million), and a surprisingly effective thriller remake that no one bothered to see (Assault on Precinct 13, $20 million). Debra Messing's star vehicle The Wedding Date did modest business at $31 million, but was thoroughly trashed by fellow romantic comedy Hitch. Disney sent another would-be straight-to-video sequel into theaters, but it's no secret that Pooh's Heffalump Movie ($19 million) was never going to set the box office on fire. And finally, there was Elektra, a comic book adaptation and Daredevil follow-up that seemed like a sure-fire star vehicle for Jennifer Garner - before it finished with only $24 million, that is. Bad reviews, somewhat sour feelings about the Daredevil movie, and a lack of awareness about the character (Electro is probably better known) sunk this one.

That said, January and February offered us good looks at two important late '00s trends. The first came with the release of the first Tyler Perry movie, Diary of a Mad Black Woman, on February 25th. This is the title that came out of nowhere to open with $21 million and finish at $50 million, in the process turning aghast the face of box office analysts who had initially ignored it. Perry had seen much success as a playwright in the first half of the 2000s, and his Madea character (the name Madea is a pleasant mangling of "My Dear") had become a popular staple among the church-going African-American demographic that Perry had been assembling on stage (but hey, I like her too). Perry's loyal base came out for his movie debut, turning him into a newly-minted movie star to be reckoned with, not to mention a continuously-working director (Diary of a Mad Black Woman is the only Madea film he did not helm). A finer example of cross-dressing as a box office force I have never seen. Interesting to note that after the film's heavy critical lambasting, distributor Lionsgate has since declined to screen Tyler Perry movies for critics.

2005's first two months also offered us ample demonstration of a new box office reality: the reinvigorated popularity of the horror genre that was going to dominate the decade's second half. Consider that 2005 had seen 28 horror films, loosely defined, achieve wide release - compared to 14 in 2001, eight in 1994, and 21 in 1988 (back when there was another horror boom going, though not as strong as this one). Aside from White Noise's incredible early year take, another random ghost-themed PG-13 movie, Boogeyman, ruled the early February scene, opening with $19 million and ending at $46 million. Just a week before, Robert DeNiro's R-rated thriller Hide and Seek broke out to $21 million (finishing with $51 million). Back then, those were not normal box office results - horror movies did make this kind of money, occasionally, yes - but usually not films so badly reviewed and lacking in distinction - and certainly not so many of them at basically the same time. Boogeyman's studio had at one point even planned a direct-to-video release. But with the success of The Ring and The Grudge, PG-13 horror movies had began to rain down on theaters in bulk for the first time since the rating's invention, and the would-have-been straight-to-video movies of the past several years were transformed into inexplicable high-teen openers.

Not all horror movies broke out, of course - BOP fave Uwe Boll's Alone in the Dark grossed a mild $5 million. But if anyone can be bold enough to make an exception to the rule - it's Boll. Kudos.

March

March generously added to the 2005 $100 million pool started by Hitch. First, Vin Diesel's domestic disturbance tale The Pacifier was yet another silly comedy to hit it big, following the model of Bringing Down the House in 2003 by opening with a staggering $30m and finishing at $113 million. This was a much-needed hit for Diesel, who branched out into comedy after his two hit action movies (The Fast & The Furious and xXx) were followed by a series of box office disappointments. For whatever reason, this was Diesel's last wide release until 2008. March '05's other three digit grosser was Robots, a CGI extravaganza from the makers of Ice Age; indeed, replicating that film's March 2002 success, it opened with $36 million and legged its way up to $128 million. Not staggering, but a decent success.

#3 and #4 went to The Ring Two and Guess Who. The latter film, a remake of the 1967 comedy Guess Who's Coming To Dinner?, took in $68 million and thus offered a very respectable hit for stars Bernie Mac and Ashton Kutcher (and considering the success of Just Married in 2003 and The Butterfly Effect in 2004, Kutcher was on a roll here). The Ring Two, on the other hand, was an interesting example of a popular 2000s phenomenon, wherein almost no first-time horror sequel came even close to matching the gross of its original film (Resident Evil and Saw are the few exceptions). As previously noted, the original Ring's 2002 release inspired the massive wave of PG-13 ghost attacks - and thus maybe it was fitting that by the time Ring Two came along, the subgenre had exhausted audiences enough that attendance was dwindled out some. The movie's $75 million total (down from the first one's $129 million) was still pretty good, but it hasn't yet inspired another entry in the series. And as someone who holds the original Ring in contempt for all it has brought down upon us, I am perfectly content with that fact.

Other March efforts were led by Get Shorty's disappointing sequel Be Cool ($55 million total), the even more unpleasant follow-up Miss Congeniality 2: Armed and Fabulous ($48 million to the first film's $106 million), the potentially interesting successor to Barbershop, Beauty Shop ($36 million), and the Michelle Trachtenberg vehicle Ice Princess ($24 million), which was one of 'em figure skating movies some people just insist on making. Quality-wise, I was a fan of the Bruce Willis thriller Hostage ($34 million), which mixed noir with Die Hard, and Joan Allen's terrific performance in the entertaining comedy The Upside of Anger ($18 million), a film that was undeservedly moved out of Oscar season '04. See it.

April

That combo of Bruce Willis and film noir stretched out into April, when graphic novel adaptation Sin City proved a more-than-worthy thematic successor to Quentin Tarantino and Robert Rodriguez's then-recent batch of well-received films. Directed by Rodriguez and featuring a brief segment helmed by Tarantino, the film offered a moody black-and-white anthology of violent variations on familiar genre tales. And what a cast, too - Willis, Jessica Alba, Clive Owen, Rosario Dawson and Mickey Rourke in his first vaguely comeback-ish role. It's odd, therefore - and especially with the $29 million opening and $74 million total - that we haven't yet seen that long-promised sequel.

Horror boomed some more with The Amityville Horror, an unhealthy combination of the remake and ghost movie subgenres, albeit one with an R rating. This was the third big redo, after Texas Chainsaw '03 and Dawn of the Dead '04, and at least it's a film that didn't outgross the original - totaling at $64 million might seem pretty good, but Amityville '79 pulled in an almost-unbelievable $86 million (yup, that's at least $250 million if you adjust it). Anyway, the '05 version's number was good enough to hold the remake door wide open, but at least they showed some mercy and didn't make a sequel. It's the least they could do.

The rest of the month's offerings were more of the hit and miss variety. Sean Penn and Nicole Kidman turned up for The Interpreter, a surprisingly virile thriller that had legs good enough to finish at $71 million. Matthew McConaughey teamed with Penelope Cruz for book adaptation Sahara; I'd say that the $68 million it took in was pretty good - but for whatever reason, this one cost $160 million! So never mind. Next, Jimmy Fallon and Drew Barrymore had a modest hit with the very funny Fever Pitch ($42 million total), but Fallon hasn't followed it up with another leading role yet. Perhaps to counter his hit Guess Who, Ashton Kutcher's A Lot Like Love finished with only $21 million. And finally, Chinese martial arts-fest Kung Fu Hustle dragged itself to $17 million, while a single-digit gross was accorded to long-forgotten comedy King's Ransom ($4 million).

The month ended with a pair of disappointments. The first, sequel xXx: State of the Union, replaced Vin Diesel with Ice Cube and followed-up the original's $141 million total with an embarassing $26 million (Diesel is now threatening to return for another sequel). The weekend's other film was long-, long-, long-awaited sci-fi adaptation The Hitchhiker's Guide to the Galaxy, a title that received only mixed critical notices and petered out at $51 million. But frankly, anything that gets those "I can't wait for the [insert popular fanboy property] movie to come out" posts off of message boards is okay with me.