Weekend Wrap-Up
Paranormal Active, Saw Lacks Teeth
By Kim Hollis and David Mumpower
October 25, 2009
BoxOfficeProphets.com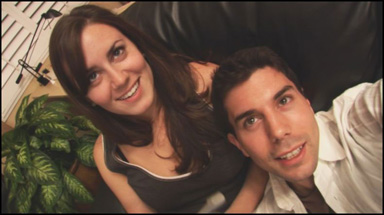 ---
Autumn means horror is king at the box office and this weekend is no exception. The top two choices for North American film audiences were the latest sequel to a franchise that has dominated October in the 2000s and an amateur film that is selling like a blockbuster. In the end, the new hotness of Paranormal Activity thrilled consumers while the Saw franchise looked old and tired...and well past its expiration date.

Paranormal Activity finished its ascension from midnight venue to novelty to box office champion this weekend, earning an estimated $22 million. This unlikely turn of events indicates that the film that debuted in 47th place a month ago has risen to 20th place in its second weekend, fourth place in its third weekend, third place in its fourth weekend and now wins its fifth weekend in theaters. The marketing team at Paramount Pictures has hit the most dramatic homerun of their careers with this title, which is poised to shatter any number of records for profitability.

The distributor paid only $300,000 for the rights to the home video production that has earned $7.9 million, $19.6 million and now $22.0 million over the past three weekends. The film has a running tally of $62.5 million, making it the box office equivalent of a penny stock that evolves into a Fortune 500 company. It is all but certain to break $100 million now. In terms of per-location average, the platform expansion from 763 venues to 1,945 meant a drop of only 56% from $25,711 to $11,311. Most titles that expand this much drop somewhere around 70-80% in terms of per-location, yet another way that Paranormal Activity has rewritten the rules. The end result is that for the fifth (!) straight weekend, the little horror film that could has increased in weekend revenue. It has jumped from $77,873 in 12 locations (with only midnight showings) to $532,242 in 33 locations (583% growth) to the aforementioned $7.9 million in 160 locations (1384% growth) to $19.6 million in 763 locations (148%) growth. In weekend five, that $22 million in 1,945 locations indicates 12% growth from last weekend's already jaw-dropping performance. Stating the obvious, Paranormal Activity's October run has seen it accomplish any number of remarkable box office feats that are unlikely to be matched ever again...and Halloween isn't even until next weekend.

To a certain extent, the success of Paranormal Activity is an example of history repeating itself. In October of 2004, a production with a miniscule $1.2 million budget (which would pay for roughly 100 Paranormal Activities, but I digress) shocked the industry by earning $18.3 million. The original Saw would go on to earn $55.2 million for Lionsgate, and the studio quickly realized they should do a sequel. Every year. No matter what. While the original Saw never won a box office weekend, Saw II, III and IV all dominated the competition, each opening in first place with $31.7-$33.6 million. Saw V absorbed a small amount of slippage as it became the first film since the original to fail to finish in first place. The unlikely combatant High School Musical 3: Senior Year beat it handily, $42.0 million to $30.0 million; however, Saw V was still a huge success relative to its $10.8 million budget. Frugal production cost has been the hallmark of this franchise. All of the titles have been made in the $10 million range, which is something we should keep in mind as we discuss the relative failure of Saw VI.

The latest film in the series, the Saw movie that came AFTER what was billed to be the final one, earned only $14.8 million this weekend. Yes, Saw VI has effectively earned back its production budget after only three days. In terms of financial success, this still qualifies. In terms of performance relative to its peers, however, Saw VI is no Saw V or Saw IV or...you get the idea. After four straight $30 million opening weekends, Lionsgate finds itself facing the worst performance for the franchise to date. Even the original managed 24% more than this. It is as if the entirety of North America suddenly woke up this week and said, "Haven't we seen this film a few times already?" In reality, what happened is that Paranormal Activity presented direct demographic competition for the Saw franchise. No longer was it the biggest game in town. After years of shoving the same premise down the throats of consumers, people finally demonstrated some learning curve. It only took us five years to figure this out.

Other than its profitability, there isn't a lot of good news for Saw VI. It was soundly beaten by Paranormal Activity, it had the worst performance of the franchise to date, and Saturday's ticket sales saw a steep decline from Friday. The film appears to be heavily frontloaded, even for a franchise whose final box office multipliers (final box office divided by opening weekend box office) have averaged a paltry 2.35 over the years. If it doesn't sustain whatever momentum it has over the Halloween period, Saw VI will become the first film in the franchise to earn less than $50 million domestically. Whether this is simply a misstep for the franchise or the end of the line remains to be seen, but the already announced Saw VII is suddenly a much dicier proposition for the studio.

Now that the scary movies are out of the way, we come to third place, as Where the Wild Things Are struggles to hold on to its audience. Its solid debut weekend of $32.7 million proved to be at least partially driven by Spike Jonze fanboys, as the Warner Bros. artsy kid flick was down 56% from last weekend, a tough number considering the genre and the IMAX dollars it should be receiving. In its second frame, Wild Things earned $14.4 million, bringing its cumulative total to $54 million. Although it seemed last week as if $100 million was a distinct possibility, that no longer appears to be in the film's future. Since the reported budget is $100 million, this means that Wild Things will have to rely on overseas receipts and home video to be a profitable venture. We can also expect Jonze to return to smaller scale projects where he can exercise his extreme creativity without it impacting a major studio release.

Fourth place goes to Law Abiding Citizen, the revenge flick that did better in its opening weekend than it had any right to. The Gerard Butler/Jamie Foxx film dropped 40% as it had a second weekend total of $12.7 million. Considering the genre and direct demographic competition from stuff like Paranormal Activity and Saw VI, this has to be considered a pretty solid result. With a total so far of $40.3 million, this is Overture Films' most successful production to date, and it should turn a little profit by the time it's all said and done.

Couples Retreat, the comedy starring Vince Vaughn and an ensemble of other recognizable performers, finishes in fifth place with $11.1 million. After dropping about 50% last weekend, it has leveled out a bit in its third frame with a 36% decline. That's what bland-looking comedy will do for you. It becomes the compromise choice in a weekend that offers only scary, violent movies or kid flicks. Couples Retreat has earned $78.2 for Universal, easily making back its $60 million production budget and all but ensuring a Couples Retreat 2 will appear sometime in the future.

Sixth place goes to a rather sad performance from the 3-D animated Astro Boy, from Summit Entertainment (the same people responsible for the Twilight series). Although it's based on a popular anime series, it's not something that people particularly remember or even like much, at least not in North America. The movie managed $7 million in a very wide 3,014 locations, which means that its per venue average is really not good at $2,328. If there's any good news to be taken from Astro Boy's performance, it's that it had a stellar weekend multiplier (weekend box office divided by Friday gross) of 3.77. That does mean that it's performing like a typical family film, and it should at least be able to have a decent hold next weekend based on these early indicators. A solid 71% Fresh rating at RottenTomatoes will help. Unfortunately, that's not going to be enough to make this a profitable venture, as the budget had to be fairly significant.

The Stepfather, which had a surprisingly good showing last weekend, hangs around in seventh place and doesn't fall as much as horror flicks usually do. The bland terror thriller that stars a guy from Nip/Tuck and Lonely Boy from Gossip Girl earned $6.5 million and declined 44% from the previous frame. So far, The Stepfather has earned $20.4 million for Sony, which means it's going to make money and continues to ensure that this sort of bland, PG-13 rated horror will have a place in theaters.

Coming up in eighth is Cirque du Freak: The Vampire's Assistant, which combined so many genres that it had to be a little confusing to the audience that might have sought it out. Based on a young adult book series, the movie threw together horror, adventure, comedy and thrills, and hoped that kids would see something in the mix that they liked. This turned out to be perplexing more than anything, as the movie earned only $6.3 in its debut weekend in 2,754 venues, which means it had a pathetic location average of $2,065. With a 36% Rotten rating at RottenTomatoes, it could have been worse, but it doesn't really appear that there's much reason for any audience to throw support behind this one. There might be a vampire craze in pop culture, but people want their bloodsuckers to be broody and romantic, not goofy and, well, looking like John C. Reilly.

Ninth and tenth go to a couple of Sony films that have been hanging around the top ten for a few weeks. The first of these is Cloudy With a Chance of Meatballs, the 3-D animated movie that might have done even better if the studio had timed its release differently. Cloudy With a Chance of Meatballs earned $5.6 million in its sixth frame, dropping only 30%. Its grand total of $115.2 million has to have the suits at Sony very happy indeed. They're probably pretty pleased with the performance of the horror/comedy Zombieland as well, which closes out the top ten as it earns $4.3 million and falls 44% from last weekend. Its total so far of $67.3 million is about triple its production budget, and will go down as one of the true success stories of 2009.

Finishing just outside the top ten are a couple of films that had been perceived as awards season contenders. Amelia, the Mira Nair film about legendary pilot Amelia Earhart, looks to be a disaster. Despite starring Hilary Swank in what appears to be another great opportunity for her to win an Oscar, Amelia's reviews are nothing short of hostile. Only 17% fresh at RottenTomatoes and only 12% with top critics, the film offered only moderate appeal to consumers. Its $4 million opening weekend reflects a per-location average of $4,921, probably not good enough to justify much expansion beyond its current 818 locations. This one feels like a miss all the way around. Meanwhile, the Coen Brothers are back with A Serious Man, a Focus Features release that is slowly creeping its way up the charts. After finishing in 15th place last weekend with $842,000, it bumps up 34% to $1.1 million this frame. The primary difference between the two films is that critics can't get enough of A Serious Man. It is currently 84% fresh at Rotten Tomatoes and may stick around for a portion of awards season if it's memorable enough.

Box office for the top 12 films this weekend is estimated at $109.9 million, a solid total given the relative failure of Saw VI. We are down just under $10 million from 2008's $120.0 million, however, a decline of 8.4%. Next weekend sees the release of Michael Jackson's This Is It, which is a title you shouldn't sleep on. You may be prone to brush it off as just a concert film, but this result should prove to be much different from the Jonas Brothers' recent disappointment. A few grown-ups actually care about the King of Pop. Expect strong box office next weekend and an interminable amount of Thriller dances at any Halloween parties you attend this week.