Friday Box Office Analysis
By Tim Briody
October 24, 2009
BoxOfficeProphets.com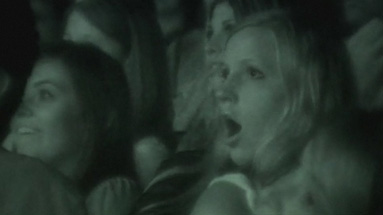 ---
The franchise that has ruled late October box office for the last five years has finally met its match.

[tm:4977_]Paranormal Activity[/tm]

After a huge increase in screens to just under 2,000, Paranormal Activity is your number one film on Friday, up 6% from last Friday to $7.2 million. Obviously diminishing returns have kicked in as the film has expanded, but this is an absolutely tremendous accomplishment and something the box office only sees every few years, with films like The Blair Witch Project and My Big Fat Greek Wedding. Last weekend's multiplier was 2.89 and this should be duplicated over Saturday and Sunday for a weekend take of $20.8 million.

[tm:4968_]Saw VI[/tm]

Since 2004, this particular October weekend has seen the release of a Saw film. Each of the last four has opened to $30 million. But this year, there's that pesky Paranormal Activity. The sixth entry in the Saw franchise earned $6.7 million on Friday. Having its audience divided nearly in half (Saw V's first day take a year ago was $14.3 million, add the Friday figures for Saw VI and Paranormal Activity and you get $13.9 million), you have one of the greatest examples of the rare times when competition comes into play; when films target the same audience. Paranormal Activity's rise from 12 screens to #1 at the box office over the last month was probably the worst thing that could have happened to Saw VI, as one of the more reliable box office streaks comes to an end. To put some more salt in the wound, Saw VI is in over 3,000 theaters while Paranormal Activity still hasn't cracked 2,000. Don't shed any tears for Lionsgate, though. It'll probably still make back its production costs by the end of the weekend.

While the last few Saw releases have suffered ridiculously absurd weekend multipliers (Saw V's was 2.09), the reduced box office on Friday should bump it up a notch or two, but it's not going to catch Paranormal Activity. Give Saw VI $15.7 million for the weekend.

Cirque du Freak: The Vampire's Assistant

Oh, Twilight, what have you wrought upon us? Clearly, stuff like Cirque du Freak: The Vampire's Assistant, a film adaptation of yet another young adult fiction series that I had not heard of prior to yesterday. It's not the worst opener of the weekend but it's also far from being a box office factor by earning $2.2 million on Friday. Let's call it $5.7 million for the weekend and never speak of it again.

Astroboy

Speaking of things to never talk about again, Astroboy, a creepy 3-D animated version of a Japanese manga series and later a television series earned a mere $1.8 million on Friday. $5.2 million seems like a good place for it followed by a quick trip to DVD.

Notable Holdovers

[tm:3282_]Where the Wild Things Are[/tm] falls a somewhat alarming 64% from last Friday to $4.3 million. With a 2.7 multiplier last weekend, it's not behaving like a typical children's film. It's going to improve on that a little bit this weekend but it's still going to have a greater than 50% drop. A second weekend of $13.1 million seems to be in the works.

[tm:4707_]Law Abiding Citizen[/tm] falls 47% from last Friday to $4.1 million. Give it a second weekend of $12 million.

A bomb is a bomb is a bomb but in the face of two other horror releases, [tm:4126_]The Stepfather[/tm] somehow only falls 50% from last Friday to $2.2 million, which, all things considered, could have been much worse for being the third option for horror fans. Look for a second weekend of $6.3 million.