Weekend Forecast for October 23-25, 2009
By Reagen Sulewski
October 23, 2009
BoxOfficeProphets.com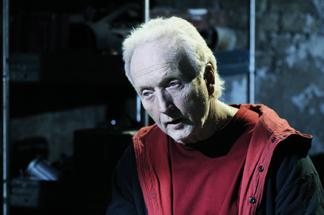 ---
What's turning into an uncommonly lucrative month of October at the box office tries for a third straight weekend with a $30 million film — and for that matter, doubles down on its chances for one.

When you look at film franchises that stake out a territory and defend it, year after year, it's difficult to come up with a better example than Saw. For the sixth straight year, a film from this grisly horror franchise is opening on or close to Halloween weekend. And with the exception of the first one, an unknown quantity at the time, all of them have opened to between $30 and 34 million (which actually represents a bit of a decline due to inflation, but at the same time opening weekends haven't increased to match inflation. This marks the end of the wonkishness of this column, don't worry).

There's apparently an overarching plot connecting all these films together somehow (I stopped watching them at number II, personally), but I'd be shocked if fans of the series really cared. What these films are about are ever increasingly shocking traps that cause death, dismemberment and pain, like a particularly sadistic version of the "Would You Rather?" game. Will audiences ever grow tired of it? They have to eventually, right? But with these being so cheap to make, even with last year's edition failing to double its opening weekend in final gross, they're still insanely profitable. Opening at a little over 3,000 venues, Saw VI should find itself in the standard range of about $31 million.

Horror of a decidedly tamer bent is next with Cirque du Freak: The Vampire's Assistant. Based on an apparently popular series of young adult novels, it does for 12-year-old boys what Twilight does for 16-year-old girls (and, sadly, 40 year old women). John C. Reilly stars as a sort of Vegas-lounge-singery looking vampire, and ringmaster of the titular freak show, who brings in a young boy to be his right-hand-man. I feel like I should call the cops just writing that sentence.

Anyway, as in all these kinds of wish-fulfillment stories, the boy (played by relative newcomer Chris Massoglia, and who shares his character's name with the author — man, the creepy just keeps on coming with this, huh?) finds himself in the middle of an ancient war between two factions and yada, yada, yada, a lesson is learned by all. The tone of the ads for this are all over the place, with action, comedy, horror and camp all thrown in a blender set on "cliché", not so much that it matters for the intended audience, but it will poison the well for anyone old enough to make a bad attempt at a moustache. I see this opening up with about $13 million.

We move from kids films of the horrific variety to that of the more action-adventure bent, with the big-screen adaptation of Astroboy, the 1960s (and later syndicated) Japanese cartoon series. The story of a young robot created to replace the son of a brilliant scientist after he's killed in a car accident (that's totally the scientist's fault, by the way, if you remember the cartoon at all). Just like his real son, Astroboy has rockets for feet, and advanced weaponry built into his chassis... wait. I may have something of that wrong. In any event, Astroboy (who is creepily shirtless for much of the series) goes on to battle various villains and social problems.

I'm not sure that Astroboy still has a lot of resonance with today's youth, as I'm not particularly aware of it running anywhere. Much like last year's (somewhat misunderstood) Speed Racer, it's a nostalgia project in search of an audience – kids don't know it and adults are probably too embarrassed to see it themselves. Which is to say nothing of the fact that while it looks very slick and shiny, they appear to have badly whiffed on the tone of the film, going for cheese instead of playing it relatively straight. I'd look for just $9 million this weekend for this.

Continuing the throughline for this week's new films, we have Amelia, which... has people flying. Okay, this one's not as strong as the rest. Sort of the unofficial start to Oscar season, this is the biography of pioneering female pilot Amelia Earhart, who came to fame in the 1930s in the early days of aviation.

Hilary Swank plays Earhart in a role that seems designed to get her a third Oscar nomination, though the Academy has to be sick of her already. More troublesome are the reviews, which criticize the film as a shallow take on the life of the pilot and her disappearance on an around-the-world trip attempt in 1937. Also starring Richard Gere, Ewan McGregor and Chris Eccelston and directed by noted Indian director Mira Nair, Amelia is opening on just 818 screens in a sort of mid-platform strategy. I think this is ultimately going to be a bit of a losing strategy, and it should see an opening weekend of just $7 million.

Those top three openers, a mix of horror and family fare, will face stiff competition from returning films, if it truly is a big factor. I've never been that convinced, as audiences are usually looking for the new and shiny, but there are isolated incidents where competition can be more or less proven. This could be one of those, as we have Where the Wild Things Are, an expanding Paranormal Activity and The Stepfather as direct competition to this week's new films, along with the surprisingly strong Law Abiding Citizen.

Paranormal more than doubles its screen count after making the top three with an under-the-radar campaign. The spooky "home video" style horror film has so far earned about $40 million, and could, depending on word-of-mouth, rival The Blair Witch Project as the most profitable film ever. This should be a solid second on the weekend with about $22 million.

Spike Jonze's adaptation of Where the Wild Things Are is the rare example of nostalgic filmmaking done right, and managed $32 million in change in its debut. Still, people had a lot of high hopes for Jonze artistically with this one and he didn't quite match them, so I'd expect lukewarm word-of-mouth here. The second weekend ought to be good for about $18 milllion.

Something's got to give with all these films earning in the teens, and I expect it to be Law Abiding Citizen. Admittedly, reviews seemed to be irrelevant in the first place, but sometimes people just have to drink the milk to believe it's sour. Second weekend should be about $10 million here.

Elsewhere, the third weekend of the really poorly regarded couples comedy Couples Retreat should slide in with about $9 million, while The Stepfather should fall off the map to about $5 million.