Weekend Box Office Wrap-Up
Magical Marketing Catapults Wild Things and Box Office
By John Hamann
October 18, 2009
BoxOfficeProphets.com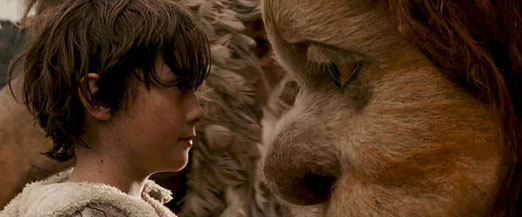 ---
It's one of those fantastic weekends at the box office, where the movies are interesting and audiences are eating them up. After a sad frame last weekend when the awful Couples Retreat broke out with an opening over $30 million, the box office continues its roll toward Thanksgiving with another huge weekend. Openers this weekend included the long awaited Where The Wild Things Are from Spike Jonze and Warner Bros.; Law Abiding Citizen with what have become fringe players in Gerard Butler and Jamie Foxx; October's natch horror flick The Stepfather; and an expansion weekend for Paramount's white-hot Paranormal Activity (aka The New Blair Witch Project). With all of this and some decent holdovers, the box office has a very big weekend to remember.

Spike Jonze's Where the Wild Things Are took a very long time to reach theatres, but in the end, things have worked out very well for Warner Bros., Village Roadshow and Legendary Pictures, the production partners on Wild Things. Shooting started in the spring of 2006, and it has been a long process of leaked footage, reshoots, studio rumblings, and in the end a fantastic marketing process that made tongues wag for weeks. Jonze, who has one of the most bizarre IMDb resumes out there, wrote the script and directed, after being chosen by Wild Things author Maurice Sendak. Sendak chose Jonze after seeing the auteur's Being John Malkovich, but how the connection was made between the bizarre (but extremely satisfying) Malkovich, and the sparse kids book, I will never know. Jonze set out to make a kids movie for adults, and while this may have scared Warner Bros. more than anyone else, the end product has obviously given audiences what they wanted.

Obviously, our number one movie of the weekend is Where The Wild Things Are, the Spike Jonze creation based on the beloved kids book. Wild Things earned more than many expected, taking in a powerful $32.5 million from a massive 3,735 theatrical and IMAX venues. It had a venue average of $8,693. Tracking was all over the place with estimates between $20 and $40 million, not only because Wild Things is a kids movie for adults, but also because tracking was off by over $10 million last weekend on Couples Retreat, and tracking tends to get shy after a big miss. Wild Things had an $80 million price tag, so Spike Jonze and company were going to need at least $25 million this weekend to set this on the path to profitability. After a Friday gross of $11.9 million, we knew that a weekend take beyond $30 million was in store, and that Wild Things was going to be considered a great success for those involved. What we didn't know after seeing Friday's figure was how the rest of the weekend was going to perform. Would Wild Things be a one-day wonder, frontloaded due to the popularity of the book and a lack of children seeing it, or would it turn into an even bigger success, engaging kids as well as adults? To better understand this, Box Office Prophets uses an internal multiplier (weekend gross divided by Friday gross) to find out how a movie played over an entire weekend, with a 2.5 multiplier (or lower) indicating a frontloaded feature, and a 3.5 multiplier (or higher) meaning solid legs (and usually good word-of-mouth) beyond the Friday gross. In the case of Wild Things, because of the solid Friday, anything over a multiplier of 3.0 was going to be good news, and anything approaching 3.5 would be exceptional news. In the end, the mulitplier came in at 2.7, which means that it was in fact a bit front-loaded, though not to an extreme degree. It should straighten out a bit over the next couple of weekends, too, since there's not much for families until A Christmas Carol arrives in theaters (we're not going to count The Vampire's Assistant as a family film).

The marketing for Where The Wild Things Are was nothing short of brilliant. The trailer was magical. Starting with the line that feels like it came from Jonze himself - "I didn't want to wake you up, but I had to show you something", the trailer launched a frenzy of followers who showed up at theaters this weekend. The music chosen for the trailer was again brilliant (Arcade Fire's Wake Up), matching the images perfectly. There have been few trailers in my memory that matched the success of this one, and I honestly beleive that without it, we could knock $10 million of this opening weekend. Reviews were mixed, but almost expectedly mixed. I doubt the hipster fanbase for Wild Things would have stayed on board if reviews had gone completely one way or the other, and the love it or hate it feel coming out of reviews feels almost perfect to me. This movie, like something like Almost Famous or A.I., will connect with people on a personal level - or it won't - it's that simple. What we are seeing this weekend is people seeking out that connection, and hoping to find it.

For director Spike Jonze, I think the opening weekend gross is likely insignificant. Both of his last movies (Adaptation. and Being John Malkovich) grossed $23 million domestically, after opening in limited release, and despite their success, never earned more than $2.6 million in any given weekend. Combined, the production budgets of these two films are still less than half of what Wild Things cost. With this opening, does it mean Jonze will change his ways and make more accessible stuff moving forward? I can only hope not.

Finishing a distant second this weekend is another new release, Law Abiding Citizen, which stars Jamie Foxx and Gerard Butler. After a series of so-so flicks for both stars, many thought Law Abiding Citizen - with its oddball marketing and oddball premise - would fail badly this weekend. It wasn't to be, as somehow, Law Abiding Citizen earned a not bad $21.3 million from 2,889 venues, finishing at the high end of tracking estimates. Law Abiding Citizen becomes Overture Films' top opener of its short life, outpacing the horrendous Righteous Kill, with DeNiro and Pacino. For Jamie Foxx, opening this one out of thin air is a relief, as a poorer effort a la The Soloist or The Kingdom could have been another nail in the career coffin. For Gerard Butler, times were even tougher, as he doesn't have an Oscar to come home to like Foxx does. Since 300 became a bonafide blockbuster, Butler has struggled, and even his most successful film since, The Ugly Truth with Katherine Heigl, was on the ugly side of heinous. The production budget for Citizen is reported to be as much as $53 million, so it will still need a couple of decent weekends to end up on the good side for Overture.

Finishing third is Paranormal Activity, Paramount's attempt at a Blair Witch type of success. After a marketing campaign that included screening this one at college campuses at midnight, followed by a slow rollout, Paramount found the holy grail this weekend, as Paranormal Activity earned a massive $20.2 million from a still scant 760 venues. That gives it another outstanding venue average of $26,530. Paramount has grown the business for this one quite fast, moving from a gross of $77,000 on 12 screens ($6,489 venue average) to $532,000 on 33 screens ($16,129 average) to $7.9 million on 160 screens ($49,379 average) to this weekend's take. This has been one of the best platform successes in box office history, and Paranormal Activity now has a cume of $33.7 million, all against a production cost of only $11,000.

Fourth goes to Couples Retreat, which stumbles badly after a $34 million start last weekend. This weekend, the critically reviled comedy earned $17.9 million, and drops a wicked for comedy 49%. The Vince Vaughan-led Universal flick has a running gross now of $63.3 million against a production budget of $60 million.

New release The Stepfather finishes fifth, but still does okay considering the success of fellow horror flick, Paranormal Activity. The Stepfather earned $12.3 million, which can't be considered bad for what should have been a dead on arrival remake. Released to 2,734 venues, The Stepfather had a venue average of $4,499. Curently this one is 7% fresh at RottenTomatoes, and is not recommended.

Dropping from third last weekend to sixth this weekend is Cloudy With a Chance of Meatballs, Sony's other strong performer through October. Now in its fifth weekend, Meatballs finally broke through the $100 million mark with a weekend gross of $8.1 million, which was down 30% from the previous frame. Considering that Meatballs had to deal with the Toy Story Double Feature, and now Wild Things, I think Sony has to very pleased with its performance, as it has a running total now of $108.3 million.

Zombieland drops to seventh this weekend, as the three-weekend old horror comedy runs into some unexpectedly large competition. Zombieland earned another $7.8 million, giving it a drop from last weekend of 47%. Sony should be pleased that this one has managed to drop less than 50% each weekend, as this type of film could have seen bigger drops. The total now for the $23.6 million feature has reached $60.8 million.

The Toy Story 3-D Double Feature moves down to eighth this weekend, and despite being marketed as a two-week limited engagement, here it is enjoying a third weekend (you gotta love Disney). Toy Story earned another $3 million (in what is basically all revenue for the studio), and was off 61%. This experiment has now earned $29 million..

Touchstone's Surrogates is ninth. The four-weekend old Bruce Willis feature earned $1.9 million this weekend, and was off 55%. It has now earned $36.3 million, or about half of its $80 million budget.

The Invention of Lying rounds out the top ten this weekend. The Ricky Gervais flick that didn't click earned $1.9 million and was off 43%. It has a total of $15.5 million.

Overall this weekend, the box office is way, way, up over last year. A year ago four new films opened, with Mark Wahlberg's Max Payne reaching the top, but with only $17.6 million. Last year, the top 12 films could only gross $84.8 million. This year, with Wild Things more than doubling the Max Payne gross, the box office top 12 earned a fantastic $129.8 million, a record for a top 12 in October. Next weekend could be interesting as well. Summit Entertainment releases Astroboy to over 3,000 venues, and Cirque du Freak: The Vampire's Assistant also debuts, on top of the second weekend of Where The Wild Things Are.