Weekend Forecast for October 16-18, 2009
By Reagen Sulewski
October 16, 2009
BoxOfficeProphets.com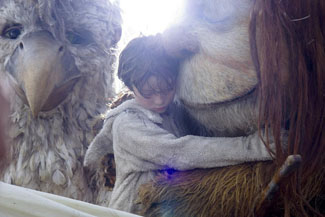 ---
Without meaning to go for the obvious pun (honest!), this weekend has the potential to be a wild one. Now that you're done booing me and throwing rotten vegetables (why did you even keep them?) there are four films with unusual pedigrees hitting wide release this weekend.

Where the Wild Things Are is one of the stranger candidates for a book to be adapted to the big screen that you can think of. A children's book that's all of about ten sentences long, it's all the same a beloved classic for its memorable art and sense of adventure. The book follows a young boy named Max as he ventures out into the night in a wolf costume and stumbles upon a group of monstrous-looking but well-intentioned beasts, with whom he dances through the night. War and Peace it ain't, plot-wise.

However, Spike Jonze thinks he's seen something in the book, and he and Dave Eggers have turned it into a feature film with Jonze directing, in his first film since 2002. And hey, if there is any director out there that can turn just a germ of an idea into a workable concept it's Jonze, who's responsible for some of the crazier moments put to celluloid this side of David Lynch.

Jonze and Eggers position the book as a paean to youth and lost opportunities, creating a fantasy world that incorporates the outlandish and the sublime. Some of this might be a bit heady for kids, though there's still the fantastic creature design to latch on to. It's the rare kids movie with a greater appeal to boomers and Gen Xers than the actual kids it's nominally targeted at, with nostalgia as the driving force.

The voice cast for the Wild Things, while somewhat superfluous to its chances, is impressive, and includes James Gandolfini, Chris Cooper, Lauren Ambrose, Forest Whitaker and Catherine O'Hara, along with Mark Ruffalo and Catherine Keener in the added-on "real-world" plot that drives the story. Reviews haven't quite as rapturous as some might have hoped, but they are generally positive and I think that'll be enough to get people to check out this odd-looking film. Opening in a massive 3,735 venues, Where the Wild Things Are should find an opening weekend of about $37 million.

This fall's stealth horror film, Paranormal Activity, expands into 765 venues after a couple of weekends of the roadshow treatment. The virally advertised film earned a shocking $7.9 million on 160 screens in its third weekend, throwing up the kind of per screen averages normally reserved for NY/LA Oscar prestige screenings. This weekend is its first test to put up some truly massive numbers.

Its simple premise, showing us the footage created in a supposed haunted apartment, makes it a sort of suburban update of the Blair Witch Project idea, though it's managed to create its buzz in a much more subdued way, which is even more impressive. In 1999, you still had to go through the major media outlets, even if the Internet was a key part of its campaign. Now, you can almost entirely drive it through Twitter and Facebook and Digg, and still manage to create a blockbuster. Expect this to challenge for the second spot on the weekend with a total of around $19 million.

The next two films are quite a bit less interesting but could still play a role in the weekend. Law Abiding Citizen seems to start from the question, "Hey, what if John Doe was the good guy in Se7en?" Gerard Butler stars as a man out for revenge after his wife and daughter are killed, and one of the killers is given a plea bargain. His target is not just the killers, but also the whole justice system, or at least the district attorney, played by Jamie Foxx. Somehow, he's still able to enact his plan from behind bars, and appears unstoppable. He has one simple demand: let me go free.

It's kind of a ridiculous premise if you stop to think about it for more than a second, which is probably more than the producers of this film can really ask for. Butler keeps being cast in these marginal projects (see: earlier this fall's Gamer) and Foxx has more or less dropped off the map as a lead since his Oscar win. This year's The Soloist was a rather impressive flop, and he's not asked to do much here other than play a helpless foil. Ultimately this looks like a fairly ridiculous thriller, and should see an opening weekend of just over $8 million.

Some movies just couldn't have worse timing. The Stepfather thought it had the pre-Halloween horror crowd all to itself, until an upstart little indie film came through and stole its thunder. Now, it was never going to be all that huge of a film, as the remake of a largely forgotten '80s horror flick, but it at least had a chance. Now, its crowd has been stolen to be curious about this new phenomenon of Paranormal Activity, and this film will be lucky to get the time of day. Looking terrible and not being screened for critics doesn't help either. This will be a rare horror bomb and should see just $5 million.

Last weekend, audiences defied the critics and sent Couples Retreat to the top of the box office with $34 million. I hope they feel kind of silly about that. Really, the figure is fairly understandable – the cast was strong for a couples comedy and there were two or three solid gags in the commercials, usually all that's needed – but legs really don't appear to be much of an option here. Look for a second weekend of around $16 million.

Zombieland, despite being a horror-comedy, had a respectably strong second weekend, with just under $15 million and moving over the $50 million mark mid-week. Even though it was fairly successful off the bat, it still caught a lot of people by surprise and has earned some strong word-of mouth. That should carry over into its third week, with about $9 million in store here.

Cloudy With a Chance of Meatballs could be hurt by Where the Wild Things Are this weekend, but still has the 3-D factor to lean back on, as well as the fact that it's already got $100 million in the bank. Really there's not much left to say about this film other than "good job". Give it $7 million for the weekend.