Box Office - Decade at a Glance: September - December 2004
By Michael Lynderey
October 14, 2009
BoxOfficeProphets.com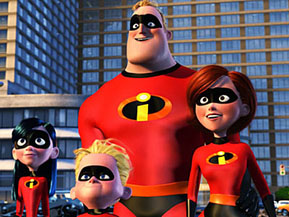 ---
September

Early September was a time-out again at the box office, with another selection of unspectacular Labor Day releases. Reese Witherspoon tried for Oscar glory in period piece Vanity Fair (her second time playing a Corseted Englishwoman of olde), Queen Latifah and Farrah Fawcett (in her last role) popped up in The Cookout, Paparazzi saw men of that profession ducking more than punches, and Josh Hartnett and Troy's Diane Kruger teamed up for an interesting if perpetually confusing little thriller in Wicker Park. Busy, sure, but the highest grosser of the four finished with a grand total of $16 million (I won't say which; you'll just have to guess).

The month's other three weeks maintained a "win some, lose some" mentality. September 10th had the interesting thriller Cellular - with a potentially career-resurging performance by Kim Basinger and a nice little turn by William H. Macy - but it finished with only $32 million. The same day also gave us sequel Resident Evil: Apocalypse, a chaotic little zombie affair that somewhat marginally improved on the first film's $39 million total, and more or less established the ceiling for how high films in this franchise would go (that would be $50 million).

September 17th was again plenty busy, but to no avail - the biggest film, '30s-style sci-fi fantasy Sky Captain and the World of Tomorrow, surrounded stars Gwyneth Paltrow, Angelina Jolie and Jude Law with remarkable special effects and a decent budget, but audiences were evidently not amused ($37 million total). Elsewhere were generally unseen star vehicles for Bernie Mac (Mr. 3000; $21 million total) and Kirsten Dunst/Paul Bettany (Wimbledon; $16 million). There was also something called National Lampoon's Gold Diggers, which made exactly one million dollars.

The month did cap off with a decent hit - Julianne Moore's somewhat patchy The Forgotten perhaps began that tradition of random PG-13 thrillers breaking out to big bucks, opening with $21 million and totaling at a strong $66 million. Good for Julianne Moore. On the other side of the aisle - and not in a bout of particularly salient political satire - Katie Holmes did as Mandy Moore had done earlier the same year, and played the President's offspring in First Daughter. This one came in at $9 million to Moore's Chasing Liberty's $12 million. Not a huge difference there - but it's the little things that count.

October

After that typically nonchalant September, October 2004 exploded with a strong hit - Shark Tale, an undersea CGI concoction modeled after Shrek, took off with a $47 million opening and amazing-for-October $160 million total. Considering his presence as the lead voice, this can probably be counted as another one of the seemingly unending number of Will Smith blockbusters. He's simply incorrigible!

October was home to a few more respectable hits. Friday Night Lights, an entertaining and effective portrayal of small-town sports, buoyed by a characteristically strong Billy Bob Thornton performance, opened to $20 million and totaled at $61 million. Shall We Dance? was another fairly successful Jennifer Lopez vehicle (though Richard Gere wasn't chopped liver here, either), and finished with $57 million after some legs. Did this one help inspire the recent interest in (non-urban) dance? I wouldn't rule that out, actually. Elsewhere, John Travolta and Joaquin Phoenix firefought their way to a surprising $74 million in Ladder 49, Jimmy Fallon and Queen Latifah faltered somewhat with Taxi ($36 million total), and Jamie Foxx got his Oscar playing Ray Charles in Ray ($75 million).

Farther down on the ladder of success, Hilary Duff had her first disappointment with another tween outing, Raise Your Voice, which totaled a shocking $10 million (shocking because her previous movie got to $51 million). Ben Affleck had his notorious flop Surviving Christmas ($11 million), the last of his big starring roles, while the South Park guys gave us another pre-election political satire, the searing Team America: World Police ($32 million). And finally, the masterful dramedy Sideways began its run on the 22nd, breaking character actor Paul Giamatti into the mainstream, and giving career resurgences to Thomas Haden Church and Virginia Madsen. The movie finished with $71 million, and it deserved every penny.

But enough about that. More than any other point in the decade, October 2004 was a re-aligning month for the horror genre. As previously noted, the two separate (and equally reprehensible) waves of light PG-13 ghost horror and hard-R torture horror were directly spawned by The Ring (2002) and The Texas Chainsaw Massacre (2003), respectively. If those films were the parents, then 2004's combo of The Grudge and Saw were the first-generation offspring who went into the family business. And boy, did they ever have a lot of grandkids.

The exceedingly repetitive The Grudge opened on October 22nd, scoring a $39 million weekend and eventually legging it up all the way to $110 million. Although this phenomenon was hinted at in previous months, it was confirmed here - random PG-13 horror movies and thrillers could now score massive numbers simply by dishing out some crafty marketing and possessing the right MPAA rating. Clearly, The Grudge followed the blueprint that The Ring left behind to a tee - it had a similar rating, release date, and plot. Both were based on Asian horror films, and so of course they inspired a wave of Asian film-based remakes, none as successful as this one. Finally, the movie gave Sarah Michelle Gellar her biggest hit as solo leading actress, and at least for that, we should be grateful.

Next, October 29th was home to the perhaps even more outlandish box office performance of Saw. Here was a little low-budget ($1.2 million) horror movie, picked up by then-small distributor Lions Gate Films and originally scheduled for straight-to-video release. That's not a surprise - I would stand by the statement that if Saw had been made in 1994 instead of 2004, it would absolutely have gone directly to home video. But the early 2000s had featured a couple of low-budget horror indies that justified their theatrical releases, and Lions Gate themselves had some success with Eli Roth's Cabin Fever the year before. And so, Saw got its day in the sun, and made good. Big time. It opened with a stunning $18 million (back then, that sure seemed shocking) and eventually totaled at $55 million. Something about the movie - which took an old serial killer story and added crafty plot tricks, an emphasis on torture, and Lost-style non-chronological storytelling - caught on with audiences, and so Saw played out like the hit pilot episode of a series that hasn't been canceled yet. Saw and Texas Chainsaw '03 made low-budget brutality and cruelty acceptable horror film ingredients again, after many years when the genre scurried away from them. At the same time, the PG-13 wave of films repeatedly replayed the old pop-up ghost routine. These are the two opposite extremes of the horror spectrum, and I think a return to the center would be nice again. Maybe in the 2010s.

November

CGI reigned again as the holiday season began (c'mon, we all know it starts November 1st). Pixar's superhero parody (?) The Incredibles broke out to an amazing $70 million opening and $261 million total, one of the strongest first-week of November films ever. But the $100 million club didn't stop admitting members there - Jerry Bruckheimer's National Treasure capitalized on the Da Vinci Code-induced interest in relic-hunting (if that's the term for it), opening with $35 million and finishing at $173 million, thanks to some holiday legs. Meanwhile, Robert Zemeckis' amazing-looking Christmas film The Polar Express recovered after an OK $23 million opening, eventually ending up at $180 million. This was the fourth CGI film of the year to cross $100 million, a clear sign that the wave of computer animation was going full speed ahead.

The rest of the month was more hit-and-miss. The SpongeBob SquarePants movie got as far as $85 million - now that's a hit. Johnny Depp gave another memorably quirky, if a bit more Oscar-baity, performance as Peter Pan author J.M. Barrie in Finding Neverland, which totaled at $51 million thanks to awards-season legs. The month's misses were interesting - the Bridget Jones sequel reunited the first film's cast, but bad reviews sentenced it to a mere $40 million total, below the first film's $71 million. Oliver Stone's $155 million-budget Alexander could be taken as the year's third, and most definitive, blow to the 2+ hour historical epic, finishing with $34 million, below the totals of Troy and King Arthur. Not good for stars Colin Farrell and Angelina Jolie (whose movies, as I have carefully explained before, always do better in June). Finally, Jude Law's interesting work in the remake Alfie was left behind, finishing with an unsatisfying $13 million, while the fifth Chucky movie (Seed of Chucky) ended up at only $17 million, below the much more entertaining Bride of Chucky ($32 million in 1998). Good ol' Chucky was obviously out of place in the mid 2000s, and so I fear that Child's Play remake is coming down the track any year now...

Anyway, when it comes to November 2004, I just had to save the worst for last. Yes, it grossed $73 million, but the Tim Allen-starring comedy Christmas with the Kranks has to rank down there with Eight Crazy Nights and Surviving Christmas as one of the most knuckle-headed holiday films of recent years. It's interesting that 2003 gave us three of the best Yuletide-themed movies ever made - Love Actually, Bad Santa, and Elf - while 2004 had such an unbalanced slate - on the one hand, the visual and emotional masterwork that was the Polar Express, but on the other, the low-brow comedy and incomprehensible misadventures of both the Krank family and Surviving Christmas (which, to its defense, actually came out in October).

December

With the Lord of the Rings movies finally out of the way, the fifth December of the 2000s was left without a clear effects-filled blockbuster to dominate the proceedings. But something had to take its place, and I think most people would agree that 2004's holiday mega-hit didn't quite live up to Peter Jackson's standards:

Meet the Fockers opened on Wednesday, December 22nd, taking in a deceptively good but not great $12 million. But that was just the beginning, because this one grossed, and grossed, and grossed some more, eventually totaling at an absolutely inconceivable $279 million! It helped that the movie followed up 2000's big word-of-mouth success, Meet the Parents, which finished with $166 million, and the holiday-time release date gave the Fockers a massive audience base just ready to go out and see a family-themed film during the Twelve Days of Christmas. Another plus was the familiar faces in the cast - Dustin Hoffman, Robert DeNiro, Ben Stiller, and the 1970s' biggest female movie star, Barbra Streisand, making her first film appearance in eight years. For Stiller, this capped off an inexplicably massive year in which he starred or co-starred in three other films that passed $80 million (plus, there was that Anchorman cameo).

While no other movies reached that Fockerized zone of box office success, the month did give us four more $100 million+ titles. The first two peaked early: Ocean's Twelve followed up its predecessor with a handy reunion of the entire cast, and a release on the three-year anniversary of the first film; mixed reception killed this after a decent opening, and so the sequel ended up with $125 million to the first film's $183 million. On the other hand, Lemony Snicket's A Series of Unfortunate Events was a kids-aimed adaptation of a popular book series, highlighted by another manic Jim Carrey performance in weird make-up. But for whatever reason, it didn't get past $118 million. As for the other two $100 million titles - they were awards contenders made good. Martin Scorsese's The Aviator, with Leonardo DiCaprio Oscar-nominated as Howard Hughes, eventually finished at $102 million. Meanwhile, Clint Eastwood, evidently disappointed after losing the Best Director and Picture Oscars in 2003, returned with Million Dollar Baby and won 'em both this time. Here was a movie few knew anything about just a month before its release, but it grossed $100 million, and also won Oscars for stars Hilary Swank and Morgan Freeman. Eastwood, who had spent the late '90s and early '00s dabbling in occasionally very effective thrillers, was now fully reinvented as director of Oscar-bait dramas.

With all that out of the way, the rest of the month didn't leave as strong an impression. There was Blade: Trinity (the third one), which finished with $52 million, notably below the first two. This one probably ended the series, and it's Wesley Snipes' last role to date in a wide theatrical release. Fat Albert, yet another kids' cartoon adapted into live-action, did better than it probably ought to have and climbed to $48 million on holiday legs. Adam Sandler went the dramedy route with James L. Brooks' Spanglish, but that one disappointed with only a $42 million total - it looks like most of its box office went to the Fockers. On the plus side, Spanglish reinvented then-78 year old Cloris Leachman as an entertaining character actress. We're really getting into the flops here, though, and it shows - movies like Dennis Quaid's summarily ignored remake Flight of the Phoenix ($21 million total) and Joel Schumacher's version of The Phantom of the Opera musical, which cost over $60 million and finished with $48 million. Phantom was greenlit following the success of Moulin Rouge! and Chicago, but broke that chain of successful musicals. And finally, completely non-descript horror film Darkness took its PG-13 rating and typical ghost-oriented premise to a frankly better than expected $22 million total. Not very significant, to be sure, but you can sort of see a pattern growing here - horror movies making more money than you'd think they would.

Rounding out the month was another batch of awards contenders, most of which opened in initial limited release and then expanded in January. There was the ensemble drama Closer ($33 million), Chinese martial arts adventure House of Flying Daggers ($11 million), Wes Anderson's predictably bizarre pastiche The Life Aquatic ($24 million), and Don Cheadle's well-reviewed work in Hotel Rwanda ($23 million). Paul Weitz's In Good Company, a frankly mainstream family comedy that didn't get to wide release until January 14th, ended up with $45 million. They may have missed the boat on that one - here was a well-made and entertaining film, with good turns by Dennis Quaid, Topher Grace, and Scarlett Johansson, but it missed out on the lucrative late December period.

They must have been really scared of those Fockers.