Box Office - Decade at a Glance: May - August 2004
By Michael Lynderey
October 13, 2009
BoxOfficeProphets.com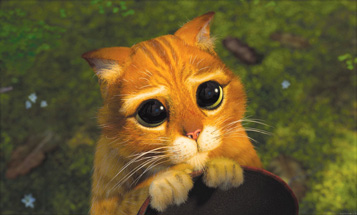 ---
May

After the endless onslaught of blockbusters that was May 2003, 2004's first summer month wasn't quite up to par. With one exception.

That exception wasn't Van Helsing, May's first movie, and indeed it's a film that still stands as one of the weaker summer season openers of the decade, in just about every aspect imaginable. While I managed to extract some campy fun out of it, Stephen Sommers' monster mash generally failed to please critics, audiences, and most importantly, box office analysts, opening with a strong $51 million but finishing at $120 million. For star Hugh Jackman, this was an attempt to parlay his popularity as X-Men's Wolverine into another successful summer franchise. Director Sommers, having come off the successful Mummy films, was tasked with re-imagining more '30s Universal monster movie properties, and pitted Dracula, Frankenstein and a non-descript Wolfman up against Jackman's ghoul hunter and Kate Beckinsale's slinky, non-regionally accented Romanian monster-killer. On paper, it's a great recipe for summer movie success, but the end product didn't quite work out as planned. Still, Van Helsing did produce one undisputedly great line of dialogue: when asked why he painfully prods the tied-up werewolf, perennial hunchbacked-assistant Igor replies simply: "It's what I do".

Next, May 14th's designated big hitter was Troy, a $175 million-budgeted historical epic about the shenanigans down in that legendary Greek city-state. This one was cast like a slick summer product, with Eric Bana, Orlando Bloom and Brad Pitt leading a bevy of British character actors. At this point, Bloom was probably bigger than Pitt, what with his role in all three Lord of the Rings movies and the previous summer's mega-blockbuster Pirates of the Caribbean. Bana, on the other hand, was plucked from those pesky low-budget Australian movies (you know, the ones with the 90% ratings on Rotten Tomatoes) and into summer blockbusters, following up 2003's Hulk with Troy. The direction was by Wolfgang Petersen, no stranger to big summer movies. And yet... and yet... Troy disappointed, receiving mixed reviews, a $46 million opening, and a total of only $133 million. By this point, the wave of historical epics that began with Gladiator in 2000 was beginning to wind down, and Troy still stands as a prime specimen of the subgenre in decline. Just wait till we get to King Arthur.

May 19th - 23rd is where the real winner was - Shrek 2, currently the fourth highest grossing movie of all-time, triumphantly entered the summer sweepstakes and became the highest grossing film of the season, opening with $128 million in five days and finishing with a remarkable $441 million. The signs were all there: the first Shrek was universally beloved, its 2001 release was heavily leggy, and the sequel came at just the right time and place to be absolutely massive. If studios hadn't learned the CGI formula (celebrity voice cast, pop culture in-jokes, wacky-looking characters) by now, Shrek 2 re-taught the lesson, turning future CGI excursions into prime summer meat. Finishing off the month, May 28th's dose of blockbuster came with The Day After Tomorrow. This was a movie that had nothing going for it, except for the fact that it was a big, '90-style disaster epic with a lot of special effects and landmarks being destroyed, damaged, or otherwise inconvenienced. And surprise, surprise, though we were deep into the 2000s, that old '90s saw still worked: the film broke out, opening with $68 million and finishing with a strong $186 million. Good for stars Jake Gyllenhaal and Dennis Quaid, the latter of whom was by this point really gaining his footing as a solid audience favorite, after years of wobbling around in lesser seen films (now that I think about it, that's true for Gyllenhaal, too).

Outside of the four token blockbusters, May '04 didn't really try. There was New York Minute, the Olsen Twins' attempt at Duff/Lohan/Bynes-like stardom, but that didn't work out ($14 million total). Jamie Foxx auditioned for comedy lead in Breakin' All the Rules ($11 million); he had a big year ahead of him, but it didn't start quite yet. Next, Kate Hudson followed up her mega-success in 2003's How to Lose A Guy In 10 Days with Raising Helen, but this was another generally disappointing romantic comedy, finishing with an unexceptional $37 million. And finally, May 28, 2004 saw the release of what will surely remain one of the decade's most absurdly memorable movie titles: Soul Plane.

Nothing more need be said about that.

June

Having by this point altered their plan to release a new Harry Potter film every November, Warner Bros. moved the third entry in the series into a plump summer slot, and the results were somewhat mixed. Yes, the $93 million opening weekend sure was nice (the series' biggest at that point), but unburdened of its holiday legs, Potter III finished with only $249 million (under the second film's $261 million and the first's $317 million). The summer formula would work out a little better for Potter the next time around.

With HP dominating the box office, the bulk of June was left without any clear blockbusters, but a few films did break out. The June 11th slate was a mixed bag: The Chronicles of Riddick aimed to be another in a series of $100 million+ grossing Vin Diesel summer action blockbusters, following The Fast and the Furious in 2001 and xXx in 2002 (Diesel sat out summer '03). As a sequel to 2000's Pitch Black, the film was supposed to carry some ingrained audience recognition, and the trailers certainly painted it as the kind of high-action affair that deserved a $100 million gross. But it was not to be - with increasingly negative word-of-mouth, Riddick opened to only $24 million and finished off at $57 million - not that far off from Pitch Black's $39 million total, and not worthy of a summer blockbuster. This was Diesel's first serious misstep.

Next on the same weekend's slate, The Stepford Wives was marketed as a comedic remake of the 1975 wife-swap thriller, and the casting of Nicole Kidman gave it some star power. But the whole bad review issue came into play again - and boy, were critics ever merciless on this one - so the $90 million-budgeted film opened at $21 million and totaled an underwhelming $59 million. I've badmouthed movie quality so far, but frankly, it didn't much affect the week's other release - despite equally unenthusiastic reviews, the live-action adaptation of Garfield had no problem turning its $21 million opening into a respectable $75 million total. Maybe it was Bill Murray's deliciously ironic voice work in the title role. Equally ironic but considerably more irritating are accurate descriptions of the weekend's last film, Napoleon Dynamite, which turned its unbridled, low-budget, oddly-colored Sundance mojo into a strong $44 million total (it probably ought to be noted that this one didn't get into wide release until September).

June 18th continued toying around with unpredictability. The surprise winner of the week was the silly sports comedy Dodgeball: An Underdog Story, which carried some low-key buzz and generally positive reviews to a $30 million opening and solid $114 million total. This was another key Frat Pack movie, another notch in Ben Stiller's remarkable 2004 belt, and the breakout role for Vince Vaughn as solo comic lead (something 2003's Old School set him up for). With the debatable exception of Fred Claus in 2007, Vaughn would follow Dodgeball up with a hit comedy every subsequent year up until at least 2009. Not so lucky were Jackie Chan and Steve Coogan, whose remake of Around the World in 80 Days received a general critical "meh" and was summarily ignored at the box office, finishing with $24 million on a budget of $110 million (gosh, that's not good!). Meanwhile, Tom Hanks/Steven Spielberg combination The Terminal did pull in $77 million; that might seem good today, but at the time, with the two's hefty records still fresher in mind, it was pegged a disappointment. While serious dramas have occasionally scored well at the box office during summertime, this one failed to catch on.

Now, if you thought weeks two and three of June were surprising, the fourth and final week announced that you ain't seen nothing yet. First, the exceptionally unentertaining comedy White Chicks gave the Wayans Brothers another decent hit, opening with $19 million and finishing with $69 million (yes, yes, it had legs...). Next, the effectively soapy romance The Notebook cemented itself as one of the most famous cinematic love stories of the decade, pairing rising young starlet Rachel McAdams with the previously indie-oriented Ryan Gosling. Coming out with some good trailers and scrumptious reviews, this one did even better than expectations would have it, opening with $13 million and finishing with a strong $81 million. Classic June weeper.

But the big surprise over the weekend wasn't even that. It was Fahrenheit 9/11, political documentarian Michael Moore's breakout into (temporary) A-list stardom. Moore's first movie, Roger & Me, was a minor hit in limited release all the way back in 1989, but it was his 2002 film Bowling for Columbine that more recently earned him heavy critical acclaim, an Oscar win, and some real mainstream recognition as a film persona of note (I remember that my teacher took my entire 12th grade class to see it in theaters during school hours). While Bowling broke out in limited release, eventually totaling $21 million, it was the film's status as catalyst of discussion during 2003 that kept Moore's name in the news, and controversy about Fahrenheit 9/11 out of the 2004 Cannes Film Festival spotlighted it as a follow-up. With the 2004 election a prominent news fixture at the time, Fahrenheit 9/11 arrived as one of several politically-charged films in a year that also included The Manchurian Candidate and Team America: World Police. Fahrenheit 9/11 played out like no documentary had before - opening with $23 million in 868 theaters and then expanding and gaining legs, eventually finishing with a remarkable $119 million. This was Moore at the peak of his star power. By the way, although the 2000s are frequently cited as a stronghold for documentary films, and they were, many seem to have forgotten the amazing '70s trend of would-be scientific documentaries that touched on various supernatural or science fictional notches in popular culture; films like Chariots of the Gods (1974; $33 million total), In Search of Noah's Ark (1976; $55 million), Beyond and Back (1978; $23 million), the Late Great Planet Earth (1978; $23 million), and several others. That's boffo box office, and more than one $100 million earner if you adjust the numbers.

And finally, while all these comparatively smaller films were duking it out for supremacy, June 2004 ended just the way it had began: with a huge, uber-, mega-blockbuster. As the sequel to 2002's biggest film, Spider-Man 2 easily lorded over the early July season, opening on Wednesday, June 30th with a $40 million first day and $88 million over the weekend, with $373 million being the total when all was said and done. Granted, that was a bit lower than the first film's $403 million, but it wasn't for lack of trying - Spider-Man 2 received even better reviews than its predecessor, and the film still stands as one of the best comic book adaptations of all time. Headlining such a high-profile release increased the visibility of stars Tobey Maguire, Kirsten Dunst and James Franco. And, after Willem Dafoe as the Green Goblin in Spider-Man, part 2 continued the series' tradition of picking up excellent character actors, strapping them with villain gear, and turning them into foes for Spider-Man to fight off. This one had Frida's Alfred Molina, decked out in the arrogant, eight-armed visage of the nearly-unstoppable Doctor Octopus, a performance so well-reviewed it even received some Oscar buzz. The stage was set for the next film in the series to potentially be even bigger.

July

We had the weekend of July 2nd - 4th off to catch up on Spider-Man 2, but July 9th dished out some interesting titles competing for attention. The surprise winner of the pack was Will Ferrell's Anchorman: the Ron Burgundy Story, the first in Ferrell's collection of satirical takes on various occupations (most of them sports-related, but not this one). While the film's reception - enthusiastic reviews, audience delight, $28 million opening followed by $84 million total - seemed to be only a fairly simple matchpoint in Ferrell's continued ascension to the crown of Comedy King, there was more to the film than that. Anchorman was, in fact, the key first step in the domination of the Apatow Gang over American comedy in the latter half of the 2000s. If you look hard enough, just in the background to Will Ferrell, Christina Applegate, and all the one-armed anchorman jokes, you'll see:

1. The film marked the cinematic directing debut of frequent Apatow collaborator Adam McKay
2. It contained the first producing credit for Judd Apatow on a major film since 1996's The Cable Guy
3. Seth Rogen had a brief appearance, credited ominously as "eager cameraman"

More obviously, the film introduced Steve Carell as a potentially important comedic actor (this potential was confirmed the next year), gave frequent character actor David Koechner his first outwardly visible screen role, and finally, brought Paul Rudd back to the fore, as comedy star instead of romantic lead, his previous occupation.

All of this was not a coincidence. The Apatow Revolution was at hand.

Moving on, the week's also-ran was King Arthur, which teamed up with May's Troy to give the "two and a half hour historical epic" subgenre a one-two punch in the gut. This $90 million-budgeted entry in the summer blockbuster sweepstakes finished with only $51 million, despite an excellent performance by Clive Owen and the presence of summer '03 starlet Keira Knightley. Doing much better was Will Smith's latest, I, Robot, a frankly unremarkable sci-fier that performed like a perfunctory summer hit on July 16th, opening with $52 million and finishing with $144 million - another entry in that Smith-Sandler $100 million big-star chain that extended from 2002 to 2008. Somewhat more interesting, oddly, was the week's other release - following up her strong 2003 trifecta of Agent Cody Banks, The Lizzie McGuire Movie, and Cheaper by the Dozen, Hilary Duff delivered yet another solid tween hit with A Cinderella Story, her modern-day remake of you-know-what. Despite unfriendly reviews, this one opened with $13 million and finished at $51 million. During the summer of 2004, both Lindsay Lohan and Duff were on top of the teen queen game, but it wasn't to last - this was the last Duff vehicle that could reasonably be described as a hit. At the time, though, the Duff/Cinderella mash-up left a competitor, Alexa Vega's Sleepover ($9 million total), teeming with envy.

July 23rd offered another clear-cut choice for moviegoers, and it looks like they chose well. The two genre films competing for action fans' attention were The Bourne Supremacy and Catwoman. The former followed-up a well-liked Matt Damon hit from the summer of 2002, while the latter was a Batman spin-off that sought to capitalize on the newly-resurged superhero genre. Bourne was praised through the roof, Catwoman was panned down to the gutter, and the box office winner between the two was declared pretty quickly: Catwoman opened with $16 million and finished with $40 million, while Bourne opened with $52 million and finished with...$176 million. Matt Damon now had another franchise on his hands.

Yet another genre tug-of-war was scheduled for July 30th, where thriller remake The Manchurian Candidate faced off against M. Night Shyamalan's latest, The Village. Can't say the best film won here, though, because Shyamalan's widely-hated opus opened with $50 million and finished at $114 million, while the Denzel Washington-Meryl Streep combo in Manchurian just pulled in the usual Denzel numbers - $20 million opening, $65 million total. Too bad, because Manchurian was one of the more interesting remakes to come down the pike lately, and its morbidly cynical dystopian humor seemed topical in the context of the then-ongoing 2004 election (as it still is now, for that matter). The last weekend of July was also home to some smaller films, ranging from the much-ridiculed (Thunderbids) to the over-adored (Garden State), to the surprisingly funny cult favorite Harold & Kumar Go to White Castle, which introduced Kal Penn and John Co as comic actors to watch (though Penn has been stuck in far too many bad movies since). Garden State was writer-director-star Zach Braff's effective debut as movie star, and it took in a total of $30 million, fair for such an initially limited release. It also gave Natalie Portman her best role in a while (yes, that assessment does keep in mind a certain CGI-dominated trifecta of prequels).

August

2004's August was a change of pace from the 2001-2003 versions of the month, back when $100 million+ earner after $100 million+ earner rained down upon moviegoers. August 2004 was a much more quiet affair, but it did start off with another well-reviewed thriller: Michael Mann's Collateral, starring Tom Cruise in an effective and uncharacteristic performance as a hit man. As the cab driver who is caught in the hit man's evening plans, Jamie Foxx delivered one of his two Oscar-nominated 2004 roles, and launched himself from former TV star and budding comic actor to outright leading man. For such a dark and potentially offbeat film, Collateral did well - $24 million opening and a total of $100 million flat. The next August biggie was Princess Diaries 2: Royal Engagement, Anne Hathaway's follow-up to her August 2001 breakout introduction. That one pulled in a hefty $108 million, and while the sequel didn't get particularly good reviews, it finished with a solid $95 million (let's not tempt fate and ask why they didn't make a third one). Later in the month, Jet Li had a surprise hit with his martial arts film Hero, propelled by its unique look and critical acclamation to a $53 million total, one of Li's best. A much more inexplicable box office performance came by way of Without a Paddle, a silly wilderness comedy with Matthew Lillard, Seth Green and Dax Shepard that somehow ended up with $58 million. Well, that's late summer for you.

Everything didn't come up roses for some of 8/04's other titles - you had your standard-issue doses of noisy animated kids' TV adaptation (Yu-Gi-Oh!, at $19 million), much-delayed little thriller (Suspect Zero; $8 million), and demonically inexplicable sequel (SuperBabies: Baby Geniuses 2... wait, what??..... $8 million). Brittany Murphy's star vehicle, Little Black Book, didn't do as well as her August '03 title Uptown Girls ($20 million in '04 compared to $37 million in '03).

And finally, while hatred for horror remakes hasn't been particularly well-masked in the pages of this decade report, affection for horror sequels is something I'm always eager to express. But even I didn't go ga-ga for the trifecta of sequels that August 2004 delivered - Alien vs. Predator (8/13), Exorcist: The Beginning (8/20) and Anacondas: The Hunt for the Blood Orchid (8/27). A v P was a project buzzed about by fans of the two franchises for years now, and the success of Freddy vs. Jason in August '03 made it possible. Despite that sourpussed PG-13 rating, the movie did fine - $38 million opening, $80 million total. I don't think anybody was expecting good legs here, and we certainly didn't get any. The Exorcist prequel - the fourth film in the series - survived a long and troubled production history to finish off with $41 million. How odd that was, especially considering the low fanfare reserved for the second (1977) and third (1990) films in the franchise. As for Anacondas - Anaconda 2, really - I have no idea why anyone would have wanted to make this one, but it did gross about $31 million. Clearly, we were getting to that pivotal point in 2000s history when horror movies started to make money simply by existing - and there was no better early demonstration of that fact than August 2004's trio of terror.