How to Spend $20
By Kim Hollis
October 13, 2009
BoxOfficeProphets.com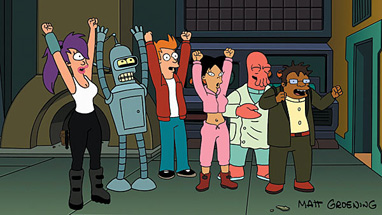 ---
Welcome to How to Spend $20, BOP's look at the latest Blu-ray discs and DVDs to hit stores nationwide. This week: Futurama, Ian McShane, the Talking Heads, and Sam Raimi all have a little somethin' somethin' to offer. Really, you should be prepared to spend $150. Or start putting things on your Christmas wish list.

Pick of the Week

For people who know exactly how to spend their $300 tax rebate - Futurama: The Complete Collection

Anyone who has followed Box Office Prophets will know about our love for Futurama, a show created by Matt Groening that follows its main character, Philip J. Fry from the final seconds of 1999 to the year 2999, where he takes a job as a delivery guy for Planet Express, which is run by his great (x30) nephew Hubert J. Farnsworth, a senile and mad old scientist. He works with and befriends Turanga Leela, the beautiful, one-eyed captain of the Planet Express ship and Bender, a robot who drinks, steals, belches and well, bends things. Also hanging around the Planet Express offices are Dr. Zoidberg, a lobster-like alien and the staff physician, Amy Wong, a stuck-up, cute and spoiled intern, and Hermes Conrad, the Jamaican accountant. Many hilarious and infinitely quotable adventures took place in the four seasons it aired.

For those who might be wondering what makes the Complete Collection worth owning, it's about as total a package as you could hope to see. Along with all four seasons of the show, the collection also includes the four movies (Bender's Big Score, The Beast With a Billion Backs, Bender's Game, Into the Wild Green Yonder) and such fantastic bonus features as audio commentary, Zapp Branigan's Guide to Making Love at a Woman, Bender's Movie Theater Etiquette, and lots more. It's packaged in a collectible Bender head complete with detachable antenna. What more could a true fan of the show desire? And if you haven't seen the show, well, here's your starting, middle and ending point.

For people who got attached to Ian McShane on Deadwood, then were sad when Kings was canceled: Lovejoy: The Complete Collection and/or Wuthering Heights

Ian McShane is glorious. Anyone who has watched him chew scenery as the iniquitous but complex Al Swearengen on Deadwood knows this to be true. The thing is, most of us haven't had an opportunity to see him in some of his earlier British performances, because it took Deadwood for Hollywood to recognize that he's a real force to be reckoned with (though he did feature in Dallas back in the day). Sure, it'd be nice to see him in something besides Death Race or The Seeker: The Dark Is Rising, so it's nice that a couple of DVD releases give viewers the opportunity to see him in some different roles.

The first of these is the complete series of Lovejoy, a show that aired on BBC1 from 1986 to 1994. In the series, McShane plays the titular character, a British antiques dealer who is slightly lacking in scruples but also has a talent for distinguishing special antique items as well as finding fakes. It's a very well-regarded series with something of a following, and here's the perfect opportunity to discover the actor in his "native environment".

Also new and featuring McShane is a 1967 BBC edition of Wuthering Heights, where his performance as Heathcliff established him as a bit of a heartthrob. (And if that doesn't float your boat, there's a whole Bronte Collection that includes Wuthering Heights, a 1983 version of Jane Eyre - with Timothy Dalton, and a 1996 edition of The Tenant of Wildfell Hall).

For people who may find themselves in a beautiful house, with a beautiful wife...: Stop Making Sense - Blu Ray

This concert film featuring The Talking Heads is considered the gold standard in the genre. Directed by Jonathan Demme, the movie is noteworthy for being the first one to ever entirely use digital techniques for filming. Other innovations that set it apart from the standard concert movie include no audience shots whatsoever (until the end), unique lighting, and out-of-the-ordinary tracking shots that linger much longer than what a music video audience is used to seeing. It's a great representation of one of the finest bands to emerge from the 1980s and will now have a much richer look and sound thanks to the Blu Ray experience.

For Ashley J. Williams, wherever he may be: Drag Me to Hell

Despite the fact that I've grown weary of horror films and everything to do with them, I was out with bells on to see Drag Me to Hell in its opening weekend. Why, you ask? Well, it was directed by Sam Raimi, the guy behind the camera for one of my favorite scary movies ever - The Evil Dead. Since that time, he's gone on to direct bigger things, like, oh, Spider-Man, Spider-Man 2 and Spider-Man 3, but there's something about seeing Raimi go back to his roots that makes Drag Me to Hell feel like a step above.

If critical response is any indication, Raimi's return to horror was an unquestionable success. He goes back to the unique tracking shots and tongue-in-cheek dark humor that make his blend of scary something unlike anyone else's. For my part, I was actually a little bit disappointed in the film - it felt too glossy and lacked some of the rawness that I like about the Evil Dead series. Or perhaps I just didn't like that it was missing Bruce Campbell. Regardless, I think it's a film that requires people to judge for themselves, and has a chance to be quite a hit on DVD.

For people who are behind on the movies of Summer 2009: Land of the Lost/The Proposal

Despite the fact that both movies featured big above-the-title stars, Land of the Lost and The Proposal had very different results at the box office. The former started with $18.8 million on its way to $49.4 million at the box office. That total is just a bit less than The Proposal's opening of $33.6 million. It made $163.3 million domestically. People are probably going to be inclined to give Land of the Lost more of a chance on DVD than they did in theaters, and there's no doubt that The Proposal will knock it out of the park in this format. It appears that Will Ferrell's star is falling, but the jury's out on Sandra Bullock. Sure, The Proposal did great, but All About Steve showed that her name alone isn't enough to drive a film to big bucks. Of course, it'd help if she'd skip out on those types of roles altogether.