Box Office - Decade at a Glance: January - April 2004
By Michael Lynderey
October 12, 2009
BoxOfficeProphets.com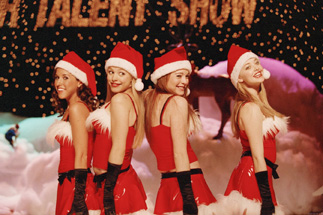 ---
January

While Lord of the Rings was obliterating the box office for the last time, 2004 started off with a surprise of its own: the Ben Stiller/Jennifer Aniston team-up Along Came Polly outdid expectations, opening with $27 million and finishing with $87 million after a fairly leggy run. For Stiller, this was the first real success since Zoolander, and only the opening chapter in what would be a massive year at the box office. For Aniston, it was another solid performer after 2003's Bruce Almighty, and ample evidence that she'd be the one "Friends" cast-member who's stick around as movie leading woman after the show's end. The month's other decent hit belonged to Ashton Kutcher, whose interesting sci-fi thriller The Butterfly Effect opened to $17 million and finished with $57 million - certainly a bout of decent legs for the genre. Also off the bench was You Got Served, the first non-descript urban dance movie to really break out after Save the Last Dance - opening with $16 million and finishing with $40 million. While this was a subgenre that was constantly and consistently mocked by box office analysts throughout the decade, the numbers such films occasionally pulled in certainly prove the whole "sticks and stones" theory true.

The rest of the month dished out a bevy of now-obscure titles, like caper comedy remake The Big Bounce ($6 million total), vaguely entertaining biker-action hybrid Torque ($21 million), Disney animated TV show adaptation Teacher's Pet ($6 million), and the uncomfortably-titled My Baby's Daddy ($16 million). Scarlett Johansson had her first post-Lost in Translation wide release with The Perfect Score, a teens vs. SAT film that ended up with a meek $10 million. Times weren't any better for Mandy Moore, who followed up her summer '03 disappointment How to Deal ($14 million) with another sprightly teen-aimed role in Chasing Liberty, which finished with a disheartening $12 million. And finally, Kate Bosworth teamed up with TV stars Topher Grace and Josh Duhamel for the sweet '50s-style romantic comedy Win a Date With Tad Hamilton!, which couldn't overcome its ungainly title and ended up with only $17 million to show for itself. Too bad. That was a nice little movie.

February

February 2004 was dominated by a breakout box office behemoth so gargantuan that the rest of the month seemed like putty in its hands by comparison. Yes, The Passion of the Christ, Mel Gibson's controversial version of the crucifixion, became the highest-grossing R-rated film ever, opening with $125 million over five days and finishing with an astounding $370 million. An example of grassroots marketing at its most effective. The Passion is also the highest grossing movie released between January and April (any January and April, that is), and that's likely to stay the case for the foreseeable future.

Dwelling way below on the box office charts was everything else. But hey, Adam Sandler had another notch in his $100 million belt with 50 First Dates, a clever if crude little romantic comedy that re-teamed him with Drew Barrymore just in time for Valentine's Day, and a solid $120 million total. Next, Kurt Russell turned in another well-received performance in inspirational sports movie Miracle, which did as such movies do - and that's pretty well - pulling in $65 million. September 2002's $75 million-grossing Barbershop had its sequel, aptly named Barbershop 2, which totaled at a respectable $65 million (there was no Barbershop 3, although we did get a Beauty Shop in 2005).

No other February 2004 movies were quite as lucky, though - the batch of also-rans was led by the silly Lindsay Lohan vehicle Confessions of a Teenage Drama Queen ($29 million) and Ashley Judd's disappointing thriller, Twisted ($25 million), which was the last in her series of high-profile starring vehicles. Twilight's Kristen Stewart debuted as lead actress in the go-kart-fest Catch That Kid, mustering up only $16 million, presumably because the film lacked a subplot involving a romance with a sleazy vampire. The Cuban-set prequel/semi-remake Dirty Dancing: Havana Nights finished with a meek $14 million (to the first film's $63 million), and is notable only for being Patrick Swayze's last appearance in a wide theatrical release (evidently reprising his most famous character). Speaking of final roles, the $14 million-grossing Ray Romano vehicle Welcome to Mooseport probably marked the last screen appearance of then-74 year-old Gene Hackman, who has evidently retired from acting since. Whatever else you may say about the movie, it certainly capped off a strong career that began all the way back in the 1960s. Elsewhere in the month, practically unnotable were the teen sex romp EuroTrip ($17 million), another little-seen Meg Ryan vehicle, the athletically-inclined Against the Ropes ($5 million), and Broken Lizard's latest opus, slasher film parody Club Dread, which at $5 million was underwhelming even compared to the intake of their first film, Super Troopers.

Clearly, February 2004 was no time for laughing matters.

March

With the Passion still dominating the box office headlines, 2004's March was one of the few recent editions of the month with no $100 million movies to call its own. The closest we came was on the month's first week, with the release of the Ben Stiller/Owen Wilson TV show team-up Starsky & Hutch, which at $88 million actually managed to outgross Stiller's Along Came Polly (if only by $1 million). Stiller was clearly on a roll here, and his next few 2004 films would go even higher. Starsky was also a key "Frat Pack" movie, what with the presence not only of its title stars, but also of Will Ferrell, Vince Vaughn, and Jason Bateman, who would start his cinematic comeback here. The week's second place went to Viggo Mortensen, who rode the Lord of the Rings wave with a solo star vehicle in historical horse race movie Hidalgo, which did OK with $67 million.

The second week of March gave us Secret Window, another in the series of quirky Johnny Depp performances that audiences really dug into right after Pirates of the Caribbean hit it big. This one was a very solid Stephen King adaptation buoyed almost entirely by Depp's work, and it played out pretty well - $47 million total. Meanwhile, Frankie Muniz wasn't so lucky with his sequel, Agent Cody Banks 2: Destination London. This one opened only 363 days after Cody Banks 1, and the box office doubled back - a $23 million total to the first one's $47 million. Banks 2 was the last big starring role for Muniz, as teen queens replaced teen idols at the box office. Also hanging around was David Mamet's quirky thriller Spartan, with an early performance by Kristen Bell. But Mamet's only directed one (1) movie that made more than $10 million - and nope, this wasn't the one.

Next, March 19th saw the release of Dawn of the Dead, a remake of the seminal 1979 zombie film of the same name. Now, if the box office performance of The Texas Chainsaw Massacre in October 2003 was what launched the still-strong, torrid torrent of horror movie remakes, then Dawn of the Dead '04 was the film that made sure the wave stayed afloat. It opened with $26 million and finished with $58 million, and worse yet, it was actually pretty good! Clearly, this was a case of the right movie coming out at the wrong time, and inadvertently launching a seemingly irreversible trend. Also out on the third week of March, Taking Lives was Angelina Jolie's attempt to enter Ashley Judd-type thriller territory. That one did okay, with $32 million, but almost every one of Jolie's mega-hits has come out in the month of June, so she really shouldn't dabble in March movies. And finally, the week tossed out the uber-praised drama Eternal Sunshine of the Spotless Mind, with that serious Jim Carrey performance and Kate Winslet's weird indie-movie hair. Carrey's still a big star, but all the critical accolades in the world couldn't lift a Charlie Kaufman movie like this one above, say, $32 million (coincidentally, that's what it made).

The month finished off with Tom Hanks' delicious villainy in the Coen Brothers' the Ladykillers. Hanks' character couldn't defeat heavyset matriarch Irma P. Hall, and indeed, funny as the movie was, The Ladykillers didn't really overcome its own innate Coen-style weirdness - $12 million opening, $39 million total. If anyone's looking for that point in history when a Tom Hanks movie was no longer automatically guaranteed $100 million - this was it. And finally, the last days of March gave us the heavily-anticipated (by somebody, somewhere) Scooby Doo 2, which pulled in a shockingly solid $84 million (granted, that was still under the first film's $153 million). Doo Deux is notable as the last appearance to date of former teen star Freddie Prinze Jr. in a live-action wide-release. We've yet to get a Scooby-Doo 3, and you sure won't hear any complaints from me about that particular fact.

April

An unusually busy April was in store for 2004, especially on the genre movie front. The most prominent (and anticipated) was Kill Bill: Volume 2, Quentin Tarantino's considerably less violent grand finale to the gory story he began in October 2003. The first Kill Bill had by this point entrenched itself into pop culture, but Volume 2 didn't improve on its predecessor's box office take - $25 million opening and $66 million total, compared to the first film's $70 million sum. Aside from predictably brilliant work by Uma Thurman, Volume 2 had that great career-redefining performance by David Carradine, positively serpentine as he hissed at Thurman's Beatrix Kiddo: "I'm sorry, was that a question?" Too bad that the best Carradine got out of this was a minor role in the embarrassing Epic Movie (2007) and a cameo in that Jonas Brothers video. After his work in Volume 2, he certainly deserved better, and he will be missed. Elsewhere on the revenge front, comic book adaptation The Punisher wasn't that great, and even the unexpected presence of John Travolta as the Punisher's foe couldn't get this movie past a $33 million total (that didn't stop them from trying again, though). Hellboy, with its cigar-chomping red-tailed comic book anti-hero, did okay as a franchise starter, opening with $23 million and totaling at $59 million. And to finish off the revenge motif, The Rock had another fair but unexceptional performer in his remake of Walking Tall, which mustered up $46 million - about the same as his last movie, The Rundown.

Silly comedies had their day in the sun early in the month, including the Cedric the Entertainer vehicle Johnson Family Vacation ($31 million) and Julia Stiles' first real lead role after Save the Last Dance, The Prince & Me ($28 million). Disney put out a minor animated film, the western Home on the Range, which pulled in a fair $50 million. By this point, though, Disney had clearly accepted what I still can not - that the era of mega-hit traditional animation was over. Elsewhere, some middle-of-the-month performers included Ella Enchanted ($22 million), an occasionally well-reviewed fantasy with Anne Hathaway stuck in her teen movie phase; The Girl Next Door, the somewhat-interesting high school tale that gave prominent roles to Elisha Cuthbert and Emile Hirsch; and The Alamo, Disney's very expensive recreation of Texas history, which finished with $22 million on a budget of around $100 million. Good movie, excellent Billy Bob Thornton performance, but when you're playing with a two and a half hour running time, you'd better have brought all the CGI trolls and ogres you can afford. Clearly, this was The Alamo's critical mistake. Not to be outdone on the mistake front - Connie and Carla was released almost two years after My Big Fat Greek Wedding exploded into the stratosphere and made Nia Vardalos a movie star. Teaming up Vardalos and Toni Collette (did you know they're both actually named "Antonia"?), this particular comic vision took in only $8 million, or, $233 million less than Wedding did in 2002. Also prowling around the mean streets this time of year was the wholly unnecessary sequel The Whole Ten Yards. But please, let's not talk about that.

Next, April 23rd was the weekend when star vehicles flourished. First, Denzel Washington's Man on Fire, another one of his thrillers, followed the standard Denzel Box Office Formula: $22 million opening, $77 million total. Then, after some supporting parts, Jennifer Garner was launched into star status with 13 Going on 30, a body-switch movie that opened with $21 million and finished with a respectable $57 million. So far, this remains Garner's biggest film as solo star.

April '04 ended in a big way, with the arrival of Mean Girls. Buoyed into teen queen status with August '03's Freaky Friday, Lindsay Lohan floundered a little with February's Confessions of a Drama Queen, but Mean Girls was the one that made her big. Real big. Playing like a much superior remake of that Drama Queen film, Mean Girls was a sharply-written high school satire that also introduced Amanda Seyfried and Rachel McAdams as actresses to watch, and gave screenwriter Tina Fey a decent supporting role. With its $24 million opening and $86 million total, it was the kind of right-before-summer hit studios look for. With that out of the way, the rest of the week didn't much rise to the occasion. There was Godsend, another entry into the "Oops! My child is trying to kill me" subgenre, and not one of the better ones; Laws of Attraction, a Pierce Brosnan-Julianne Moore comedic team-up that didn't do anyone any favors; and Envy, which disproved anyone who believed that the cinematic combo of Ben Stiller and Jack Black would produce not only successful comedy but also sturdy box office. People who held that belief were very, very wrong.