Weekend Wrap-Up
Box Office Losing Streak Retreats for Universal
By John Hamann
October 11, 2009
BoxOfficeProphets.com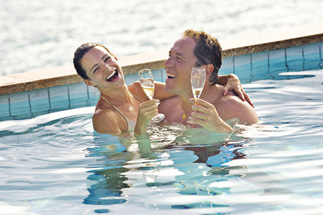 ---
After a fantastic weekend in the last frame where great films like Zombieland, Whip It and the Toy Story Double-Feature debuted amongst others, we had only one major release hitting theaters this weekend: the absolutely not-so-great Couples Retreat, which reunites Vince Vaughn and Jon Favreau. Since studios laid an egg in terms of film quality, one might think that the box office would also follow suit, but again this weekend, and like oh so many others, moviegoers picked star-studded crap, making Couples Retreat one of the bigger October openers ever.

This weekend at the movies is acting as a bridge between two autumn box office periods. The first, which includes September and the first half of October, is often used as a dumping ground for soft openers. We saw that softness in films like Whiteout ($4.9 million opening), Jennifer's Body ($6.9 million opening), Love Happens ($8 million opening), Pandorum ($4.4 million opening), and Fame ($10 million opening). This year things were slightly different thanks to a couple of bigger openers like Cloudy With A Chance of Meatballs ($30 million opening), and Tyler Perry's I Can Do Bad All By Myself ($23.4 million opening). Last weekend we saw some decent flicks with capable grosses, and Couples Retreat was strong this weekend, but it's next weekend that things could get really big, and then stay on a run until Thanksgiving. Next weekend brings Where The Wild Things Are, the following frame brings Astro Boy and Saw VI,and then we see Jim Carrey in the wild looking 3-D version of A Christmas Carol. This weekend is akin to Christmas Eve, but with studios putting dung in your presents in the form of Couples Retreat.

Regrettably, Couples Retreat is the number one film of the weekend, as Universal undeservedly breaks a long unlucky streak that goes all the way back to April 2009 when the studio opened Fast & Furious to $71 million. Couples Retreat took the weekend with a larger than expected gross of $35.3 million from 3,000 venues, and had a venue average of $11,780. Tracking had the Vince Vaughan project opening in the lower $20 million area, so the star-studded cast, marketing and scheduling of this comedy paid off handsomely for the studio. Couples Retreat was produced in association with Relativity Media, who also launched Zombieland with Sony/Columbia in the number one spot last weekend. Made for $60 million, Couples Retreat is a lock for a domestic total beyond that figure, and with a solid international total, could earn as much as $200 million worldwide. Universal should consider themselves lucky, as reviews for this one were abysmal. Only one out of every ten reviewers liked Couples Retreat, and the ones that didn't were downright nasty. Lou Limerick of the New York Post said, "Like most of Universal's offerings this year, you have to wonder exactly who (besides masochists) they thought would actually want to see Couples Retreat in a theater" - that pretty much sums up the critical mood around Couples Retreat, although North America must have a ton of masochists.


For Vince Vaughn, this is another wildly popular comedy that few liked and few will remember. Vaughn's last effort was in Four Christmases, which opened to a similar $31 million in November last year. Four Christmases was 25% fresh, but was able to slide from Thanksgiving through Christmas, and finish with a domestic total of $120 million. Prior to that, Vaughn was in another Christmas comedy, Fred Claus, and while Fred didn't open strongly ($18.5 million), it had strong legs, and finished with $72 million. Fred Claus was also dreck, finishing with a rotten rating of 21%. The last one I'll mention is The Break-Up, which opened just short of $40 million, finished with $119 million and was 33% fresh. Suffice to say, Vince Vaughn is hugely popular, but man does he make bad movies.

Finishing second is the refreshingly good movie called Zombieland, last weekend's number one flick, which earned $15 million from 3,038 venues. After debuting last weekend to $24.1 million, Zombieland had to face comedy competition in the form of Couples Retreat this weekend, and lost 39% of its audience compared to last weekend. Considering this is a pseudo-horror flick, I think Sony and Columbia will be very happy with this drop, as horror films tend to drop 50% plus in their second weekends, and the budget for the Woody Harrelson flick ($23.6 million) was recouped in the first frame. With continued decent holds, Zombieland could end up as an $80 million film, as it has a total after ten days of $47.8 million.

Third spot goes to Cloudy With A Chance of Meatballs, which enjoys its fourth weekend above $10 million as it holds very well. Meatballs earned another $12 million and drops a fantastic 24% compared to last weekend's earnings. Why the slim drop after dipping a much larger 37% last weekend? After a weekend of having both Meatballs and the Toy Story Double Feature both in 3-D, theater owners were able to improve scheduling, allowing both films to perform strongly this weekend. Also, instead of being mostly excluded from those 3-D screens in the last frame, the 15% increase to ticket prices was like a tap being shut off, and this weekend the tap is back on, with Meatballs is enjoying the difference. Cloudy With A Chance of Meatballs should have another strong frame next weekend, and has a four-weekend total thus far of $96.3 million.

Speaking of the Toy Story 3-D double feature, it finished fourth, down one spot from last weekend. The Disney/Pixar rehash earned $7.7 million in its second frame and was down 39% compared to last weekend. Disney is getting good at making something from nothing, as this works as marketing for Toy Story 3, and has similarities to last April's Earth, where the Mouse House re-assembled already shot footage and made $30 million off the deal. The Toy Story Double Feature has now earned $22.7 million.

Fifth spot goes to the unexpected wild card Paranormal Activity. Out to only 159 venues, this extremely low budget horror flick somehow earned an amazing $7.1 million, giving it a wild venue average of $44,440. This one was made for only $11,000 (yes, thousand) before being picked up by Paramount, who saw Blair Witch possibilities. Obviously, it found Blair Witch results – the original no budget horror flick earned $1.5 million from only 27 venues and had an opening weekend venue average of $56,000. Blair Witch managed to improve on those results in the second frame by earning $2 million from 31 venues, giving it a $64,000 venue average. It went on to earn $140 million domestically in 1999. Will lightning strike twice? Maybe, and Paramount's off to a great start with Paranormal Activity.

Sixth spot goes to Bruce Willis and Surrogates, the promising title that missed. Now in its third weekend, Surrogates earned $4.1 million and drops 43% compared to last weekend. The $80 million feature has now earned $32.6 million domestically.

The Invention of Lying ends up seventh this weekend, as this is another Ricky Gervais flick that is struggling to find an audience. Lying earned $3.4 million in its second weekend, and sees a troubling drop of 52% compared to last weekend. The $18 million Warner Bros. flick now has a total of $12.3 million.

Fox Searchlight's Whip It lands in eighth, and due to some solid reviews has a decent drop in its second frame. Whip It earned $2.8 million this weekend and falls 40%. Unfortunately, it's going to be too little too late, as Drew Barrymore's $15 million feature has a total so far of $8.8 million.

Ninth spot goes to Michael Moore's Capitalism: A Love Story. Even a Michael Moore doc can't find the legs this weekend, as this one earned only $2.7 million and drops 39%. It's going to leave the top ten quick, with a total of only $9.1 million.

Fame, MGM's big miss, is tenth. Fame earned $2.6 million in its third frame and was off 45%. The poorly made and marketed remake has earned $20 million so far.

Overall this weekend, things are looking pretty good. Thanks to Couples Retreat, the top 12 films at the box office earned a plentiful $96.3 million. Last year, with Body of Lies failing and Beverly Hills Chihuahua repeating on top, the box office top 12 earned $86.6 million, leaving last year well back of this year. Next weekend things get really interesting. Spike Jonze's Where The Wild Things Are finally arrives at theaters, and will compete against Law Abiding Citizen and The Stepfather. How big will Wild Things be? I'm thinking huge, but check back next weekend to find out.