Weekend Forecast
By Kim Hollis
October 8, 2009
BoxOfficeProphets.com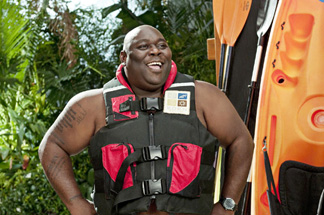 ---
After a deluge of new movie releases at the box office last weekend, this weekend sees only one lonely film making its way into theaters. Clearly, rival studios ran far, far away from putting up any significant new product against Universal Studios' Couple Retreat. Does this mean a huge weekend is in the cards for Vince Vaughn, Jon Favreau and friends? That depends on your definition of "huge".

A broad comedy that appeals to a wide-ranging demographic, Couples Retreat has a lot going for it. It stars Vince Vaughn, who has been pretty consistent as a box office draw in the last couple of years, and his the ensemble cast surrounding him is solid as well. Jason Bateman, Jon Favreau, Kristen Bell, Malin Ackerman and Kristin Davis all are featured as well, and as another fascinating little tidbit, the movie is directed by one Peter Billingsley. If his name seems familiar to you, it's probably because you've seen it dozens if not hundreds of times during TNT's "24 Hours of A Christmas Story" for the past 12 years. Yes, Billingsley was the adorable Ralphie Parker in the holiday mainstay, but he's all grown up at 38-years-old and working behind the camera now.

I'm not exaggerating when I say that every adult human who works within a 20 foot radius of my desk at my day job has mentioned a strong desire to see Couples Retreat in theaters this weekend. I'm sure this is attributable to a trailer and ubiquitous commercials that basically show potential viewers that Vaughn is in the movie and is likely to be making some sort of wisecracks. I'm a little concerned that the comedy looks bland and too watered down (it's PG-13, after all). Reviews look to be proving this worry to be justified. Even so, it's appealing to a very broad segment of the populace - including adults from age 25-45, I'd say. That should translate to a nice opening weekend of $26 million, and possibly a long-term solid run in theaters.

With only the single new release, that should mean there is plenty of room for the market to expand for returning releases. The biggest beneficiaries will clearly be Zombieland, which has received near-universal praise and has marvelous buzz, and the 3-D products of Cloudy With a Chance of Meatballs and Toy Story/Toy Story 2 3-D. Last weekend's The Invention of Lying and Whip It also had good reviews, but since they opened smaller, won't make the same kind of noise.