Weekend Wrap-Up
Sony Dominates With Zombieland and Meatballs
By John Hamann
October 4, 2009
BoxOfficeProphets.com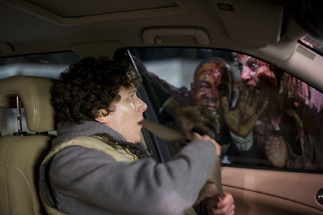 ---
With September behind us, the box office moves towards better product, and what a swing toward quality we see this frame. It's another weekend where we have a slew of openers, but this time, the movies are interesting and for once, not critically reviled. Openers include Zombieland, with Woody Harrelson (who is also back from the dead), The Invention of Lying, a high-concept sort of flick with Ricky Gervais leading the way, Whip It, from director Drew Barrymore and starring Ellen Page, the Toy Story double feature in 3-D, the expansion of Michael Moore's Capitalism: A Love Story, and the limited release of the Coen Brothers film, A Serious Man. This is a treasure chest of solid film choices, and it's sad that it doesn't happen all year round.

Our number one film of the weekend is Zombieland, a Shaun of the Dead-type of zombie flick with more comedy than undead. Zombieland kicked some box office butt, earning a stellar $25 million from a very wide 3,036 venues. It had a hot opening venue average of $8,235, and out-grossed its production budget of $23.6 million over the opening frame, making Zombieland a one-weekend winner. The Woody Harrelson/Jesse Eisenberg/Abigail Breslin/Emma Stone picture definitely clicked with audiences, and the Sony/Columbia/Relativity Pictures release is going to be a huge hit for these companies. Word-of-mouth should be so good that Zombieland may even avoid the 50%-plus plunge that so many of these types of film manage in their second frames.

At first glance, Zombieland looks like a low-budget cash grab; however, the trailer and TV ad were both quite funny, and as we rolled up toward release, I felt the slow trickle of extremely positive reviews might be too good to be true. The first six reviews were all positive, and I thought the next 100 would all be negative – another marketing effort around reviews. It wasn't the case. Currently, Zombieland sits at 89% fresh, with only 12 rotten reviews out of a possible 107. Z-land's inspiration, Shaun of the Dead, finished with a similar score at RottenTomaotes – 91% fresh – with only 16 rotten reviews out of a possible 171. The biggest difference between these two films (besides country of origin) is going to be box office. Shaun of the Dead only made $13.5 million over its entire U.S. run, a number Zombieland would have earned by Saturday afternoon. Shaun of the Dead had an international total of just a little over $30 million, and a production budget of only $5 million. In the end, these two films will end up quite similarly when comparing overall gross to budget.

Speaking of zombies, if this one opened this big, Woody Harrelson must be officially back from the dead. Ever since appearing in Oliver Stone's Natural Born Killers ($11 million opening, $50 million finish in 1994), Woody Harrelson's career seemed to go sideways. Prior to NBK, Harrelson had been a star on the rise, appearing in White Men Can't Jump, Doc Hollywood, and the $100 million earner Indecent Proposal. However, after NBK, there were zero $50 million earners for Harrelson. Sure, there were some strong appearances in The People vs. Larry Flynt, Wag the Dog, and The Thin Red Line, but there were no big hits. That changed a little after a solid turn in the Coen Brothers' 2007 Oscar winner No Country for Old Men ($74 million domestic, $163 million worldwide), but after that, he went back to the slide for ten films, where the only "highlights" were Semi-Pro with Will Ferrell (flopped with a $15 million opening and a $35 million finish) and Seven Pounds with Will Smith ($15 million opening, $70 million finish). Harrelson should have back-to-back hits, though, as Zombieland will be followed by 2012 for the actor, and Roland Emmerich's next disaster flick looks a lot better than 10,000 BC.

Finishing second is Cloudy With a Chance of Meatballs, our champion from the previous two weekends. Meatballs was forced to deal with some Disney trickery this weekend, as the Mouse House opened the Toy Story films in 3-D this weekend, which took away about 1,000 of the 3-D screens available. After a 17% drop last weekend, Meatballs still held well despite the competition, earning $16.7 million, and dropping a much more serious 33%. Despite the drop, Meatballs is still going to be a big success for the folks at Sony Animation. Meatballs has a gross so far of $82.4 million, and an overseas gross that is just getting started. It will be a $100 million domestic hit, against a production budget of $100 million.

The Toy Story double feature in 3-D managed to take down the number three spot this weekend with a gross of $12.5 million from only 1,745 venues. It had a venue average of $7,163. This release was obviously a good move for Disney – it slowed the progressive march of Cloudy With a Chance of Meatballs, it revitalized a franchise that hasn't had a film in theatres since 1999, and provided a good advertisement for Toy Story 3, which is set to hit theatres in June 2010. The Toy Story double feature is only available in theatres for a two-week run -obviously, this release is not about a money, or at least not about money right now. It's about marketing - and this marketing has worked very well.

Fourth spot goes to The Invention of Lying, the new Liar Liar-type film from Ricky Gervais, who wrote and directed with Mathew Robinson. Starring Gervais, Jennifer Garner, Tina Fey, and Jonah Hill, The Invention of Lying had the casting clout to be a hit, but a premise that might have been a little less accessible than a Jim Carrey film. The Invention of Lying finished the weekend with a gross of $7.4 million from only 1,707 venues. It had a venue average of $4,306. This is a similar – but slightly improved – score from Ricky Gervais' last above-the-title role in the under-seen and really quite good Ghost Town, which opened to $5 million in September, 2008. Ghost Town unfortunately finished with a domestic take of only $13 million, but should have done much better, as it finished with a fresh rating of 85%. Lying finished with a just-fresh rating of 60%, so it will be interesting to see how this one plays out in the weekends to come.

Fifth goes to last weekend's number two film, Surrogates, the unfortunate miss with Bruce Willis. Surrogates earned $7.3 million in its second weekend, and expectedly falls 51%. After failing to impress last weekend, the writing was on the wall for this $80 million feature. Touchstone Pictures is going to have to hope for big bucks from overseas cinemas, as this one now has a total of $26.4 million and looks to finish with about $45 million.

Landing in sixth is Whip It!, the directorial debut of Drew Barrymore, who picked a grrl-power roller-derby flick as her first feature. The results were mixed but expected, as Whip It earned $4.9 million this weekend from a muted 1,720 venues. It had a venue average of $2,820. From Fox Searchlight, Whip It stars Ellen Page (Juno), and the production cost Searchlight only $15 million, so this one could still be in the black by the end of its run. The good news for Barrymore and Page is that critics liked it a lot, with RottenTomaotes recording a fantastic score of 82% fresh, with only 19 rotten reviews out of a possible 104. Will an expansion with good word-of-mouth turn this one into a hit? Highly doubtful, but at least decent legs should follow.

Tied for sixth is Michael Moore's latest, Capitalism: A Love Story. After opening on four screens last weekend and earning $230,000, Overture Films expanded the run to 962 venues this weekend, and the expansion paid off. Capitalism earned $4.9 million and had a venue average of $5,042. This is the fastest a Michael Moore film has gone into wide release – his last feature, Sicko, earned $4.5 million from only 447 venues in its second weekend, before going to 702 venues in its third frame when it earned $3.6 million. I'm not sure if taking it wide so quickly was the best bet, but in a world of Internet movie downloads, it might have been the best course of action. Is Michael Moore slipping? He seems to be somewhat, however his legions of fans still make his cheap-to-produce documentaries a capitalist's dream. Sicko finished with about $25 million – I see this one coming up somewhat short of that total.

Eighth spot goes to Fame, last weekend's quiet disaster from MGM. The struggling production company needed a big hit - and ironically failed to get it with Fame after the musical opened to a quiet $10 million. This weekend, the news is worse, as this one tumbled 53%, earning only $4.8 million. If there's good news for MGM, it's that Fame cost only $18 million to make, so the disaster here won't be of epic proportions. Give Fame $16.6 million after two weekends of release.

Ninth spot goes to Matt Damon's The Informant!, the three-week old oddball from Steven Soderbergh and Warner Bros. The Informant! earned $3.8 million in its third frame, and drops 43% compared to last weekend. Considering the style and the subject matter, I think Warner Bros. will be happy with a gross so far of $26.6 million, against a $22 million budget.

Love Happens takes and deserves the basement spot this weekend, as the Jennifer Aniston flick could have been called Failure Happens. The comedy earned $2.8 million in its last weekend in the top ten and falls 36%. It has a total now of $18.9 million.

Overall, things are holding up well compared to last year - about the same financially, but moving forward, things should be a lot better. A year ago this weekend, Beverly Hills Chihuahua and Eagle Eye were the top two films, and the top 12 finished with $94.7 million. This year, with better movies on top in Zombieland and Cloudy With a Chance of Meatballs, the top 12 finished with an almost identical $94.5 million. Next weekend, there is only one new release, Couples Retreat with Vince Vaughn and Jon Favreau, which leaves room for all of the good movies released this weekend to gain some traction next weekend.