Friday Box Office Analysis
By Kim Hollis
October 3, 2009
BoxOfficeProphets.com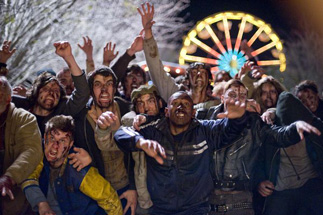 ---
Welcome to October, where studios actually toss out some decent product, quality-wise. Let's see if any of them can manage to stick.

Zombieland

Thanks to some killer marketing, including commercials, trailers and tips for surviving zombies, the horror/comedy is managing to have a stellar breakout weekend. On Friday, it earned $9.4 million, which will certainly be good enough to give it first place for this frame. Sony's going to be very pleased with these results, particularly given that the budget can't have been particularly high. Over the three-day portion of the weekend, it's probably going to see a multiplier around 2.5, since there was probably a good-sized rush to see it right away on Friday. That will mean a debut weekend of $23.5 million, more than many were expecting.

Toy Story/Toy Story 2 (3D)

In a clever plan to build awareness and anticipation for the upcoming Toy Story 3, Disney has released the first two films in a repackaged 3-D format. The ploy worked quite well, as even though the movies were only on 1,745 screens (and had a long-for-kiddie-flick run time of almost three hours), the double-feature earned $3.2 on Friday. It should hold up incredibly well over the weekend, too, and a total take of $12.8 million is in the cards. This is a masterstroke of marketing from Disney, and includes a trailer for Toy Story 3 that will be unavailable anywhere except in theaters for a period of a few weeks. (Note: if your theater happens not to show the trailer, send a tweet to www.twitter.com/leeunkrich and let him know city and state. The Toy Story 3 director is trying to make sure everyone attending the double feature gets to see the trailer and that all showings go off without a hitch.)

The Invention of Lying

Really, 2008's Ghost Town should have given us a pretty good idea of the box office appeal of Ricky Gervais. Yes, he's incredibly funny and talented. That doesn't always translate to dollar signs, though. On Friday, his directorial debut earned $2.5 million, which is a very slight improvement over what Ghost Town was able to accomplish last year. Its weekend total will wind up around $7.3 million

Whip It

We have yet another directorial debut this weekend. This time, it's Drew Barrymore's Whip It, the rollerderby flick starring Juno's Ellen Page. This was a tough-to-market project, and the numbers show it. Whip It earned $1.6 million on Friday, and is headed for a weekend total of $4.5 million. It's gotten some decent buzz, but might have been better served to be released on a platform strategy.

Notable Holdovers

Expanding wider was Michael Moore's Capitalism: A Love Story, which managed an additional $1.5 million in its 962 venues. It will have an expected total around $4.5 million. Cloudy With a Chance of Meatballs did in fact struggle a bit as it lost some 3-D screens to the Toy Story double feature with a 34% Friday-to-Friday drop (though this is still outstanding), but it's going to still wind up with a decent total of $15 million on the weekend, good enough for Sony to have both first and second place. Surrogates dropped 56% from last Friday, and will quickly be a distant memory with a weekend take of $7.5 million.