Weekend Wrap-Up
Slow Weekend Slams Fame, Surrogates
By John Hamann
September 27, 2009
BoxOfficeProphets.com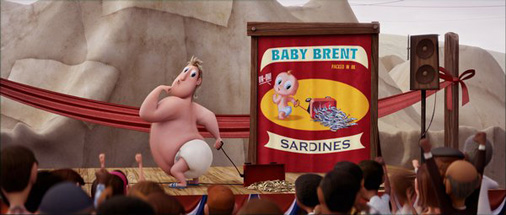 ---
About six or seven weeks ago, I was sitting around with friends discussing upcoming movies. District 9 was on the horizon, and we were excited about upcoming sci-fi entries in the film schedule. We were itching to see District 9, thought the Final Destination series was finally coming to a disastrous end, and were looking forward to Bruce Willis in Surrogates, which opens this weekend. In the time since that conversation, we learned that Surrogates was rated PG-13, had a running time of 88 minutes, and that critics hated it. With the remake of Fame also coming out this weekend, it once looked like a formidable weekend – instead we're left with just another typical frame in September.

Our number one film of the weekend (by a longshot) is neither the Bruce Willis sci-fi actioner nor the remake of a beloved musical. The winner is Cloudy With a Chance of Meatballs, last weekend's 3-D release for kids, in a month where kids flicks are not supposed to survive. Not only did Meatballs survive, it thrived, with a weekend gross of $24.6 million, and a nice drop of only 19%. 3-D films tend to hold well, as long as there isn't more 3-D competition in an individual film's second weekend. G-Force dropped 45% in its second weekend, and that one was truly awful, so any hold over 50% is a win. Ice Age: Dawn of the Dinosaurs dropped 34% from $41.7 million to $27.6 million in its second weekend, saving the Fox film after a slow opening frame. Up fell only 35% despite a huge opening weekend of $68.1 million (usually "the bigger they are" rule fits with opening weekend box office). Monsters vs. Aliens did run into the above rule despite being in 3-D, as it opened to $59.3 million before falling 45% to $32.6 million. Sony's Meatballs was desperate for a good hold for a number of reasons. The Toy Story films are being re-released next weekend in 3-D, which will take some of Meatballs' venues away.

We've found in the past that the first weekend without the 15% charge to see a film in 3-D leads to some ugly drops, but then I'm not convinced that Toy Story re-releases are draw-worthy. Another reason Sony was looking for a good hold was that Cloudy With A Chance Of Meatballs was not a cheap film. Meatballs cost Sony $100 million to make, and because of this drop, it becomes a lock to earn over $100 million, with a $120 million now a likely finishing amount. Meatballs is just getting started overseas, and in the end this is going to be a title that Sony is very pleased with.

Finishing well back in second is Disney's Surrogates, which now looks like a small disaster from Disney, Touchstone, Bruce Willis and director Jonathan Mostow. Surrogates opened to only $15 million this weekend from 2,951 venues. It had an ugly opening weekend venue average of $5,083. Once thought to be the darling of September, this one now looks an expensive miss, as the budget here was $80 million, and a domestic finish of $40 million might be hard to come by. On top of that, critics hated it, as it garnered a score of only 37% fresh at RottenTomatoes.

It's been ten years since Bruce Willis wowed a lot of people in The Sixth Sense, opening that one to $26.9 million and taking it to almost $300 million, and nine years since disappointing us in Unbreakable, which opened to a strong $30 million. Since then, Bruce Willis hasn't been all that hot at the box office. Still, excellent turns in films like The Whole Nine Yards, Sin City (next to the awful Michael Madsen, Willis came off like Orson Welles), Grindhouse, and Live Free or Die Hard, Willis is making decent choices. Next up for Willis is a couple of 2010 flicks, one for director Kevin Smith called A Couple of Dicks, and then a smaller part in Stallone's Expendables.

Like Bruce Willis, the production company behind Surrogates, Disney's Touchstone, has had just as rough a time over the past few years. Known for their live-action, more adult fare from Disney, Touchstone found some success this summer with Sandra Bullock's The Proposal ($162 million domestic finish), but its other recent female driven comedy, Confessions of a Shopaholic, failed with a $14 million opening and a $44 million finish. Touchstone seems to have a lot of almost-failures with big name talent. Some examples include: Kevin Costner in Swing Vote ($6 million opening, $16 million finish), Spike Lee's Miracle at St. Anna's ($3.5 million opening, $8 million finish), and Steve Carell in Dan in Real Life ($11.8 million opening, $47.6 million finish). Obvioulsy, Touchstone has seen some success with films like Wild Hogs ($40 million opening, $168 million finish), but all too often follows them up with expensive misses like The Alamo ($9 million opening, $22.4 million finish). Next up for the studio is another dubious entry called When in Rome, a comedy starring Kristin Bell and Josh Duhamel, which debuts in January.

Finishing third this weekend is Fame, a remake of the 1980 musical of the same name. The 2009 version was obviously missing the magic of the original, as this Fame got off to a $10 million start from a massive 3,096 venues. It had an ugly venue average of $3,241. MGM really dropped the ball on this one, as msucial/dance films targeted at youth have been on the upswing in the last few years. This one was obviously made on the cheap (the cheap here being $18 million), so while the financials will not be disastrous, one has to ask what could have been. After the likes of High School Musical 3, Dreamgirls, Mamma Mia!, and Hairspray, one might have thought Fame was heading for $100 million, but it is certainly not to be. Critics hated it, making it the worst reviewed film of the weekend, behind a sci-fi/horror and a sci-fi/action flick. Fame finished with a fresh rating of 28%, and a devastating tag line of "bland". While the theatrical gross will come in higher than the budget, this one won't even live on DVD. Call it a missed opportunity for the desperate-for-opportunity MGM.

Fourth spot goes to Matt Damon, Steven Soderbergh and The Informant!, which is enjoying its second weekend, doing better than most thought it would. The Informant! earned $6.9 million in its second weekend, dropping 34%. While that may look like a serious drop, let's remember the subject matter and the style, which likely had an impact on word-of-mouth. So far, The Informant! has earned a decent $21 million, against a budget of only $22 million.

Fifth goes to Tyler Perry's I Can Do Bad All By Myself. After opening to $23.4 million, this Tyler Perry entry did the usual, and plummeted 58% in its second weekend. This weekend, its third, I Can Do Bad earned $4.8 million, and drops another 52%. So far, the Madea flick has earned $44.5 million, and looks to finish in about the middle of Perry releases.

Pandorum, the Dennis Quaid sci-fi horror film (there's a statement that makes sense), finishes in sixth. From Overture Films, Pandorum earned $4.4 million from 2,506 venues, and had a god-awful venue average of $1,759. The marketing department behind this one should be shot because just making your TV ad murky and dark isn't enough – if we don't have a clue what it's about, we aren't going to go. The scary thing is that Pandorum got the best reviews of the weekend, beating both Fame and Surrogates, albeit with less reviews counted. One never knows – Pandorum could end up being a cult hit on DVD.

Seventh goes to Love Happens, the Jennifer Aniston bomb that debuted last weekend. The romantic drama earned $4.3 million in its second weekend and drops a rough 46%. The $18 million film, distributed by Universal, has now earned $14.7 million.

Jennifer's Body drops from fifth last weekend to eighth this weekend. The Megan Fox horror flick earned $3.5 million and dropped 49%. This one has now earned $12.3 million, and we bid good riddance to bad rubbish. The best news of the weekend is that I won't have to hear about Megan Fox until next August. Woohoo!

Ninth goes appropriately to 9, as this one couldn't find an audience. 9 earned $2.8 million and dropped 49%. It has now earned $27.1 million.

Inglourious Basterds finishes tenth, as Brad Pitt and friends earn $2.7 milllion and drop 29%. Count this one as win for Tarantino and the Weinsteins, as Basterds has now taken in $114.5 million domestically and a similar amount overseas.

With all three openers missing, the box office takes a bit of a hit on its overall score this weekend. The top 12 films could only manage $82.7 million, a bit off the $87.7 million that last year's top 12 earned. Next weekend things could pick up. Zombieland, the interesting looking horror/comedy with Woody Harrelson, opens next weekend, along with the 2 Toy Story films in 3-D, The Invention of Lying with Ricky Gervais, and Whip It from Fox Searchlight.