Box Office - Decade at a Glance: September - December 2003
By Michael Lynderey
September 24, 2009
BoxOfficeProphets.com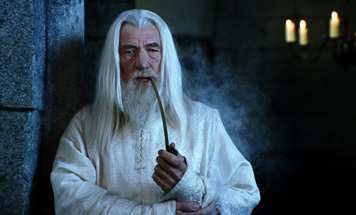 ---
September

A better than average coalition of films rained down on theaters in September 2003, with a decent combination of action, drama, Oscar bait, and long-forgotten bad movies.

Leading on the action front was Robert Rodriguez' latest genre pastiche - Once Upon a Time in Mexico, his follow-up to Desperado and El Mariachi, was an entertaining mix-up of an absurd (perhaps nearly incomprehensible) plot, creative moments of violence, and a high-profile cast (Antonio Banderas, Salma Hayek, and Johnny Depp, among hordes of character actors). While the reviews were pretty good, it was really the fortunate presence of Depp - in another quirky role so soon after Pirates of the Caribbean - that elevated this one on the box office scale ($23 million opening, $55 million total). Another action entry was Underworld, a werewolf/vampire mish-mash that joined Tomb Raider and Resident Evil in creating the "girls with guns" subgenre; while its quality is highly debatable, it did give Kate Beckinsale a decent hit (finishing with $51 million). Next, with The Rundown, The Rock took another step in his path as an heir to Schwarzenegger. However, while the film got decent reviews, it wasn't much of a breakout hit, finishing with $47 million, roughly half of the total of The Rock's first leading role in The Scorpion King. Clearly, Schwarzenegger's steps weren't that easy to retrace.

Outside of the genre pool, Diane Lane followed-up her Oscar nomination in Unfaithful with a starring role in romantic drama Under the Tuscan Sun, and it paid off - happy reviews and a fair sum of $43 million. Good for her. Elsewhere, child actor Haley Joel Osment took on his first "older" role and paired up with old-timers Michael Caine and Robert Duvall for the family film Secondhand Lions. This one did pretty well, too ($41 million), but it was nevertheless Osment's last role in a major film to date. Why? I don't know. Meanwhile, Nicolas Cage teamed up with the allegedly teenage Alison Lohman for the exceptionally well-reviewed con artist escapade Matchstick Men, but the whole thing appears to have been too quirky for the mainstream, finishing with only $36 million and no expected Oscar nod for Cage. And finally, Beyonce Knowles followed-up her role in Austin Powers 3 with the musical drama The Fighting Temptations; with a $30 million total, it wasn't one of her best roles.

The real standout of the month, at least in terms of quality, remains Sofia Coppola's much-adored Tokyo-set drama Lost in Translation. The $44 million it dug up thanks to legs is a decent sum, but the movie is especially notable for two things: first, it re-shaped Bill Murray's image from comic to serious actor, and second, it introduced Scarlett Johansson as a talented young ingenue perpetually on the brink of stardom (that description still stands).

The bottom rung of the month had to be filled by somebody, so why not get some high-class talent to do it? Heath Ledger delivered his absolute worst film with the incomprehensible The Order, Ben Stiller and Drew Barrymore bombed way beyond anyone's expectations with Duplex ($9 million total!), Sharon Stone ran for her life in Cold Creek Manor ($21 million), and David Spade had his last solo star vehicle to date with Dickie Roberts: Child Star (all right, with a $22 million total, I guess I have to maintain at least a shred of journalistic integrity and admit that it didn't really do that badly). Also around was Eli Roth's first film as director, the gross-out horror Cabin Fever. Considering that it cost a mere $1.5 million to make, the $21 million it took in stands as an early example of Lionsgate Films' knack for doing well with low-budget horror. The Saw films were still ahead for them.

October

Following September's example, October 2003 delivered a series of well-received high-grossers. First, there was much-beloved comedy The School of Rock, which opened with $19 million, finished with $81 million, and turned Jack Black into an A-list comedy star in the process. Next, the weekend of October 10th brought out two of the year's best films, and they weren't shabby grossers, either. The first, dark drama Mystic River, began the current incarnation of Clint Eastwood as director of meticulously-reviewed, Academy Award-nominated dramas; it also gave Sean Penn and Tim Robbins Oscar-winning roles, and cleaned up at the box office, with $90 million by awards season's end. The second of the week's films was Kill Bill: Volume 1, a $70 million-grossing, glossily entertaining return to grandeur by Quentin Tarantino. Aside from re-establishing Uma Thurman as a star, Kill Bill made an inescapable and thorough mark on the popular culture of the decade, and left the world hungering for Volume 2. After this fall, both Rodriguez and Tarantino were cool again.

October 17th gave us the remake of The Texas Chainsaw Massacre. I would point to the release of this film, and that of The Ring a year before it, as the two most influential events in the horror genre of the 2000s. The previous entry in the franchise, Texas Chainsaw Massacre: The Next Generation, had a fleeting release in the mid 1990s, before being left to its current status as trivia (it starred both Matthew McConaughey and Renee Zellweger as tormenter and tormentee, respectively, and so I always thought the two should re-team for a romantic comedy). Buoyed by a charming little trailer, the Texas Chainsaw remake wiped away all trace of its predecessors, and broke out big with a $28 million opening and $80 million total. While New Line's earlier remake, Willard, failed badly in March, the Chainsaw re-imagining showed the studios that remaking the horror films of the '70s and '80s could potentially prove very lucrative indeed - and so they'd do exactly that, over, and over, and over again. Moreso, the film's emphasis on torture and gruesome violence re-ignited that particular element in the horror genre, and directly announced that the torture porn film had arrived. Also, while the aforementioned The Ring brought to fore all those watered-down PG-13 films, Texas Chainsaw inspired the co-existing wave of hard-R horror releases. Two extremes, as it were, and both reigned supreme 'till decade's end, at the least.

October 24th brought out yet another big movie - Scary Movie 3. The first two films grossed $157 million and $71 million, respectively, and this one came in somewhere in between - $48 million opening, $110 million total. After the relative disappointment of Scary Movie 2, part 3 was a surprise Halloween-time behemoth, and featured a hilarious opening scene with Pamela Anderson and Jenny McCarthy. Most importantly, Scary Movie 3 did something that the first two films in the series had not done: it inspired a long line of bad spoofs, one that would last until 2009. Also opening on the 24th, albeit in initial limited release, was Brother Bear; in many ways, this one is a relic, an oddity - a traditionally-animated Disney film that did pretty well for itself despite that now-suspect background. It expanded wide on Saturday, November 1st and took in $19 million for that two-day weekend, before finishing with $85 million. That's not a bad tally, but it was too late to save traditional animation. The patient had expired years before, and no amount of adorable animated wildlife was going to save it.

Stepping down from the top, some of the month's moderate successes included Cuba Gooding, Jr.'s allegedly heart-warming drama Radio ($52 million), Denzel Washington's slight box office misstep Out of Time ($41 million), and the John Grisham-based thriller Runaway Jury ($49 million), which was Gene Hackman's second-to-last film to date. Like every busy fall month, this one had its also-rans. Star power (Clooney + Zeta-Jones) failed to give much traction to the Coen Brothers' fun Intolerable Cruelty, which finished with $35 million. Angelina Jolie struck out again with Beyond Borders, dragging poor Clive Owen down with her, while Meg Ryan's evidently erotic thriller In the Cut failed to bring back her status as leading woman. Intergalactic canine-fest Good Dog! did ok with $37 million, but I guess they needed to put more furry animals on the poster. And finally, the cinematic world at large was introduced to the undisputed genius of one Uwe Boll, whose film House of the Dead blasted across the screens, igniting his legacy of brilliance (the entire staff of BOP are in agreement on this one).

November

The month began with a coup of staggering proportions: despite early expectations to the contrary, "Elf beats Matrix" was no "Dewey defeats Truman". Realistically, the signs were all there: The Matrix Reloaded had disappointed a great many who turned out to see it based on the hype and buzz, and so sitting through another 2hr+ venture into cybernetic Hell was not the most appealing option 'round the holidays. Elf, on the other hand, had everything going for it - gushy reviews, funny trailers, an appealing premise, and a kid-friendly demeanor. While Elf opened with $31 million and built staggering holiday legs to $173 million, The Matrix 3 turned a three-day gross of $83 million into a mere $139 million total. With his SNL and early film career now but a memory, Elf was Will Ferrell's coronation as one of this decade's kings of comedy.

After this particular battle of the gargantuans, the rest of the month couldn't help but underwhelm. Mike Myers' Cat in the Hat terrified young children and film critics alike, finishing with exactly $100 million after a $38 million opening, and marking Myers' last live-action role until the Love Guru in 2008. Eddie Murphy delivered yet another kids' movie, the seasonally mis-matched The Haunted Mansion, and did pretty well for himself: $75 million, albeit on a $90 million budget. Russell Crowe teamed up with Paul Bettany for lush, $93 million-grossing period piece Master and Commander, but the slow pace and unrestrained length that come with such films were a definite box office liability. Next, Halle Berry had a decent hit with the horror film Gothika ($59 million), and an all-star cast of British actors was led by Hugh Grant to moderate success in Love Actually ($59 million also), a very funny romantic comedy epic from the makers of Notting Hill and Bridget Jones's Diary. Love Actually also introduced Bill Nighy as a top-tier character actor import, and we can always use another one.

For those who see the glass half empty, November losers included the Brendan Fraser-led Looney Tunes: Back in Action ($20 million total), the Paul Walker time travel thriller Timeline ($19 million), and slow-paced Cate Blanchett-Tommy Lee Jones western The Missing ($27 million). The month was capped off nicely by the surprise success of very dark comedy Bad Santa, which capitalized on some entertainingly cynical humor to the tune of a $59 million total. This was the one that turned Billy Bob Thornton into the man to call for playing sourpussed vulgarians. Along with Elf and Love Actually, Bad Santa was one of three excellent Christmas-themed movies released in the winter of 2003, each very different from the other. As we see almost every year, a good Christmas movie is hard to make, so 2003 still stands as a gold standard.

December

There's not much of a debate as to which film ruled over the winter months: The Lord of the Rings: The Return of the King entered the Harry Potter-less season with everything going for it, and what played out was, appropriately enough, a coronation. It had a $124 million five-day opening, took in $377 million total, and won the Oscar for Best Picture. So, with that one out of the way, how did the rest of the month muster up?

Not that badly. While no other movie really broke out as an uber-blockbuster, three films did cross $100 million. The first, Tom Cruise's historical epic The Last Samurai, did pretty well with $111 million (not Cruise's best work, but it'll have to do). Next, Diane Keaton made a glorious cinematic return in Something's Gotta Give, teaming up with Jack Nicholson for a dose of funny and smart middle-aged romance. This one struck a chord, opening with $16 million and finishing with $124 million (now those are some holiday legs!). And finally, Steve Martin starred in Cheaper by the Dozen, which played out like a cheesier version of his own film Parenthood, and turned its $7 million Christmas Day opening into a $138 million total. Clearly, when it comes to family comedies, Martin's your man to beat.

While not $100 million makers, Tim Burton's entertainingly loopy fantasy Big Fish did string up $66 million, while Miramax's latest historical epic, Cold Mountain, rode its star power (Nicole Kidman, Jude Law, Renee Zellweger) to a $95 million total, and an Oscar for Zellweger. Julia Roberts' Mona Lisa Smile finished with $63 million, but one can reasonably assume expectations were probably higher. Other high profile entries weren't so lucky. The Farrelly Brothers' conjoined twin comedy, Stuck On You, finished with only $33 million, despite the presence of Matt Damon. The lavish, big-budget treatment of Peter Pan stalled at $48 million, and was mostly ignored by a public unconvinced by some attractive trailers. The Ben Affleck-Uma Thurman action team-up Paycheck could only gnaw off $53 million; that's not bad, but Affleck needed a bigger hit to drown out memories of Gigli. And finally, Nick Cannon's Love Don't Cost a Thing came in at $21 million, about $30 million below his previous December movie, Drumline.

Meanwhile, on the down-low, smaller films carved out a space of their own. Cheerful British comedy Calendar Girls marched its troupe of middle-aged semi-nudes to $31 million, and Charlize Theron's thoroughly convincing portrayal of serial killer Aileen Wuornos (Monster) finished with $33 million, and better yet, netted her an Oscar for her troubles. Other well-reviewed dramas playing around town included 21 Grams, House of Sand and Fog, and In America, but their reward was Academy Award nominations, not box office, and by that standard, they did just fine.