Box Office - Decade at a Glance: January - April 2003
By Michael Lynderey
September 21, 2009
BoxOfficeProphets.com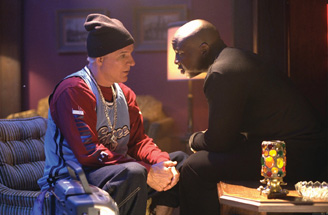 ---
With many of the decade's cinematic trends already introduced, 2003 just had a little housekeeping to do: the rise of the Teen Queen, Farrell & Ferrell, and the reshaping and re-animation of the horror genre. Oh, and some cheesy comedies made a lot of money.

January

While heaps of 2002's Oscar-bait were currying for attention, January 2003 itself took on a much more low-brow turn, with a batch of films that seemed inferior even when compared with what Januaries '01 and '02 had to offer. First, the Ashton Kutcher-Brittany Murphy team-up Just Married, with its European caricatures and generally predictable hijinks, was rewarded with a $17 million opening and $56 million total. Murphy was just coming off a noticeable supporting part in 8 Mile, and this one got her some momentum, but it was really Kutcher that the film cemented as a mid-level star; in fact, while most people may not be aware of this, his movies have actually been doing pretty well ever since (The Butterfly Effect, Guess Who, The Guardian and What Happens in Vegas all finished over $50 million). Kutcher may never have gotten to the A-list, but churning out a modest hit every year or two isn't too shabby at all.

Another mid-tier star was introduced later in the month, as Colin Farrell headlined CIA thriller The Recruit, opposite Al Pacino. Farrell's performance in the little-seen Tigerland (2000) got him noticed and cast in several big Hollywood movies - first, in Hart's War and Minority Report in 2002, and then in no fewer than four films released in 2003. All four (The Recruit, Daredevil, Phone Booth and S.W.A.T.) finished with over $45 million, and two crossed $100 million, so Farrell's name was definitively chiseled into popular culture. This peak wasn't to last, however - to date, just one other Farrell film has passed $40 million (Miami Vice, with $63 million in 2006).

Next, the rule that dictates that every movie will succeed that features a cute, furry animal prominently in its marketing was proven true yet again. Following in the footsteps of the previous year's inexplicably successful Snow Dogs, some veritable geniuses over at Warner Bros. took a cheesy Australian-set comedy called Down Under, retitled it Kangaroo Jack, and went to great pains to make it seem like the film was about a mischievous talking kangaroo. They even stamped the beast's ugly mug on the film's poster. In reality, this "character" was only conversational in a brief dream sequence, and otherwise was just your plain old kangaroo off the street, in the few scenes he/she/it appeared in. But that didn't matter. A $16 million opening / $66 million total was still the score for this one. You can't beat a talking animal picture. Don't even try.

The rest of the month spawned a particularly undelectable mix of bad comedies and cheesy horror films. For comedy, there was another Martin Lawrence vehicle, National Security, which finished with a better-than-expected $36 million, and the Jason Lee-Julia Stiles team-up A Guy Thing ($15 million; not good for Lee or Stiles). If you wanted horror, you got Darkness Falls, the first post-Ring movie to turn its PG-13 rating and useless ghost villain into a decent sum ($32 million). Elsewhere, the solidly R-rated Final Destination 2 established that series as one of the most prominent horror franchises of the decade, taking in a very respectable $46 million (too bad the movie wasn't any good).

February

The month certainly started off big: How to Lose a Guy in 10 Days broke out, opening with $23 million and finishing with $106 million, making stars Kate Hudson and Matthew McConaughey presumably very happy. In fact, Hudson had been floundering around purposelessly after her Oscar nomination for Almost Famous, but with this film, she finally found her calling as a romantic comedy lead (though this one remains her highest grosser to date). For McConaughey, the film was a confirmation of what his role in the Wedding Planner (2001) had hinted at - that his appeal as an actor could potentially make some otherwise ungainly romantic comedies very profitable; and so, he'd keep making them. Don't blame the man, blame the box office.

February 14th brought along the comic book adaptation Daredevil, a cautious further step for Marvel Comics after the successes of bigger-name properties like X-Men (2000) and Spider-Man (2002). Fan reception wasn't particularly positive, but the film opened with $40 million and made it to $102 million, buoyed by the star power of Ben Affleck and delicious villainy by Colin Farrell and Michael Clarke Duncan. It was the last solid hit for Affleck, before his descent from A-list leading man status. As a litmus test for lesser-known comic book characters, the film was a plus, but generally negative public opinion is probably what's nixed the existence of a sequel (and so you know what's coming: rebooooooot).

February had one more hit to deliver, and this one really came out of nowhere: Old School, a grown-ups-in-college comedy starring Vince Vaughn, Luke Wilson, and Will Ferrell, surprised with a $17 million opening and $75 million total. "Historically" speaking, this one was important: it's often cited as the first "Frat Pack" movie, and it established two of the decade's biggest comedy stars, Ferrell and Vaughn. While Vaughn was simply transitioning from more serious films to comedic endeavors, Ferrell's story is a little more unique: like most Saturday Night Live stars, he had branched out into film as both lead (A Night at the Roxbury) and supporting player (Dick, Austin Powers); and, like most SNL veterans, his star vehicles floundered during the late '90s, and he seemed doomed to join his Roxbury co-star Chris Kattan in obscurity. But his casting in Old School changed all that, and brought him not only critical acclaim but a definitive screen persona to expand upon. Next up for Ferrell: his biggest hit, Elf.

Just like the previous year's Return To Never Land, The Jungle Book 2 careened from straight-to-video shelf-filler to surprise modest theatrical hit, taking in $47 million and giving Disney the go-ahead for more sequels or spin-offs from its popular animated films. I guess traditional animation still had some life left in it, if only as a pale imitation of its former self (code words for "sequel"). Elsewhere, the lengthy Civil War epic Gods and Generals took in $12 million, while LA Riots-themed drama Dark Blue ($9 million) gave Kurt Russell a good role, and he can always use one of those. And finally, Jackie Chan and Owen Wilson had a decent hit with the sequel Shanghai Knights, at $60 million, topping the first film by $4 million (every penny counts).

March

March 2003 was a month littered with some major disappointments, and one scary-big runaway hit. The hit was Bringing Down the House, a family-friendly, audience-pleasing comic collaboration between Steve Martin and Queen Latifah. The film opened with $31 million and finished with an incredible $132 million. Never underestimate the power of a silly comedy that combines star power with a plot that potentially appeals to a wide cross-section of demographics (it's simpler than it sounds, really).

It was a pretty bleak situation for the rest of the month, though - not one movie passed $50 million. Frankie Muniz did have another decent hit with the vaguely Spy Kids-influenced Agent Cody Banks, which matched his 2002 film Big Fat Liar in grossing $47 million. Next, Bruce Willis had an okay time with his action thriller Tears of the Sun ($43 million total), which might have looked better had the movie not cost $70 million. A whole batch of thrillers were unleashed on audiences, to no discernible positive reaction: the Tommy Lee Jones-Benicio Del Toro mash-up The Hunted took in only $34 million, the Stephen King adaptation Dreamcatcher shamed its $65 million+ budget with a $33 million total, and the confusing John Travolta-Samuel L. Jackson military interrogation-adventure Basic was left behind with only $26 million to show for itself. The somewhat disastrous disaster movie/sci-fi thriller The Core couldn't generate much energy either ($31 million), and so stars Hilary Swank and Aaron Eckhart were again denied A-list status. Speaking of stars - the Presidentially-inclined Chris Rock comedy Head of State did okay with $38 million, better than Gwyneth Paltrow's flight attendant-fest View from the Top ($15 million).

Not to be outdone, Disney released yet another animation spin-off, Piglet's Big Movie, but this one only finished with half of Jungle Book 2's total - $23 million. Underground, well-reviewed British soccer flick Bend It Like Beckham was quietly gaining some steam, and eventually totaled a fairly respectable $32 million; it introduced co-star Keira Knightley to American audiences, although the film's actual star, Parminder Nagra, hasn't been seen much since on U.S. film screens. Meanwhile, the rat-infested horror remake Willard, with its meek $6 million gross, probably doesn't seem very notable - but technically speaking, it was the first of the never-ending wave of remakes of '70s and '80s horror films, and one of the few such films that didn't outgross the original (yup, Willard '71 took in $19 million).

April

April 2003 was easily won by the third $100 million+ comedy of the season, Anger Management, Adam Sandler's hit team-up with Jack Nicholson. Nicholson was just coming off an exceedingly well-received role in About Schmidt, while Sandler brought back his trademark assembly of crude comedy, after a change of pace with Punch-Drunk Love. Anger Management opened with a very Sandler-esque $42 million and finished with $134 million, giving Sandler's belt another solid notch. #2 for the month went to Holes, a well-reviewed, and very quirky, kids' book adaptation that was Shia LaBeouf's first film starring role. At a solid $67 million after a $16 million opening, this was another Disney success (and better than most of their live action films). Other decent performers included the clever little thrillers Identity ($52 million) and Phone Booth ($46 million), the former being one of three John Cusack-Amanda Peet cinematic team-ups (odd coincidence) and the latter a good starring role for Colin Farrell. Kids' TV starlet Amanda Bynes had her first film leading role with What a Girl Wants ($36 million), and officially began cementing 2003 as the year that launched the decade's wave of teen queens (Lohan and Duff will soon follow). Also doing okay was the ridiculous white rapper comedy Malibu's Most Wanted, which inexplicably carried itself all the way to $34 million, giving Jamie Kennedy a modest hit.

On the other hand, largely forgotten April fare included the Kirk-Michael Douglas collaboration It Runs in the Family ($7 million), the silly comic book-based fantasy Bulletproof Monk ($23 million, and on a $52 million budget!), and The Real Cancun ($3 million), a cinematic version of reality TV. That latter film's failure at the box office is what saved us from any more "Reality Films", and we should all be very, very grateful (can you imagine what movies would look like today if Cancun had grossed $100 million? The A&E channel, that's what). As for It Runs in the Family, it still stands as the now 92 year-old Kirk Douglas' very last theatrical release, and it'd be a shame if that remained the case. Another title that was roaming around looking for a home in April was Vin Diesel's mediocre revenge thriller A Man Apart ($26 million); just like Oct. 2002's Knockaround Guys, it was filmed before Diesel hit it big, and, just like that film, it didn't help him much with retaining his star status.

Finally, director Rob Zombie entered the cinematic arena with his '70s horror tribute House of 1000 Corpses. Filmed in 2000, the movie was originally scheduled for January 19, 2001, before Universal Studios dumped it (for no good reason, apparently, other than that it was disgusting). The $12 million that this low-budget film took in may not seem like much, but that amount sowed not only the seeds of Zombie's career as director, but also helped create the up-and-coming torture porn subgenre. The face of horror in the 2000s was slowly coming together, for better or worse.