Weekend Wrap-Up
Jennifer's Body Crushed by 3-D Meatballs
By John Hamann
September 20, 2009
BoxOfficeProphets.com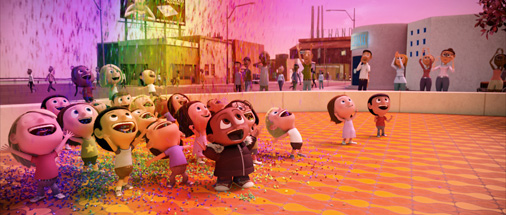 ---
After two weeks of vacation for this writer, it's nice to come back and see the movie business moving in the form I want it to, with the "good" movie winning the weekend, and the "bad" movies getting crushed. Openers this weekend included the colorful Cloudy With A Chance Of Meatballs, the 3-D kids' flick from Sony; Jennifer's Body, a horror flick starring vamp tramp Megan Fox; The Informant!, a departure for Matt Damon; and Love Happens, the critically eviscerated romance with Jennifer Aniston and Aaron Eckhart. While the cover was not blown off the box office, it was a still a decent movie-going weekend, considering it is the month of September.

Over the previous two frames, we've seen seven new releases, with four more coming this weekend. Of those previous seven, only two opened to more than $10 million (I Can Do Bad All By Myself and All About Steve). This weekend is similar, with two above $10 million and two well back of the pack. September is an undeniably slow month; the biggest weekend ever for the ninth month came seven years ago in the form of Sweet Home Alabama, which opened to $35.6 million all those years ago. Over history, September has only produced 20 titles that have opened above $20 million (there's 127 $20 million plus films that opened in July), and only three $30 million plus openers. Expectations should be lowered over the month of September, to say the least.

Our number one film this weekend breaks into the upper-echelons of September box office history, including that $30 million barrier - just by a nose. That movie is Cloudy With A Chance of Meatballs, the new 3-D kids' flick from Sony. With the 3-D pull, and being based on a popular kids book, Cloudy earned $30.1 million from an overall venue count of 3,118, and 1,828 of those being 3-D screens. That's the largest ever count of 3-D screens, which means 59% of Cloudy's showings charged an extra 15% to get in the door. While this opening may not knock your socks off, remember that the previous biggest kid flick debut in September was Open Season, which took in $23.6 million during the weekend September 29, 2006. It is followed by Secondhand Lions, which opened to only $12.1 million in September 2003 (I don't count The Corpse Bride). September is back-to-school month, but until now it was not considered a back-to-the-movies month for kids. The demographic was certainly under-served, as the last Harry Potter flick and Ponyo both earned less than a million last weekend at the box office. Will this start a new trend of releasing kids movies in September? It might, but absolutely would have if Meatballs had opened another $10 million higher.

Cloudy With A Chance Of Meatballs opened exactly where tracking was expecting it to, between $25 and $30 million, so is this a success for Sony? Absolutely. 3-D releases have a tendency to show excellent legs, if they have enough time to earn in those 3-D venues, before the next flavor of the month comes along. Meatballs' next 3-D competition comes in the form of the Toy Story movies, which are being re-released in 3-D on October 2nd. With what should be good word-of-mouth coming out of Meatballs (it was 86% fresh at RottenTomatoes, and while kids don't read reviews, most of the notices talk about how kid and parent friendly this one is), I'm looking for a good hold next weekend. Cloudy cost Sony $100 million to make, so it will need an opening-weekend-to-finish multiplier approaching 4.0, and a good haul overseas (Sony retained worldwide rights) to make this one a winner, at least financially.

Finishing second is Matt Damon in Steven Soderbergh's The Informant!, a comic thriller about an oddball whistleblower. Just taking second place should be a win for Warner Bros., as the marketing for this one was a screwy as the main character. Still, The Informant! managed to earn $10.5 million from only 2,505 venues. It had a venue average of $4.210. While Matt Damon has no worries about a miss or two, Steven Soderbergh needed a win with The Informant!, and got it. Soderbergh was coming off of two Che Guevera flicks that failed badly and hadn't had a successful non-Ocean's movie since Traffic in 2000. The Informant! finished at 77% fresh at RottenTomatoes, which is a win for both actor and director, as this isn't the usual glossy The Good German/Erin Brockovich/Out of Sight kind of movie. It looks bad (much like its character), so it will be interesting to see how word-of-mouth plays out in the coming weeks. According to IMDb, the budget for The Informant was $21 million, so this is going to end up as a win for Warner Bros. and their partners.

Last weekend's winner, Tyler Perry's I Can Do Bad All By Myself, drops to third after opening to $23.4 million last weekend. Tyler Perry is known not only for bringing consistent big openers to movie theaters; he is also known for precipitous second weekend drops. I Can Do Bad is no different. This Tyler Perry entry earned only $10.1 million at the box office and sees a heavy drop of 57% in its second weekend. Last year's Tyler Perry September entry was The Family That Preys, which opened to $17.4 million before falling 58% to $7.3 million in its second frame. The good thing for Lionsgate is the low budgets. I Can Do Bad cost only $13 million to make, so over the opening weekend, production costs and advertising were most likely paid for, making this one another HUGE win for Tyler Perry. So far, I Can Do Bad All By Myself has grossed $37.9 million after only ten days of release.

Universal's Love Happens happened this weekend, though almost nobody saw it happen. The usually very reliable Jennifer Aniston and The Dark Knight's Aaron Eckhart couldn't get this one moving, as the romantic drama debuted to only $8.5 million. Out to only 1,898 venues, Universal obviously didn't have a lot of confidence in this one, and neither did critics. Love Happens received only nine positive reviews out of 58, giving it a fresh rating of only 16%. I expect it to disappear fairly quickly.

The big miss this weekend comes with our number five film, Jennifer's Body. Starring tramp vamp and Transformers: Revenge of the Fallen star Megan Fox, and written by Diablo Cody (of Juno fame), Jennifer's Body was to be the next big horror franchise. That all ended on Friday, when the horror flick earned only $2.8 million for Fox on opening day, and finished the weekend with a terrible score of only $6.8 million. Released to 2,701 venues, Fox gave this the marketing push it needed, but folks failed to show. Some say females detest Megan Fox, and some say that the Transformers sequel was so bad moviegoers didn't want to see its stars anymore (I wish). Whatever the case, this B-movie horror flick will be out of theatres before anyone can say Revenge of the Tranformers Ticket Buyers.

9 falls to sixth, as the Tim Burton-produced flick fails to gain any traction despite the addition of 400 venues. 9 earned $5.5 million and was off 49% compared to the last frame. It's too bad – this visually appealing flick is obviously having a hard time determining who its audience is, and despite being quite original, is going to die on the vine with about $35 million in domestic sales before becoming a cult hit on DVD.

Dropping all the way from third last weekend to seventh this weekend is Quentin Tarantino's Inglourious Basterds, which is now in its fifth weekend. Basterd's earned $3.6 million and drops a not bad 41%. Basterds has now earned $109.9 million, and passed Pulp Fiction as Tarantino's biggest film ever.

Eighth goes to All About Steve, the Fox miss that starred summer superstars Sandra Bullock and Bradley Cooper. Steve earned $3.4 million and dropped 40% compared to last weekend. The comedy has now earned a disappointing $26.7 million.

The ungodly Sorority Row, from Summit Entertainment, finishes in ninth place. The horror flick earned $2.5 million and dropped 51% from its $5.1 million debut last weekend. It has now earned $8.9 million, and we bid good riddance to bad rubbish.

Tenth spot goes to The Final Destination, which lost all of its 3-D theatres to Cloudy With a Chance of Meatballs. The Final Destination earned $2.4 million in its last weekend in the top ten, and dropped 57%. Still, the $40 million film has now earned $62.4 million, and will finish as a win for the folks at Warner Bros.

Overall, things are better than they were last weekend, when the top 12 movies finished significantly behind the same weekend in 2008. This weekend, the top 12 managed to earn $89.6 million, which puts it ahead of last year when Lakeview Terrace surprised with a $15 million opening and the top 12 took in $76.4 million. Next weekend things will get interesting. Bruce Willis opens the sci-fi flick Surrogates, MGM opens the musical Fame, and Overture Films opens Pandorum with Dennis Quaid.