Friday Box Office Analysis
By Kim Hollis
September 19, 2009
BoxOfficeProphets.com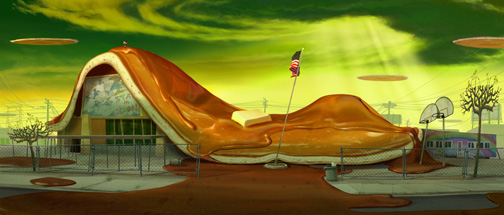 ---
The September doldrums sort of continue, with room for only one breakout - and it feels like even that one is an opportunity missed.

Cloudy With a Chance of Meatballs

The 3-D animated film from Sony earned $8.1 million on Friday, which isn't a terrible start, particularly given the fact that we're stuck in the middle of September and kids are in school. A good comparison for opening weekend performance is probably Open Season, which also came from Sony, was also CGI animated, and also was released in September. That movie opened just a bit smaller and had a marvelous 3.8 multiplier. If we take it down just a notch to a 3.4 to allow for a slightly bigger rush factor for Cloudy With a Chance of Meatballs, we're looking at a weekend of $27.5 million, which is right about in line with the studio's expectations.

My question is this. Why didn't they aim higher? The movie is clearly hitting a sweet spot, as reviews are positively rapturous. And yes, the 3-D aspect is getting a bit played out, but this film in particular seemed to be one that could fully take advantage of the technology. The trailer always received a great response in theaters, but it felt like Sony just sort of hoped it would do "well enough", what with the September release and mostly anemic marketing. I think if they really knew what they had, Sony should have shown more confidence in it. They might have been able to open it to as much as $40 million had it been done right.

The Informant!

Matt Damon proves that his celebrity can in fact carry a very odd-looking film to decent results. The Informant!, Steven Soderbergh's comedy about a guy who turns whistle-blower on his employer, earned a decent $3.7 million on Friday. Given the subject matter and the fact that a lot of people just didn't know what to make of this movie, it seems likely that the bulk of the credit should go to Damon's presence. The Informant! should have a weekend multiplier very much in line with last year's Burn After Reading, which was similarly odd in tone and had some big names to thank for is box office (even if it's a little smaller in scale). The 2008 film had a 2.9 multiplier, and if we apply that to The Informant!, it will be looking at a weekend total of $10.7 million.

Love Happens

Never has a romance looked so bland. Sure, there are some very pretty people in the lead roles (Jennifer Aniston and Aaron Eckhart), but the commercials and marketing never did much to distinguish it as something special. Nonetheless, even though the studio dumped it into only 1,898 venues, Love Happens still made $3.1 million on Friday. It should also have around a 2.9 multiplier for the entire weekend, which means it's looking at a solid three-day total of $9 million. Not bad, all things considered.

Jennifer's Body

Our final new opener has to be a bit of a disappointment, considering that 20th Century Fox was marketing the heck out of it and they surely figured that star Megan Fox's constant ubiquity should have meant that young men would totally turn out for a scary movie where she swallows their souls. Alas, Jennifer's Body earned only $2.8 million, doing only marginally better than last weekend's Sorority Row, which had only Audrina Partridge as its brag-worthy star. It should have a typical-for-horror multiplier of 2.5 and a weekend total of $7 million. Screenwriter Diablo Cody isn't going to be winning any awards for this one.

Notable Holdovers

The most notable of holdovers is the only film that performed well at all last weekend. Tyler Perry's I Can Do Bad All By Myself dropped about 64% from last Friday - which is pretty much the trajectory that all of the director's movies have followed in their second weekends. It should straighten out a little bit over the next couple of days and settle in for a weekend total of $10.1 million. It will battle The Informant! for second place in a close race and the end result will likely rely on studio estimates.

As for other returning films, 9 dropped 47%, Sorority Row fell 52%, and Whiteout continued its march to obscurity with a decline of 57%. Clearly, audiences aren't caring much for what September has had to offer.