Weekend Forecast for September 18-20, 2009
By Reagen Sulewski
September 18, 2009
BoxOfficeProphets.com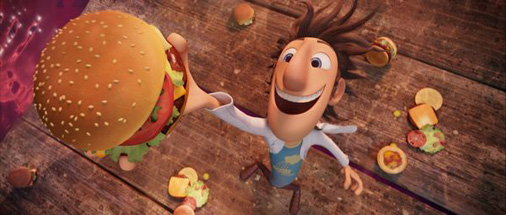 ---
Hollywood's "throw a bunch of stuff out there and see what sticks" method of releasing movies in the early fall continues unabated this weekend as we have some big named stars with less than blockbuster material, a proto-star hoping to live up to her hype, and a wildcard kids movie.

It's that last film that's likely to win the weekend charts, thanks to the 3-D gimmick. Cloudy With a Chance of Meatballs is an adaptation of a children's book, brought to the screen by Phil Lord and Chris Miller, most famous for producing How I Met Your Mother (or, at least the first season), but who should really be most famous for creating the brilliant cartoon series Clone High (which is shamefully out of print).

Bill Hader voices the main character of the film, a frustrated inventor who comes up with a way to turn water into food. Like all mad inventions, it goes horribly (wonderfully?) awry, leading to giant items of food raining from the sky, seemingly at will. Mountains of spaghetti bury an Italian restaurant, giant gelatin palaces appear in fields and a school is crushed by an acres-sized pancake. And probably valuable lessons are learned in there, somewhere.

Lord and Miller look to have produced a mildly subversive kids film, combining it with a kind of hyperactive visual style that should firmly grab hold of ADD-afflicted youth. The 3-D addition may kick this into overdrive, though the now once-a-month barrage of these films is beginning to grow a bit stale. Even so, there's still enough of a novelty left in that idea that it should get not just the kids, but also their parents into seats, though I don't see much breakout in the non-child-having demos. In this way, it's pretty similar to this summer's G-Force – a second-tier kids film with 3-D but not much crossover appeal. That opened to $31 million, but I'll knock a little off of Cloudy for the relative lack of action. Give it $26 million for its opening weekend.

Jennifer's Body is something of a test for two rising stars. Megan Fox makes her first real post-Transformers appearance as a literal man-eater high school student. Based on a script from Juno's Diablo Cody (going out on a limb here – this one isn't getting nominated for an Oscar), it casts Fox as a literally evil cheerleader, something I doubt she had to try that hard to relate to. Amanda Seyfried goes mousy as Fox's best friend (named Needy – as subtle as a firecracker, that) who starts to suspect something's up when her male classmates start disappearing.

A horror-comedy, Jennifer's Body has the germ of a clever idea. High school sexual politics are a target-rich environment for metaphors and allegories. One gets the feeling, though, that Cody and director Karyn Kusama are taking the easy way out and going for the action/gore route.

And of course, Megan Fox is no Ellen Page in just about every way you can read that comparison. What she is, however, is about the most recognizable young actress/sex bomb on the planet right now after her two starring roles in the Transformers movies (and probably has the highest exposure-to-lines-of-dialogue ratio since Kelly LeBrock in The Woman in Red). At the same time, she's made enemies of just about anyone she's worked with and generally done a good job of playing the Look At Me! game. In reality, that's probably not that bad of a move to become famous, or at least notorious. Does it make people want to see her movies? Well, maybe. Pretty much every teenage boy in North America has been eyeing this film since the rumors about the lesbian kiss started floating around (this is called pandering, kids). The R-rating is going to limit this somewhat, but it should still see about $18 million this weekend.

We're all the way down to the third release of the weekend before we get to a real legitimate A-lister in a film, that being Matt Damon in The Informant!, directed by Steven Soderbergh. Based on the true story of a corporate whistle-blower in an agri-foods price-fixing scheme, Damon plays the title character, a deeply troubled executive who's morally opposed to what his company is doing, but is somewhat...flexible in his own personal moral views.

The film is a darkly comic take on corporate crime, but also of self-delusion and the culture of importance, as Damon's character creates bigger and bigger lies to justify his actions that turn him into just as much of a criminal as the company he's exposing.

Damon's virtually unrecognizable here, with some horrible 1990s clothing and a ridiculous moustache that probably deserves an Oscar nomination itself, and that's going to make it difficult for the film to really capitalize on Damon's starpower. But then, it's not really trying to. The Bourne films are about a million miles away from this, cinematically. An obvious comparison here is something like Burn After Reading, which used Brad Pitt and George Clooney in decidedly non-starlike ways. That managed a $19 million opening, but had a bit more broad comedy behind it in its ads. There's no home run like Pitt jogging like a dork on a treadmill for this film. Still, I'd say we're looking at a decent opening for this film of about $14 million.

Asking four films to do well in a weekend is a tough prospect. There's usually just not enough mindspace to go around in a given week to support that many releases. That makes Love Happens into the odd-film-out this weekend. It stars Aaron Eckhart as a self-help book author who falls for one of his fans, played by Jennifer Aniston.

Both characters are dealing with loss and difficulties in their love life, and the film pushes them together with the typical roadblocks of a weepie romantic film. Aniston's had two of her biggest hits in the last year, with Marley & Me and He's Just Not That Into You hitting the $140 and $90 million marks respectively, but this one looks like a swing and a miss. The generic title notwithstanding, straight romances are firing at a smaller target, and studio support for this is minimal, with only around 1,900 venues getting the film. Don't be surprised to see this limp in with about $7 million.

Tyler Perry struck gold yet again with I Can Do Bad All By Myself, which opened to $23 million. A bit of a return to the mean after the stunning breakout of Madea Goes to Jail, this film, more of a musical than any of Perry's prior efforts, should still follow the familiar pattern of huge drop-offs in business in week two. $9 million or less is entirely feasible here.

The confusingly titled 9 (not District 9, or the upcoming Nine, nor $9.99 – it's a nightmare year for title collision) was the weekend's second place finisher with, well, $10 million (way to ruin it, guys). An animated adventure film aimed at a more mature audience than the typical CGI stuff, it failed to connect as a fall action film. It's got some potential for "unappreciated genius" status thanks to its visual elements, but storywise it seems to be a bit of a bust. Although it's adding several hundred screens this weekend, there's still a big tumble coming for it, to about $5 million.

The last of the summer films are just about being chased out of the top 10, with Inglorious Basterds holding down the fort for a little bit more. It should probably become Quentin Tarantino's highest grossing film ever by Friday, at latest by Saturday, but will top out not too far after, at around $120 million. Nothing else seems primed to make even $3 million this weekend and we'll bid adieu to summer's roster for good by next weekend.