Weekend Wrap-Up
Tyler Perry Does Good All By Himself
By Kim Hollis
September 13, 2009
BoxOfficeProphets.com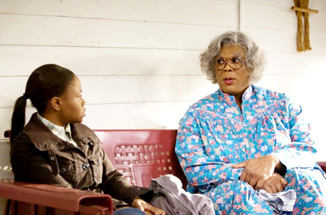 ---
With the arrival of the NFL season and some stellar NCAA football match-ups, the weekend box office continues to inspire shrugs from potential audiences - with one bright, shining exception. Studios threw a hodge-podge of product into theaters, hoping something would stick. New openers included Tyler Perry's I Can Do Bad All By Myself, the animated sackboy movie 9, the latest horror-flick-of-the-week Sorority Row, and the graphic novel adaptation Whiteout. I'll bet you can guess which movie took the top spot without even having to think about it for a millisecond.

Yes, the number one movie this weekend is Tyler Perry's I Can Do Bad All By Myself, continuing the actor/writer/director's streak of box office success and domination. Let's just take a look at his track record so far, shall we?

Diary of a Mad Black Woman (wrote/starred): $21.9 million opening, $50.4 million domestic, $5.5 million budget
Madea's Family Reunion (wrote/directed/starred): $30 million opening, $63.3 million domestic, $10 million budget
Daddy's Little Girls (wrote/directed): $11.2 million opening, $31.4 million domestic, $10 million budget
Why Did I Get Married? (wrote/directed/starred): $21.4 million opening, $55.2 million domestic, $15 million budget
Meet the Browns (wrote/directed/starred): $21.1 million opening, $42 million domestic, $20 million budget
The Family That Preys (wrote/directed/starred): $17.4 million opening, $37 million domestic
Madea Goes to Jail (wrote/directed/starred): $41 million opening, $90.5 million domestic, $17.5 million budget

And now we have I Can Do Bad All By Myself, which gets off to a terrific start just like all of Perry's other films by having an opening weekend total of $24 million, good for a per venue average of $10,656. And just like all of those other projects, the movie starts off immediately in the black, as it has already easily exceeded its production budget of $13 million.

What's the reason for such consistent success? Perry knows what his audience wants and he delivers it to them. Some people might say that the simple answer is that Madea is a popular character, but even movies where she doesn't make an appearance have shown stellar results - though they might fall a bit short of the Madea movies. The honest evaluation is that Perry has carved himself a niche where he speaks to an under-served demographic, and as long as he's the only person who consistently provides quality entertainment, he's going to succeed. His movies might not be critical successes, but does that really matter? Tyler Perry is a cottage industry at this point, and Lionsgate has to be as pleased that he's on their roster as they are to have Jigsaw.

With Tyler Perry dominating the weekend, that more or less leaves the remainder of the top ten contending for scraps. Coming up in second place is Focus Features' sci-fi animated flick 9, from director Shane Acker and produced by Tim Burton and Timur Bekmambetov (Wanted, Night Watch). Based on an Academy Award-nominated short film, 9 had generated some decent buzz thanks to a really solid trailer along with the fact that the look of the movie was so unique that people couldn't help but be intrigued. It also boasted some pretty solid voice work, including Elijah Wood, John C. Reilly, Jennifer Connelly, Christopher Plummer, Crispin Glover and Martin Landau. Probably my favorite thing about 9 is that it has inspired the term "stitchpunk", which I find irrepressibly cute.

9 opened on Wednesday (9/9/09, of course) with $3.1 million, which was probably about the best that could be hoped for from an animated movie that is basically targeted to adults. It had a three-day total of $10.9 million and a five-day number at $15.3 million. Often, movies such as these can hope for a boost from great word-of-mouth, but 9 is sitting at only 56% Fresh at RottenTomatoes, which means that the critical support just isn't really there. Its budget is estimated around $33 million, and it's probably going to finish right in that range. 9 will do great business on video, though, where the people who were hesitant to give it a shot in theaters will be a little more generous when they can spend a little less and watch it from the comfort of their own sofa.

Third place goes to Inglourious Basterds, the Quentin Tarantino film that continues to ride decent buzz toward becoming the director's highest domestic grossing film ever. Basterds took in another $6.5 million this weekend and dropped 44%. Its current total is $104.3 million, just $3.6 million short of the $107.9 million that Pulp Fiction earned in North America. The Weinsteins finally have a movie to be truly proud of, and you can bet that they'll be pushing it for a number of Academy Awards nominations when the season gets into full gear.

All About Steve manages to stay in the top five despite its dismal reviews and word-of-mouth. The Sandra Bullock/Bradley Cooper romantic comedy earned $5.8 million from Friday-to-Sunday, a 48% drop from its debut frame. It won't be terribly long before the film fades completely from memory, or at least that's what the movie's stars are praying for. So far, All About Steve has a domestic total of $21.8 million, and will wind up far, far short of what Cooper and Bullock's summer movies made.

Rounding out the top five is The Final Destination, which falls another 56% despite having the 3-D hook. The Warner Bros. horror show had a weekend total of $5.5 million, and has become the highest grossing movie in the franchise as it sits with a grand total of $58.3 million. We can almost assuredly count on another Final Destination at some point in the future, because it's easy to see there's a lot of life(?) in the idea of hot teens meeting their deaths in the most intricate and clever of ways.

Another horror film sits in sixth place. This time it's one of our new openers in Sorority Row, from Summit Entertainment. That studio is effectively just biding its time until November and New Moon, because all that Sorority Row could manage was $5.3 million from its 2,665 screens, good for a sad venue average of $1,977. Barely marketed and inexplicably starring Carrie Fisher, the movie is 33% Fresh at RottenTomatoes, which means there's nothing particularly remarkable about it and it's going to behave exactly as a typical slasher flick should. This one will fade away quickly before bringing in the bulk of its revenues from DVD.

Our final new opener, Whiteout, is in seventh place, but it might as well be forgotten. Based on a comic book, the movie had Kate Beckinsale all bundled up in a parka, which shows that somebody was missing the point. Whiteout earned $5.1 million from Friday-to-Sunday, and its per-location average was right in line with Sorority Row's at $1,858. It has exactly six positive reviews out of 78 at RottenTomatoes, which means that its Rotten Rating is 8%. Its budget is reported at $40 million, so no one at Warner Bros. or Dark Castle Entertainment is going to be too happy with where this one is going to wind up.

We close out the top ten with three repeat flicks in District 9, Julie & Julia and Gamer. Sony is responsible for both District 9 and Julie & Julia, and they have to be mighty pleased with the box office for each of them. District 9 earned another $3.6 million this weekend, down 49% (it was pretty clearly a victim of football). So far, its domestic total sits at an awesome $108.5 million. Julie & Julia fell a larger-than-usual 38% on its way to $3.3 million, and brings its grand total to $85.4 million. Meryl Streep has become something of a box office draw. Who could have seen it coming? As for Gamer, the Lionsgate title dropped a hefty 66% in its second frame to $3.2 million, and its grand total is $16.1 million. Gerard Butler might be well liked, but he can't be considered a bankable star, which has to be alarming news for the people behind the upcoming Law Abiding Citizen.

Compared to last year, the box office is down a bit. The top 12 for 2009 grossed $78 million, a 9% drop from last year's $85.9 million. Interestingly, 2008 also featured a Tyler Perry movie (The Family That Preys), but it also had the benefit of a solid opening from the Coen Brothers' Burn After Reading and an okay debut from the Al Pacino/Robert De Niro film Righteous Kill. Next weekend looks pretty solid, with another 3-D animated flick in Cloudy With a Chance of Meatball, another horror flick in Jennifer's Body, Matt Damon in The Informant! and Jennifer Aniston in Love Happens.