The Indie Month That Was
By Michael Lynderey
September 10, 2009
BoxOfficeProphets.com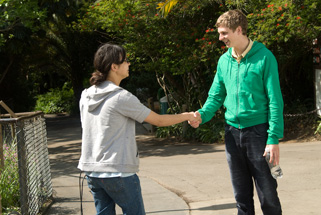 ---
While August was a surprisingly lively month for wide releases, the indie world was considerably less virile. A few high profile entries made almost token appearances and were promptly ignored, before going away to bide their time on DVD. The big story was the Zooey Deschanel-Joseph Gordon-Levitt match-up (500) Days of Summer, but that one fairly quickly escaped to over 800 theaters and thus is now firmly in wide release territory (in many ways, it's playing out like a 2009 version of Garden State). As for the other films in the fray, they can basically be summed up as such:

The Indie darling

Paper Heart might have seemed like another notch in Michael Cera's indie cred belt, but it's really a cinematic Sweet 16 party for comedienne Charlyne Yi, who co-wrote and stars in the film. It's about Yi's quest for love, which culminates in meeting Michael Cera, apparently playing himself. Paper Heart is an apparent mixture of documentary and comedy (some of it real, some scripted, as is probably true for almost every documentary ever made), and it's also got an awful lot of cameos by Apatow people (Seth Rogen, Martin Starr) and young stand-up comedians-turned-actors (Paul Rust, Demetri Martin). To formally inform you that the film premiered at Sundance would be a redundancy of epic proportions.

The reviews were good enough (61% on RottenTomatoes), so I was curious how the film, which almost literally embodies the young hipster image that Cera projects, would do at the box office. Not all that well, as it turned out - while it opened with a decent $5,776 average at 38 screens, the expansion to 68 immediately brought it down into the $2,000s, and climbing higher, to 78 and 96 locations, dropped it down even more (the current total gross is about $1.1 million). While that means that the film's not particularly successful, the goodwill it generates will probably parlay Yi into some decent Hollywood roles - a Janeane Garofalo for the 2010s, perhaps?

The imports

The highest-profile British import of the month was In the Loop, a low-budget political satire adapted from the English television mini-series The Thick of It. This one was released in the U.K. in April and was critically praised then and there, before being released here in July, only to be praised all over again. That's all well and good, but In the Loop didn't have much American appeal - while the presence of James Gandolfini guarantees a recognizable face in the crowd, the film lacks even any particularly well known British character actors. The plot - an intercontinental melée between the British and American governments over a war in the Middle East - is certainly topical, but that might not be a bonus. In the Loop did have a few good first weekends - per-screen averages like $23,983 in eight theaters, or even $8,315 in 35 - but its likely total of around $2 million doesn't quite stand up to previous U.K. imports to the States. In fact, judging by the performance of both In the Loop and earlier summer comedy Easy Virtue, the golden age of British comedies seeing strong box office reception in the U.S. appears to be coming to an end.

Also in the late July-August arena: while not quite a foreign film, Adam does star British actor Hugh Dancy and Australian thespian Rose Byrne - both playing Americans - in the apparently romantic-comedic story of the relationship between a man with Asperger Syndrome and a school teacher. Evidently filmed in 2005, it got okay reviews (64% at Tomatoes), but it looks like the title character's condition is the only hook of the film. Still, at a high of 177 theaters, it's gotten wider play than I would have expected, and its total gross thus far, $1.8 million, isn't that shabby for what it is.

Big stars in small movies

Quirky comedies with some well-known actors tried to make their mark, none with particular success. The one with the highest profile was probably Cold Souls, which boasted the presence of Paul Giamatti, David Strathairn, and Emily Watson. With a 73% stamp of appraisal on Tomatoes, the film was fairly well reviewed, but the premise is probably too weird, at least on paper - an actor (Giamatti) who literally submits his soul into storage to prepare for a role. While Cold Souls pulled in a $9,000+ per-screen average on its early August opening at seven theaters, that figure dipped significantly when the film went wider - down to the $3,000s in 21 theaters, and even less in 50. The total's now at around $630,000, and that's too bad - for a time, Giamatti looked like he would become another star character actor, in the vein of Jack Nicholson; lately, though, he's been stuck in a hit-and-miss series of supporting roles, or lead roles in films that didn't get very wide distribution (the same is true of Strathairn, his co-star).

Another actor who may follow the same career path is Robin Williams, who took a break from his big Hollywood roles to star in the suburban dysfunction-themed World's Greatest Dad (the title is supposed to be ironic). The film opened on August 21st and was adorned with some of the best reviews Williams has gotten in a while - 81% on RottenTomatoes, with praise aplenty for his less comedic-than-usual performance. It's a shame, then, that World's Greatest Dad was received so unenthusiastically at the box office - it could muster a mere $1,881 per-theater average when it expanded to 29 screens, which is more or less a kiss of death for any further expansion (or hopes for a total gross of more than $200,000). If there's any question as to why Williams keeps starring in silly comedies like RV or the upcoming Old Dogs instead of taking more serious roles - the box office totals of movies like World's Great Dad should provide the answer.

And finally, a particularly embarrassing performance was undertaken by the Marc Pease Experience, another odd-duck comedy, this one starring Jason Schwartzman and Ben Stiller (!). The film's about an old grudge and some less glamorous-than-usual high school musicals. The few critics that reviewed the film did not take kindly to it (18% on Rotten Tomatoes), and one week on the box office charts is all it ended up having to show for itself - it opened in ten theaters on August 21st, garnering a $264 per-screen average and a total gross of exactly $4,033 (!), which would appear to make it the lowest-grossing Ben Stiller movie ever. But hey, it was never going to beat Meet the Fockers, so what's wrong with aiming for a record of a different kind?