Weekend Forecast for September 4-7, 2009
By Reagen Sulewski
September 4, 2009
BoxOfficeProphets.com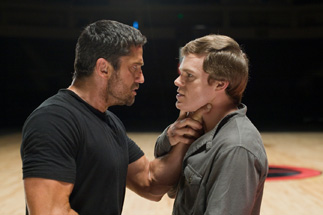 ---
Well, that's it. With the Labor Day weekend arriving, it marks the official end of summer and the disappearance of tentpole blockbusters, for at least a couple of months. Hopefully it was better for you than it was for me.

While the weekend itself, which had long been considered a dumping ground, has started to be rehabilitated as a spot where films might actually make some money (see: 2007's Halloween remake), it's still a net drain on movie audiences. Thus, few studios are willing to risk anything with breakout potential on it. On the other hand, with this weekend's three new releases, it's not going to be won by a film in the single digits, either, like has happened surprisingly recently.

After staying out of the limelight for a couple of years, Sandra Bullock had her biggest hit ever this summer with The Proposal, which opened to $33 million. Perhaps even more surprising was that this light romantic comedy then developed some old-school legs, and as of last weekend has earned $160 million. It's even still in the Top 20 overall. What the world was hankering for was some wacky romantic comedy, apparently. So, she's back for another round of it, with All About Steve.

In it, Bullock plays a slightly unstable woman (and crossword puzzle designer – did they pick this with madlibs?) who goes on a blind date with a TV cameraman, played by Bradley Cooper, and decides that despite him not really showing all that much interest, that they are soul mates. The next logical step is to follow him across the country as he covers breaking news stories, and putting herself in harm's way. It's the only real way to show that you care, you know.

While in theory, another romantic comedy with the stars of the two biggest comedies of the summer seems like a slam dunk, in execution, this feels kind of lacking. By giving Bullock the "Meg Ryan in Sleepless in Seattle" role, it's in essence making Bradley Cooper the lead. And while his stock has never been higher because of The Hangover, I don't think he's in the Ryan Reynolds place with women yet, which is what helped push The Proposal over the top. And we haven't even gotten to the point of noting that it just doesn't look funny. I'd say this film is a step back for both Bullock and Cooper, and will likely be remembered in Bullock's oeuvre with films like Forces of Nature and Practical Magic. Opening at 2,251 theaters, it should see an opening weekend of approximately $15 million over four days.

Gamer is the requisite bargain basement action film for this weekend, which is similar looking enough to last year's Death Race to make a person wonder if Jason Statham's agent is slipping.

Instead, Gerard Butler plays the role of the condemned criminal forced to compete in a deadly sport for our entertainment. Here, it's an interactive war game, where convicts are directly controlled as a kind of avatar of video game players in a real live fire fight. Butler is the most famous of these, having survived despite the odds after being taken from his family by the game's creator (played by Michael C. Hall).

There's a lot that doesn't feel right about this premise, and it's not just the bizarre cross-promotion through XBox Live (is it pro or con on its premise?). If the people in the firefight are being controlled by outside players, how could anyone's skill as a soldier possibly enter into the picture? I think the filmmakers are a little confused about the concept of video games.

Ads for the film aren't helping, as it looks like an incoherent mess (considering it's from the directors of Crank, that could be a stylistic choice) of explosions, and Hall is rather difficult to buy as the billionaire badass (yes, even still after Dexter. He's a schemer and survivor, not a supervillain). The widest opening of this week at around 2,500 theaters, it should see only a modest $8 million.

Lastly, we have Extract, directed by Mike Judge of Beavis & Butthead, King of the Hill and Office Space fame. Judge returns to the workplace for this film, though in a rather more dark and sardonic way than in Office Space. Jason Bateman plays the owner of a vanilla extract factory, unhappy in both his work and family life. An employee who suffered some damage to a ...sensitive part of his anatomy wants to sue him, and he believes his wife (Kristen Wiig) isn't as faithful as she could be

Enter Mila Kunis, playing an attractive employee at the factory, who Bateman believes is the path to his happiness, the trail of which goes through her pants. He decides to hire a gigolo for his wife without her knowledge, trying to trick her into cheating first. What a tangled web we weave...

This seems like a far more conventional comedy than we're used to from Judge, who went for the cult audiences with Office Space and Idiocracy. That's not to say this couldn't achieve that status in time, but the feel is a bit more sitcommy here rather than containing the big themes of either of those two. That, of course, is speaking to people who are already Judge fans, who are determined in spirit but small in number. For the rest of the movie going public, it's just an odd looking, mean-spirited comedy. Look for around $5 million for this film this weekend.

The Final Destination won the battle of the horror flicks last weekend, grabbing $27 million to start, and almost double its opening weekend from the last film in the series. It doesn't take a lot of imagination to put this at the feet of the 3-D technology used for the film, and is the most stark evidence yet of the current power of this new exhibition technique. Now that it's opened big, though, it's time for the even bigger fall. The novelty doesn't change the fact that horror films are notoriously front-loaded, and may in fact even exacerbate that fact. Look for a second weekend four-day total of $13 million.

The film it defeated, Halloween II, could be in even rougher shape. Its opening to $17 million, after the "original" started with $30 million in 2007, shows that enthusiasm for this film was way down from what people might have thought. I'd say we're looking at about $8 million here for its second frame.

Inglourious Basterds fared just okay in its holdover, adding another $19 million to its coffers, and moving past $75 million midweek. Tarantino's revisionist war epic seems due for a slight bounce back in drop-off, and should see a weekend of about $13 million over four days.