September 2009 Forecast
By Michael Lynderey
September 4, 2009
BoxOfficeProphets.com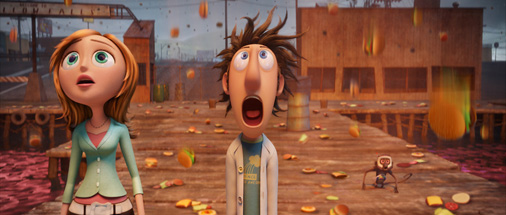 ---
It's really a coin-toss as to what's going to end up the biggest film of September 2009, and it's entirely possible no movie will even pass $50 million. On the other hand, the usual early fall assault of awards-bait films appears to be on the down-lo this year. Indeed, outside of The Informant!, the only movies with Oscar potential are opening in very limited release, and most of them will likely stay there.

1) Cloudy with a Chance of Meatballs (September 18th)

Based on a kids' book from 1978, here's a film that started out looking like it was made to be obscure. The game-changer here was really the trailer: it's fast, funny, and bright, and it's gotten an enthusiastic reaction wherever I've seen it (those plopping-down fast food delicacies look great). Plus, it's in 3-D, of course, so that ups the box office a little right off the bat, and gives it an edge over some of the month's other heavy hitters (too bad Madea isn't in 3-D). Sony Pictures Animation was previously responsible for Open Season ($84 million domestic) and Surf's Up ($58 million). Those aren't earth-shattering numbers, but they're enough to win the month if Cloudy is made from the same mold.

Opening weekend: $19 million / Total gross: $64 million

2) Love Happens (September 18th)

Here's another entry in the romantic drama for grown-ups playbook. Unlike some other recent successes in the subgenre, Love Happens isn't based on a book, but it makes up for it in star-power: Aaron Eckhart and Jennifer Aniston play the lovelorners. In an extreme example of typecasting, the film once again features Judy Greer as the main female character's quirky best friend. Greer has played this exact character so many times that I suspect studios will soon cut out the middle man and simply use her scenes from the Wedding Planner or 27 Dresses as stock footage in their next romantic comedies. Anyway, Eckhart certainly seems ripe for a hit, and Aniston is one of the top female box office draws today (along with, I'd say, Katherine Heigl, Amy Adams, Reese Witherspoon, Sandra Bullock, and Madea). But Aniston only plays well to her base in the right roles. This looks like a right role.

Opening weekend: $19 million / Total gross: $55 million

3) Fame (September 25th)

The only movie I see having $100m potential this month, and even then it's kind of a pipe dream. I'm of two minds on this - on the one hand, MGM seems to be treating this as a high-profile musical aimed at the audiences that made High School Musical and Camp Rock such big hits on television (curious bystanders are welcome to see it, too, I suppose). On the other hand, the teen-musical trend seems to have outlived its box office usefulness, and there's really no particular reason for kids and teenagers to want to see this (the young cast are all unknowns; would it have killed them to put a Jonas brother in here?). The recent box office failure of Bandslam is a warning sign. Fame's ads and posters do have a glossy, atmospheric look (there's a genuine New York feel), and I appreciate that, but the fate of Fame will almost certainly depend on reviews more than anything. Funny how that works.

Opening weekend: $17 million / Total gross: $50 million

4) Tyler Perry's I Can Do Bad All By Myself (September 11th)

While I don't think most of his movies are particularly good (I've seen all but one), it's hard not to admire Tyler Perry - he's a one-man movie-making machine: Perry writes, directs and stars in not one, but two movies a year, all while directing and co-writing two concurrent television series, as well as the occasional play. Clearly, there is something of that old Roger Corman can-do spirit in Perry - and indeed, his movies are sometimes just as cheesy as Roger's were. Considering the almost-unbelievable $90 million box office for his last film, Madea Goes to Jail (do we all realize that this was a film that wasn't too far from beating the domestic box office of Watchmen?), it's no surprise that Perry's dipped back into his star attraction for this film, and brought Madea to the forefront again - even if she is only a supporting character (one of the posters utilizes her in a delicious parody of Straw Dogs). Madea's presence would look like a plus, but I think there might be a case of overexposure going on here, and I suspect Madea Goes to Jail may have given us the peak box office for this character. Otherwise, recent Oscar nominee Taraji P. Henson is on hand for dramatic chops, and the film's choice of supporting cast - including singers Mary J. Blige, Gladys Knight, and Pastor Marvin Winans (!) - follows the Perry tradition of giving non-actors interesting roles in his movies (my favorite is Maya Angelou, who really had a screen presence in Madea's Family Reunion). Anyway, a Tyler Perry film is a Tyler Perry film, and so this latest entry in the oeuvre, based on his 1999 play, should do about as well as his two 2008 films. Plus, you can't really go wrong when the trailer starts off with the following typically introspective query by Madea: "Do you know these children, hooker?"

Opening weekend: $24 million / Total gross: $49 million

5) Jennifer's Body (September 18th)

An evil, undead cheerleader who seduces and kills men. This is an excellent idea for a movie. Can you imagine pitting this character against one of those Slumber Party Massacre-type serial killers? Freddy? Jason? Or how about having her fight off that turd in Sorority Row? But we all have to start somewhere, and so Megan Fox's Jennifer is resigned to hacking up the usual assortment of horny high schoolers. While this premise seems naturally designed to give birth to a fun, '80s-style horror film, Jennifer's Body has me a little worried: the screenplay is by Diablo Cody, who masterminded the unstoppable assault of quirky witticisms and implausible pop-culture references in Juno. This film isn't going to be like that, is it? Surely we can be served ample doses of exploitation without having to pay the price of listening to the characters list off their favorite indie bands? Please?


In any case, the film looks to be a fair test of Megan Fox's star power (unlike, say, her supporting role in last year's How to Lose Friends and Alienate People). If the movie's good, the Juno and Days of Summer crowd may well turn out to see it. If it's bad, I will.

Opening weekend: $16 million / Total gross: $42 million

6) Sorority Row (September 11th)

If the fact that seemingly every notable pre-1995 horror film is now being remade bothers you, you're not alone. But if today's studios are so intent on revisiting the recent past, I'll do the same and tell you about the first film's box office run. The original House on Sorority Row was an absolutely exceptional performer for what it was. The product of long-defunct distributor Film Ventures Int'l, it was a fairly routine slasher that opened in January 1983 in 153 theaters, and spent the next five months moving around between 100 and 257 screens, going from city to city. That wouldn't have been considered a wide release even then, so the film's eventual $10.6 million total is very admirable. It's a great example of a bad exploitation film making a lot of money over time in a regional release, and it's the kind of thing that happened a lot before 1990 or so.

Anyway, back to today. Taken on its own, the trailers for this remake make it out to be an okay version of the whole Know What You Did / Gonna Make You Pay plot. The original film was certainly fairly dull, so this version should at least up the entertainment factor. Commendations also go out to whoever cast Carrie Fisher as the presumably foul-mouthed housemother. There haven't really been very many R-rated straightforward slasher films as of late (not to be confused with the torture films or those identikit evaporating ghost ones), so this has the chance to revive the genre somewhat, before some other movie does.

Opening weekend: $20 million / Total gross: $41 million

7) Surrogates (September 25th) & Gamer (September 4th)

The premise behind these two sci-fi thrillers is similar enough that seeing the trailers back-to-back in theaters felt a little monotonous. Both of them are set in a futuristic society where the main characters are operated by remote control. Surrogates probably has the livelier trailer, and Bruce Willis does score the occasional action hit. As for Gamer, Gerard Butler may be a good romantic comedy/drama running mate for someone like Katherine Heigl or Hilary Swank, but as a solo action star, he's actually more or less unproven. Gamer does have a neat entourage of supporting actors - Kyra Sedgwick, Alison Lohman, Aaron Yoo, and the underused Terry Crews. But it's hard to see it breaking out. Surrogates has more of a shot at fame and fortune, but hey, this ain't June.

Surrogates: $15 million / $40 million
Gamer: $11 million / $31 million

9) The Informant! (September 18th)

Yes, this is the one. The only wide release this month that was made specifically to receive Oscar nominations. Everything else is either horror, CGI, bad romantic comedy, better non-romantic comedy, or odd sci-fi hodgepodge. So let's take a look at how strong the film's eligibility to be nominated is; in the pursuit of an Oscar for Best Actor, Matt Damon:

A. Is in a film directed by Steven Soderbergh
B. Plays a Real Person™
C. Has gained a lot of weight
D. Put on a funny-looking mustache
E. Is in a scene that includes the line "everyone in this country is a victim of corporate crime by the time they finish breakfast"

Not too shabby. Not at all. As for the film itself, I supposed it'll have that usual $30 million-ish gross that's begrudgingly handed out to most mid-level awards contenders (think Doubt, the Reader, Milk, and so on). The somewhat similar, if slightly more kooky, Burn after Reading did break out this time last year, but that film had The Informant! beat by at least three or four big movie stars.

Opening weekend: $8 million / Total gross: $30 million

10) All About Steve (September 4th)

The Proposal 2 this is not. Sandra Bullock is in the unfortunate position of having this film released after her $150 million-grossing turn in the Proposal generated her a lot of goodwill with both the public and the Hollywood higher-ups. All About Steve was originally scheduled for March 6th, up against nothing but Watchmen, and that's exactly where I would have kept it. Now, it looks like an afterthought, and will probably be lost in the September shuffle. Too bad - Bullock's co-star, Thomas Haden Church, was so good in Sideways that he deserves to be in another hit. And what is up with that cockamamie poster?

Opening weekend: $11 million / Total gross: $28 million

11) Extract (September 4th)
This workplace comedy was written and directed by Mike Judge, so there's a more than decent possibility that it will be genuinely funny. But outside of the animated Beavis and Butt-Head film, Judge's movies don't usually make a lot of money, and this one will probably have to settle for just being a cult classic. Interesting to see Ben Affleck make a full return to acting, now as a character actor, and J.K. Simmons is always a welcome presence. Maybe I'm underestimating the appeal here - the trailer does usually get pretty good reactions. But Mike Judge... Labor Day release date... the signs can not be ignored.

Opening weekend: $10 million / Total gross: $27 million

12) 9 (September 9th)
Here's one of only two movies this year to be named "9" (the other one's actually "Nine", but then you've also got "District 9"). This CGI fantasy is based on a short film from a few years ago. While the animation looks intriguingly quirky, 9 is rated PG-13, which is about the box office kiss of death for animation (By the way, can anyone think of an R-rated CGI film?). There's no doubt that Tim Burton's involvement, as producer, is going to immediately associate this with Nightmare Before Christmas and Corpse Bride. But when faced between the dark, odd, and post-apocalyptic 9, and the bright, family-friendly Meatball onslaught, I don't know that many family audiences will choose the single digit picture. They may well sentence 9 to be this year's Igor.

Opening weekend: $8 million / Total gross: $20 million

13) Capitalism: A Love Story (September 23rd)

Those poor corporate high-ups. As if the economic meltdown wasn't enough, now they've got Michael Moore knocking at their door. Moore's Sicko grossed a decent $24 million two years ago, but he's fallen far from his $100 million days. Another box office dip would seem to be in store. Also, follow me on this: Moore has starred in four films that were hits to varying degrees - Roger & Me, Bowling for Columbine, Fahrenheit 9/11 and Sicko. All were released during Republican administrations. However, Moore's one major box office underperformer, the Big One, was released in 1997, when a Democrat was in the White House. There might be some faulty logic there, but I don't know; releasing a Michael Moore film during a Democratic presidency may be the cinematic equivalent of Marlon Brando's reply to the question "What are you rebelling against?"

Opening weekend: $3 million / Total gross: $9 million

14) Horror movie about weird sci-fi things that want to kill you (and Kate Beckinsale)

Well, you have your pick here. If you want to see a horror movie about a weird sci-fi creation that wants to kill you, you can choose between Carriers (September 4th; killer virus), Pandorum (September 25th; killer spaceship monster), or, if you like living dangerously, the limited release Splice (September 18th; killer DNA whatsit). Although there doesn't appear to be a sci-fi element, there's also Whiteout (September 11th), where it looks like someone or something is trying to kill Kate Beckinsale (that happens a lot). I don't think anybody is really going to see these films. But I don't know. Some of them may even be good. Anything is possible.