Top Chef Las Vegas Recap
By Jason Lee
August 31, 2009
BoxOfficeProphets.com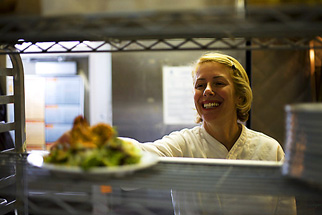 ---
First off, let me send out a dire warning to any Top Chef fans out there in cyberspace. You may have already discovered this, but the producers over at Bravo have (in)conveniently decided to change the name of this program. No longer will it be recognized by your TiVo or DVR as Top Chef. Nope, you will have to go back into your settings and make sure that your TiVo/DVR records all upcoming episodes of a totally different show named Top Chef Las Vegas. If not, then like me, you'll find yourself totally pissed off and have to record a re-run on Saturday afternoon to find out what happens.

Thanks ever so much, Bravo.

Anyhow, back at the Top Chef penthouse, we're still in that awkward "who are you and should I even bother getting to know you or will you be packing your knives in a few days time?" stage. Inside, we have a couple of cheftestants using their monologue time in front of the camera to bitch about how they've been doing. Jesse feels like she's on the defensive after being in the bottom four last week, Eve doesn't know whether she should cook for the judges or for herself (if you don't know the answer to that question, honey, you don't really deserve to be here) and the two brothers comment on how weird it is to compete against each other. C'mon guys, don't tell me that when you were kids you weren't pissed off if your brother brought home a better report card than you - you've been competing all your lives.

Anyhow, the Quickfire Challenge is getting underway with Todd English (formerly seen as Hung's sous-chef in season 3) as our guest judge. Just so you know, he has more restaurants than he can count. Jennifer finds him hot. My boyfriend does not.

Todd and Padma are standing in front of a craps table. Each cheftestant will be rolling the dice and whatever number they get will have to be the number of ingredients in their Quickfire dish. This is a GREAT challenge - very Vegas and very challenging.

The cheftestants roll their dice and start their 30 minutes of cooking. With 16 people in the kitchen, it's hard to tell who's doing what. We see snippets of Ashley doing a salad (kinda smart because you can throw any number of ingredients in a salad), Bryan is cooking some black cod sous-vide style (a la Hung), Jesse is doing scallops but gets no color on them and serves them without a proper sear. Lordy, can this girl do anything right?

The chefs start serving their food. Loraine has an asparagus leek soup, Jennifer (my pick for the strongest girl this season) does a salmon with lemon garlic shallots, Mattin (the flamboyant-but-straight French guy) does a carrot soup with ginger and Michael (one half of the brothers) does a "nitro" gazpacho, whatever that is. Kevin presents our second dish including asparagus with an asparagus and celery salad - at this point, I'm pretty sure that Todd English's urine will smell pretty funky for the rest of the episode.

Ashley presents grilled lamb that is "pretty rare" according to Padma, Bryan's poached black cod is very rare according to Todd and Jesse's un-seared scallops look raw.

Following the tastings, the chefs are circled up and Todd's verdict is delivered. On the bottom are Jesse (with her mushy scallops), Eve (with an overpowering inclusion of blue cheese) and Bryan who put in far too much yuzu. That's too bad, I actually think Bryan is one of our stronger chefs this season.

On top are Michael (Bryan's brother) who used classic combinations of flavors, Jennifer with delicate flavors and Kevin (last week's winner) who married great flavors. I'm thinking at this point that Kevin and Jennifer are probably the two to beat. Michael ends up winning this Quickfire and takes home a check for $15,000. Niiiiiiiice.

The Elimination Challenge will have the chefs catering a bachelor and bachelorette party, with the girls all cooking dishes for the bachelor's party and the guys cooking for the bachelorette's party. The winning team will be immune from elimination while one person on the losing team will go home. Given the extremely WEAK performances by the women thus far in the season, I'm thinking that the men have a very strong advantage here.

And as you'd imagine, Jennifer is NOT pleased that her fate is tied to the rest of the female chefs. I wouldn't be either.

The challenge itself is brilliant - Vegas is all about marriage and sin, so to cater a bachelor and bachelorette party is great. Ashley, though, is not happy. As a lesbian, she does NOT find it amusing that she has to cook food for a party that celebrates the institution off marriage when she's not allowed to participate in it. I wholeheartedly agree, Ashley. It's NOT fair.

Politics aside, it's time to plan the menu. The bride and groom come in with a tray of shot glasses - they have three drinks that they'd like the chefs to plan the menu around: a Moscow Mule (some gingery vodka), a shot of tequila and a Golden Delicious (some sugary sweet concoction that Mike finds disgusting). Each team will require at least two dishes that pair with each shot. The groom says that he loves shellfish, lean meats and has a sweet tooth. The bride tells the men that she's a pescatarian (doesn't eat meat but eats fish) and that one of her guests is a vegan.

Clearly, the men have a harder audience but they're also more talented. I think they have this one in the bag.

The chefs tromp off to Whole Foods and come back fired up to cook. Jesse has now been in the bottom of two out of the last three challenges. She wants to really bring her A-Game and is making some Thai lettuce cups. Bryan really wants to beat his brother Michael and has a sweet and sour meringue planned, filled with corn chips and guacamole. Meanwhile, his brother is making a frozen version of the Golden Delicious drink with a goat cheese cookie. I really think these two guys are very smart chefs.

Back with the ladies, we see that Jennifer is using frozen octopus. I start to swear at the TV. Doesn't she know the perils of using frozen seafood? Didn't she see the episode where Spike used frozen scallops and got sent home because of it? Across the table Ashley has decided that her watermelon carpaccio is not good enough and wants to make a dessert as her SECOND dish - a bay leaf panna cotta even though she admits that she's not a pastry chef.

STUPID STUPID STUPID. These women are not only bad cooks, they're idiots.

The next day the chefs head to a gorgeous outside pool where they'll be serving their food. Michael, due to the hot sun, will be making his frozen Golden Delicious dishes to order. Preeti thinks that her dish needs a garnish and adds what looks like a shred of lettuce to the bottom of her ahi tuna. Oh boy, adding ingredients because of presentation instead of flavor? Stupid.

There's also some side drama concerning Eve's shrimp, which are bland. The women panic, not wanting to be on the bottom and see one of their own go home. I'm sure that Jennifer is fuming.

The judges arrive and begin with the two dishes that pair with the Golden Delicious. Robin (the woman who drew the golden chip and won immunity last week in the Quickfire challenge) serves a duck mole with cocoa nubs. Laurine has a Moroccan lamb chop with pine nut relish. Gail likes Robin's mole and Todd remarks about how hard that dish was to make. Todd likes the spice on Laurine's lamb and Tom calls it well-cooked. Not bad start for the girls.

The Tequila dishes are next and we have Eve's shrimp and avocado ceviche (boy, that sounds like such a commonly-made dish) and Jennifer's octopus ceviche. The judges HATE Eve's shrimp, remarking on how they'd criticized Eve's shrimp in the last episode and clearly she hasn't learned her lesson. As for Jennifer's dish, Tom says that it needs a touch more salt but Gail loves how the acid pairs with the tequila. Yep, she's a strong chef.

The judges come over, ready to taste the dishes that pair with the Moscow Mule but Ashley shows them one last Tequila dish - a watermelon carpaccio - before presenting her panna cotta for the Moscow Mule. Preeti has a coriander sesame tuna with eggplant crush and Jesse has her thai lettuce cup.

More bad news for Jesse as Todd hates her lettuce cup, saying that there's too much going on and that it makes no sense with the shot. Tom calls Preeti's dish "pedestrian" and Gail says that it looks "sad." They judges rave about Ashley's carpaccio but go to town on her panna cotta, with Padma saying that it tastes bitter. Tom really has a problem with the fact that she made two dishes instead of focusing on one.

STUPID STUPID STUPID.

The men are up next and with the rather lackluster performance of the girls, they should take this easy. We start off with the Golden Delicious dishes of Michael's apple sorbet and goat cheese cookie with a chilled almond soup with king crab from Kevin. Both are highly praised - Todd calls Kevin's soup "delicious" and says that Michael's dish is "ridiculously good."

With the Tequila we have an arctic char dish with caper sauce from Mike (a lot of arctic char this season so far...), Bryan's macaroon with guacamole and corn chips instead, a lobster cocktail from Ron and a tofu and lemon lime tequila ceviche. The char and lobster dishes fall really flat with the judges but Gail loves the tofu ceviche and as well as the play on guacamole and chips with Bryan. Todd also comments on how hard it is to make a good meringue.

Finally, with the Moscow Mule, we have thai tune tartare from Eli, a boulabaisse with aioli crouton from Frenchie Mattin and an asian chicken wing from Ash, who is also gay.

Gail loves the tartare and Todd agrees, saying that it makes sense with the drink. Mattin's boulabaisse is "very off" according to Gail but Ash's chicken wing is "perfectly paired" with the chicken according to Tom. Todd agrees saying that he could eat and drink Ash's dish all day.

Yes, the men have kicked the women's butts. As if to illustrate their victory, a bunch of the men strip off their shirts and dive into the pool. This is a pretty crass move, even at a Vegas bachelor / bachelorette's party, and does nothing except to show off how obese some of the men are. This is a far cry from Season 2 when the chefs elatedly ran into the ocean after their surfer-breakfast Elimination challenge.

Back at the stew room, the women seem optimistic about the chances of winning but I know better. They have no chance. "Definitely women on bottom," my boyfriend says, inadvertently commenting on what likely takes place after the majority of bachelor and bachelorette parties.

Sure enough, Padma walks in and calls for Bryan, Hector, Eli and Michael. Ah, so both brothers are on the top. They are indeed announced as the top chefs on the winning team and the men trade fist bumps. There's very little emotion shown, just a lot of posing and "nice goin', bro" gestures. I idly wonder if the room smells of testosterone.

Apparently, the judges LOVED these four dishes, as the praise-train doesn't stop. Gail loves Eli's tartare, saying that the acid and seasoning were great. Todd also liked how the ginger in his dish matched the ginger in the drink. Michael knocked it out of the park with his sorbet, with Tom saying that the concept and the execution of the dish were great. Hector's tofu was phenomenal, with Todd noting how hard it is to sell tofu on a menu but saying that Hector's dish would change people's mind. Gail loved the texture of Bryan's dish and Todd saying that it was a brilliant play on what people love: chips, guacamole and tequila.

I feel like Michael will win this thing but it turns out to be Bryan. Wow, the brothers sweep this episode. Good for them.

But we still have the girls to deal with and the bottom four are composed of Eve, Jesse, Preeti and Ashley. The judges go to town on them. Gail says that she couldn't taste anything but salsa in Eve's dish and Tom slams her for knowing that her shrimp was flavorless but not doing anything about them. Preeti says that she felt her dish was a crowd-pleaser but Tom points out that she marinated her tuna for way too long (overnight instead of just a few hours) and Padma said that the lettuce strips under her tuna made the dish hard to eat.

Meanwhile, Ashley is told that her watermelon dish was one of the best of the day but that she was ridiculously dumb for doing a panna cotta as well. Ashley finally comes to terms with the fact that it was not a start decision. Padma criticizes the fact that it tasted bitter and Ashley admits that she used dry bay leaves in the dish instead of using all fresh bay leaves. Tom is floored.

STUPID STUPID STUPID. Why would you not use all fresh ingredients? Oh lord.

Jesse get smacked down hard as well. She put ginger beer in the dish but that made it watery. Todd remarks on how it didn't have that much ginger taste in it, despite the fact that it was paired with a ginger drink. Jesse protests, saying that the drink was so gingery that she didn't want to put ginger in the dish. "Then why did you put the ginger beer in it?" asks Tom, clearly frustrated.

All in all, it was a pretty horrific scene. These four women made bad dishes - really bad, and they knew it - well, except for Preeti. She was oblivious, thinking that the reaction from the crowd was an indication that it was a good dish. I think it's clear that either she or Eve will be going home. I have to say that Preeti's obliviousness irritates me more but I think that Eve was so clueless that the judges will send her home on the basis of her elementary mistakes.

Yes, the women are weak this season.

And yes, it's Eve. Ashley had split her focus, Preeti over-cured her tuna, Jesse had muddled flavors but Eve with her bad shrimp and lack of flavoring will be going home.

"I realize that I won't be named Top Chef," Eve says as she leaves. No, Eve, you won't. And I'm hard pressed to imagine that any girl this season will.

Except maybe Jennifer.