Weekend Wrap-Up
R-Rated Ultra-Violence Rules Box Office
By John Hamann
August 30, 2009
BoxOfficeProphets.com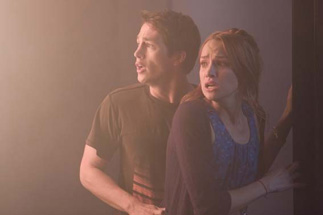 ---
Despite being a full two months prior to Halloween, we get a violent, fright-filled weekend at the box office, as two openers go after the same horror market this weekend. New openers include The Final Destination (which takes a titling page from Universal's Fast & Furious/The Fast and The Furious), and Halloween II, a new torture porn flick from Rob Zombie. Could two films, both R-Rated, that are going after the same horror dollar work? Could a weekend with four R-rated flicks in the top five propel the overall box office ahead of last year? You betcha, baby.

The weekend prior to Labor Day has always been a painful movie weekend. It's often one of those weekends where one might be able to check out some late-season summer blockbusters for the second time, or take the weekend off to rest up for the upcoming school year. Top 12 totals for this weekend have never reached $100 million. New releases over this August frame have included memorable titles such as The Cave, Invincible, Beerfest, Idlewild, WAR, Babylon A.D., and Traitor – only one of which (Invincible) found the top spot at a box office that was super-slow to begin with. Holdovers normally rule the weekend, with the second weekend of Tropic Thunder on top in 2008, the second weekend of Superbad in 2007, and the second weekend of The 40 Year-Old Virgin in 2005. This weekend in 2009 was obviously set up to change that trend, with two "sequel" releases primed to find college kids heading back to school.

Our number one film of the weekend is The Final Destination, which actually beat Halloween by more than the ticket markup for a 3-D release. Made for $43 million, The Final Destination earned $28.3 million from 3,121 venues, with a large percentage of those showing this one in 3-D. The weekend gross is more than tracking was looking for and is almost a breakout success, as estimators were looking for a total of about $20 million. This is by far the biggest opener ever for the Final Destination franchise. The first opened to $10 million in March of 2000 and found some ridiculous legs, finishing with a domestic total of $53.3 million, and an overseas gross of a similar amount. The first film cost only $23 million to make, so, despite not being a blockbuster, it was set up for sequel glory, and, well, here we are nine years and four films later. The second film in the series opened larger ($16 million), but finished smaller ($47 million domestic, $89.6 million worldwide), but was again hugely profitable due to a $26 million production budget. The third film completed the trend with a $19.2 million opening, a $54.1 domestic finish, and a $112.8 million worldwide finish against a $25 million production budget (oddly enough, the third film finished about $3,000 behind the first film). Obviously, the 3-D release of The Final Destination opened up its market somewhat, as its increase was beyond the 15% uptick in ticket prices due to the 3-D release.


Critically, The Final Destination series has also come back to the beginning. The first Final Destination flick received a RottenTomatoes score of 29% back in 2000, but then the series actually improved its performance dramatically with the next two films. FD2 raised its rating to 47%, a solid 20-point increase, and FD3 stayed remarkably similar at 45% fresh. This year's entry, The Final Destination, takes the series back to the start with a 28% fresh rating, despite the addition of 3-D. Simply put, Warner Bros. doesn't care. Despite the larger budget for this release, The Final Destination gross will still end up being almost four times the amount of its budget, and this release will enable the studio to put out a box set just in time for Christmas.

Inglourious Basterds slips slightly from number one to number two, as the film holds up pretty well compared to other number one movies on the charts this summer. After opening last weekend to $38.1 million, Inglourious Basterds didn't quite get cut in half this weekend, as the Brad Pitt film earned $20 million from 3,165 venues. Basterds was off a better-than-expected 47%, putting it in the same ballpark as director Kill Bill Vol. 1 (44% drop). Inglourious Basterds has already earned $73.7 million against a production budget of $70 million, with Universal and The Weinstein Company splitting the profits.

Speaking of the Weinsteins, their Halloween II manages a second place finish this weekend, and ends up right where tracking expected it to finish. Rob Zombie's second stab at the John Carpenter franchise was not as successful as the first, but we are talking LOW-BUDGET, so the Weinsteins are going to have a successful film for the second consecutive weekend. Halloween II earned $17.4 million this weekend from 3,025 venues, well off the $26.4 million the original remake made over its initial three-days. This one cost about the same amount as it grossed this weekend - $18 million – so as I mentioned above, Bob and Harvey are having an excellent August. Halloween II opens on the heels of Inglourious Basterds, so these two films will provide some serious cash flow for the cash strapped movie moguls. Next up for the Weinstein's is The Road, based on the Cormac McCarthy novel (he also wrote No Country For Old Men), and starring Viggo Mortensen, Charlize Theron, and Robert Duvall (October). They also have Youth in Revolt, a comedy starring Michael Cera, Zach Galifianakis and Justin Long. Maybe things are looking up for the brothers.

In fourth place we have our fourth R-Rated film, the three-weekend old Distict 9. The Sony/TriStar sci-fi thriller enjoyed another frame above $10 million, with a gross of $10.7 million. The little film with no stars and a no-name director dropped 41% in weekend three as it continues to propel itself toward $100 million. District 9 is joining other 2009 $100 million surprises like Paul Blart: Mall Cop, Taken and The Hangover. The $30 million production has now earned $90.8 million.

G.I. Joe drops to fifth, but the military ad just won't go away fast enough. As the only film in the top five aimed at teens, G.I. Joe basically has the marketplace to itself, and earned an okay $8 million in its fourth weekend, dropping 34%. After its $54.7 million opening, the Paramount release has seen drops of 60%, 45%, and now 34%. The $175 million production has earned $132.4 million on the domestic front, and a similar amount in overseas grosses. I think that like it or not, we're going to see a G.I. Joe 2.

Julie & Julia, the leggiest film in the top 12, finishes sixth. Now in its fourth frame, the Meryl Streep biopic earned a solid $7.4 million and dropped only 16%, even better than its 27% decline last weekend. This $40 million Sony film has now earned $71 million, and is quickly becoming a lock for a Meryl Streep Oscar nomination.

The Time Traveler's Wife slips behind Julie & Julia for the first time, as the Rachel McAdams flick continues its slide. The Time Traveler's Wife earned $6.7 million, as it continues to struggle against film quality and a poorly executed marketing plan. The news isn't all bad for Warner Bros., as it has now earned $48.2 million domestically against a production budget of about $40 million. It should finish with about $65 million on the domestic front.

The Robert Rodriguez kids flick Shorts drops to eighth this weekend, after a soft $6.4 million opening last weekend. Word-of-mouth must be better for kids than what critics think (44% fresh at RottenTomatoes), as Shorts earned $4.9 million and dropped a small 24%. However, with the small opening, anything short of superhero legs isn't going to save this one. Shorts has a total so far of $13.6 million, but this drop could spell good things for home video sales of this kid-friendly pic.

Ninth spot goes to our last, and most un-heralded new film, Taking Woodstock. From director Ang Lee - who brought us great titles such as Brokeback Mountain and Crouching Tiger, Hidden Dragon – Taking Woodstock is a small film that has not been reviewed to the usual Ang Lee standard. Released to only 1,393 venues, Taking Woodstock earned $3.7 million and had a venue average of $2,691, a figure not good enough for this type of film, especially when the production budget sits at $30 million.

Finally in tenth is G-Force, and excuse me while I celebrate the last weekend in the top ten for this one. The Disney/Bruckheimer juggernaut earned $2.8 million in its sixth weekend and drops 31%, as it gives up 3-D venues to The Final Destination. G-Force has now earned $111.8 million.

Overall, things are very good considering it's late August. This is a weekend where the top 12 has never earned over $100 million, yet this weekend, the top 12 earned $114.8 million, thanks to strong showings from our four R-rated flicks at the top of the list (so much for movies for adults being dead). A year ago, Tropic Thunder was on top, and the top 12 could only manage $74 million. Next weekend brings the Labor Day frame – usually the height of slowness at theaters – but we have at least two films that could open strongly. All About Steve stars The Hangover's Bradley Cooper and The Proposal's Sandra Bullock, but the suggested venue count of about 2,000 doesn't say good things about studio confidence. Also opening are Extract (aka Office Space 2) and Gamer with Gerard Butler.