Friday Box Office Analysis
By Tim Briody
August 29, 2009
BoxOfficeProphets.com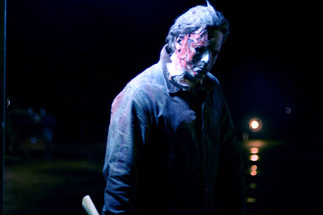 ---
Horror Movie Thunderdome has a clear winner on Friday.

[tm:4154_]The Final Destination[/tm]

Winning the battle of the horror films with relative ease, The Final Destination earns $10.9 million on Friday. This is the best single day for any of the four Final Destination films, which will probably be attributed to the 3-D gimmick. The franchise has never been a big success in the weekend multiplier department and with the likely inflated Friday the trend should continue. Even something as terrible as 2.5 (which would be the lowest of the four films) would give it a pretty astounding $27 million weekend.

[tm:4814_]Halloween II[/tm]

Last time out, Rob Zombie's Halloween reboot in 2007 set a Labor Day record with $30.5 million in four days. This time around, impacted by The Final Destination, Halloween II earns $7.6 million on Friday. The first day of Zombie's reboot was $10.8 million. The weekend multiplier will probably rival Final Destination's, which would be a $19 million weekend. Despite the direct competition with each other, both horror releases actually do pretty well, all things considered.

[tm:4836_]Taking Woodstock[/tm]

[bp:302_]Ang Lee[/bp]'s Taking Woodstock lands in ninth place on Friday with $1.2 million. For 1,393 theaters, that's not terrible but it's going to be forgotten very quickly. Give it $3.3 million for the weekend.

Notable Holdovers

[bp:747_]Quentin Tarantino[/bp]'s [tm:1247_]Inglourious Basterds[/tm] falls 59% from last Friday to $5.9 million. Considering how the summer has treated quite a few films this year, it certainly could have been worse (Kill Bill Vol. 2 dropped more, though that acted like a sequel, of course). A second weekend of $18.5 million is pretty likely for the World War II epic, which is just fine.