Box Office - Decade at a Glance: May - August 2002
By Michael Lynderey
August 25, 2009
BoxOfficeProphets.com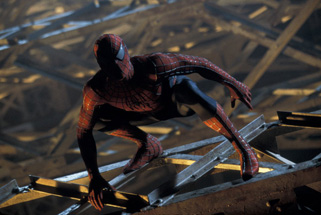 ---
May

A more... intellectual... summer was in store for 2002, in a stark contrast to summer 2001's very entertaining B-movie explosion. May was a busier month than usual, tossing out the traditional "$100 million movie-per-week" routine of most recent summertimes, and throwing in a batch of intriguing titles aimed at adults. But the summer certainly started out with a bang. Most box office forecasters had pegged Star Wars: Episode II to easily win the month, and the year, but this was not to be: Spider-Man opened on May 3, 2002, with a $39 million Friday, $43 million Saturday (an increase!), a weekend of $114 million, and a total gross of $403 million. The opening of the first movie of summer 2001, the Mummy Returns, was considered pretty big, but Spidey blew it out of the water in 2002. Aside from that, it trampled all over the opening weekend box office record set by Harry Potter the previous year ($90 million), and held that highest opener title all the way up to 2006. Most importantly, the well-reviewed Spider-Man confirmed what X-Men had suggested in 2000 - that the comic book-to-film subgenre was alive and well, and that long-awaited film versions of popular fanboy properties can and will justify their budgets, sometimes with thunderingly large numbers. The success of Spider-Man also plucked stars Tobey Maguire and Kirsten Dunst out of their natural indie habitats, and into the big leagues. Willem Dafoe, as the Green Goblin, got a juicy supporting role out of it, too.

The other two May 3rd openers, Woody Allen's Hollywood Ending ($4 million total) and Deuces Wild ($6 million), would have seemed tiny anyway, but compared to Spider-Man, they look almost absurdly small. The second weekend of May also loomed under the web-slinger's shadow, but the Richard Gere thriller Unfaithful did open with $14 million and finish with $52 million, nabbing Diane Lane's terrific performance an Oscar nomination in the process, and turning her into a mid-tier star. The DJ Qualls vehicle, the New Guy, actually didn't do that badly - considering the critical assault heaved on the film, the $29 million it ended up with may have been the best case scenario.

Thursday, May 16th saw the release of a blockbuster whose thunder, it was now clear, had thoroughly been stolen. Spider-Man's triumph only cemented Star Wars - Episode II: Attack of the Clones as the weakest link in George Lucas' new trilogy. Aside from a reception that wasn't as enthusiastic as Spidey's, Episode II grossed only $310 million (after a four-day opening of $110 million), significantly below Episode I's $431 million take in 1999. Episode II didn't quite make a mega-star out of Hayden Christensen, but hey, he's still around, isn't he?

The rest of the month was never intended to reach blockbuster levels, and didn't. But there were some very respectable performers. After his successful supporting role in the previous year's Bridget Jones's Diary, Hugh Grant played another cad, and very well at that, in About a Boy. The directing team of Chris and Paul Weitz, previously responsible for the American Pie films, took a nice change of pace with this British comedy, which coasted to a decent $40 million. Elsewhere, Al Pacino and Robin Williams teamed up for a strong match of wits in Christopher Nolan's Insomnia, with Williams in particular convincing as a villain and psychological manipulator. The damp, Alaska-set thriller didn't exactly look like a summer movie, but excellent reviews propelled it to $67 million. And finally, Ben Affleck and Morgan Freeman headlined The Sum of All Fears, with Affleck taking on the Jack Ryan action-hero role previously occupied by Alec Baldwin and Harrison Ford. The last Tom Clancy adaptation, Clear and Present Danger, certainly did well in 1994 (finishing with $122 million), and this one was close, opening with $31 million and ending up with $118 million. While the reviews weren't gushy, many were positive, so it's a little startling that Affleck never reprised the role; the franchise was clearly ready for a sequel that would open even bigger than Sum of All Fears did.

These three films had something in common: they were smart, well-written, and targeted at adults. Their success, even in the usually dumbed-down days of the May blockbuster season, is to be commended. But May had more to offer. There was Stallion: Spirit of the Cimarron, an expensive ($80 million), traditionally animated (this is the part when the warning light goes off) film about horses of one sort or the other. I must sound like a broken record when I say that the film's mediocre total gross, $73 million, was yet another blow to traditional animation, a subgenre that the film's studio, DreamWorks, would dabble in only one more time (with Sinbad in 2003; after that, they finally learned their lesson). Meanwhile, on the other end of the May theater, Undercover Brother was a fun little comedy that took in a not-bad $38 million. That number was just a million away from the gross of Jennifer Lopez's latest film, the spousal abuse thriller Enough. Lopez's few previous titles had strong box office takes, so this was a bit of a misstep, and the various revulsions expressed by critics did not help, either.

June

The first weekend of June 2002 surprised, as uber-"chick flick" Divine Secrets of the Ya-Ya Sisterhood triumphed over testosterone-filled, Bruckheimer-producer action thriller Bad Company. Neither film got very good reviews, but the Ya-Ya picture assembled an all-star cast (led by Sandra Bullock and Ashley Judd) and it paid off with a $16 million opening, $69 million total, and countless late night TV jokes about the movie's title. Bad Company, on the other hand, saw Chris Rock transition from his hit comedy Down to Earth into a more action-oriented role. Despite the presence of star character actor Anthony Hopkins, the film ended up one of Jerry Bruckheimer's few failures - $11 million opening and $30 million total, all on a budget of $70 million. Rock's status as leading man was now in doubt.

The next few weeks brought along more traditional $100 million grossers. There was The Bourne Identity, which legged its way up to $121 million after a $27 million opening, and gave star Matt Damon a definitive franchise to carry forward into the decade. Scooby-Doo reinvigorated the TV cartoon-to-film subgenre with a surprise $54 million opening and $153 million total, despite reviews that are best described as ungenerous. While I had assumed that Kevin Smith's brief parody of Scooby-Doo in the previous summer's Jay and Silent Bob Strike Back was enough to satisfy fan appetites, it looks like that wasn't the case. Anyway, the film did give Sarah Michelle Gellar and Freddie Prinze, Jr. one more hit for the road, but Prinze's leading man lease had clearly expired with 2001's Summer Catch. Gellar would tough it out for a few more years, though. And whatever happened to co-star Matthew Lillard?

June 21st featured two more $100 million entries: Lilo & Stitch and Minority Report, both considered disappointments on their opening weekends. The former film was another persistent traditional animation film by Disney; at $145 million, it was their highest grossing non-CGI animation since Tarzan in 1999. Minority Report, on the hand, represented the seemingly lucrative combination of director Steven Spielberg with star Tom Cruise. Spielberg's A.I. had floundered the summer before, and his 2002 sci-fi film was also considered an underperformer, despite receiving some of the highest critical acclamation of the year. At a $35 million opening and $132 million total, Minority Report wasn't the best outing for either Cruise or Spielberg, and the film's dark subject matter could have been a reason. Proponents of the theory that Cruise's box office has been affected by his post-2005 off-screen behavior, whatever that may be, should take note of this fact: save for Mission: Impossible II, not one of his 1997-2004 starring roles outgrossed Minority Report's fairly unexciting total.

June 28th didn't exactly save the best for last, at least quality-wise. Adam Sandler's widely-panned Capra remake Mr. Deeds opened with $37 million and finished with $126 million. Sandler would subsequently star in at least one $100 million-grossing film for every consecutive year, up until and including 2008, when he had two; Judd Apatow later made sure that the streak would end in 2009, which became a $100 million-less year for Sandler after Funny People underperformed. Thanks, Judd.

Aside from the big bruisers, June laid egg to some distinct box office failures. Some, like the Hey Arnold! movie or the cross-dressing expedition Juwanna Man, were doomed probably from the start. But Windtalkers, John Woo's big WWII film with Nicolas Cage, may once have seemed like a good idea. But by the time of its release, war movies had been all but worn out, and the distinctly unenthusiastic reviews didn't help either. It was a $14 million opening, $40 million total for Windtalkers. The statistic that really kills it was the budget: $115 million. That's an awful lot of money.

July

So-called "Big Willie Weekend" struck back in 2002, as Will Smith headlined Men In Black II, his fourth big Fourth of July movie (after Independence Day, Men In Black, and Wild Wild West). Smith's previous two films, the Oscary fall releases Legend of Bagger Vance and Ali, failed to reach the $100 million mark, but Men in Black II would put Smith onto the same path as Sandler was going onto - Smith would star in at least one $100 million-grossing film for every year from 2002 to 2008 (2009, a year burdened with no Smith movies at all, finished off the trend by default). Smith's films ended up on the higher end of $150 million, while Sandler's were on the lower, so Smith was the bigger star. Anyway, as for MiB II, it was panned, panned again, and panned some more, and with its $192 million total (down from the first film's $250 million), considered a disappointment on most levels. That's probably why we haven't seen another sequel (not that I'm complaining).

July stayed out of the outright blockbuster arena until fairly late in the month. Instead, audiences were attacked by another batch of films that seemed sort of out of place in a season usually chock-full of hot-buttered popcorn movies. There was 1930s gangster drama Road to Perdition, Sam Mendes' follow-up to American Beauty. Perdition was based on a graphic novel, but don't let that fool you - reviews were impeccable, the running time was gargantuan, and the movie proved once again that star Tom Hanks retained the audience's trust. The film opened with $22 million and turned that into a $104 million total gross. The same good fortune didn't befall another big '90s star, Harrison Ford, who headlined the somber Soviet submarine movie K-19: the Widowmaker. A big-budgeted ($100 million!), nearly two-and-a-half hour foray into foreign historical drama, the movie probably didn't have a chance anyway, but the somewhat middling reviews killed it. It opened with $12 million and finished with $35 million, putting Ford into the non-$100 million rut he was to reside in until the next Indiana Jones film. And isn't it amazing that Like Mike, a silly basketball comedy star vehicle for rapper Bow Wow, managed to thoroughly outgross Ford's submarine misadventures? Yup, Bow Wow's film walked away with $51 million earlier in July. I guess size really doesn't matter.

Not all kids' movies were so lucky. In fact, July 2002 looks like an outright wasteland of failed children's films. The Powerpuff Girls (remember them?) movie did just as badly as Hey Arnold!, finishing with a meek $11 million and undergoing heavy criticism for its violence (at least the girls didn't scalp anybody). The Crocodile Hunter movie got better reviews than expected, and a $28 million total for its troubles. The Country Bears, on the other hand, came off like an amazingly bad idea, and was practically laughed off the screen (not before grossing $16 million, if it's any consolation to the bears among us). And while mouse adventure Stuart Little 2 stands above the pack with $65 million, that's far and away from the $140 million that the original film grossed in the winter of 1999. While the sequel was pretty good, this may have been a case of a kids' movie that would have done better during the holiday season. Stuart Little 2 was also Michael J. Fox's last film role of any sort, to date (he voiced the mouse).

Some genre efforts also entered the fray, mostly without much positive feedback. Fun spider-bashing sci-fi comedy Eight Legged Freaks could only muster up $17 million, but at least it didn't cost much to make. Not content to besmirch spiders, Reign of Fire was a big fight-the-dragons movie that fizzled out with $43 million, despite the presence of star Matthew McConaughey (if you were wondering why he's so adamant about appearing in romantic comedies, this decidedly unromantic movie's performance may offer a big hint). Finally, July brought along the release of the eighth and final film in the Halloween series, Halloween: Resurrection. Designed as a follow-up to 1998's hit Halloween: H20, Resurrection was plagued by re-shoots and delayed back from its original October 2001 date. Still, the $30 million this film pulled in isn't bad for this kind of a thing, and the film's release made 2002 the first year since 1989 to feature both a Halloween and a Friday the 13th film (all that was missing was Freddy Krueger). Michael Myers seemed alive and well in the last scene of the film, but I guess that's a plotline we'll never see resolved, considering all eight Halloween films appear to have been rebooted out of existence.

Times were considerably better for another Michael Myers, though. That big late July movie was none other than Austin Powers in Goldmember, which received worse reviews than its predecessors but beat them both at the box office, opening with an amazing $76 million and finishing with $213 million (the last Powers film took in $205 million). Mike Myers has yet to see this kind of live-action success again, and I'm actually curious as to how a fourth Austin Powers film would do at the box office this late in the game. Not curious enough to actually want one to be made, though.

August

The late summer blockbuster streak continued right into August, with M. Night Shyamalan's latest, Signs. Despite a decidedly mixed reception for his Unbreakable in 2000, Signs' combination of excellent marketing, a genuine sense of mystery, star power (Mel Gibson), and Shyamalan's still-potent name led to a terrific $60 million opening and $227 million total gross. It's pretty ironic that Mel Gibson's highest grossing film was also his last as leading man, at least until 2010 or so. Signs also gave noted roles to Joaquin Phoenix and then-six year old Abigail Breslin, and kept Shyamalan's name in good standing enough to proceed with his unfortunate next film, the Village. The second week of August continued the hit streak: Vin Diesel's solo star vehicle xXx, marketed as a lean and mean version of James Bond, opened with $44 million and finished with $141 million, a box office run almost identical to Diesel's breakout role, the Fast and the Furious. Indeed, if that film was the set-up, this was the punchline, and it solidified Diesel as a successor to the big action stars of the 1980s and 1990s (if only for a while).

The rest of the month wasn't as strong, but it wasn't completely shabby, either. Spy Kids 2: Island of Lost Dreams came out just a little over a year after the first film, and it doesn't look like anyone minded: the reviews were once again strong, and the film had no problem turning a $16 million opening into an $85 million total. Good for Robert Rodriguez, a director whose biggest grossers remain, ironically, his kids movies, and not his beloved genre action films. Blue Crush, a decent surfing flick that gave Kate Bosworth her first lead role, finished with an all right $40 million. That was also the exact total for Master of Disguise, a widely-panned comedy that remains Dana Carvey's last leading role to date (if you'd like to know why, see the movie). Meanwhile, Robin Williams played a villain for the third time that year, and very well, too, with One Hour Photo, a good little indie thriller that ended up with a very respectable $31 million gross. Clearly, there's more to Williams than his manic comic persona.

On the downside of the box office scale, we find Blood Work, another excellent Clint Eastwood thriller (he directed and starred). Despite some good critical notices, this one failed to inspire any more interest than his similar 1999 film True Crime, and totaled $26 million. Eastwood's Gran Torino box office days were still ahead of him. August 2002 losers included the Matthew Perry vehicle Serving Sara, the weird Al Pacino satire S1m0ne, the overwrought horror film Feardotcom (a precursor of sorts to the torture subgenre), and the notorious Eddie Murphy comedy Pluto Nash, which cost $100 million and grossed exactly $96 million less than that. Murphy had been coming off a decent string of hits (Bowfinger, Nutty Professor II, Shrek), but first Showtime and then this film gave him a very troublesome 2002 indeed. Where's Norbit when you really need him?