TiVoPlex
By John Seal
August 24, 2009
BoxOfficeProphets.com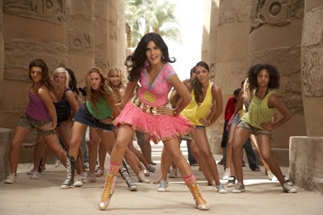 ---
From the obscure to the obscurest to the merely overlooked or underappreciated; they all have a home in the TiVoPlex! All times Pacific.

Wednesday 08/26/09

12:30pm Turner Classic Movies
Triple Cross (1967 GB): Today is TCM's "Summer Under the Stars" salute to Yul Brynner, and the chrome-domed Russian expat takes a bow in this decent WW II espionage effort from director Terence Young. Brynner plays Count von Grunen, the German officer responsible for training British double-agent Eddie Chapman (Christopher Plummer), who has turned on his native land and is now serving as a spy for the Third Reich. What von Grunen and fellow Nazi Steinhager (Gert Frobe) don't know is that Chapman is actually a triple-agent who has carried out orchestrated "sabotage" and returned to occupied Europe to feed them false information (after, of course, claiming his Iron Cross). Triple Cross is a bit too low-key for its own good, but a fine supporting cast (including Trevor Howard, Jess Hahn, Romy Schneider, and Howard Vernon) and excellent Henri Alekan cinematography make it prime viewing for spy-movie junkies. It's followed at 3pm by a rare wide-screen airing of Brynner's Adios Sabata (1971), a passable spaghetti Western from director Gianfranco Parolini.

5pm HBO2
Which Way Home (2009 USA): Which Way Home, first seen at this year's Tribeca Film Festival, makes its small-screen debut this evening. Director Rebecca Cammisa received a Fulbright Fellowship to make this heartbreaking documentary, which tracks the adventures (if such they can be called) of a group of Mexican and Guatemalan children as they attempt to reach and cross the Rio Grande in search of work. All but the coldest of Minutemen will be touched and saddened by the stories herein of dead, raped, and imprisoned youngsters whose dreams of a better life disintegrate on the road to the United States. Also airs at 8pm.

Thursday 08/27/09

12:30pm Encore Action
Return to Macon County (1975 USA): Judging from recent programming, Encore Action has acquired the rights to a ton of AIP features, and here's another of the studio's biggest hits. Nick Nolte and Don Johnson star as Bo and Harley, a couple of free spirits who take to the road in their custom '57 Chevy in hopes of making it to California for the drag racing nationals. Along the way, they pick up a waitress (Robin Mattson) and (via an unfortunate accident) attract the attention of local law enforcement, who vow not to let the trio cross county lines. Set in 1958, the film skimps on period detail, but the cast do the best they can and there are plenty of automotive thrills to distract you from the inappropriate '70s décor.

5:15pm Sundance
The Italian (2005 RUS): A brutally frank exposition on the decaying social structures of post-Soviet Union Russia, The Italian will hopefully encourage you to take a second look at that fly-by-night adoption agency you just hired. Six-year-old Kolya Spiridonov headlines as Vanya, an orphan abandoned in the remote vastnesses of the steppes by his beleaguered mother. He lives in a Dickensian orphanage run by scheming ne'er-do-wells Madam and Grisha (Mariya Kuznetsova and Nikolay Reutov, respectively), who are hoping to sell him to the highest bidder; in this case, a rich Italian couple out child-shopping. Not at all happy about the arrangements being made on his behalf, Vanya decides to do a runner and go in search of his birth mother, but Madam and Grisha aren't about to let their cute-as-a-button meal ticket get away without a fight, and they're soon hot on his trail. Young Spiridonov delivers a spirited and believable performance as the feisty lad, and the film is beautifully shot by Aleksandr Burov, who captures the lay of the landscape (and the chill of winter) to superb effect. Also airs 8/28 at 4:35am.

Friday 08/28/09

6pm Sundance
Zebraman (2004 JAP): Good Lord, does director Takeshi Miike EVER take a day off? Here's yet another feature from this tireless toiler, one of four films he completed in 2004. The film features Shô Aikawa (Pulse) as Shinichi, a Japanese Joe Sake-Pack who adopts the personality of superhero Zebraman in an effort to make up for the disappointments of his "normal" life. When he finds his alter-ego thrust into conflict with alien invaders, Shinichi must decide whether to embrace his inner action-figure or shuck off his costume and ignore the threat from outer space. Needless to say, he makes the right choice, and this briskly-paced (if overlong) genre spoof takes off in all sorts of wacky directions.

10pm Sundance
Drama/Mex (2006 MEX): A multi-story drama co-produced by actor Gael Garcia Bernal, Drama/Mex relates three (or is it two?) interconnected tales set in Acapulco. This isn't the Acapulco the tourists generally visit, however; it's here dubbed "Crapapulco". There's a dangerous relationship game played out between two young folk (Emilio Valdés and Diana Garcia), a jilted boyfriend (Juan Pablo Castaneda) who shouts a lot, and a middle-aged schlep (Fernando Becerril) who steals his employer's payroll and decides to off himself at the beach. If the film is a little too indebted to the style of Iñárritu and Arriaga, it partially compensates with attractive photography and a tighter narrative focus than, say, the overreaching 21 Grams.

Saturday 08/29/09

1:30pm Turner Classic Movies
After the Fox (1966 ITA-GB): I haven't seen this Vittorio De Sica comedy for at least a quarter-century; all I really remember about it is the theme song (provided by The Hollies, and not their best effort) and Maurice Binder's credit sequence. So this recommendation comes with extra caveats! Peter Sellers stars as Aldo Vanucci, an Italian master criminal out to get his hands on a large shipment of purloined gold. Aldo decides to masquerade as a film director on location, which will provide him cover and close access to the treasure, but complications ensue when he is compelled to assemble a full cast and crew for his imaginary "film", including an aging movie star (Victor Mature) hoping the project will revive his sagging career. Purportedly laden with cinematic in-jokes about Fellini and neo-realism, After the Fox was written by Neil Simon and co-stars Akim Tamiroff, Martin Balsam, and future Sellers spouse Britt Ekland. I don't remember it being very funny, but perhaps it's improved with age.

10pm Turner Classic Movies
Two-Way Stretch (1960 GB): A day of Peter Sellers on TCM is highlighted (well, for me, at least) by this rarely-shown caper comedy about a criminal who plans to carry out a jewel robbery whilst doing time! Sellers plays Dodger Lane, a miscreant plotting to take a brief one-day sabbatical from his jail cell in order to steal some diamonds from an Arabian sultan. Dodger's task is made easier by his close relationship with the prison governor (Maurice Denham), who's convinced himself his charge is now well on his way down the straight-and-narrow. With the aid of fellow cons Soapy (Wilfrid Hyde-White) and Jelly (David Lodge), Dodger hopes to pull a fast one on the authorities, but he hasn't reckoned on newly-arrived screw Crout (Lionel Jeffries), who takes a distinctly more jaundiced view of the governor's rehabilitation efforts. Clocking in at a breezy 78 minutes, Two-Way Stretch is no Sellers classic, but is jolly good fun nonetheless.

Sunday 08/30/09

7am IFC
Singh is Kinng (2008 IND): This silly piece of fluff follows the misadventures of Sikh villager Happy Singh (Akshay Kumar), sent by his neighbors on a mission of mercy to the Land Down Under. The locals have learned that one of their own, ne'er-do-well Lucky Singh (Sonu Sood), has taken up a life of crime in Australia, and they decide to dispatch Happy and wise elder Rangeela (Om Puri) to make him see the error of his ways. Alas, Lucky ends up mistakenly passing the crime boss torch to the clueless Happy, and moderately hilarious complications, not to mention song and dance, ensue. This is far from a great film, but Kumar is really quite excellent as the disingenuous hero, and there's a final-reel cameo appearance by Snoop Dogg!

9am HBO2
In Bruges (2007 GB): Brendan Gleeson and Colin Farrell make a terrific screen team in this very dark tragic-comedy about a pair of hired assassins sent to the medieval city of Bruges to lay low after a London assignment goes bad. Whilst awaiting further orders from nutcase boss Harry (Ralph Fiennes), the duo break bread with a film crew and befriend a cocaine-sniffing dwarf (Jordan Prentice), but things rapidly go pear-shaped, leading to a bloody finale that is as hilarious as it is harrowing. A brilliant character study from playwright Martin McDonagh, In Bruges earned the London-born scribe a well-deserved Academy Award nomination for Best Original Screenplay.

Monday 08/31/09

6pm HBO
Youth Knows No Pain (2009 USA): America's obsession with staying forever young is examined in this brand-new HBO original documentary. Directed by Mitch McCabe (herself the offspring of a cosmetic surgeon!), the film examines the $60 billion industry that vainly tries to apply the brakes to that which cannot be stopped: the aging process. You'll laugh, you'll cry, you'll get a nip-and-tuck, and then your face will be stuck in the tragic rictus grin of failed plastic surgery.

9pm Turner Classic Movies
80,000 Suspects (1963 GB): This awkwardly-titled hospital drama stars Richard Johnson as Dr. Steven Monks, a man struggling to save his marriage whilst stemming a looming smallpox epidemic. Wife Julie (Claire Bloom) no longer trusts her man, whose roaming eye has landed him in hot water, and by shocking coincidence the outbreak of pox is traced back to the very woman with whom Steven has strayed! How's THAT for poetic justice! Set in bucolic Bath, 80,000 Suspects may be melodramatic and overwrought, but makes its wide-screen television premiere tonight.