Box Office - Decade at a Glance: January - April 2002
By Michael Lynderey
August 24, 2009
BoxOfficeProphets.com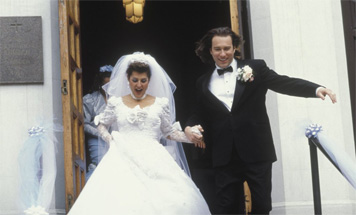 ---
2002 didn't introduce as many trends and biggie franchises as the previous year, but it did give us another opening weekend record, as well as what is arguably the most unexpected box office performance of the entire decade..

January - February

January got 2002 off to a good start, as a few decent hits arrived to ring in the new year. MTV Films continued their tradition of releasing a teen movie on the month's second weekend - this year's model was Orange County, a light comedy with Colin Hanks and Jack Black. The film opened to $15 million and finished with $41 million - a good sum, but below the lofty performance of Save the Last Dance on the same weekend in 2001. For Jack Black, it was another well-reviewed comic role, and a big step on his path to stardom. Colin Hanks, on the other hand, never really broke out as a teen movie lead (in fact, he wouldn't be seen in another big movie until King Kong in 2005). The third weekend of the month brought out an even bigger hit, as Disney's good-natured family film Snow Dogs catapulted to an amazing $81 million after opening with $17 million. What was the secret ingredient here? As you may have guessed, it wasn't the presence of Cuba Gooding, Jr. in the lead. Rather, it was that age-old unwritten box office rule that gets proven as true again and again and again - when you put a lot of cute, furry animals in a movie's poster and trailer, said movie is going to make a lot of money, and that's all there is to it. G-Force was not a fluke.

The last weekend of January featured a hodgepodge of films targeting different audiences. Weepy romance a Walk to Remember was another teen movie hit (it finished with $41 million, same as Orange County), and gave star Mandy Moore leading woman status, if only for a while. The Count of Monte Cristo was a well-reviewed historical adventure, and gave Jim Caviezel one of his best grosses, with $54 million. The loopy Richard Gere-Laura Linney thriller, the Mothman Prophecies, did okay with $35 million, but that was before the time when any PG-13 horror story was seemingly contractually obligated to gross untold millions, regardless of how uncommercial it may have initially seemed. The bizarre martial arts parody Kung Pow!: Enter the Fist also came to town, but the less said about that one the better.

February had only one big breakout hit - Denzel Washington's John Q. Washington was riding high on his Oscar nomination for Training Day, and this somewhat audience-manipulating hostage-crisis thriller had no trouble opening to $20 million and finishing with $71 million - a typically masterful Washington gross. While Denzel was riding high, other leading men weren't so lucky. Arnold Schwarzenegger had his second-to-last starring role to date with Collateral Damage, but the fighting-the-terrorists angle wasn't enough to overcome middling reviews, so a $40 million total is all that became of this. That number was probably looking pretty good to Bruce Willis, whose excellent war movie/courtroom drama mix Hart's War took in only $19 million. Both of these films were budgeted at over $70 million, no doubt to the everlasting regret of their makers. And finally, Kevin Costner's supernatural thriller Dragonfly grossed only $30 million. That would usually be a disappointment, but this number fit in all too frighteningly well with some of Costner's previous films. Nicole Kidman's Birthday Girl took in $5 million, but this unconventional, low-budget thriller was probably never intended for higher shores anyway.

While the adults were floundering, younger stars did a lot better. TV actor Frankie Muniz had his first definitive star vehicle with Big Fat Liar, and the $47 million gross for that one propelled both him and co-star Amanda Bynes into decent film careers, at least for the next few years (Paul Giamatti, playing the villain, was also clearly moving up from relative obscurity). Meanwhile, soapy road trip film Crossroads gave Britney Spears her only big leading role to date. The $37 million it grossed wasn't too far off from the total of Mandy Moore's January film, but generally negative reviews and word-of-mouth are probably why Spears hasn't dipped into the film acting pool again.

The rest of the month had long-forgotten oddities like Queen of the Damned (the second starring role for pop star Aaliyah, released after her death), Super Troopers (the first film from comedy troupe "Broken Lizard"), the dead-on-arrival teen comedy Slackers (which featured Judd Apatow's Jason Segel in an early supporting role), and the much-delayed Rollerball, which cost yet another $70 million and grossed only $18 million, thus derailing the career of one more American Pie alumni (Chris Klein, this time). And, hey, Disney had another hit - their Peter Pan sequel, Return to Never Land, was shifted into theaters instead of its pre-ordained straight-to-video fate. At $48 million, it was the second biggest grosser of the month, so it looks like that theatrical release was a smart decision.

March

March 2002 started off strong - Mel Gibson's We Were Soldiers, about the early days of the Vietnam War, overcame the already-evident war movie stigma, opening with $20 million and finishing with $78 million. This was Gibson's last year as leading man, although it does look like he's off plotting his comeback right now. Young gun Josh Hartnett wasn't as lucky with his abstinence-themed comedy vehicle 40 Days and 40 Nights, but you could do a lot worse than that $37 million total. March 8th brought along a new version of the Time Machine, delayed from its original Christmas release date. Bad reviews are probably what derailed this film, which fizzled out after a $22 million opening, finishing with $56 million. How long until this is remade again?

March 15th saw the release of Ice Age, the second non-Pixar CGI film to hit it really big at the box office (Shrek was of course the first). Perfectly scheduled around March Break, the movie catapulted a $46 million opening into a $176 million total. After this, every studio wanted into the CGI fray, and the film's production company, Blue Sky Studios, became a major player (aside from the Ice Age sequels, Blue Sky was also behind Robots and Horton Hears a Who). The CGI wars were officially on. Also out on the same day were the Eddie Murphy-Robert DeNiro buddy comedy Showtime (a disappointment at $37 million) and the video-game adaptation Resident Evil. The gross for that latter film, $39 million, may not seem like the franchise-starter that it was, but it was apparently enough to warrant a sequel or two. Resident Evil also turned Milla Jovovich into a sort of B-movie version of Angelina Jolie, but the R.E. films were Jovovich's only real box office successes, to any degree, during the 2000s.

The last two weekends of the month brought out some decent hits. Action-horror combo Blade II got Guillermo del Toro on board to direct, and it showed, with better reviews and a higher gross than the first film ($81 million to $70 million). Panic Room, a well-reviewed, meticulous-though-conventional thriller by David Fincher, opened with $30 million and finished with $95 million, giving Jodie Foster another excellent resume entry. Dennis Quaid had a very respectable hit with the baseball-themed The Rookie, which got all the way to $75 million after a $16 million opening (now those are great legs!). And finally, the somewhat-hyped 20th anniversary re-issue of E.T. took in only $35 million. The E.T. monster (okay, friendly alien) wasn't the only oddity lurking out and about in the last days of March - the bizarre Barney the Dinosaur parody Death to Smoochy was left behind at the box office, despite the presence of stars Robin Williams, Edward Norton and Danny DeVito, while the inexplicable cross-dressing comedy Sorority Boys didn't have much to show for itself, either. On quiet nights, you can sometimes still hear the ghosts of these films sobbing (especially if you get cable).

April

After a fairly strong March, April was home to a few decent hits, too, and one monstrous behemoth of a box office performer. Ashley Judd had a mildly successful re-teaming with Morgan Freeman, High Crimes ($41 million), while the excellent Ben Affleck-Samuel L. Jackson thriller/character study Changing Lanes took a $17 million opening to a $66 million finish (this marked the beginning of a terrific box office year for Affleck). Also good was the gross of the Mummy spin-off, the Scorpion King - while $90 million isn't at summer blockbuster-level, it's nothing to sneer at for a badly-reviewed April film starring a first-time leading man - yes, this was the Rock's debut, and while he hasn't quite reached that predicted Schwarzenegger/Stallone-superstar status, he certainly keeps trying. But the monster of the month didn't star anyone most people had heard of; rather, it was a film that perhaps illustrates the concept of word-of-mouth success better than any other in the history of cinema (or at least in the 2000s). On its first weekend, April 19th, My Big Fat Greek Wedding was a small regional release, out in New York, Los Angeles, Baltimore, Dallas. 108 theaters in all. The reviews were okay, leaning on the positive, but not thoroughly enthusiastic. I thought the movie could make a million dollars or so if it was lucky.

But something about this film struck the right note with audiences - something that led to this generally likeable romantic comedy escaping from its niche release, and continuing to add on theaters pretty much every summer weekend, ending up in over 2,000 of them only in October. The per-screen average on that first weekend was in the $5,000s, and here's a key to the film's success - throughout its expansion, My Big Fat Greek Wedding didn't rise above a $6,000 average, nor fall under a $3,000 one until the weekend of November 1st. It reached the $50 million mark only in mid-August, the $100 million mark in early September, and $200 million in November. So here's a film that went from having never been intended for wide release to finishing with $241 million and ranking right up there with Harry Potter, Spider-Man and Lord of the Rings at the top of the 2002 box office charts. It's the kind of performance that may never be replicated, and I'd rank My Big Fat Greek Wedding as the #1 biggest box office surprise of the entire decade (good thing it doesn't have Titanic to compete with for that slot).

The rest of the month offered no surprises. There was Angelina Jolie's Life or Something Like It, a romantic comedy that proved that Jolie was better off in action films. Sandra Bullock starred in Murder by Numbers, a decent thriller that didn't get past $31 million. Box office success was not in store for the Sweetest Thing - a raunchy sex comedy with Cameron Diaz - nor for National Lampoon's Van Wilder - which gave Ryan Reynolds his first starring role. Frailty, an excellent little thriller with terrific performances by Matthew McConaughey and Bill Paxton, was forgotten with only a $13 million total. And finally, April 2002 saw the release of the first Friday the 13th movie in nine years - Jason X, documenting the adventures of the hockey-masked killer in space, opened with little fanfare and finished with $12 million. It was enough, evidently, to inspire New Line Cinema's greenlighting of the long-awaited Freddy Vs. Jason, a film that ended up outgrossing Jason X in its first day. It happens.