Weekend Wrap-Up
Glorious Inglourious Basterds for Tarantino, Universal and the Weinsteins
By John Hamann
August 23, 2009
BoxOfficeProphets.com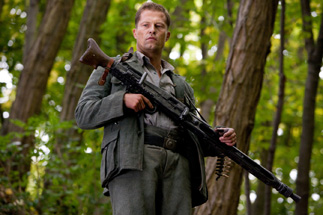 ---
Like the crack of a baseball bat finding the sweet spot, the box office was electrified this weekend as Quentin Tarantino's Inglourious Basterds opened strongly, setting a box office record for the offbeat director's career. The other openers, Shorts from director Robert Rodriguez, Post-Grad starring BOP-fave Alexis Bledel (Sin City, Gilmore Girls) and X-Games 3D: The Movie, all lived in the shadow of Tarantino and District 9, last weekend's big opener.

Our number one film of the weekend is Quentin Tarantino's Inglourious Basterds, the violent World War II epic released by The Weinstein Company and the struggling-this-summer Univesal Studios. Basterds, despite its ultra-violence, R-rating and two-hour plus running time, ran up an extremely solid weekend score of $37.6 million from 3,165 venues. Tarantino should be extremely pleased. For a director without a large box office pedigree, this is a huge win, as this opening take destroys the helmer's former biggest opener, Kill Bill: Vol. 2, which opened to $25.1 million over three days in April 2004. On the domestic front, it already looks like Basterds will be at least Tarantino's second biggest film, as it will surely pass the $70 million earned by Kill Bill: Vol 1, and may have a chance at Pulp Fiction's domestic total of $108 million. For star Brad Pitt, Basterds is also a strong box office acheivement, finishing behind only the Ocean's 11 series ($38.1 million, $39.1 million and $36.1 million openings), Mr. & Mrs. Smith ($50.3 million opening) and Troy ($46.9 million opening).

Basterds worked for a number of reasons. The subject matter of the film enabled the engagement of Tarantino fans, hungry for strong dialogue, ultra-violence and cool movie music. Fans of the director were left somewhat confused after Grindhouse, the Tarantino/Rodriguez throwback experiment that pretty much failed in 2007 with an $11.6 million opening and $25 million finish. This is a return to form for Tarantino, and critics noticed. Inglourious Basterds is 86% fresh at RottenTomatoes, with 158 positive reviews out of a possible 183. These positive reviews were great news for the Weinstein Brothers and Universal, as good notices for a pop-culture director are often gold at the box office, and they erased some questionable word-of-mouth coming out of this year's Cannes Film Festival. With the reviews and the opening weekend, Basterds now has to be considered as the front-runner for Awards Season coming out of the summer movie season, along with Pixar's Up, and potentially District 9.

The real winners with Basterds, though, are the studios involved, The Weinstein Company and Universal. Universal has not had a summer to remember, releasing losers like Land of the Lost and Funny People, and losing millions in the process. Additionally, Harvey and Bob Weinstein desperately needed a win. The Weinstein Company has not had a hit since leaving Miramax, with their biggest title under their new banner being Hoodwinked, a 2005 kids movie that earned $51 million. Their (former) biggest opening was Hannibal Rising, which tanked in 2007 after opening to $13 million. According to the LA Times, Inglourious Basterds cost $70 million to make, with the Weinsteins splitting the costs and grosses with Universal, who is distributing overseas. With $200 million or more possible worldwide, both studios will see some nice profits from Basterds, and the Weinsteins still have The Road coming before the end of the year.

Finishing second is last weekend's big winner, District 9, which debuted to a powerful $37.4 million in the previous frame. This weekend, facing direct competition from Inglourious Basterds, District 9 held on okay, with a gross of $18.9 million and a drop of 49%. With both District 9 and Basterds targeting males, we knew one of these films was going to lose out, and as usual, the holdover takes the hit while the newcomer thrives. Still, District 9 is a huge hit with $73.5 million so far (against a $30 million budget), with $100 million certainly not out of the question. Neill Blomkamp is going to be THE name to watch over the next few years. While there are some who would like Blomkamp to return to the Halo franchise, if he could continue to produce fantastic, original stuff like this, wouldn't we all be better off?

After dropping almost 60% in its second weekend, G.I. Joe is again falling over itself as it loses a large part of its audience again in weekend three. G.I. Joe earned only $12.5 million this weekend, dropping another 44% in the process. What once looked like an easy stroll to reach $200 million now looks like a grind to earn $150 million. A good comparison for G.I. Joe is The Fantastic Four, which opened to $56.1 million, dropped 60% to $22.8 million, and then 45% to $12.6 million. Fantastic Four finished with $154 million against a budget of $90 million. G.I. Joe cost Paramount much more to make at $175 million; however, we unfortunately can't paint a true FAIL message on this one, as it's earned $120.5 million domestically, and another $100 million overseas so far. It may suck, but its going to be profitable.

The Time Traveler's Wife also had a rough weekend, and it wasn't fighting with a new opener for demographic appeal. Rough word-of-mouth gives The Time Traveler's Wife a three-day gross of $10 million, and a drop compared to last weekend of 46%. As this column has often stated, these romance films are made for legs, and this one just isn't going to have them. The opening and total will be good enough to continue to propel forward the career of Rachel McAdams, who sees her biggest "above-the-title" gross so far, and is in the upcoming Sherlock Holmes film, which stars Robert Downey Jr. as the great detective. The Time Traveler's Wife has now earned $37.4 million against a budget of $40 million, a number Warner Bros. should be truly happy with, given that this one was shot way back in 2007, a fact that I thought the studio managed to hide very well.

Fifth goes to another chick-flick, Julie & Julia, Sony's take on Julia Child. After opening to $20 million and dropping an okay 39% last weekend (against the opening of The Time Traveler's Wife), Julie & Julia has another fine weekend in the third frame, with the film earning $9 million and dropping 25%. Who would have thought the turnout for this one – a film about a chef and a blogger – would turn into a possible $75 million hit for Sony? So far, this small, $40 million budgeted film has brought in $59.3 million, and could bring another Oscar nomination for Meryl Streep – who still has two more big projects coming in 2009, The Fantastic Mr. Fox from Wes Anderson and It's Complicated, her new comedy with Steve Martin that's set for a Christmas Day release.

Shorts, the new film from Quentin Tarantino's pal Robert Rodriguez, did the opposite of Inglourious Basterds this weekend and fell on its face. I thought this one looked fun, but obviously the target didn't, as Shorts earned only $6.6 million from 3,105 venues. Usually, Rodriguez has a lot of success with the kids stuff, but not this time. His other kid-friendly flicks include the Spy Kids series (opening grosses between $16.7 and $33.4 million) and Sharkboy and Lavagirl ($12.5 million opening) so Shorts has to be a disappointment for the folks at Warner Bros. Likely made for between $30 and $40 million, Warner Bros. is going to have to chalk this one up as a loss as a final gross of $20 million is unlikely.

G-Force finishes seventh this weekend as the guinea pigs are heading for the door (but not nearly fast enough). G-Force earned $4.2 million and actually had a pretty fair hold as it dropped 39%. This one cost $80 million plus and has a running total of $107.3 million. Whether we like it or not, this one's going to be a franchise (sorry if you were eating).

Harry Potter and The Half-Blood Prince holds onto a top ten spot for another weekend as it finishes eighth. Mr. Potter earned $3.5 million and dropped 32% compared to last weekend. It looks like Half-Blood Prince will finish as the second biggest Potter film, as it will shortly pass Goblet of Fire ($290 million) and Order of the Phoenix ($292 million). Half-Blood Prince has a total now of $290.3 million, and has crossed the $575 million mark overseas.

Ninth place goes to the Katherine Heigl flick The Ugly Truth. The crtically reviled rom-com earned $2.9 million this weekend and was off 36%. Sadly, the $40 million Sony production has now earned a solid $82.9 million.

New release Post Grad finishes tenth this weekend as Alexis Bledel couldn't lift this comedy off the ground (she should have worn her Sin City outfit). Post Grad earns only $2.8 million over its opening frame, and will be gone in a heartbeat. This one was only 9% fresh at RottenTomatoes.

Overall this weekend, the box office has something to celebrate thanks to those Inglourious Basterds. The top 12 films at the box office this weekend earned a powerful $113.1 million, well ahead of last year when the top 12 took in only $74 million. Next weekend is horror weekend, as two films vie to take the crown away from Quentin Tarantino. Opening movies are The Final Destination and Rob Zombie's Halloween 2, so hopefully audiences are in for a scare.