Weekend Forecast for August 21-23, 2009
By Reagen Sulewski
August 21, 2009
BoxOfficeProphets.com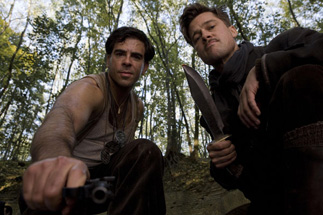 ---
It's a rare end-of-summer treat, as one...no, wait, two of genre filmmaking's masters return to the big screen this weekend. Admittedly one isn't quite in the genre you'd first think, but he's a master nonetheless. While their two films try to dominate the box office, two others that feel like throwaways try to beg for scraps.

Quentin Tarantino returns to the business of artful gore with Inglourious Basterds, a film set in Nazi-occupied France during World War II. Brad Pitt heads up a secret company of Jewish soldiers dropped behind enemy lines and tasked to be as brutal as possible in the killing of Germans, in the hopes of terrifying them into abandoning the war. Hey, good luck with that.

Let loose on this idea, Tarantino does his level best to produce one of the goriest and most over-the-top war epics, while mixing in his trademark verbose dialogue. Much like with Kill Bill (both of them), Tarantino seems to be working comfortably in the area of pastiche, and combining his influences into a blender, by way of commenting on them. More than any other filmmaker, Tarantino has consistently been able to deconstruct past movies and recontextualize the important parts into crackerjack entertainment.

After the box office failure that was the Grindhouse experiment, Tarantino's gone a bit more conventional this time, or at least, what passes for conventional with him. Pitt's the main recognizable face, though Diane Kruger, BJ Novak and Samm Levine (and Mike Myers in a brief supporting role that's being hidden away in deference to his status as box office poison) will probably be familiar to a lot of people. In a fairly strange decision, fellow director Eli Roth, he of Hostel and Cabin Fever, takes the lead role as the most sadistic of the soldiers in the troupe. There's a lot banking on recognition of Tarantino's presence, and on just how much Brad Pitt is involved in the movie.

Six and seven years ago, the Kill Bill movies opened to the low- and mid-20s before fizzling out a bit. It feels like Basterds is a slightly more accessible movie than the Japanophile/spaghetti western homage that was those two films, even if adding a comedic aspect to Nazis in World War II still feels a bit risqué. Opening in over 3,100 venues, Inglourious Basterds looks set for about $29 million this weekend.

In what I'm assuming is a bizarre coincidence, Tarantino's frequent collaborator Robert Rodriguez also debuts a film this week, though it's safe to say the crossover audience between Basterds and Rodriguez's film Shorts will be minimal at best.

Returning to the kids' adventure world, where he so thoroughly flourished with the Spy Kids movies that he turned into $100 million films almost literally in his garage, Shorts centers around a group of boys that discover a brightly colored rock that grants wishes, and the chaos that ensues therein. It's a comedic romp that's aiming at the eight to 14 set with broadly written action and some rather top-notch effects for a kids film.


There's also a surprisingly high level of cast among the adults (the kids, of course, are almost total newcomers), including Kat Dennings, Leslie Mann, Jon Cryer, Bill Macy, and James Spader, among others. Of course, Rodriguez is the guy who got George Clooney to cameo three times in the Spy Kids series. All those names aside, the target audience isn't really about to recognize most of them, unless they're huge Pretty in Pink and/or Fargo fans (and why not, I ask?). Reviews haven't been great to this film, though I don't foresee too many kids reading reviews about this – what matters is whether it looks funny and/or action-filled. I suspect it does to them, though adults will probably find it pretty dire. Look for about $14 million for this on the weekend.

Post Grad stars Alexis Bleidel of Gilmore Girls as a woman who after graduating from college, finds herself having to move back in with her parents (Michael Keaton and Jane Lynch). On the road to figuring out what she's going to do with her life now that the comfortable bubble of college has popped, she finds herself torn between the exotic neighbour and her childhood best friend (played by Friday Night Lights' Zach Gilford), whom she's never seen "that way" and has always relied on. I'll give you two guesses how this one plays out.

Reviews have been shockingly unkind to this film, considering that it's largely an unassuming semi-romantic comedy aimed at teenagers and the early-20s set. Most have hammered it as a pointless and feeble comedy filled with unlikeable characters in a plot filled with contrivances. Well sure, if you're going to judge based on those criteria... As The Continuing Adventures of Rory Gilmore, it had the potential of finding an audience, but those reviews are basically going to sink it. Look for just $4 million on its 1,958 screens this weekend.

Appropriately enough, X Games 3D: The Movie feels like a bit of a stunt. Opening in 1,399 theaters, it's a one-week event featuring footage from the 2008 XGames, and tries to utilize the new 3-D technology. Promotion has been next to invisible for this, and while 3-D is the hot new thing, this is basically an ESPN special writ large. If this makes even $2 million it's doing well.

District 9 took the cinema world by storm last weekend, opening to $37 million with its tale of alien rebellion set in Johannesburg. Marking the arrival of a new talent in Neill Blomkamp, the unusual sci-fi actioner took advantage of a brilliant viral ad campaign and, relatively speaking for its budget, mind-blowing special effects.

A near universal positive response certainly bodes well for legs on this, but although the temptation is there to call it the next Sixth Sense or something, I'm feeling tempered in that assessment. It's still a late-summer action film, and it's still entirely possible that the viral campaign got out most of the people who were interested already. Take a look at Cloverfield, for instance, which didn't make it to twice its opening weekend. I think a very positive outcome here would be something around the neighborhood of $20 million for its second weekend.

G.I. Joe has basically spat in the face of most of what's good and holy by reaching the $100 million plateau shortly after its second weekend of release. This filmed explosion demo reel and toy commercial fell off about 60% in its second weekend, which is pretty close to acceptable, though it's still not 100%. While competition doesn't play that much of a role at this point, look for action junkies to get their fill with Tarantino this weekend. Give this another $9 million.

The Time Traveler's Wife salvaged the best of a bad situation with an $18 million opening weekend, even as Warners seemed to do their best to destroy it with a botched ad campaign that started far too late in the day. With a bit of an older and female skewing audience that will often take its time to get to theaters, this might be in okay shape and should see a second weekend of about $11 milllion.

That's kind of the situation we saw with Julie & Julia, which held onto $12 million of its $20 million opening weekend last frame. While it's a bit premature to start talking Oscars, this does star Meryl Streep. Look for another $7 million this weekend, bringing it over the $50 million mark.