Weekend Wrap-Up
Audiences Flock to District 9
By David Mumpower and Kim Hollis
August 16, 2009
BoxOfficeProphets.com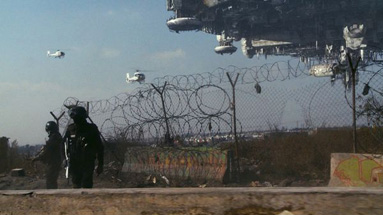 ---
Over the past 15 years, the period from the middle of August until Labor Day has become a dumping ground for Hollywood's less favored film projects. With five releases scheduled for this weekend, there was little reason to expect a fundamental difference from past summers. In recent days, however, buzz grew to deafening levels for a relatively unheralded science fiction film produced by an industry icon and a uniquely sci-fi romantic title also garnered attention. Combined with the North American release of another instant classic from Studio Ghibli, three of the five titles this weekend offered intrigue to consumers while the other two pulled a Hans Gruber and died hard.

Just a couple of years ago, Fox and Microsoft had laid the groundwork for the most tantalizing of film projects for 18-49 year –old males, Halo. Months were spent in pre-production for what was anticipated to be a tent-pole action film of epic proportions. In a stunning reversal of fortune, Fox got cold feet and bailed on the project. They had huge concerns about the percentage of up-front revenue Microsoft was demanding for their iconic property. The bigger worry, however, was that storied director Peter Jackson had decided to produce the project rather than direct. He had made the bold but honest decision that one of his protégés, a 27-year-old wunderkind named Neill Blomkamp, could make a better movie than he could. A refreshing decision in an industry long lamented for its massive egos and insecurities, this choice was unacceptable to Fox. If they were spending seven figures on a monumental production budget, they wanted the guy who helmed Lord of the Rings running the show rather than this South African kid who had been getting his coffee on the set. Blomkamp tried to change their minds by filming a series of shorts that placed his talents on display, but it was simply too big an expenditure for risk-averse Fox and frankly an understandable decision.

Having wasted half a year of his young life, Blomkamp's reputation was bloodied. Undeterred, he did what the best of us always do in the face of defeat. He rebooted and made the correct determination on how best to proceed. After further conversations with his mentor, Jackson, Blomkamp decided that one of his live action shorts, Alive in Joburg, was a good choice for a feature length project and while he claims it was not a conscious decision, he also repurposed some of his ideas for Halo action sequences and weaponry into his new effort. Jackson used his pull with Sony to get them to invest a modest $30 million on the production, an imaginative combination of Aliens, Cloverfield and Alien Nation. While this amount is small for a major science fiction release, it's still rare for a first time director to be blessed with such a large amount of capital for a mainstream debut. Such is the benefit of being Peter Jackson's protégé.

Fast forward two years to now and Fox has to be kicking themselves over what might have been on the Halo project. District 9 has just won the weekend with a spectacular $37.0 million result at a blistering $12,135 per location, putting the film squarely in the black after only 3 days in theaters. Even more impressive, however, is the fact that unlike last weekend's $54.7 action winner, G.I. Joe, District 9 looks to be a box office factor for a while to come. Reviews are nothing short of glowing. In point of fact, the 89% fresh rating on Rotten Tomatoes screams end-of-year awards contender rather than large budget summer science-fiction movie. District 9 somehow managed to look fresh and original without giving away any of the plot.

For many months now, industry observers agreed that District 9 looked like one of the most novel summer studio releases in a long time but only in recent days did people begin to allow for the possibility that a complete unknown could accomplish such spectacular box office results. Most of us believe quality is not anathema to profit, but each time a G.I. Joe happens, that belief is shaken. The difference between last week's number one film and this week's is one of the most startling in terms of quality in recent memory. G.I. Joe wasn't screened for critics and when they finally saw the film, they were glad they brought their torches and pitchforks with them to the screenings. Meanwhile, District 9 is already being hailed as a Blade Runner for the new millennium. Its place in the lore of great sci-fi is already assured and it has only been in theaters three days. Sony has a massive winner on its hands here, and I would not be surprised if it winds up earning more than G.I. Joe over the course of their theatrical runs. In fact, the best box office comparison moving forward may prove to be Tropic Thunder, last August's big fish in a very small pond.

The glass is far from half empty for the second place film, G.I. Joe, as well. On the heels of $54.7 million last weekend, the Paramount release drops only 59% to $22.5 million this frame. And yes, I say only because declines of over 60% are nothing out of the ordinary these days for films opening on the same scale as what G.I. Joe managed. Given the scathing reviews and lackluster (to be polite) word-of-mouth, a much stiffer drop would not have been unexpected here. Instead, G.I. Joe continued to play young this weekend with the benefit being that it held up a bit better than expected. Its running total of $98.8 million after ten days is about what I expected it to earn during its entire domestic run. So, Paramount has pulled a rabbit out of their hat on one of the most troubled big budget productions in recent memory.

Coming up in third place is The Time Traveler's Wife, the romantic weeper starring Eric Bana and Rachel McAdams. This film is based on a very popular and highly regarded novel by Audrey Niffenegger, and reviews of the film seemed to indicate that the magic of the book did not necessarily translate over to the big screen. Even so, the movie managed to bring in $19.2 million over the weekend and a venue average of $6,427, which is most likely a testament to the appeal of Rachel McAdams. Thanks to her work in The Notebook, she's rather perfect for these kinds of roles - and a very low-key, likable star as far as the public is concerned.

The same can't really be said for Eric Bana, who has yet to really stand out in any performance he's given other than Chopper, an Australian film that not many people saw in the first place. He was roundly rejected as the Hulk, was in a critical and box office disappointment in Lucky You, and no one even remembers he was in The Other Boleyn Girl. Even in his movies that have more critical acclaim, he's frequently been part of an ensemble rather than the central player - Black Hawk Down, Troy, Munich and Star Trek spring instantly to mind.

It does appear that there was somewhat of a rush factor on The Time Traveler's Wife, as its weekend multiplier (total three-day box office divided by Friday box office) came in at 2.49, just a bit worse than The Notebook. Since its Fresh Rating at RottenTomatoes currently sits at 37%, there's also cause for concern about its longevity. Frequently, female-targeted weepers will perform strongly in the long run, but given the fact that fans of the novel will likely be disappointed in the adaptation, it's facing some hurdles in the weeks to come.

Ordinarily, we might say that a 38% drop for a female-targeted movie such as Julie & Julia is worrisome, but given the fact that it was in direct competition for the same demographic as The Time Traveler's Wife, the decline could reasonably have been expected to be as much as 50%. Its holding power is more than likely a credit to the combined star power of Meryl Streep and to a lesser degree Amy Adams, not to mention the fact that the story and subject matter are rather delicious, if you can pardon the pun. In its second weekend, Julie & Julia earned $12.4 million, good enough for fourth place. Since there was some tracking that would indicate that the movie would open in the $15 million range, Sony has to be pleased that its total so far is $43.7 million. In the coming weeks, Julie & Julia's hold should improve, and Meryl Streep already is being positioned as a potential Academy Award nominee for the role.

Hanging around in fifth place is the Jerry Bruckheimer guinea pig movie G-Force, which has a solid hold based on the fact that it's the only real 3-D offering in theaters at the moment, and also is one of the few mainstream kid offerings out there. Disney's G-Force, which for some reason features the awesome Bill Nighy, earned another $6.9 million and dropped 30%. The movie is just shy of $100 million (it sits at $99 million even), which puts it about $50 million shy of its reported budget. Of course, with overseas revenue and ancillary income, it's going to be a nice money maker for the studio, which means we can probably look for some straight-to-DVD movies featuring the little critters at the minimum.

Down in sixth, we find an attempted star vehicle for Jeremy Piven, star of HBO's Entourage. The Goods: Live Hard, Sell Hard brought in $5.4 million from 1,838 theaters, good(?) for a venue average of $1,860. It wasn't like Paramount Vantage didn't try to market this one. Ads were everywhere, and Piven participated in a variety of stunts intended to draw attention to the movie's impending release, including guest hosting WWE's Raw. Even though this was produced by Will Ferrell and Adam McKay, The Goods just never looked particularly funny, and the ads had the stink of desperation about them, almost akin to what happened with Semi-Pro a year and a half ago. Piven doesn't really seem like the type of actor who can open a film, and the performance of The Goods bears that notion out. Perhaps it's time for Ferrell and McKay to try some new tricks, because the old ones are starting to get a little stale.

It's questionable whether Harry Potter and the Half-Blood Prince will be able to make it to the $300 million mark, particularly as its weekend-to-weekend drops have been larger than one might hope for a movie so highly regarded by critics. The sixth title in the series fell 42% to $5.1 million, and now has a running total of $283.9 million. Still, no one involved in the creation of the film is going to be too torn up over its performance, particularly as it has also accumulated more than $540 million overseas. Also, given the fact that it has IMAX theaters to itself until September, it's going to slowly build its numbers and might do a little better than expected in the end.

The Ugly Truth managed to hold up better this weekend, its third, than it did in its previous frame. The Katherine Heigl/Gerard Butler (get ready to see a lot more of him before the year is out) romantic comedy fell 33% to $4.5 million and has a running total of $77.5 million. That's about double its budget, which has to make Sony very happy, and also guarantees that Heigl is going to be the go-to gal for these types of roles for awhile to come.

John Lasseter, Chief Creative Officer at Walt Disney Animation Studios and Pixar, has long been a fan of Japanese animation savant Hayao Miyazaki. And he has good reason for this admiration. Miyazaki has really never had a misstep in his long and industrious career, which began in animated television series and then moved on to become an empire known as Studio Ghibli in his home country. Because they love his work so much, Disney decided to put some real support behind Miyazaki's latest movie, Ponyo, and release it in 927 theaters rather than take the more guarded approach and give it the limited release that they have with previous films, such as Howl's Moving Castle, Spirited Away and Princess Mononoke. This means that Ponyo was able to take in $3.5 million for the weekend, which is about a third of what the Academy Award-winning Spirited Away managed in its entire run. We'd still posit that the limited approach might have been best, because this movie is primarily going to attract devotees of the director. It's certainly a great film for kids, but those unfamiliar with Miyazaki's storytelling style were probably not the target audience. If you're willing to be adventurous, though, this is a movie that is 95% fresh at RottenTomatoes and has some of the most vivid, beautiful 2-D animation you're likely to see in the next few years.

Rounding out the top ten is indie sensation (500) Days of Summer, which earned another $3 million this weekend and fell only 19% on its strong word-of-mouth. Fox Searchlight has a real talent for turning these little indie flicks into box office gold, and (500) Days of Summer's current box office total sits at a quite solid $18 million. Since the Academy Awards has expanded the best picture field to ten, it has to be considered a contender for a slot.

Finishing outside the top 12 is our final opener, Bandslam which featured High School Musical alum Vanessa Hudgens in one of the lead roles. Despite solid reviews, Bandslam earned only $2.2 million from its 2,121 screens, which gives it a venue average of only $1,061. You'd wonder if distributor Summit Entertainment might not have been expecting more, but it's not like they really gave it a lot of marketing support. So far, Zac Efron is definitely coming out on top in the battle of the High School Musical kids.

Combined box office for the top 12 this week is estimated at $125.4 million. This is up 12.3% from 2008's total of $111.7 million. The aforementioned Tropic Thunder was the anchor film with $25.8 million, so almost the entire difference between 2008 and 2009 is the $11.2 million difference between Tropic Thunder and District 9's opening weekends. Just as was the case this weekend, next weekend sees several new releases as well, three of which are somewhat connected. The biggest is of course Quentin Tarantino's Inglourious Basterds. Tarantino's buddy, Robert Rodriguez, also releases another kids' film, Shorts. BOP fave Alexis Bledel, who worked with Rodriguez on Sin City, stars in her second post-Gilmore Girls project, the aptly themed and titled Post Grad. And then there is X-Games 3-D: The Movie, which, to the best of my knowledge, has nothing to do with Bledel, Rodriguez or Tarantino, but you're welcome to Kevin Bacon it all you want to try to connect some dots there.