Friday Box Office Analysis
By Tim Briody
August 15, 2009
BoxOfficeProphets.com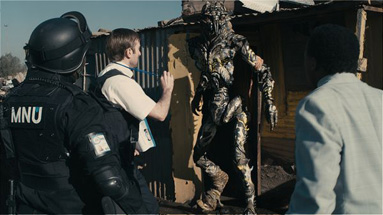 ---
[tm:4100_]District 9[/tm]

Sci-fi flick District 9 opened to a solid $14.2 million on Friday. Buoyed by solid marketing, an intriguing premise and positive reviews, this turns out to have had all the makings of a solid hit when it wasn't even on anyone's radar a couple of months ago. I think there was slight rush factor here, though not to a ridiculous extent. A $36.6 million weekend is fantastic for something starring absolutely nobody you've heard of and directed by an unknown.

The Time Traveler's Wife

Based on the best-seller, [tm:2348_]The Time Traveler's Wife[/tm] does perhaps a little better than expected on Friday, earning $7.7 million. Looking at The Notebook for a comparison (best-seller, love story, [bp:5725_]Rachel McAdams[/bp]), it surprisingly had a lousy 2.55 multiplier on its opening weekend. I guess there are Nicholas Sparks greasy fan girls. I don't think The Time Traveler's Wife will duplicate that feat but it does temper my expectations over the rest of the weekend. Expect a very decent weekend total of $21.5 million.

[tm:4142_]The Goods: Live Hard, Sell Hard[/tm]

Jeremy Piven's The Goods: Live Hard, Sell Hard is not the bomb of the week, earning $2 million on Friday. While that's still not all that great, it's still better than [tm:4731_]Bandslam[/tm]. Give it a weekend of $5.4 million.

Ponyo

The latest Miyazaki film to be released in North America, Ponyo earned $1.2 million on Friday in 927 theaters. Miyazaki films have never had such a wide release here so there are no good comparisons, although it's safe to say that the $10 million earned by Spirited Away in 2002 is likely to fall in a couple of weeks. A weekend of $4 million is a pretty good start for Ponyo.

Notable Holdovers

[tm:4156_]G.I. Joe: The Rise of Cobra[/tm] falls off a cliff as expected, down 68% from last Friday to $7 million. There's nothing shocking about these drops anymore. A second weekend of $20.7 million is in store for the now ruined childhood memory.

Blog to movie Julie and Julia drops 45% from a week ago to $3.6 million, which is pretty good in the face of The Time Traveler's Wife. It's still got some competition for the date movie dollar over the rest of the weekend, but a good second weekend of $12 million is about where the [bp:3463_]Meryl Streep[/bp]/[bp:9186_]Amy Adams[/bp] film should end up.