Top Chef Masters Recap
By Jason Lee
August 14, 2009
BoxOfficeProphets.com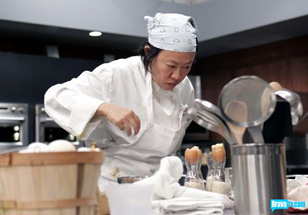 ---
This week on Top Chef Masters Recap: Shorty get lo, lo, lo, lo, lo...

Here we are with the pentultimate episode of Top Chef Masters. Last week we saw everyone's favorite southern teddy bear of a chef, Art Smith, get sent home, leaving Anita Lo in the competition despite her stunningly bad performance during both the Quickfire and Elimination Challenges. Since the beginning, I've viewed Anita as one of the clear frontrunners for the three-chef finale (along with Hubert Keller and Rick Bayless) but she'll need a strong rebound to make it there.

Along with those three aforementioned chefs, we have Michael Chiarello whose pompous, arrogant, self-impressed attitude has rubbed me the wrong way since his first challenge. I'd love nothing more than to see him go home today.

Douchebag.

In any case, Kelly kicks off the Quickfire Challenge with no time to spare. This is the final Quickfire that the Masters will have to endure and (as I have from the beginning) I'm hoping we see the "Name Those Ingredients" challenge from last year (won by Stefan).

Alas, we are not treated to a repeat of that challenge but I'm not disappointed in the least because instead, we have the Blind Taste Test challenge from Season 1. That was a FANTASTIC challenge, in which the chefs had to taste and identify 20 ingredients blindfolded. This is gonna be good.

One by one, the four masters taste their ingredients and due to the montage-esque edited nature of the piece, we can't tell who's ahead. All we know is that none of the chefs can identify hoisin sauce but everyone knows ketchup when they try it.

Ranking first after the challenge, having named seven ingredients correctly, is my loathed foe, Michael – for the win, he gets five stars. Tying for second are Anita and Rick, who correctly named six ingredients – they each get four stars. In last place, but not far behind, is French master, Hubert Keller, who named five ingredients correctly – he gets three and a half stars.

This being finished, Kelly makes some ominous comments about how the success of a chef depends on more than a great palette, it also depends on their ability to lead (chef = chief, get it?). Chefs need to hire the right staff, communicate their vision and oversee execution. This elimination will test those skills as they prepare a buffet lunch for 200 Hollywood insiders. And who will help our Masters prepare their dishes?

Why, chefs from past seasons, of course! I know that this is a pretty typical tactic by the Top Chef producers, but I love it every time they do it. I never fail to get a kick out of seeing our past cheftestants (and getting a look at how much weight the male cheftestants have put on since we last saw them).

A cursory glance over the crowd by the camera and I'm already seeing some of my favorites. Fabio is there (I'm sure he'll work with our favorite non-favorite, Michael), as is Jaime from last season and Elia from season 2 (she was my favorite of her cast). We also see Richard Blais from Season 4, and Elan the winner of Season 2 . . . wow, he's gotten big.

The Masters get 2 minutes to interview each chef before they pick their teams. As can be expected, their own personality comes out during these interviews. Rick is looking for someone whose favorite flavors compliment his own culinary style. Anita is hugging Jaime, who used to work for her as a sous-chef in one of her restaurants. Hubert, already imagining his menu, is specifically looking for a chef with pastry expertise.

"What's your experience with French cooking?" he asks Betty.

"Only eating it," she responds. Ah, that's why I loved you, Betty.

The other amusing moment takes place when Richard introduces himself to Anita as the "runner up from Season 4," before pausing for a moment and adding, "but I really should have been the winner." As a fan of Stephanie, I take offense at that comment, Richard.

Michael is being a complete a-hole, forcing chefs to scurry around their kitchen, complete menial sous-chef tasks as quickly as possible as he inquires about their own culinary skills, all the while demeaning them like a berating mother whose child had just wet their pants in the grocery store.

Have I already mentioned that I dislike him?

Interviews finish and teams are selected . . . with poor Betty and Spike picked as the last two sous-chefs. That can't feel good.

Team Michael: Fabio, Brian and CJ (pretty bad team if you ask me)

Team Rick: Richard, Alex and Betty (not bad but Alex is a pretty weak chef)

Anita: Jaime, Dale and Elan (this seems like the strongest team to me)

Hubert: Antonia, Elia and Spike (second best team IMO)

Rick circles his team up and asks for their input. Richard doesn't care, he just wants to make something with liquid nitrogen. Ah, Richard, you haven't changed a bit.

Anita is going Asian with a raw bar . . . and very quickly, alarm bells go off in my head. Tom Colicchio has said in the past that you can't just try and go middle of the road with your dishes, you must plan your dish knowing that it's good enough to win the challenge . . . and a raw bar just doesn't seem good enough to win. Jaime, apparently, feels the same way and suggests some Asian rolls or noodles but Anita wants to keep it simple. Oh boy . . .

Hubert goes the Rick route and polls his sous-chefs as to what they'd like to make. Elia suggests sliders. Oh Elia, don't you remember how Tom was not a fan of your burgers in restaurant wars? Bad suggestion.

Michael doesn't give a crap about what his sous-chefs think, saying that he has no time to understand what their strong points are as chefs. Yeah, you didn't have time. You were too busy telling them to julienne carrots and grill them on the correct pronunciation of your name.

Douchebag.

Grocery shopping and prep work goes off without a hitch, save for one inflammatory (and unnecessary) argument between Michael and Dale. Apparently, neither one of them has left second grade as both of them claim that they'd called "savesies" on one of the fridges. Oh yeah, and Jaime is taking way too long cleaning her fish, to the complete annoyance of Anita.
With two and a half hours to go, Kelly strides into the room looking dangerously thin (strange for the host of a cooking show, no?). The plans have changed, she says. Instead of an inside banquet, the lunch will take place on the outside terrace . . . basking in the hot, Los Angeles sun. I'm thinking that Anita should re-think her raw seafood bar . . .

As if that weren't enough, each Master now has to get rid of one of their sous-chefs.

Fabio is not happy. "I'm sweating like a mountain goat at the beach and now she's telling us that we have to get rid of one of us?" he asks incredulously. Oh Fabio, how I've missed your broken, sometimes-inappropriate English.

Michael cuts Brian, saying that his part of the menu is all finished. Hubert cuts Spike. Rick cuts Betty, saying that he only wanted her to help make his table pretty (pretty misogynistic, no?) and Anita cuts slow, slow Jaime.

In no time flat, the chefs are moving their food out to the terrace for plating – Anita is last, working furiously to finish. Michael is complaining about the look of his table.

A sea of customers enters and the judges (James, Jay and Gael) are quick to try Anita's food. They compliment her pork spareribs and noodle salad (heavenly, says Gael) but there's an overall sense that she's lacking a "wow" factor both in the dishes presented and their flavor.

Michael is next with a rustic Italian buffet including prime rib, three anti-pastas and two desserts. Gael is not a fan of his risotto, James complains about the briny flavor of the shrimp and Gael complains further about his mushy, grainy swordfish.

Whew, Anita may be safe after all.

Everything is good with Hubert and Rick. Our French chef has laid out a veritable feast with lamb, oysters, gazpacho . . . Gael says that she feels that all $2,000 of his budget (groceries and tableware) went into the food. There are no complaints.

Similarly with Rick, with a Mexican food buffet, we have a diverse spread of dishes that run the gambit of Mexican cuisine. Tortilla soup, shrimp, guacamole . . . there's even an avocado ice cream that Richard Blais is freezing on the spot with liquid nitrogen. Rick is a sunny and bright chef and he's a joy to have on this show.

Back at Critics Table, Rick gets further praise for his expansive selection of food and his willingness to trust his dessert (the ice cream) to his sous-chef, despite the fact that Rick himself had never worked with liquid nitrogen before.

Hubert gets a warm welcome, having put out a feast that tasted like a million bucks according to Jay. Gael loved his oyster and James loved the progression of his dishes.

Anita gets a lackluster response. Everyone loved the spareribs but she gets skewered for putting out a raw bar in the hot sun. "Did you consider doing something else?" James asks. Anita responds by saying that she had no time and her selection of seafood was not suitable for use in a different dish. ("A fish stew with tuna?" she suggests jokingly. The judges laugh and appear to agree with her.)

Michael gets asked what he felt was his most successful dish of the day and Michael says his rice was his best. Now, I'm Asian and I like rice just like anyone else but I hardly think that RICE can be someone's best dish. Jay criticizes the "curious" flavor of the swordfish, with Gael calling it "furry." Kelly, who's rarely critical of a chef, didn't like the overly oily, soggy quality of his olive oil cake.

I have my fingers, toes and eyes crossed that Michael will go home.

As expected, Rick and Hubert are announced as the top Masters in this challenge. Rick, who started with four stars, gets four and a half from the diners, four and a half from Jay, four from Gael and four and a half from Jay. He has a huge total of 21 and a half stars.

Hubert was in last after the Quickfire, with only three and a half stars. The diners gave him three and a half stars, but James, Gael and Jay give him five stars. That's just enough to edge Rick and he wins the $10,000 for his charity.

That leaves Anita and Michael in the bottom two – one will go to the finale next week and the other will go home. Anita starts with four stars but only gets three from the diners. Gael gives her three and a half stars, James gives her three and Jay gives her three and a half. Her total is 17, which is extremely low. I do not feel optimistic about her dodging a bullet for the second week in a row.

Michael, my most hated person left in this challenge, won the Quickfire and so he starts with five stars. He only needs 12 and a half, or just over three stars from each judge. He gets three and a half from the diners, three from James, four from Gael and four from Jay.

ARGHHHHHHHHHHHHHHHHHHHHHHHHHHHHHHHHHHHHHHH.

Michael gets a total of 19 and a half stars, more than enough to beat Anita. And with that, the only chef to have scored above 22 stars in a single episode (she scored 24 on episode 7) is going home. She will not make it to the finale and Top Chef, once again, will be an all boys club.

It's going to be a hard-fought battle next week as Michael, Rick and Hubert fight it out for the title. I'm looking forward to it.

And Michael better lose. That's all I'm saying.