The Indie Month That Was
Signed, Sealed, Delivered
By Michael Lynderey
August 13, 2009
BoxOfficeProphets.com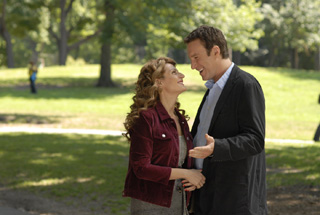 ---
Slim July pickings, Bigelow goes to war, and Vardalos' long goodbye

Bigelow's solid Locker

The cinematic landscape of the past few years is littered with Iraq War movies that ranged from complete, partial, or mild disappointments at the box office. The list is long and sturdy - In the Valley of Elah, Stop-Loss, The Lucky Ones, Lions for Lambs, Redacted. Their too-topical subject matter is usually cited as the reason for their failure, but I'm not so sure. Most or even all of these films received mediocre to mildly positive reviews, and worse - they were serious and somber awards-contenders that didn't end up getting any Oscar nominations, save for Tommy Lee Jones in Valley of Elah, so they didn't benefit from an awards-season boost at the box office. Clearly, there was more behind their low-key box office than simply a case of tackling a subject most people didn't want to spend a night at the movies with. It could've happened to any old dusty drama, and did.

I suppose the issue is resurfacing again with the release of The Hurt Locker, a new Iraq War-set film that's been quietly toiling away underneath the blockbusters of the summer, after opening in late June. The film is directed by Kathryn Bigelow, who's helmed a lot of very solid thrillers that never went anywhere at the box office - Near Dark, Blue Steel, and especially Strange Days (Point Break, her one definitive box office hit, is an exception). Her new film is getting unanimous critical acclamation, with a 98% Fresh rating on Rotten Tomatoes (only three lone critics voted "No") and a lot of "Best Film of the Summer" declarations. It stars largely unknown actor Jeremy Renner (whose performance has been praised through the roof), along with more seasoned thespians like Ralph Fiennes, Guy Pearce and David Morse. And it's about an American bomb squad in 2004-era Iraq.

So the question could be asked - if it wasn't about the Iraq War, would the Hurt Locker be doing better? So far, the film has played in a high of 535 theaters (not a full wide release) and grossed around $9 million. That's certainly a respectable performance, and the film could soon end up the highest grossing non-IMAX release of the year to play under 800 theaters (the current champ is Amy Adams' Sunshine Cleaning, at $12 million). But its per-screen average has recently dipped down into the $2,000s, meaning that the movie has probably already peaked. If the Hurt Locker is underperforming according to any definition, I'd say it's because of a general lack of interest in this kind of serious thriller, without any clear draws in the cast, and especially during summertime. The Iraq War theme may have something to do with it, but it's only one piece in a larger set of reasons. And besides, if it can beat an Amy Adams film, then the Hurt Locker must have been doing something right.

July doldrums

After the June onslaught of high-profile indie movies, July certainly quieted down some. While the June movies were gaining some momentum, July didn't have much new to offer.

While the aforementioned Hurt Locker was expanding, Sam Mendes' road trip opus Away We Go ended up with a respectable $9.4 million. Woody Allen's Whatever Works more or less finished its run with $5 million, meaning it's unlikely that Larry David is going to be much of a film star. Whatever Works is now Allen's sixth highest grossing title of the decade, ahead of Hollywood Ending, Melinda and Melinda, Anything Else, and Cassandra's Dream (in that order), and behind Vicky Cristina Barcelona, Match Point, Small Time Crooks, Scoop, and The Curse of the Jade Scorpion. Allen's next film has a much more high-profile cast, so that ought to do well in 2010. Will he ever stop his one film-per-year streak? I doubt it.

The July offerings saw some name actors pop up in low-profile films, but to no particular box office avail. There was Kevin Spacey in (and as) Shrink, about a celebrity therapist, and that didn't get past 27 screens and a gross in the $150,000-area. Jeff Daniels played the title role, a pretentious novelist, in The Answer Man, but that one failed to expand at all past its six-theater opening, despite the presence of bubbly co-star Lauren Graham. And finally, Josh Lucas, Jacqueline Bisset and Adam Brody (remember him?) all showed up for Death in Love, a family drama set in New York. The director, Boaz Yakin, started off the decade with the $100m+ hit Remember the Titans, but ended up with this film, which went from four, to three, to zero theaters in the span of three weeks. You spend enough time in this company, and Woody Allen's box office starts to look good.

Vardalos hates Valentine's Day

A little movie called I Hate Valentine's Day opened on July 3rd in a mere three theaters nationwide. It grossed an average $1,670 per location, and then, for obvious reasons, pretty much completely disappeared (forever?). What those few who saw the film may not have realized was that they were in fact witnesses to a momentous historical occasion: it was, almost certainly, the last big-screen starring role of one Nia Vardalos.

Vardalos' career is so interesting that it could almost inspire one of those rags-to-riches TV movies. It would be about a little known theater and television actress who hits it big, basks in the glow of fame and fortune, and then fades away as star vehicle after star vehicle resolutely disappoints at the box office. Vardalos, of course, was the writer and star of the 2002 juggernaut My Big Fat Greek Wedding, which came out of absolutely nowhere to amass a gross of $241 million. If you take out the four effects-filled fanboy films that precede it on the 2002 box office chart (Potter, LOTR, Star Wars and Spider-Man), Greek Wedding was the highest grossing film of that year. Obviously, on January 1, 2003, Nia Vardalos had the power to do just about anything she wanted. She could buy and sell any of us with the snap of a finger. And perhaps she did.

But now comes the last half hour of the TV movie, the part the sadomasochists look forward to. Vardalos' 2003 TV show adaptation, My Big Fat Greek Life, was cancelled after seven episodes. Vardalos' next starring role, the 2004 cross-dressing comedy Connie and Carla, which she also wrote, grossed a mere $8 million. After five years, Vardalos had a chance at a comeback, and what became of that was the cinematic equivalent of a one-two punch: My Life in Ruins, her first 2009 release, matched Connie and Carla in its intake of $8 million (just to be clear, that's not a good thing). Her next release was the above-mentioned Valentine's Day excursion (it was yet another romantic comedy, in case anyone had any doubts), and based on that film's adventures in the lower ebbs of the box office charts, it appears that this particular TV movie has come to its inevitable end.

What lessons can the rest of us learn from this gory story? I don't know. If you make a decent film that takes in untold fortunes, don't follow it up with a lot of bad movies that don't improve on what didn't work in your initial success, while obscuring what did? That could be it. Or maybe it's that we can't truly appreciate longevity without witnessing a real life one-hit-wonder once in a while - and someone has to be it, so the rest of us can learn from their mistakes.