Weekend Wrap-Up
Paramount Muscles G.I. Joe to Top of Box Office
By John Hamann
August 9, 2009
BoxOfficeProphets.com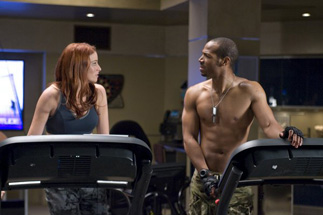 ---
Audience manipulation is something movie studios do in such a sublime way that no one usually notices. This weekend, Paramount turned that statement on its head, with the release of G.I. Joe: Rise of the Cobra, the latest over-cooked military commercial from Paramount and producer Lorenzo Di Bonaventura (Transformers).

Our number one film of the weekend is G.I. Joe: Rise of the Cobra, and what should have been a $25-30 million opener is much bigger, thanks to the powerful marketing arm of Paramount Pictures. G.I. Joe got off to a very strong start, recording a huge-for-August three-day gross of 56.2 million from a massive 4,007 venues, giving this one an average of $14,025. Thankfully, Joe is not the biggest thing ever in the month of August. That record still belongs to a good film (The Bourne Ultimatum, with a $69.3 million opening frame), but G.I. Joe will finish in the top four, ahead of Rush Hour 3 ($49.1 million opening), but behind the third biggest August opener, Signs, which debuted with a $60.1 million weekend back in 2002. While not the biggest August film ever, Paramount will be quite happy with this debut, as it comes in slightly ahead of tracking expectations that had pegged Joe as a $45-50 million opener.

So how did Paramount do it? How did such an obviously cheesy, poorly-made flick do so well? The fix was in. Other sites will tell you that Paramount didn't screen G.I. Joe for critics prior to the film's release. While this is true for the mainstream media, Paramount actually did show G.I. Joe to a handful of critics they thought they could get onside early, including Harry Knowles from AICN and the dude from CHUD. Both said how this was an awesome film, that our inner-child was going to love it, that we should check our brains at the door and go for the ride. This handful of reviews received at RottenTomatoes enabled G.I. Joe to ride as a "fresh" film up until the day of its release, as no "mainstream" reviewers got to see it up until then. As of Saturday morning, 85 reviews had been counted, and only 32 were positive, leaving G.I. Joe at 38% fresh, and most likely moving downward.

Usually when studios use this practice, they are extremely quiet about it, but not Paramount with G.I. Joe. Paramount's Vice President told the Associated Press that he wanted "audiences to define this film". While this may be true, what the Paramount VP really wants is for young, wired audiences to believe that word-of-mouth is good, so they won't abandon it prior to opening weekend. This strategy, combined with an absolutely relentless marketing campaign (a friend said to me that he thought the Transformers:Revenge of the Fallen profits were all being spent on G.I. Joe marketing), has worked, although Joe has been rumoured to cost as much as $200 million, so a 60% slide next weekend may hurt its prospects. Still, with this opening weekend, and with the film being made to bang home a sequel, Paramount wins this weekend, despite the bad taste that's left behind..


Finishing second is Julie & Julia, the new Meryl Streep/Amy Adams drama about the life of Julia Child. While not your usual blockbuster, Julie & Julia did quite welll this weekend considering the subject matter, opening the film to $20.1 million. The Columbia Pictures release debuted at only 2,354 venues and had a solid average of $8,539. Meryl Streep has become quite the box office draw in the last few years, appearing in five $20 million plus openers since 2004 (The Manchurian Candidate with a $20 million opening, Lemony Snicket with a $30 million opening, The Devil Wears Prada with a $27.5 million opening, and Mamma Mia! with a $27.8 million opening). Had this been another star in the lead role, we would have seen a platform release from the studio instead of the wide release we've seen this weekend. For Julie & Julia, it's nice to see a well-made film (74% fresh at RottenTomaotes) show some strong box office for an under-served market, and give G.I. Joe the comeuppance is so sorely needs.

It was a close race for third from a group of holdovers, one good, two bad. Third place goes to G-Force, the 3-D guinea pig movie. After a 45% plunge last weekend, G-Force endures a similar fate this weekend, as the Jerry Bruckheimer flick earned $9.8 million and fell 44% (this number couldn't be high enough). The Disney flick has now, unfortunately, earned $86.1 million, so a sequel could be coming (G-Force versus G.I. Joe: Dual of Duds?).

Finishing fourth is Harry Potter and The Half-Blood Prince, which is now in its fourth weekend. The Half-Blood Prince earned another $8.9 million and was off 50% compared to last weekend. Thanks to IMAX, Harry Potter recovered somewhat from its 62% plunge in its second weekend to a 39% drop last weekend, but is back to the big drop this weekend, mainly due to the launch of G.I. Joe (which is a military ad aimed at kids). The sixth film in the franchise has now become the fourth biggest, as it passed Harry Potter and the Chamber of Secrets, which took in $262 million in 2002. Potter 6 has now earned $273.8 million on the domestic front, and crossed the $500 million mark in overseas grosses this weekend.

Funny People, which dealt with a soft opening weekend in the last frame, only gets worse this weekend. The Judd Apatow/Adam Sandler/Seth Rogen dramedy opened to a little over $22 million in the last frame, so some sort of score in the double digits must be coming this weekend, right? WRONG. Funny People earned only $7.9 million and fell a nasty 65%. All of a sudden, Funny People looks much like Bruno, except with a bigger budget at $75 million. This is now train wreck-esque, with a total so far of $40.4 million.

Another tanking comedy is The Ugly Truth. After opening to $27.6 million, the Kathering Heigl flick fell 52% in its second weekend, and didn't improve on that much this weekend. The Ugly Truth earned $7 million and dropped a large 47%. Lucky for Sony, this one cost only $40 million to make, and has a gross so far of $69.1 million, so despite being awful, it's going to make money.

Our third new release, A Pefect Getaway, finishes well back of the rest of the pack. The travelogue thriller earned a soft $5.8 million from a telling 2,159 venues. The Universal release, the studio's sixth consecutive miss at a summer hit, was not promoted or released to have an opportunity to breakout, despite reviews that were more good than bad (53% fresh at RottenTomatoes, with "top critics: at 71%). This one did have a production budget of only $14 million, so despite a soft opening, this one will work at some point down the movie business food chain. It's too bad, as the director, David Twohy, has delivered some strong films in the past (Pitch Black, Below).

Aliens in the Attic, which surpised last weekend by making the top ten in fifth with an $8 million opening, finishes eighth this weekend. Aliens earned $4 million in its second frame and was off 50%. Some reports have this film's budget at $45 million, so it has a long way to go to see profitablity.

Ninth goes to Orphan, the horror movie with a stupid twist that still manages to keep hanging around in the lower rungs of the top ten. It took in $3.73 million and fell 50%. So far, its domestic total sits at $34.8 million, which is a pretty standard number for the genre these days.

We finally have a smaller film make the top ten list this weekend and that small film is (500) Days of Summer, the romantic comedy with Zooey Deschanel and Joeseph Gordon-Levitt (who is also in G.I. Joe, but I won't hold it against him). After three weekends of limited release, Fox Searchlight put this one into 817 venues, and it earned $3.72 million and a venue average of $4,559. This one is 89% fresh at RT, as deserves to be seen by as many people as possible. It has a total so far of $12.3 million.

After an anemic couple of weekends, the box office stormed back thanks to G.I. Joe and Meryl Streep. The top 12 films this weekend earned a plentiful $133.5 million, which compares favorably to last year when The Dark Knight was on top (again) and the box office pulled in $111.4 million. Next weekend, I hope things get interesting with the launch of District 9, a film I'm stoked so see, and The Time's Traveler's Wife, a film my wife is stoked to see. Also opening are Bandslam and The Goods, with Jeremy Piven.