August 2009 Forecast
By Michael Lynderey
August 7, 2009
BoxOfficeProphets.com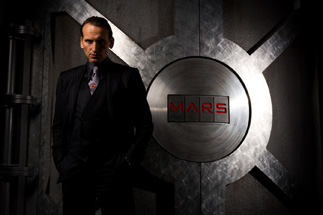 ---
1. G.I. Joe: the Rise of Cobra (August 7th)

The action/adventure department serves up this would-be blockbuster, and the man at the helm is no less than Stephen Sommers, who's a veritable guru when it comes to pumping out $100 million-grossing B-movies (The Mummy series and Van Helsing, to be specific). Given that pedigree, it's no surprise that G.I. Joe is taking up the spot occupied by the third Mummy film last year, although I suspect the studio has higher expectations for this one. And why not? From the trailers, it looks like decent summer action, a subgenre that was sorely lacking in July. G.I. Joe's got Dennis Quaid, who gives it some respectability, and Channing Tatum, whose definitive breakout role this is evidently pegged to be. And it's from Hasbro, the toy company that also gave us Transformers; after the behemothic double-dose that that franchise delivered at the box office, does it really take anyone by surprise that Hollywood studios have rushed to greenlight movies based on '80s toy lines? I suggest Power Rangers get the big-budget treatment next, if only for the pleasure of seeing what the special effects department would do with characters like Lord Zedd, Rita Repulsa, King Mondo, and especially the all-skeletal Rito Revolto. But enough with the shameless nostalgia-tripping; G.I. Joe ought to play like a decent, summer 2001-style hit, and win the month.

Opening weekend: $58 million / Total gross: $135 million

2. Julie & Julia (August 7th)
I'm not usually one to go out of my way to lambast so-called "chick flicks" (or, to use the old-fashioned adage, "women's pictures"), but there's something about this one that just strikes me the wrong way. Maybe it's the shameless, Oscar-nominated (eh... make that soon-to-be Oscar-nominated) hamming by Meryl Streep, or the plucky and somewhat irritating-seeming misadventures of usually likable aspiring chef Amy Adams. It could be the marked obviousness of the whole thing - this was so clearly made out to be the female-driven hit of the summer - with Streep plugged in for the older crowd, while Adams gives it romantic comedy cred - that all the natural charm of such an endeavor is somewhat sucked away. Oh, well. As implied above, this semi-biography of Julia Child is going to open fairly well and then leg it up heftily. It's absolutely excellent counter-programming to G.I. Joe, and may well outgross it. Most importantly, after a long and brilliant career, Meryl Streep seems to have found herself as a strong box office force. This may just add another $100 million grosser to her belt (not to mention another Oscar nod - as if Streep really cares about that at this point).

Opening weekend: $26 million / Total gross: $89 million

3. Inglourious Basterds (August 21st)

What can one say about the box office prospects of a two and a half-hour piece of juicy WWII historical revisionism? Even if it is written and directed by Quentin Tarantino? Well, the somewhat mixed reviews this one got at Cannes aren't going to help any, but fanboy buzz is certainly on alert, and that should nab this a good opening weekend (if not much more). The presence of Brad Pitt in the lead is theoretically a plus, but I think Inglourious Basterds is probably just too weird for most audiences, and the general consensus that we're all tired of war movies should probably still apply here. Hard to call, but I see Basterds coming in on the lower ebb of Tarantino's output.

Opening weekend: $23 million / Total gross: $52 million

4. The Final Destination (August 28th)

Whose idea was it to take a perfectly good sequel and give it a reboot-esque title? Adding "The" to "Final Destination" appears to be a reverse on the rather brilliant decision to chop off two counts of "The" from "Fast & Furious". This rampant trading around of "The" may in fact be the new trend with sequels, and indeed the secret that's being carefully hidden away here is that this is the fourth film in the Final Destination series. The previous three were modest hits, all finishing around $50 million, and this one should be no different, especially because it's in 3-D. The Final Destination is opening on exactly the same day as the so-called Halloween II, a scheduling decision one of the two films is probably going to regret. I don't think it will be this one. The real question is: will the Final Destination series make its way into the 2010s, and if so, what on earth is the next one going to be called? It's not going to be... The Final Destination 2, right? Right?

Opening weekend: $21 million / Total gross: $49 million

5. Shorts (August 21st)

If you liked 2007's Grindhouse and clamored for a sequel, here's an idea: just go down to your local multiplex on August 21st, see Inglourious Basterds, then stick around for Shorts, and you've got yourself that long-awaited second Tarantino-Rodriguez double bill. Yes, this is an entry in Robert Rodriguez' family film oeuvre, another brightly colored, vaguely sci-fi-ish adventure with a cast of unknown child actors matching wits with some choice guest stars (Leslie Mann, James Spader, and the underused William H. Macy, among others). This was originally scheduled for August 7th, which would have made it the fourth kids' movie in as many weeks, so the move to the 21st should be commended for non-Grindhouse 2 reasons as well. Anyway, Shorts ought to perform more-or-less like Rodriguez' 2005 film, the Adventures of Sharkboy and Lavagirl in 3-D, even if it doesn't have quite as extravagant a title.

Opening weekend: $13 million / Total gross: $37 million

6. Halloween II (October 30th)

John Carpenter's Halloween opened three years ago, on an unsuspecting October day in 1978, and then crept up to some terrific legs through the winter and early spring of 1979 (despite the obvious seasonal mis-match). We can probably thank Halloween for inspiring those somewhat excessive slasher rip-offs we got in 1980 and this year, although I did kind of like a few them, like the one where Jamie Lee Curtis had to fight off that psycho (I think it was on a train? Or at some kind of school dance? A fog-bound coastal California town, perhaps?). Jamie Lee has to fight off a psycho again in this one, although director John Carpenter isn't around anymore, which might mean this sequel isn't going to be as good as the first one. But Donald Pleasence is back and I'm glad, because, oh boy, can he ever chew the scenery. Anyway, it's precisely because of those rip-offs that Halloween II should come in under the $47 million tally of the first one; earlier this year, the somewhat underwhelming performance of Friday the 13th Part 2 already showed that the slasher genre doesn't have that same box office luster it had only a year or so ago (too bad that Part 2's mediocre haul means we probably won't see any more of those Friday the 13th films; I was just getting to like them). Halloween II should also probably be moved up to October 23rd from its current October 30th date, because then it can get two good weekends instead of just one (or two-thirds of one). The other studios didn't even bother to put up any competition this month (except for that dumb-looking Burt Reynolds movie!), although I see Hell Night is still at the local drive-in. I might just check that one out; after all, who wouldn't want to see Linda Blair running around screaming in a big empty house?

Opening weekend: $7 million / Total gross: $25 million

7. District 9 (August 14th)

District 9 is fast shaping up to be the most over-predicted movie of the month. No doubt that the initial trailer was sort of clever in setting up one thing and delivering another. But that's all the trailer gives you - just that one joke - and once that's been established, no particular reason to see the film. Is it going to be a sci-fi action adventure? A thriller? A horror film? Some kind of tortured social parable, maybe along the lines of Children of Men? All of the above? More importantly, what's it really about? Trailer doesn't say, but not in a way that makes you want to watch District 9 to find out. The new trailer, on the other hand, makes this seem like a fairly routine sci-fi shoot-'em-up. Basically, even with Peter Jackson's name adorning the posters, I think it's just too late in the summer to set up another big sci-fi hit.

Opening weekend: $14 million / Total gross: $33 million

8. The Goods: Live Hard * Sell Hard. (August 14th)

Speaking of trailers, this one's starts out with a particularly cloying scene that was no doubt intended as a selling point for the film. Car salesman movies - which this is - seem to do well occasionally, and the producing team of Will Ferrell and Adam McKay has delivered some hits in the past. But Jeremy Piven is not really an established comedy star (at least not yet), and the supporting turns from Hangover veterans like Ed Helms, Ken Jeong, and Rob Riggle are only going to help so much (although it is nice to see the somewhat villainous-looking James Brolin get work again). What's really going to make or break this film are the reviews, but even then I don't see a breakout hit here.

Opening weekend: $11 million / Total gross: $28 million

9. The Time Traveler's Wife (August 14th)

This vaguely sci-fi-tinged romantic drama is definitely a cinematic odd-duck. Eric Bana and Rachel McAdams are good choices for the leads, but there's really so little buzz for this title that I have a hard time seeing it reach the level of even something like Nights in Rodanthe (which grossed $41 million last fall). The frequent release date pushbacks aren't going to help, either; they just make this seem like your typical August dumping. And between this and Star Trek, has Bana become typecast as a time traveler?

Opening weekend: $10 million / Total gross: $26 million

10. Bandslam (August 14th)

Vanessa Hudgens is the third High School Musical star to try and make it on her own this year, after Zac Efron (17 Again) and Ashley Tisdale (Aliens in the Attic). Her solo effort is the most similar of the bunch to HSM, and in telling the story of some teens experimenting with their musical abilities, it also resembles the upcoming remake of Fame. Hudgens hasn't really proven herself as a solo draw, and even the addition of retired teen idoless Aly Michalka probably won't much up the ante here. I don't think the producers of Fame should be worried. But then again, I would have said the same thing to the producers of that second mall cop movie.

Opening weekend: $10 million / Total gross: $23 million

11. Post Grad (August 21st)

Alexis Bledel goes the Amanda Bynes route with this light post-college comedy (and indeed, Bynes was originally set to star). While it's nice to see the very likable Bledel finally get a lead role, there's about zero to no chance of this film pulling off an escape from the lower box office tiers, especially in the dog days of summer. If Beth Cooper couldn't do it...

Opening weekend: $8 million / Total gross: $19 million

12. A Perfect Getaway (August 7th)

Writer-director David Twohy has made some intriguing films (The Arrival comes to mind), so this thriller, set in Hawaii, may well be worth a look-see. The cast is vaguely interesting - Timothy Olyphant, Milla Jovovich, Steve Zahn, and newly-anoited superstar Chris Hemsworth. None of them are particular draws right now, but if the studio plays up some good trailers, maybe the film won't be completely lost in the August shuffle. Maybe.

Opening weekend: $7 million / Total gross: $18 million

13. Ponyo (August 14)

Gee, we've reached #13, which means August is the busiest month in some time. But this one is special - the latest film by Japanese animation master Hayao Miyazaki (Japan is where traditional animation took refuge after its domestic defeat by CGI). While the film's reviews are no doubt going to be impeccable, Miyazaki films don't really light the box office on fire. Ponyo is scheduled for a wide release right now, but just like the Black Eyed Peas, I gotta feeling that this film won't open much wider than Miyazaki's last two - Spirited Away and Howl's Moving Castle. Too bad. And while Ponyo may have some legs, I suspect a certain CGI monstrosity is going to come out on top again come Oscar time.

Opening weekend: $2 million / Total gross: $8 million

14. Taking Woodstock (August 28th)

Oscar-loving director Ang Lee is back with another Oscary film. But this one was mostly panned at Cannes, so it looks like Focus Features is just throwing it out into the pre awards, late August arena and seeing if it'll stick. I don't know that there is much interest in this '60s flashback (the '80s are more the rage now), but the film does look kind of intriguing. Considering the heavy dose of somewhat-name actors who pop up here, I'd like to replace the current, very colorful poster with one of those '70s-style ones that advertised disaster movies with pictures of all the stars at the bottom.

15. Paper Heart (August 7th)
This one's a limited release, but it's got some unique indie pedigree - it's a mockumentary starring Michael Cera and under-the-radar comedienne Charlyne Yi. It's hard to say how the film will turn out critically (pretty well, probably), but it might prove useful as another test of Cera's box office prowess - and I'm always up for those. Introducing the potentially talented Yi into the stratosphere could be a plus, too.