Weekend Forecast for Aug. 7-9, 2009
By Reagen Sulewski
August 7, 2009
BoxOfficeProphets.com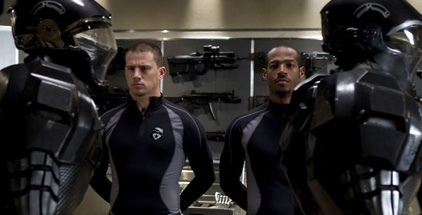 ---
August reaffirms its status as a dumping ground for action films with this weekend's big tentpole, as Hollywood ruins yet another piece of our childhood. Welcome to the suck.

Following the massive success and three-quarters of a billion in worldwide box office of Transformers, it was only natural for other films based on toy series to give it a try. As part of the Paramount/Hasbro deal, next on the block to be brought to life was GI Joe. Complete with the requisite subtitle The Rise of Cobra, this new attempt at a series revolves around the start of the Americ... wait, international elite strike force as it battles with the comically evil force of Cobra. Anyone living near a large recognizable monument should feel more than a little nervous.

With a relatively star-studded cast that includes Dennis Quaid, Channing Tatum, Marlon Wayans, Sienna Miller, Joseph Gordon-Levitt, Chris Eccelston and many more, it's got many of the theoretical pieces in place to be a similar kind of hit to Transformers. And yet...

Aside from the obvious absurdity of the decision to internationalize a force named after the quintessential American military grunt, GI Joe appears to offer up multiple avenues for mockery, like its clearly hammy acting and outlandishly cartoony military equipment, first and foremost the power suits. Sure, as a movie based on a toy line and a cartoon series, the sky is theoretically the limit for silliness and wackiness, but this is a film that's clearly hoping to cut it both ways, by appealing to both pre-teen boys and the overgrown version of those.

Director Stephen Sommers could, in fact, be a source of a lot of these problems. Rumored to have been locked out of the editing room of his own movie while Paramount tried to salvage the film, Sommers hasn't met much he couldn't turn into shlock, with The Mummy perhaps being his lone success amongst a pile of mediocrity (see: Deep Rising, Van Helsing). Some damage control has attempted to paint this as a turn-your-brain-off action flick, which to some extent is a fair cop, but even at that the ads look incoherent. The name brand of this is going to provide a good bit of initial business, as Transformers has provided proof-of-concept, but we're going to see as rapid a dropoff as is reasonably imaginable from its opening weekend of $38 million. Personally, I can't wait for the movie with the gritty take on the Care Bears/My Little Pony wars.

For a movie with slightly fewer explosions, one might look towards Julie & Julia. A combination biopic of celebrity chef Julia Childs and blogger/author Julie Powell, it stars Meryl Streep as Childs and Amy Adams as Powell. Covering a year in the life of Powell as she attempts to cook each recipe in Childs' famous manual of French cooking, it also flashes back to Childs' attempt to find her purpose and break through the chauvinistic ranks of Parisian cooking schools. In essence, it's your basic female empowerment story with a love affair for food thrown in for good measure.


Directed by Nora Ephron, she of feel-good romantic comedies like Sleepless in Seattle and You've Got Mail, it's got a unique hook for a film, but one with little inherent drama, like a Devil Wears Prada without the demonic boss character. Still, this is a pretty strong pedigree for a female-centric film, with Streep currently in a bit of a resurgence and Amy Adams in a death-battle with Isla Fisher to replace Nicole Kidman on the "most prominent porcelain-skinned red-haired actress" throne. I don't see anyone being in a huge rush to see this immediately and it should open with a weekend of about $12 million.

Also opening is an odd little duck of a horror/thriller, A Perfect Getaway. Directed by David Twohy (whose films seem cursed to be ignored or fall under the radar), it stars Steve Zahn, Milla Jovovich, Timothy Olyphant and Kiele Sanchez as two couples on vacation in Hawaii who find themselves in the middle of a tourist-targetting serial killer. The two couples then must team up to survive but not really knowing if they can, or should, trust each other.

One of those late-summer films that just sort of seems to pop out of nowhere on the schedule, A Perfect Getaway isn't the kind of horror film that comes in with buzz, nor is its 30-something cast (even though as a group, they are particularly awesome) going to appeal to the main horror demographic of teenagers and early 20-somethings. Oh, but if Jessica Alba and Paul Walker were in it, then they'd go, right? Stupid teenagers. Where was I? Oh right. Opening on a little over 2,000 venues, this should see an opening weekend of about $6 million.

Funny People captured top spot last weekend amidst a sleepy group of returning films, and underperformed in doing so, opening to just over $22 million. Serious Adam Sandler just isn't a concept that people are ready to embrace, despite the Judd Apatow Midas Touch over the project. As it's not a raucous and screwball comedy like some of Apatow's other films, being far more sentimental, this has little chance of taking off after this slow start, a la The Hangover. A second weekend of about $13 million should be in store here.

Harry Potter and the Half-Blood Prince moved into third place overall for 2009 box office midweek, getting past the aforementioned The Hangover and Star Trek in the same week. With first place well out of reach, the probable $290 million total for Up is what's next for it in terms of milestones. Its first three weekends have been a tad schizophrenic in terms of their weekend drops, moving from over 60% to under 40%, making the true audience reception tough to judge. It does appear that Potter-mania has reached, if not a new peak, at least a new plateau, though that may just account for the sizable second-weekend drop. This weekend should bring it another $10 million, making its four week total $275 million in all.

G-Force continues to present a modest level of competition in the family film market, earning $17 million itself last weekend, largely on the backs of 3-D screens. It should be able to ride that novelty for about one more weekend before falling to the wayside. Add another $9 million here on the way to a $100 million total.

The Ugly Truth took a bit of spill in its second weekend, making Katherine Heigl into a bit of a one-weekend wonder. While her romantic pairing with Gerard Butler marks her with some box office power, she'd be well considered to make the next film actually be, you know, good. Look for this to earn about $6 million and come in around $80 million total.

Another, quirkier romantic comedy expands to a huge degree this weekend. (500) Days of Summer, starring Joseph Gordon-Levitt and Zooey Deschanel, jumps to over 800 venues after spending almost a month building up buzz for its look at a one-sided fling between a guy who believes in true love and a girl that doesn't. Filled with time jumps and copious fantasy sequences, this has become the must-see indie of the summer. Look for it to make a splash with about $5 million here.