Weekend Wrap-Up
Funny People Continues Universal Losing Streak
By John Hamann
August 2, 2009
BoxOfficeProphets.com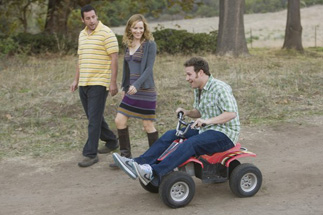 ---
Judd Apatow's Funny People hit movie screens with a thud this weekend, leaving Universal with its fifth consecutive under-performer this summer. Universal has failed to post a $100 million plus earner since Fast & Furious in April, a title that is really the only bright spot on their schedule since exactly one year ago. It wasn't just Funny People that was soft this weekend. The entire top 12 lacked any box office bluster, which could open the door for G.I. Joe next weekend.

Our number one film is Judd Apatow's Funny People, a dramedy starring some of the biggest comic stars working today, Adam Sandler and Seth Rogen. Mis-marketed from the beginning, Funny People earned only $23.4 million from 3,008 venues and chalked up a so-so venue average of $7,795. Despite opening on almost 200 more screens than Knocked Up (which has the same director and two of the stars of Funny People), this one opened to $5 million less than Apatow's last directorial effort, despite starring the biggest name in comedy, Adam Sandler.

Speaking of Adam Sandler, Funny People ends up being his lowest opener since the travesty that was Little Nicky. That one opened to only $16 million in 2000, despite coming out on the heels of Big Daddy and The Waterboy, two films that were $40 million openers in the late '90s. Sandler has consistently been the $35 million to $45 million opening man, and he manages scores like that even when his biggest co-star is Rob Schneider. This time out, he had Seth Rogen, who has become no slouch himself. Sure, Rogen's last two films, Observe and Report and Zack and Miri Make a Porno, struggled with $10 million openings, but he has big hits with The Pineapple Express ($23.2 million opening), Knocked Up ($30.3 million opening) and Superbad ($33.1 million opening). Add Jonah Hill (Night at the Museum 2, Superbad) and Jason Schwartzman (Rushmore), and we should have a big comedic hit, but for some reason we don't. Why? Marketing.

Funny People has been a marketing disaster since the early trailers. We weren't sure if this was a serious Adam Sandler role (Reign Over Me, Punch-Drunk Love), or a funny role, or if it was more of a mix, a la Spanglish, which crashed and burned for Sony in 2004 ($75 million budget, $42 million domestic gross). The TV ads weren't funny (okay, the Die Hard joke is cute), and this is the year of the comedy, where The Hangover, The Proposal and Paul Blart are all huge hits. Funny People didn't open bigger than any of those films. I believe the marketing made a big mistake by selling this as a "Judd Apatow Film" instead of Sandler/Rogen film, like Sony did with The Pineapple Express. Universal has never had a shot at working with Sandler, and now that they have, they've blown it.

For Apatow, this is neither career devastation or even career pothole, it's just missed opportunities. Reviews were fairly good for Funny People, coming in at 64% fresh at RottenTomatoes; however, they are yards away from the critical praise rained on Superbad (87% fresh) and Knocked Up (90% fresh). Next up for Judd Apatow is a producer/executive producer credit on Get Him to the Greek, which stars Jonah Hill and Russell Brand, about a record studio intern trying to control an out of control rock star.

This had been a tough summer and year for Universal. The former super-summer studio has failed to post a $100 million winner, and their biggest opener, Bruno, made headlines more for its floppish weekends that followed its opening rather than its debut weekend. Universal has to look back exactly a year for its last $40 million opener, which came as a disappointment in The Mummy: Curse of the Dragon Emperor. On top of that, Universal's biggest upcoming opener, The Wolf Man, with Benicio Del Toro, has been reported to be bumped from November 2009 to February 2010 due to the dreaded reshoots, which never works out well with pre-release word-of-mouth. The rest of Universal's 2009 looks about as bleak as its summer, and more than a few should get their resumes ready.

Second spot goes to Harry Potter and the Half-Blood Prince, a film that finally had its chance to open on IMAX screens, which featured an opening sequence in 3-D. Potter 6, now in is third weekend, earns $17.7 million and drops 40% after a 62% decline last weekend. This chapter in the series stays exactly even with the previous film, The Order of the Phoenix, this weekend. Phoenix earned $17.7 million in its third frame, and fell 45%. At that point, Phoenix had a running total of $242.4 million, where the Half-Blood Prince is still ahead with $255.5 million. I'm still looking for Half-Blood Prince to finish with about $290 million.

Finishing third is last weekend's champ, G-Force, and it doesn't hold up all that well considering it's a family film and 3-D. G-Force, Disney's latest parent torture trap, earned $17.1 million and drops 46% from last weekend. The Disney flick has now earned $66.5 million, and has an outside shot at $100 million.

Fourth goes to the Ugly Truth, which out-opened Funny People with a $27.6 million debut in the last frame. That's where the good news ends for this comedy, as the Katherine Heigl flick fell a nasty-for-romantic-comedy 53%, as it earned $13 million. Obviously, moviegoers were put off by this one as much as critics were, and Heigl's charming personality on Letterman this week may have hurt totals as well (I think of it as good news). The $40 million film has now earned $54.5 million.

Opening in fifth is Aliens in the Attic, a title I thought would open outside of the top ten this weekend. Somehow this one opened to $7.8 million from 3,106 venues (Fox knew this was a one-weekend wonder with that venue count), and it had an average of $2.511. Aliens must have been buyoed by the massive amounts of kiddie fare that has rolled through cinemas this summer, as I have thankfully not been privy to a single TV ad. Somehow it worked, but I think this will be in the $2.99 bin at Walmart in no time.

Horror flick Orphan falls to sixth spot after a soft opening in fourth last weekend at $12.9 million. The Warner Bros. release managed to keep its nose above a 50% drop (which is good for horror, regardless of opening) as Orphan took in $7.3 million and dropped 44%. The small film with a good marketing campaign has now earned $26.8 million and looks to finish with about $45 million.

Ice Age: Dawn of the Dinosaurs continues its fall after those damn guinea pigs took over all of the 3-D venues that it had. Dawn of the Dinos earned $5.3 million and dropped another 37% after losing 52% last weekend. I don't think Fox will mind too much, as their $90 million film has now earned $181.8 million domestically, and over $500 million overseas.

The Hangover lands in eighth, as the run is slowing for the summer's biggest comedy. The Hangover earned $5.1 million in its ninth frame, and still manages a good hold as it falls 21%. The film that made Todd Phillips a very wealthy man has now earned $255.8 million, as this one crossed the $250 million mark on Thursday, its 58th day of release.

That puts The Proposal in eighth place. The Sandra Bullock starrer had another good hold this weekend, as it earned $4.8 million and dropped 24%. This one has now earned $148.9 million against a budget of only $40 million.

In tenth, we have Transformers: Revenge of the Fallen, as the Michael Bay flick descends down the top ten. Transformers earned $4.6 million this weekend, and fell 43% (maybe folks are wising up). Revenge of the Fallen has now earned $388.1 million and will finish right around $400 million.

Overall, things are not great when comparing the year over year box office. A year ago, The Dark Knight was on top for its third cosecutive frame, and The Mummy: Tomb of the Dragon Emperor opened to over $40 million. The box office was quite healthy, pulling down a top 12 total of $144.7 million. This weekend, with the Judd Apatow miss, the box office top 12 took in only $112.5 million. Next weekend, Universal tries its luck again with A Perfect Getaway (looks good, but what a horrible title), Julie & Julia opens with Meryl Streep, and G.I. Joe rolls onto 3,500 screens.