Friday Box Office Analysis
By Tim Briody
August 1, 2009
BoxOfficeProphets.com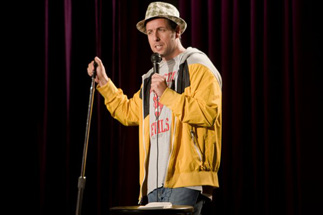 ---
[tm:4608_]Funny People[/tm]

The Judd Apatow directed film starring [bp:1130_]Adam Sandler[/bp] and [bp:9212_]Seth Rogen[/bp] earned $8.6 million on Friday. This is ahead of The 40 Year-Old Virgin's first day ($7 million in August 2005) but behind Knocked Up ($9.8 million). Both of the previous Apatow comedies had multipliers over 3, (3.03 and 3.13 respectively), but given the considerably higher star power involved here, that streak is likely in jeopardy. Sandler's hit from last summer, You Don't Mess With the Zohan had an opening weekend multiplier of 2.59. I see Funny People coming in with a weekend multiplier of around 2.8, which would be a total of $24 million for the weekend.

[tm:3817_]Aliens in the Attic[/tm]

While I know it stars High School Musical's Ashley Tisdale, I'm not going to pretend I know anything about Aliens in the Attic so let's just say that it earned $2.8 million on Friday (and somehow is playing in 3,100 theaters) and will earn $7.6 million for the weekend.

Notable Holdovers

[tm:2096_]G-Force[/tm] falls 50% from last Friday to $5.8 million. The talking guinea pigs will recover a little bit over the rest of the weekend and a second frame of $18.8 million should be in the works.

[tm:4140_]The Ugly Truth[/tm] will not hold up as well as [tm:4507_]The Proposal[/tm] as it drops 59% from last Friday to $4.4 million. Perhaps sharing date movie audiences with Funny People will hurt it more but look for $13.4 million for the weekend for the Katherine Heigl chick flick.

Finally, [tm:3170_]Harry Potter and the Half-Blood Prince[/tm] does move into IMAX theaters, but to minimal impact at the box office as it's off 41% from its second Friday to $5.5 million. Give it a third weekend of $17.3 million.