Weekend Forecast for July 31-Aug. 2, 2009
By Reagen Sulewski
July 31, 2009
BoxOfficeProphets.com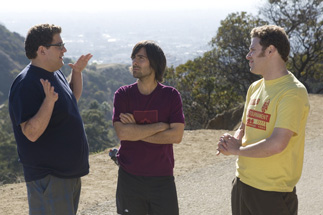 ---
In some years, this part of the summer can be a bit of a dumping ground for films that are more or less abandoned by their studios, even more so than September. In other years, it can be a last gasp for blockbusters. This year is a bit of both, with one film that's reached saturation point, and two others that you'll do a double take at seeing their titles on the marquee.

Funny People has been a big shining beacon on the release schedule for this summer ever since it was set, teaming as it does the hottest name in comedy directing, Judd Apatow, one of the biggest box office draws in comedy, Adam Sandler, and probably the hottest young comedic talent, Seth Rogen. Funny People is essentially Apatow's Almost Famous, a personal story filled with comedy and drama and heartfelt emotion (and okay, some dick jokes thrown in for good measure).

Sandler stars as George Simmons, one of the world's biggest stand-up comics and movie stars (a stretch there) who takes Rogen's character under his wing and tutelage. When Simmons finds out he has cancer, the pair form a deeper friendship, and he attempts to build a legacy. However, the disease goes into remission, and he decides to try and win back his old girlfriend (Leslie Mann – who would be virtually unemployed without her husband, it seems), with Rogen's help.

More than just a maudlin romantic comedy, Funny People also takes a backstage look at what makes comedians tick, and what drives someone into this odd profession. In general, it's pain and loneliness, but try not to think about that too hard, as pity makes for a bad night at the comedy club.

This territory's been covered before in Punchline, but usually people aren't interested in seeing the sausage get made, to borrow a phrase from politics. But, Apatow has found that magic formula of feeling and comedy in films like Knocked Up and The 40 Year-Old Virgin that audiences trust him pretty explicitly. Plus there's Sandler's renewed star power, as evidenced by the absolute dreck of Zohan becoming a hit, that should be worth a few million. Are audience ready for a (semi) grown-up Sandler? Probably not, but they're not being sold that either. Opening on a little over 3,000 screens, Funny People should bring in about $41 million.

Aliens in the Attic actually takes home the prize of widest opening film this weekend, though it's almost as if Fox doesn't want people to know that. A sci-fi family comedy, it stars Ashley Tisdale and a gaggle of nameless teens that must fend off an alien invasion from their summer cottage. If watching this movie is the alternative, I say let the aliens win. We've had a good run. The centrepiece of the trailer seems to be a mind control device that ends up pitching an Aryan teen vs. Doris Roberts in hand-to-hand combat. I bet the people that invent wire work would reconsider their invention if they knew what it would lead to. Not screened for critics, and with virtually no ad presence, I look for this to open to just $5 million.

Similarly unceremoniously dumped is The Collector, a horror crime thriller directed by a writer of some of the Saw films, and the result of Project Greenlight 3. Starring no one you've particularly heard of, it tells the story of an ex-con who pulls a heist at a country home, only to find that a more sinister and evil criminal has already targeted this job, and has tried to eliminate an competition through some elaborate and deadly traps (hmm, I say hmm). While horror is often a license to print money, especially if it's done on the cheap, this seems like a one of the rare situations where the genre is going to let people down. Virtually no ads and little buzz combined with a release slate of about 1,300 screens put this at about a $5 million weekend.

G-Force surprised a few people last weekend by winning the box office race with $31 million, although with a Disney pedigree and 3-D effects, it's not that hard to see why even a film about action hero guinea pigs could succeed. Ordinarily, kids' films are pretty immune to word-of-mouth, but it's been bad enough on this one that it might make an impact, 3-D or no 3-D. Give it $17 million for the weekend.

Harry Potter and the Half-Blood Prince finally gets to move to IMAX three weeks into its run, thanks to a contractual hold by Transformers. It's probably too late to make much of a difference, as those that were mostly likely to pay the extra for an IMAX showing already rushed out and saw the film its first weekend. Still, it won't hurt, and it should be able to come up with about $18 million this weekend, rushing past the $250 million mark.

The Ugly Truth was third despite a $27 million opening weekend, an unusually deep one. In doing so, the romantic comedy confirmed that Katherine Heigl is a legitimate box office draw akin to a Sandra Bullock, or perhaps even higher. I don't see legs on this like The Proposal, however, as it's received some rather terrible reviews (the hexes are working, people! Try harder!). Look for just $14 million this frame, down almost half.

Wrapping up notable films in the top ten is Orphan, the "evil kid" thriller with an absurd twist ending that's beyond all sense, taste and logic. This presents a bit of a wild card scenario, as its absurdity might generate a bit of a cult following, but probably will just inspire derision. Give it a little under $6 million this weekend.

Expanding significantly but remaining outside the top ten will be (500) Days of Summer and The Hurt Locker, two smaller indie films that are slowly building and audience and could still find their way into the top ten later this summer. For now, both should earn about $2 million.