Top Chef Masters Recap
By Jason Lee
July 28, 2009
BoxOfficeProphets.com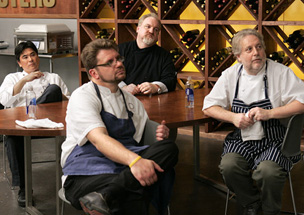 ---
This week on Top Chef Masters Recap: It's one big, chef-y lovefest.

It's the end of the road – one more finalist to name and then we head to the final where six Masters will duke it out for ultimate bragging rights (and a nice chunk of change for their charity). But before that can happen, we still have to deal with four remaining chefs that are trying to claw their way into that final group.

First up, we have Jonathan Waxman, a NYC chef who (according to Tom Colicchio) is fondly nicknamed The Godfather for having trained amazing chefs like Bobby Flay. In its heyday, his New York restaurant was the hangout for Wolfgang Puck, James Beard and Julia Child. Pretty impressive credentials, indeed.

Competing against him is the "King of Fusion," Roy Yamaguchi whom you may remember from the Season 2 finale in Hawaii. We have Art Smith from Chicago who judged in Season 4. He's also gay so I've decided that he's representing Team Rainbow in Top Chef: Masters. Lastly, we have Michael Cimarusti from Los Angeles, a phenomenal seafood chef who actually worked as a line-cook under Jonathan.

Our host, Kelly Choi, enters looking like a Valentine's Day card (all red and lacy) and invites our Masters to draw knives. Each of our Masters gets a knife with a mysterious number on it, from one to four. The Quickfire Challenge this week comes from Season 3, when each chef was assigned one aisle in the supermarket and had to create a delicious dish.

Again, I applaud the show's judgment . . . this was a GREAT challenge, especially memorable for Hung's acid-tripping breakfast seascape, which he made using ingredients found in the cereal aisle. That was . . . special.

Well, we don't have anything that drug-inspired this time around. I think the chefs are having a tough time trying to merge their own culinary styles with what's available in their aisle. Roy admits that most of his food has an asian twist to it and has difficulty integrating it into the Italian ingredients that he finds on his aisle. He ends up serving a pasta with a fried egg on top (he tries to justify the "Asian-ness" of this by saying that this type of thing can be found in Thai or Filipino cooking) but the diners, made up of three Whole Foods employees, find it perplexing.

Michael is also having a tough time as he was given the baking and pastry aisle. Though his wife is a pastry chef, he confesses that he has very little comfort with desserts, but does his best with a whipped chocolate parfait with rum. Two of the diners like it but the female amongst the group doesn't love the rum in it.

Jonathan, the Godfather, creates a roasted pepper and lentil salad from what he found in the canned food aisle . . . it looks rather mushy to me but the diners like the eastern European flavor and the kick of spice at the end.

Finally, we have Art, who got the grains aisle. He makes a risotto with a crispy rice salad, professing that he made the whole thing with "love." This, of course, reminds me of last season's wonderfully spazzy Carla. The diners seem to love the texture of Art's dish.

The scores come out as follows: Jonathan gets three and a half stars. Roy gets a surprising four stars. Art gets four and a half and Michael gets a very surprising five stars for his parfait (guess that lady got tipsy enough to forgive the rum).

The Elimination Challenge is an interesting one: the chefs draw knives with the names of their fellow contestants' name on it. They each get to shop for their selected chef to form a "Mystery Box" filled with 11 ingredients. That chef will have to use at least seven out of the 11 ingredients in their dish. I can easily see how any one chef could absolutely sabotage another chef through this challenge.

But Jonathan doesn't buy it. Though all the viewers already know that this is going to be a lovey-dovey group (they're apparently all in awe of each other), he tells us bluntly, "sabotage doesn't existing in the professional culinary world." Ummm, Jonathan, let me introduce you to my friend Spike. He has a chicken salad that he'd like you to try.

The ingredients are purchased and the boxes are filled. It is revealed that Roy had drawn Art and Art had drawn Roy and thus, they shopped for each other. The subsequent scene unfolds like the politest Christmas morning that you've ever seen. "Ohmygosh, I love this! Thank you! Oh wow, I'm really happy to have this. You did a really great job shopping. How did you know that I wanted this? Thank you!"

As they (and we) have already guessed, Michael and Jonathan have drawn each other. There's not much drama here except that Jonathan, the Godfather, has given Michael, his old line cook, no seafood in his box. None. And Michael is a seafood expert. Oh boy, looks like Darth Vader just pwned Obi-Wan (am I mixing up too many characters from different movies? Oh well).

The Masters get cooking and we have our typical montage of chopping and sautéing. Roy is preparing a marinade of some short ribs, which he's pairing with some mahi mahi for a surf and turf. Michael is doing medallions of lamb. Jonathan is complaining about his bad eyesight and Art is babbling on about food being love again. Yes, yes, we know that you and Carla are culinary soulmates with the same philosophy about food. Now quiet down, Team Rainbow.

The judges today are Gail Simmons from Food and Wine Magazine, Gael Greene whose the food critic for the NY Times and James Oseland, some food writer. Typical panel but minus Jay, the caustic Brit. Also dining are a bunch of culinary students, though not many details are given about them.

Dinner service starts and Art presents fried chicken two ways plus a mango cobbler. It looks delicious but as an homage to southern cooking, it doesn't look like the most refined dish. Everyone seems to love it, though. Gail, in particular, says that it oozes Art's passion and personality. Well, I hope his passion and personality tasted great.

Roy comes out next with his surf and turf, worrying that his mahi mahi might not be all cooked to the same point of doneness. Gael, not a fan of mahi mahi, finds the fish delicious but most of the students voice displeasure with the overuse of lemongrass.

Michael comes out with a loin of lamb and sunchoke purée but ran out of time during plating and thus, half of his plates have no sauce on them. Gael loves the sunchoke purée but James argues that while nothing is bad on the plate, nothing is delicious.

Finally, we have Jonathan and he professes that he had trouble using seven ingredients in his dish – he's doing pork chops and really would have just liked to have seasoned them and seared them, letting their natural flavors emerge. He introduces the dish as an '80s throwback and Gael loves his take on it, calling his purée sensational. James also loves it as a home-cooking type of dish.

At this point, I know that Jonathan is behind after the Quickfire but I'm wondering if he might just sneak up into first place with a big win in the Elimination Challenge. It's a longshot but I think there's a chance.

Back at judges table we have a big lovefest between the Masters. Everyone admires everyone else's talent. Everyone is inspired by everyone else. It's like Season 3 all over again but without that a-hole, Hung.

The judges deliberate each Master, one at a time. Art gets praise all around for his cobbler, which had a fantastic crust on it (I love cobbler and I was pretty much drooling at the sight of it). James says that he's not sure how the two chicken preparations worked together but found the flavors wonderful.

As for Roy, he himself admitted to the judges that he's not great at thinking on his feet and most everyone agrees that his difficulty with improvisation hurt is dish. His meat was chewy, his mahi mahi was over sauced . . . James says that Roy's inner conflict showed through the dish (ouch).

Michael's dish was liked but the judges but Gail said that she wasn't sure how all the components worked together. Gael responded by saying that the sunchoke purée brought everything together because every ingredient worked in harmony with it.
As for Jonathan, James didn't like his truffles on the plate, though Gail did. James did, however, think that the dish as a whole was fundamentally connected, "and I can't say that about all of the plates tonight." Yes, this seals it for me: either Jonathan or Art will win today.

The Masters are brought back out and the scores are awarded.

Jonathan got four and a half stars from the diners (very high). James calls his dish "perfectly composed" and gives him four stars, Gael gives him four and Gail gives him four. His total is 20 and I'm now sure that he won't win – that total is simply not high enough.

Roy goes next and gets three stars from the diners. Gael admits that improvisation is not his strength and gives him two and a half stars (low!), Gail gives him three and James gives him two and a half. Roy finishes with a very rough 15 star total.

Michael, winner of the Quickfire, gets three and a half stars from the diners. Gail enjoyed his individual flavors and gives him three and a half stars, James gives him two and a half stars and Gael gives him three. Again, we have another low total of 17 ½ stars.

It's down to Art and I'm really thinking that Team Rainbow will pull this one off. Art only needs 16 stars to win, an average of four from each judge. The diners give Art five (HUGE!), James gives him three (uh oh) and Gail gives him four and a half. It's down to Gael and with a twinkle in her eye, she says, "Your homage to southern cooking was marvelous but I can only give you...five stars." WOW. I can't remember another chef who got five stars from Gael in this competition. Art wins with 22 stars, a damn good total.

And now we have our six finalists: Anita Lo, Art Smith, Hubert Keller, Michael Chiarello, Rick Bayless and Suzanne Tracht. The preview for the final looks AMAZING, with tons of fast cooking, drama and suspense. I'm thinking it'll easily be the best set of episodes of Top Chef: Masters. Come back next week to see how the final four weeks of Top Chef Masters begin.